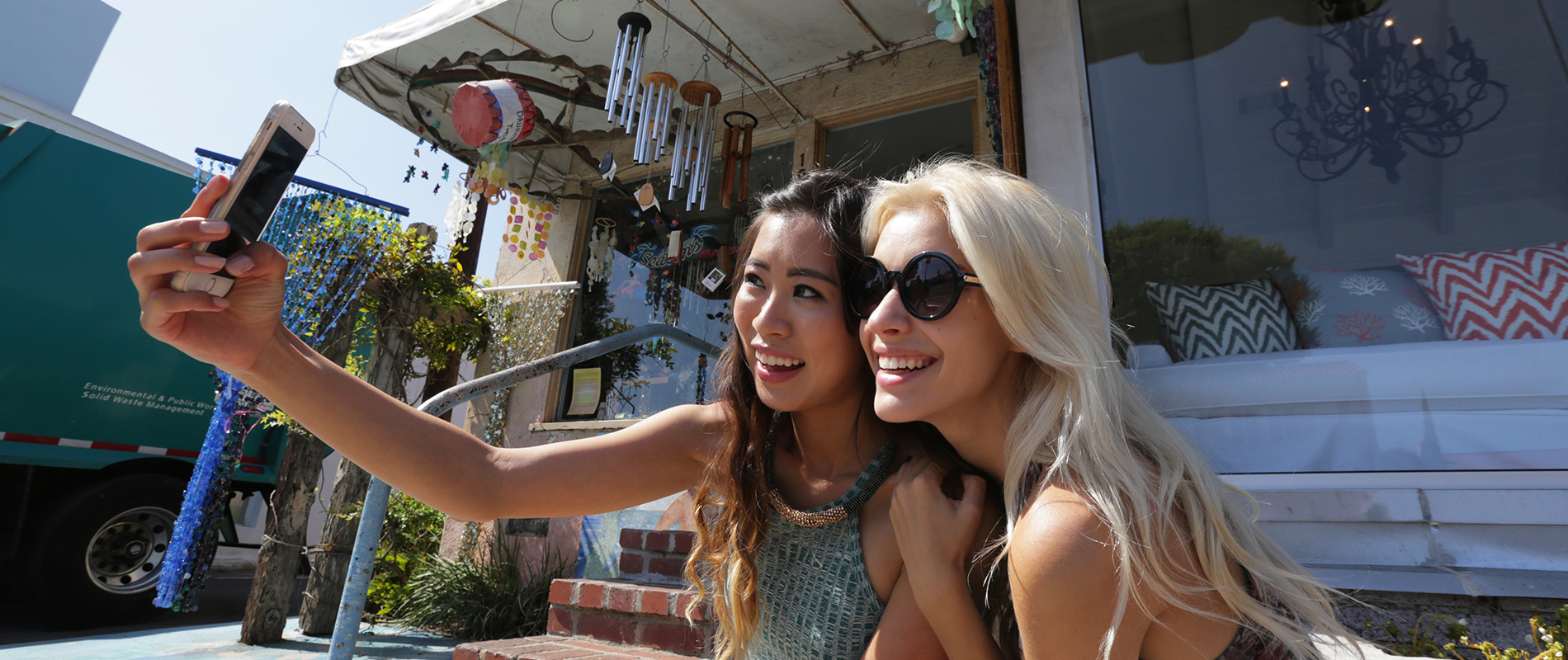 Travel Hacks for an Amazing Santa Monica Vacation
Updated November 2, 2021 in
Shop
Posted May 21, 2021
Santa Monica is LA's quintessential beach city with year-round sunshine and eight unique neighborhoods to explore. After the year we've had, we all deserve some fun in the sun! A visit to Santa Monica will be sure to leave a lasting impression. Here are a few tips and tricks to you prep for your next SoCal seaside getaway:
Plan your in-flight routine
As travel rebounds and more people begin to fly again, consider bringing your own antibacterial wipes for additional peace of mind. Most airlines promise enhanced cleaning protocols, but it doesn't hurt to be cautions. Tray tables, armrests and seat cushions are high touch points that you may want to give an extra wipe down. To minimize contact with surfaces bring your own laptop, tablet or Kindle along for in-flight entertainment. Lost & Found, a local boutique on Main Street has a beautiful selection of travel-friendly totes to stash your carry-on items. After the flight, rehydrate with portable hydration packs from Whole Foods. Pro tip: toss a pair of socks in your carry-on tote to wear when you're asked to remove your shoes at TSA.

View this post on Instagram
Pack with intention
Packing with intention is essential for a successful trip to Santa Monica. Consider factors like the current season, the activities you may want to partake in, and how long you'll be in town as you pack. Santa Monica is a renowned shopping destination, so you may even want to leave a little extra room in your suitcase! The goal is to avoid overpacking, but if you do we won't judge – you can find expandable luggage at Tumi. When it comes to makeup and personal care items, it's best to keep a separate set of your favorites to reduce packing time when you're on-the-go. The Detox Market curates a selection of green beauty finds based on a strict Banned Ingredients list.

View this post on Instagram
Dress for different temperatures
Santa Monica is by the beach, which means you may experience a fluctuation in temperatures throughout the day. A Santa Monica morning typically starts with a cool sea breeze, and afternoons can sometimes reach the high 80s before dipping back down in the evenings. Bring neutral colored clothing so you can mix, match and easily layer your pieces. Jane on Montana Ave offers a range of stylish, affordable basics (everything is under $98!) that can be easily dressed up or down. Dress to impress – you never know who you'll run into! Celebs like Nicole Richie, Joe Jonas and Jhene Aiko have all been spotted shopping at the Third Street Promenade.

View this post on Instagram
Plan a loose itinerary
Do you want to spend your days hiking in the Santa Monica Mountains National Recreation Area, or people watching at a hotspot like Urth Caffe? You may want to do both! Santa Monica is a walkable 8.3 square mile city with no shortage of things to do, and narrowing down a list before you arrive will save time. Once you narrow down specific activities, you can work on other logistics like how you'll get around and what outfits to pack. Leave some room to play things by ear as you build your dream itinerary, especially if your plans require you to brave LA traffic. For a car-free vacation use the Metro Expo Light Rail which can take you to Downtown Los Angeles in under 50 minutes, or rent a bike at Santa Monica Beach Bicycle Rentals for $15 per day.

View this post on Instagram
Bring Cash
We may live in a virtual world, but there are still situations where cash is king while traveling. Plan to bring or withdraw at least $100 in cash for tips, public transport and unexpected costs like parking lot fees. Every savvy traveler should have at least one cross body for occasions that require you to carry cash, such as an afternoon at the Santa Monica Farmer's Market. Jill Roberts Boutique on Montana Avenue has some seriously stylish options. Speaking of Farmers Markets, the Virginia Avenue/Pico Farmer's Market is a great addition to your itinerary for a glimpse at local culture. Local farmers and families converge in Virginia Avenue Park every Saturday from 8am-1pm.

View this post on Instagram