Downtown Santa Monica is equal parts shopping haven and street-performer stage. Just east of the Pier, the 3rd Street Promenade consists of three open-air, car-free blocks that are anchored by upscale Santa Monica Place, home to more than 80 retailers. With everything from fresh farmers market produce to designer fashions, it's a shopper's nirvana. Likewise, foodies rejoice in the numerous restaurants and bars, featuring locally sourced ingredients and craft cocktails. There's excitement around every corner as street performers, tourists, locals, diners, movie goers, and more flock to the area. Additionally, it's the terminus of the Metro Expo Line, which ferries riders by light rail between Santa Monica and Downtown Los Angeles.
3rd Street Promenade Restaurants
Launched in 1947 and spotlighted in the 1973 film American Graffiti, Mel's Drive-In is an American institution. This new location celebrates Santa Monica's Route 66 history and offers all of the comfort-food favorites, from burgers, fried chicken and mac and cheese to double-crusted pies and banana splits.
When it comes to deli, accept no substitutes. Wexler's delicatessen stays true to its culinary roots with authentic dishes renamed for the Southern California crowd. Try the MacArthur Park (pastrami, coleslaw, Swiss cheese and Russian dressing on rye) and you'll be hooked.
3rd Street Promenade Stores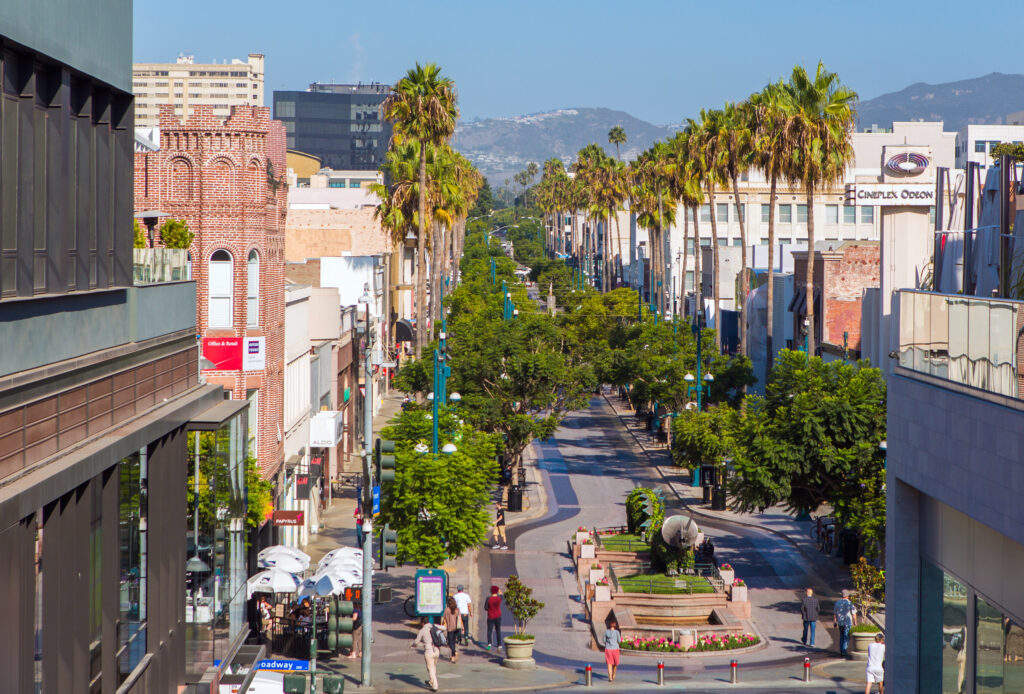 The national outdoor retail co-op REI is for folks who take their outdoor adventures seriously, and the chain is known as much for its environmental stewardship as it is for its extensive selection of top-notch gear and clothing. Check out the Santa Monica location for classes in rock climbing, mountain biking, travel preparation and more.
Santa Monica Place is a three-level, open-air shopping and dining destination addresses your every need. Shop designer outlets such as Coach, Kate Spade, Rolex and Tiffany & Co.; retail favorites like Nike and top-notch department stores such as Nordstrom, and indulge your appetite at any of the quality rooftop eateries.
Take advantage of the West Coast sunshine with a stroll through Third Street Promenade. Closed off to street traffic, the pet-friendly Promenade is a perfect place to shop, eat and people-watch, plus catch the budding talents of versatile street performers. Specialty retailers abound here: Patagonia, Lululemon, Anthropologie and Urban Outfitters, just to name a few!
More To Do In Downtown Santa Monica
You never know who will drop in on a show night to try out some new material at M.I.'s Westside Comedy Theater. But Westside is more than a club—classes taught by seasoned pros offer the chance to explore and hone your own comedic prowess.
A Day in LA Tours are a fantastic way to see the area's most iconic sights and landmarks. Spend the day exploring Los Angeles, Venice Beach, Santa Monica, Beverly Hills and Hollywood with a knowledgeable tour guide.
Housing more than a million artifacts, the Santa Monica History Museum features both permanent and revolving exhibits. Become part of front-page history via an interactive photo station, and experience Santa Monica's heritage from its Native American roots to its successful foray into aviation.
Explore the street art murals located throughout the Downtown Santa Monica/Third Street Promenade neighborhood.
Small Businesses on 3rd Street
In honor of the people, places and experiences that make Santa Monica the premier beach destination it is, we've made a mini video series highlighting a sampling of Santa Monica's small business community and the stories behind the storefronts. Here, we visit Acorn Store, a  children's store in Downtown Santa Monica/Third Street Promenade.