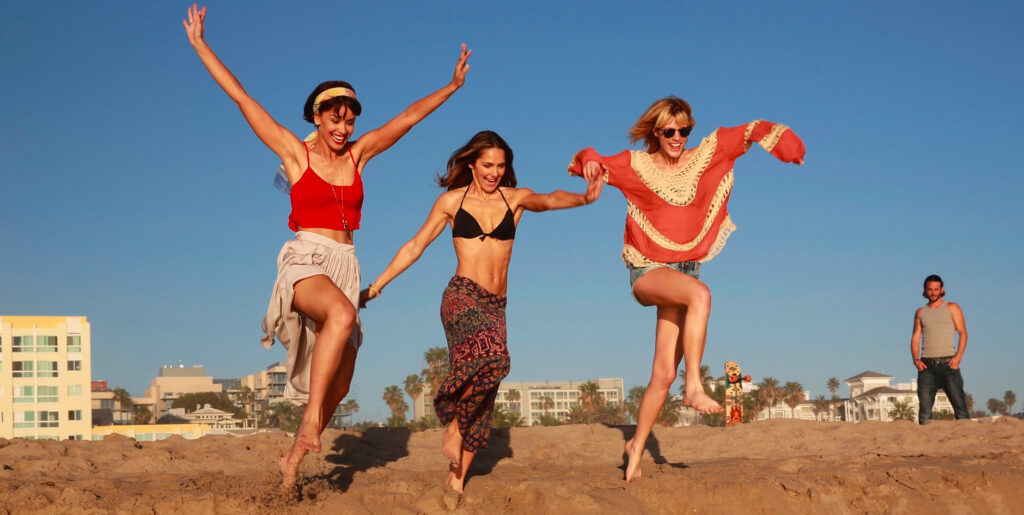 What to Pack for Santa Monica
No matter what time of year you visit Santa Monica, you can expect consistently mild weather and a relaxed, outdoor-focused lifestyle. But the question remains about what to pack for a Santa Monica vacation. To ensure that you're packing the right clothes, accessories, and other essentials in your travel bag, it helps to have an idea of what Santa Monica locals wear. Let us help you pick out your vacation wear!
All About Santa Monica Style
Because Santa Monica is located right on the beach, everyday style tends to be more casual and laid-back than it is in other Los Angeles neighborhoods. During warmer days, you'll see plenty of people wearing tee shirts or tank tops, shorts, and stylish athleisure as they stroll along the Third Street Promenade or explore the shops on Montana Avenue.
As the temperature cools in the evenings, locals often switch to jeans; many women complete their look with a light sweater or a wrap. Depending upon the season in which you're planning your trip to Santa Monica, you may want to bring a jacket; winter nights can dip below 50 degrees F (10 degrees C). It's a good idea to layer your clothing so you can remove extra pieces if temperatures are a bit warmer than you expect, but sweaters and hoodies are widely available at one of Santa Monica's many unique boutiques.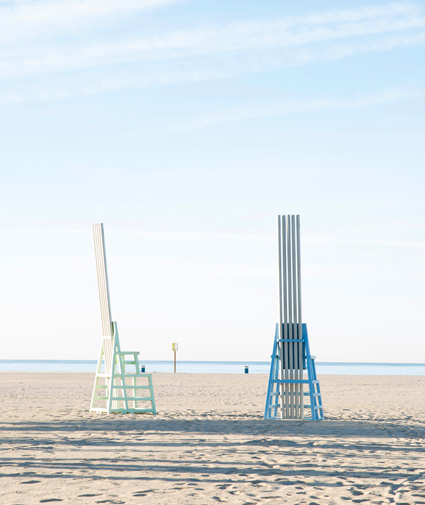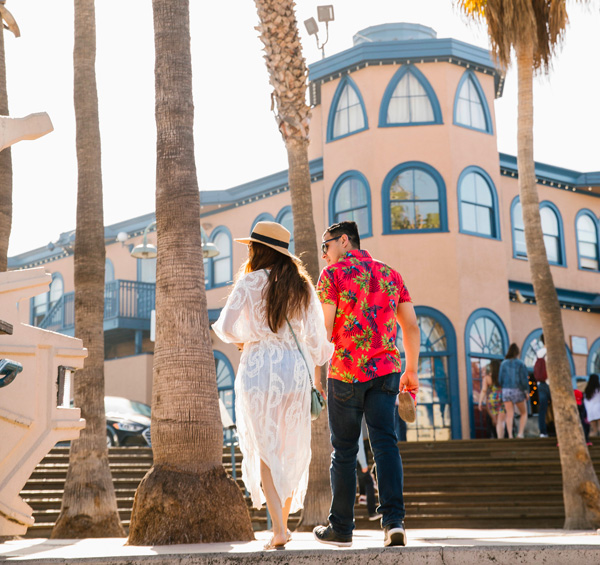 When considering what to pack on your Santa Monica vacation, don't forget your swimsuit! The ocean may be too cold for swimming in regular trunks during winter, but you'll see plenty of people wearing a wetsuit for added warmth (you can rent these from surf shops along the waterfront).
From late spring to early fall, you definitely can swim in a bikini or swim shorts. If you have a swimsuit that's too loud for the community pool at home, now is your time to show it off ! You may also want to carry a lightweight cover-up to use for visiting the snack stand or walking the Pier.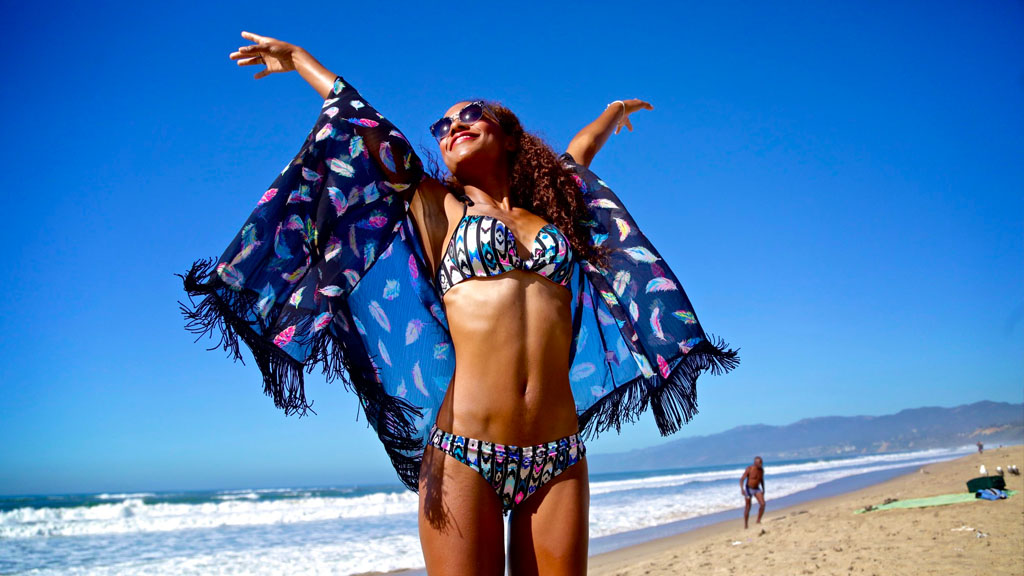 Stay classy
Most Santa Monica restaurants, bars, and clubs have a casual dress code that is perfect casual vacation wear. However, you still should pack at least one dressy outfit—a pair of non-denim pants and a collared shirt, a nice blouse or a dress and stylish accessories.
Be flexible
No restaurants in Santa Monica require a coat and tie. Opt for a dress that can transition easily from day to night. A maxi dress works well with sandals while browsing the Farmers' Market, but it also looks chic when paired with bold jewelry and wedge heels after the sun goes down.
Bring a bag
Pack a smaller purse or day bag to carry your belongings. With so much walking to do, a big tote or large leather purse only will weigh you down. It's best to go with something lighter, preferably with a shoulder or cross-body strap to keep your hands free and ready to snap pictures!
Packing Shoes for Santa Monica
Comfortable shoes are essential when packing for a trip to Santa Monica. Because the city encompasses just 8.3 square miles, you can get almost everywhere you want to go on foot.
Pack a pair or two of sandals, but make sure you also have something that can stand up to long hours browsing the galleries, shopping Santa Monica Place, or taking in the sights and sounds at the Santa Monica Pier. Save dressier shoes for nights out in Santa Monica.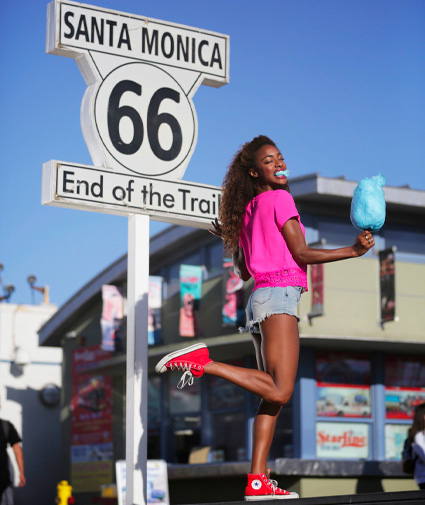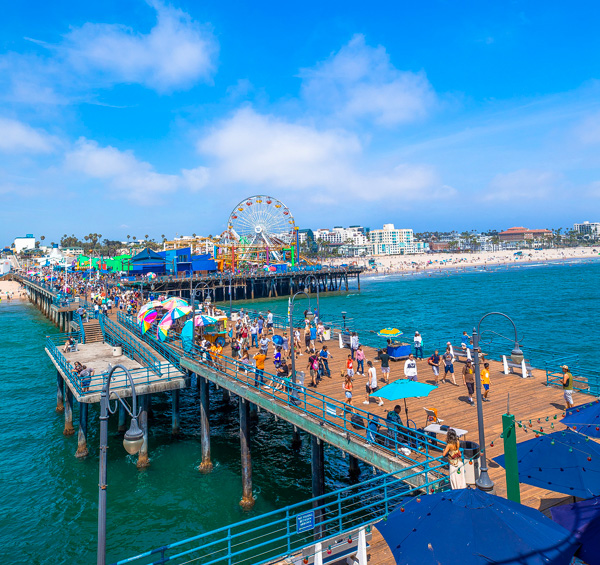 Always Pack These Items
No matter what season you visit Santa Monica, be sure to pack the following vacation wear: a pair of sunglasses, a cap or sunhat, and a bottle of sunscreen.
The sun's rays can be very strong, even when temperatures are lower or the day is overcast. You'll want to protect your eyes from the glare and your skin from potential sunburn. Even if you tend to tan easily, it's always a safe bet to apply sunscreen 30 minutes before you leave your hotel room—and then again every two hours that you're outside.
If you get inspired to take a dip in the Pacific during your stay (and we can almost bet you will) you'll be glad to have a little extra SPF in your Santa Monica day bag.
If you need a place to store your items or luggage while you explore Santa Monica, Santa Monica Bike Center has lockers available. The cost is $10 per day per item or $5 per day per item with the purchase of a bike rental. All bags and belongings must be collected by closing, which is 7:00 p.m. daily. The Bike Center also offers overnight storage for $15 per item and belongings must be collected no later than noon.