Street Murals: Main Street
Posted December 20, 2018

Santa Monica is an arts and culture hub, home to 170+ street art murals all within its 8.3 square miles and eight neighborhoods. The Main Street neighborhood bears the laid back side of Santa Monica, a side of the city that has been characterized by a local surf vibe for years.
To see the murals that are in the Main Street neighborhood, scroll down or view the Google map of locations.
Jay Adams Tribute by Dvate
Dogtown Coffee (Back of Building, on East Wall), 2003 Main St
Back in August 2014, I had a trip planned for LA (I'm based in Melbourne, Australia) and was looking at painting a large scale mural. My good friends, Dabs and Myla, put me in touch with Warren Brand from BrandedArts who curates large scale murals in LA. I grew up skateboarding – it's what got me into public art. Jay Adams had recently passed away and I wanted to paint a dedication mural of him, preferably in Venice or Santa Monica (iconic areas for Jay and Skating in general). Warren organized the amazing location at the back of Dogtown Coffee; it could not have been better (it is the site of Jeff Ho Surfboards and Zephyr Productions, a landmark in surf/skate and Jay's history). I also wanted to use an iconic image of Jay and was lucky enough to get permission from renowned photographer Glen E. Freedman to use his amazing image as reference. The painting went really smooth and the locals were awesome. Couldn't have done it without all the amazing people involved. – Dvate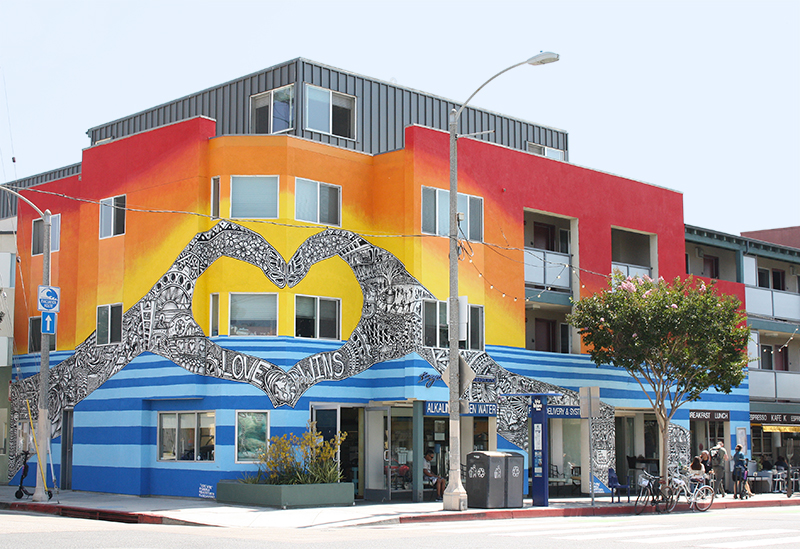 Love Wins by Gino Burman-Loffredo ("Gino Flo")
2209 Main St
Mural by Tommii Lim
Belzberg Architects, 2321 Main St
This four-mural installation at Belzberg Architect's headquarters are an abstract depiction of the beauty found in the simplicity of life. Using forced perspective techniques, the large-scale objects depicted are designed to visually stretch and change depending on the viewers position to the mural. This is my way of reminding people of the endless perspectives that can be found during time spent on moments in life instead of swiping through them. – Tommii Lim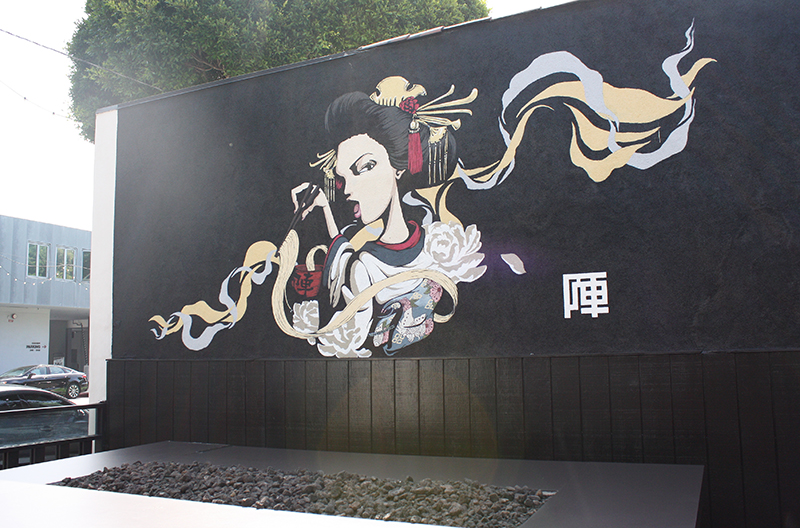 JINYA Ramen, 2400 Main St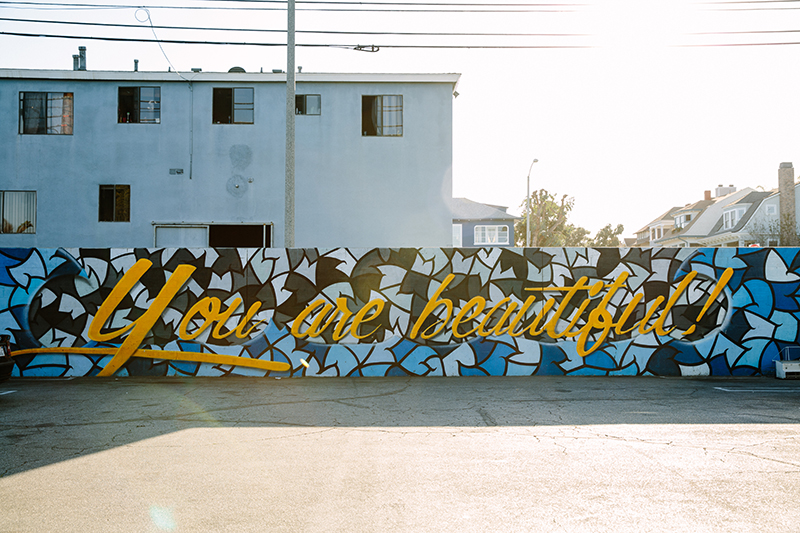 You Are Beautiful by Spencer Mar Guilburt & Ruben Rojas
Surf Liquor, 2522 Main St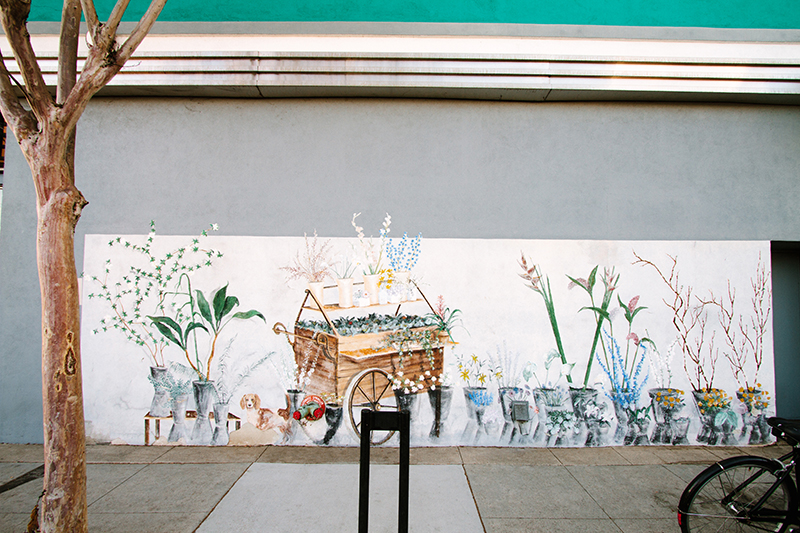 Galleria DiMaio, 2525 Main St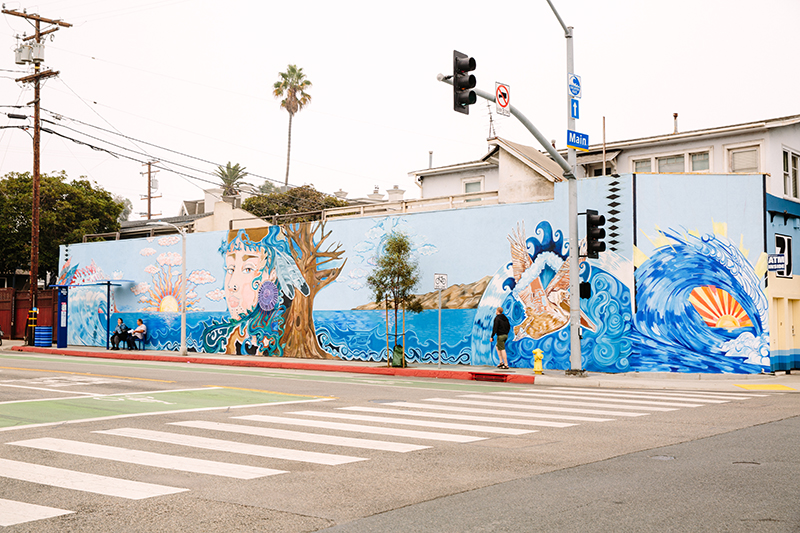 She Who Sees by Kristel Lerman
2625 Main St
Mural by Ruben Rojas and Evan Meyer
Car Wash Coin Op, Ocean Park Blvd and Main St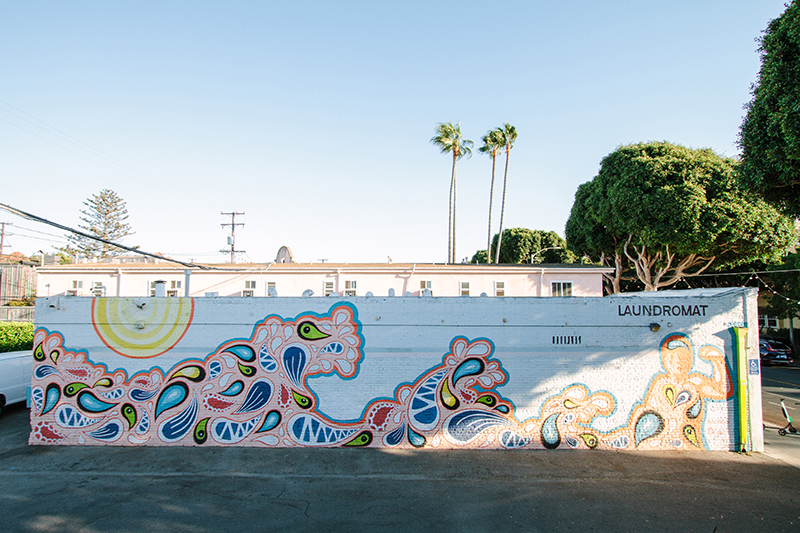 Mural by Karn Ashimyan
Bubble Beach Laundromat, 2633 Main St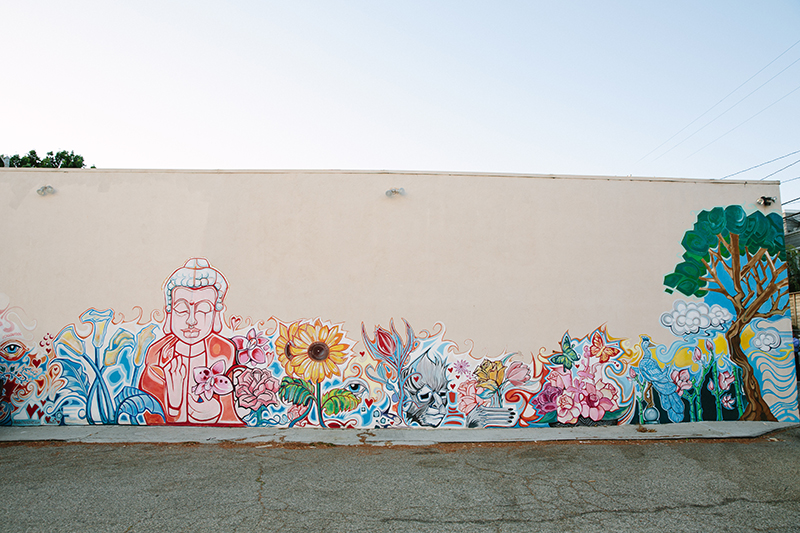 Mural by Kristel Lerman
Massage Garden, 2723 Main St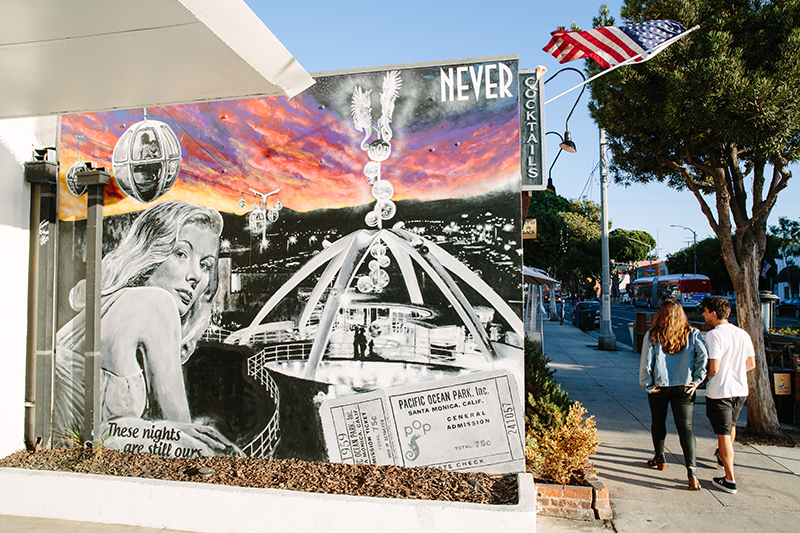 Mural by Jonas Never
Ashland Hill, 2807 Main St
Cha Spa, 2817 Main St (North Wall, Facing Parking Lot)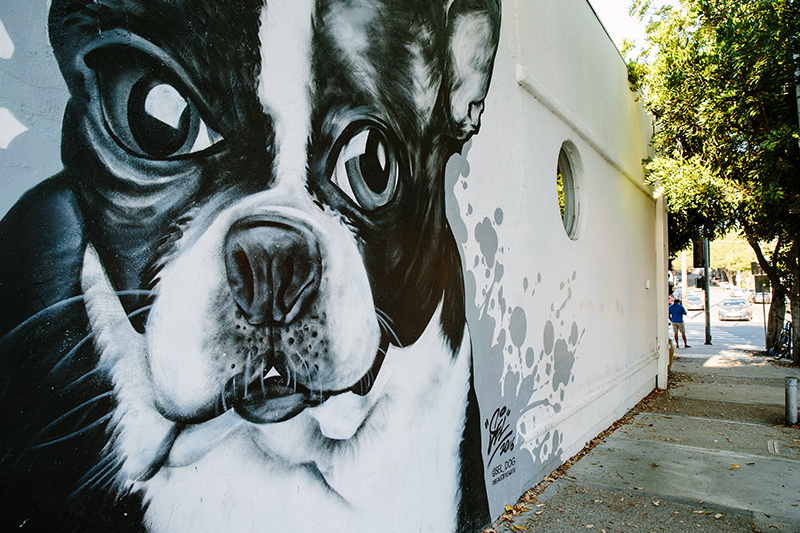 Boston Terrier by Marcel "SEL" Blanco
2820 Main St
This was a fun piece commissioned by the owner of [the now closed] Areal restaurant as a memorial to his dog. – SEL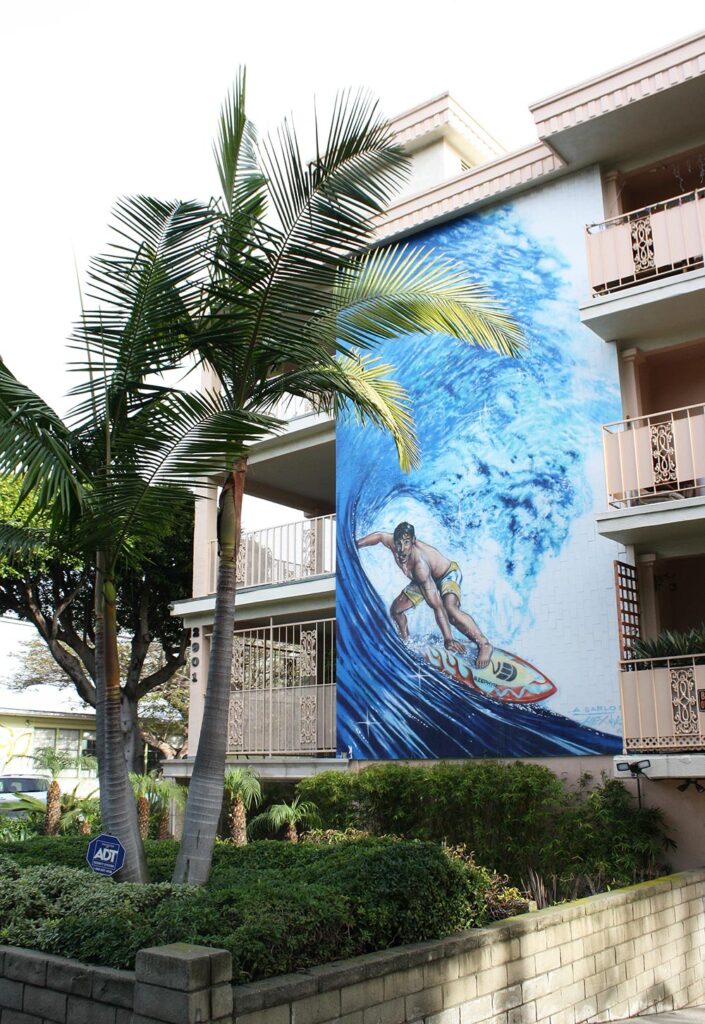 A Sarlo by Hex & Keo
Residential, 2901 4th St
By the Bay, By the Way by Bob House
Residential (Alley), 215 Bay St
Let Go by The Art of Chase
Star Liquor, 1929 Main Street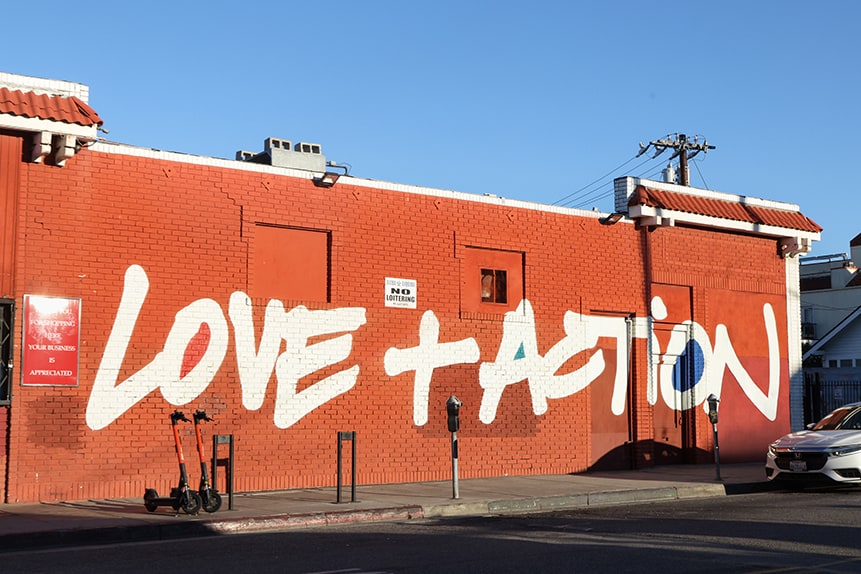 Actions Speak Louder by The Art of Chase
Star Liquor, 1929 Main Street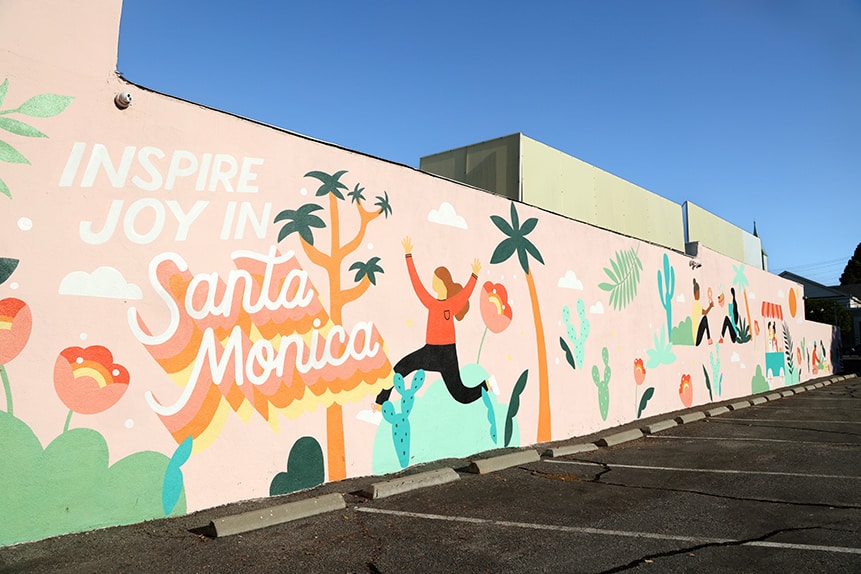 Mural by Steffi Lynn, 2021
Alfalfa, 2309 Main Street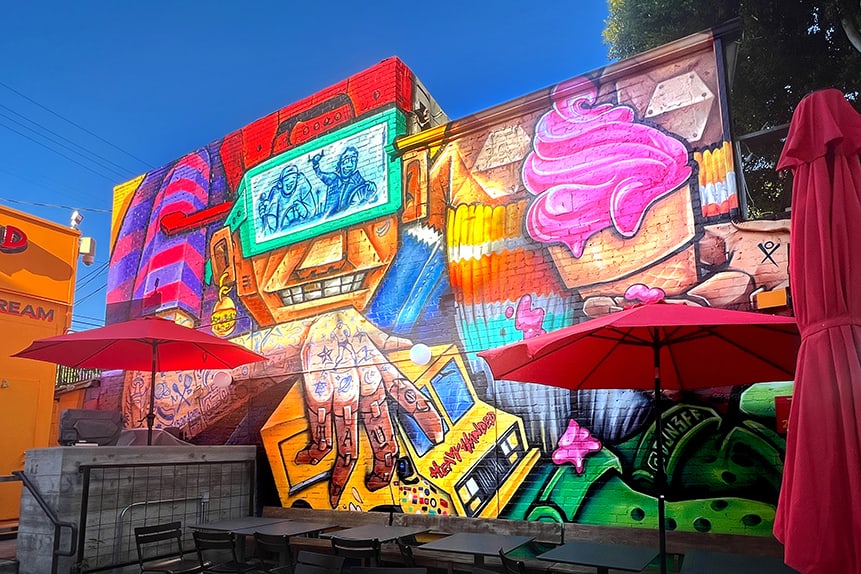 Mural by DJ NEFF
Heavy Handed, 2912 Main Street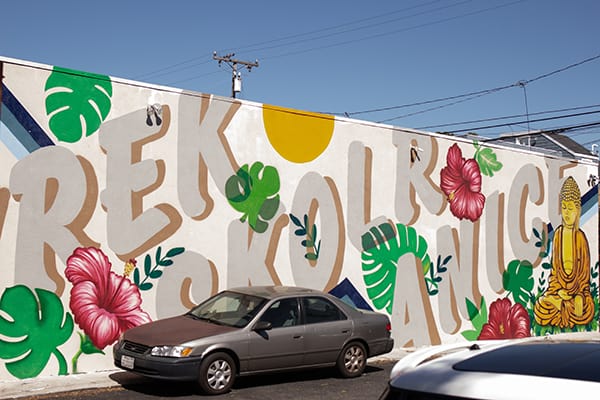 Massage Garden, 2723 Main Street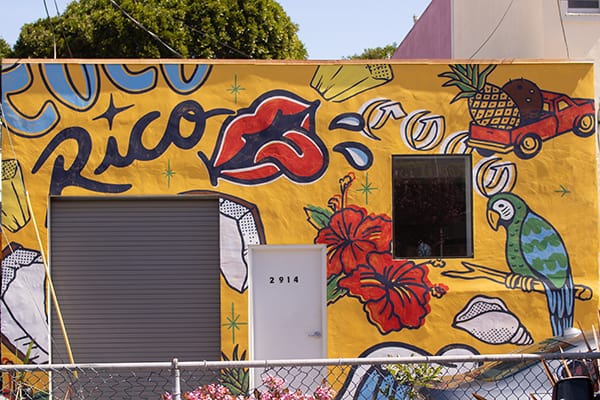 Back of JuneShine, 2914 Main Street
Back to Top | Back to Complete Street Art Guide
Main Street Mural Locations
Now that you've see the artwork, check out the exact locations on the map below. Then, visit the murals in person and share your own photos on social media using #SeeSantaMonicaMurals.