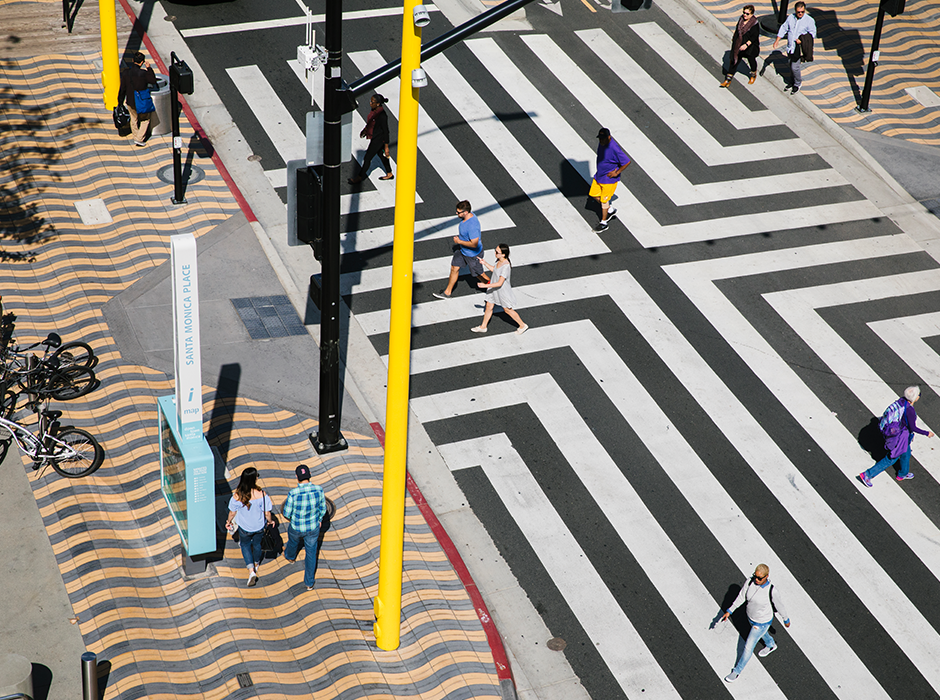 Public Transportation in Santa Monica
Cars traveling the famed Route 66 may have helped put Santa Monica on the map, but these days you don't need your own four wheels to cruise around town. Here are six easy ways to go car-free on your next trip with public transportation in Santa Monica.
Safety First: When traveling around Santa Monica, remember to stay alert and focused on your surroundings whether in a car, on a train, on a bike, on an electric scooter or on foot. Be sure to read our safety tips to help you navigate the city.
For more information on mobility opportunities throughout Santa Monica, visit the City of Santa Monica's website. For more ways to get around Santa Monica, check out Santa Monica transportation and directions.
Walk
Santa Monica measures just 8.3 square miles and many destinations can be easily reached by a short walk. Many streets feature large, pedestrian-friendly sidewalks. Walking along the streets is often noted as the best way to experience the local neighborhoods.
Metro E Line
The Metro E Line (323-466-3876) connects Santa Monica by light rail to Downtown Los Angeles in under 50 minutes, with three stations located in Santa Monica. Additionally, with the ability to connect to Pasadena, San Fernando Valley, South Bay, Long Beach and dozens of points in between, visitors can travel to and from Santa Monica easily.
Big Blue Bus
The Big Blue Bus departs the LAX City Bus Center and features two lines to town: Route 3 or Rapid 3. Once in Santa Monica, the Big Blue Bus is also a very efficient way to get around, including rapid routes to get you to your destination faster. This is also a great option if you bus to Santa Monica from surrounding areas including greater Los Angeles and LAX. Click here for more information.
Free Shuttle
Pedestrians can also use an app to hail the Santa Monica Circuit, golf cart–style cabs that offer a complimentary lift anywhere in their service area between Wilshire Boulevard and Marine Street, and from the ocean to Fifth Street. Carts operate from 11am to 9pm, with later hours on weekends. Many local hotels also offer car service around town.
Blogs
Discover Santa Monica
Explore itineraries, local tips, hot spots and curated adventures to make sure you get the most out of your Santa Monica experience.
View All Blogs