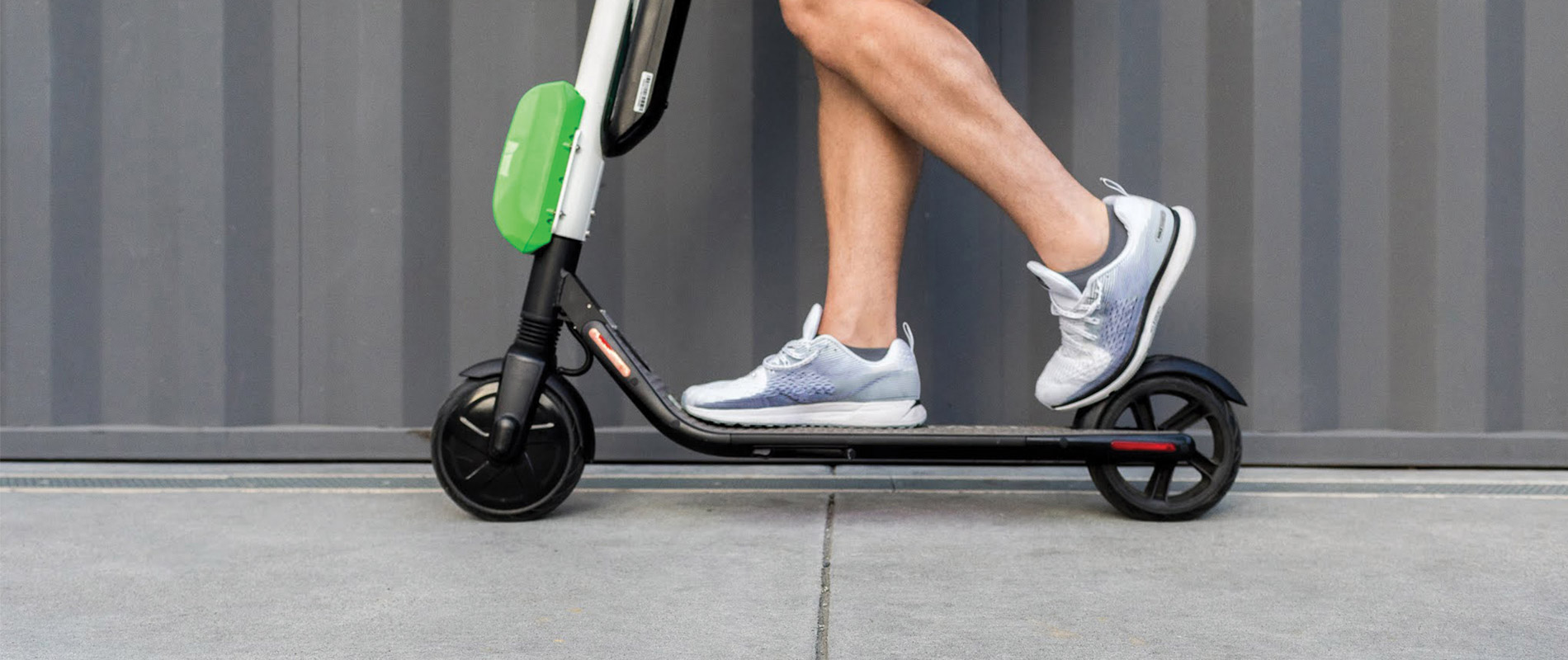 Santa Monica Scooter Rental & E-Scooter Safety
Posted January 30, 2019
Santa Monica Scooters
If you're searching for an LA scooter app, you have a couple different options. Renting some scooting transportation is as easy as downloading a scooter app right to your phone, locating an e-scooter or e-bike in Santa Monica with help from the app, and scooting away!
Visitors can find four e-scooter/bicycle app brands operating in Santa Monica: Spin, Veo and Wheels. These electric scooter and bike brands offer app-based e-scooters and e-bicycles for adults.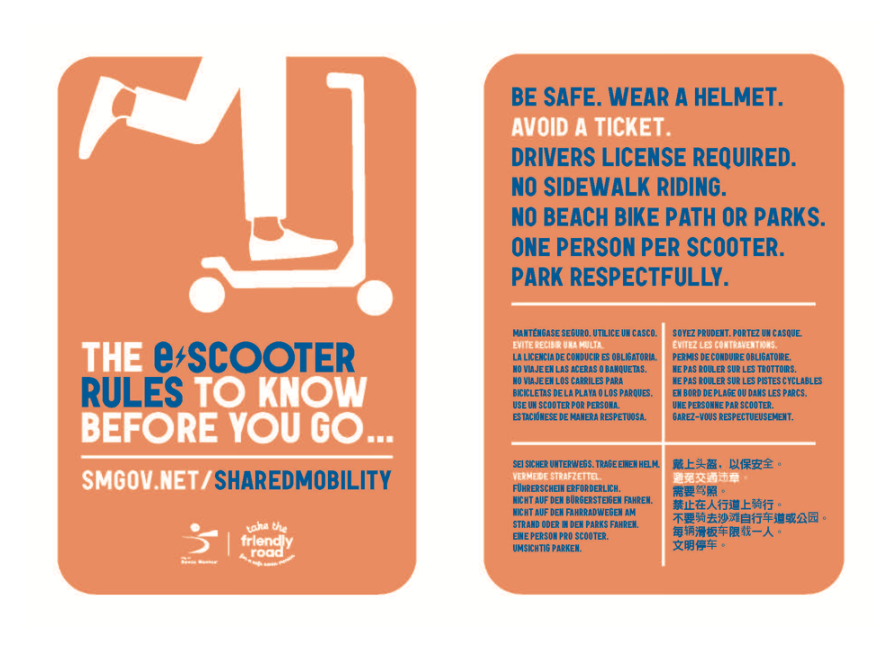 How to Use an E-Scooter/Bike App
Each company's app varies. Please read the app's detailed instructions for safe, proper use, but in general, here's how it works:
Download the app.
Locate and unlock a scooter following prompts in the app. The average price to scoot is $1 to unlock, 15 cents per minute used.
Push off with your foot to get going, then keep your feet on the footboard.
For most scooters, control the throttle button with your right thumb and squeeze the brake with your left hand to slow down or stop.
End your ride by parking safely and locking the scooter within the app.
Where to Park an E-Scooter & E-Bike In Santa Monica
To keep Santa Monica beautiful and accessible, once your ride is complete, park your e-scooter safely in one of the following areas before ending your Santa Monica scooter rental through a scooter app:
Designated e-scooter drop zone (pictured below)
Bike rack area
In the "furniture zone." The furniture zone is the section of the sidewalk between the curb and the pedestrian through zone where street furniture, lighting, benches, utility poles, tree pits and bicycle racks live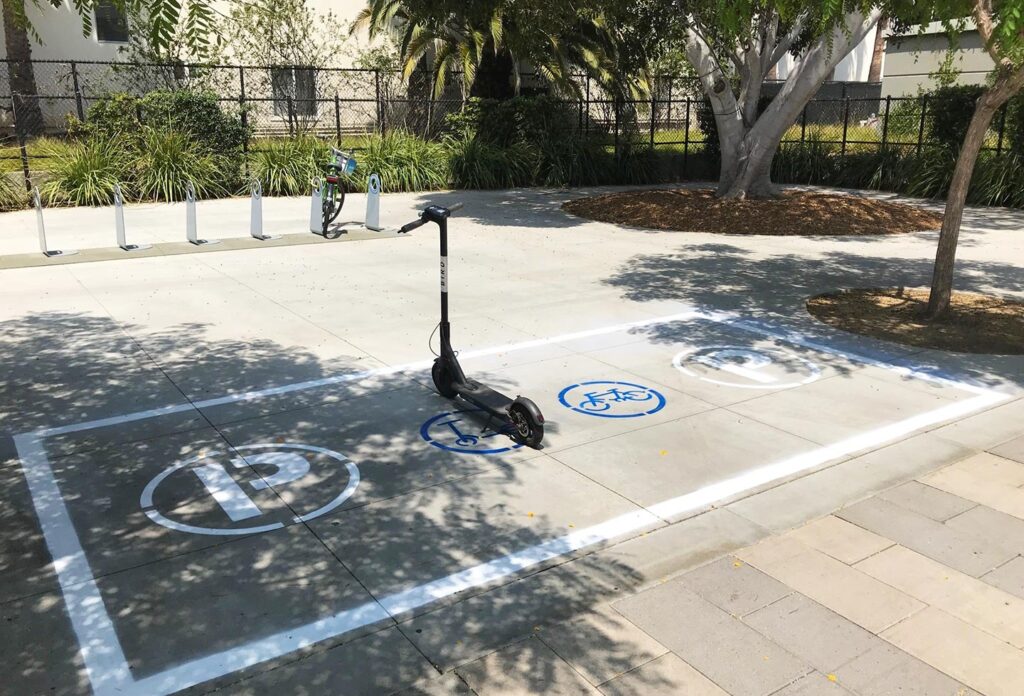 Santa Monica Bike & Scooter Rental Safety Guidelines
Scooter laws to know before you go:
Motorized scooters and bike sharing apps may be driven only by those with a valid driver's license or instruction permit.
Helmets are required if you are under 18 years of age and recommended for all ages. See below for information on obtaining a scooter helmet.**
Only one person per device is allowed; taking a passenger is prohibited. Always check weight capacity before riding.
Motorized scooters must be driven on the road or in a bike lane, never on the sidewalk. If you ride on sidewalks, you may be ticketed. Follow traffic rules and watch for obstructions and potholes.
Scooters cannot be parked on the sidewalk in the way of pedestrian traffic.
Motorized scooters may not be driven on beach bike paths, Santa Monica Pier, Third Street Promenade, Ocean Front Walk or in municipal parks, including Palisades Park.
Night use of motorized scooters lacking proper lighting equipment, such as reflectors and a front light source, is illegal.
Note that a violation of these rules can result in a ticket.
**Pick up a FREE helmet & ride safely at one of these Santa Monica Visitors Center Locations:
Main Visitor Information Center
2427 Main Street
Santa Monica, CA 90405
Visitor Information Kiosk
(located in Palisades Park)
1400 Ocean Avenue
Santa Monica, CA 90401
Pier Shop & Visitor Center
(located in the carousel building on the Santa Monica Pier)
200 Santa Monica Pier
Santa Monica, CA 90401