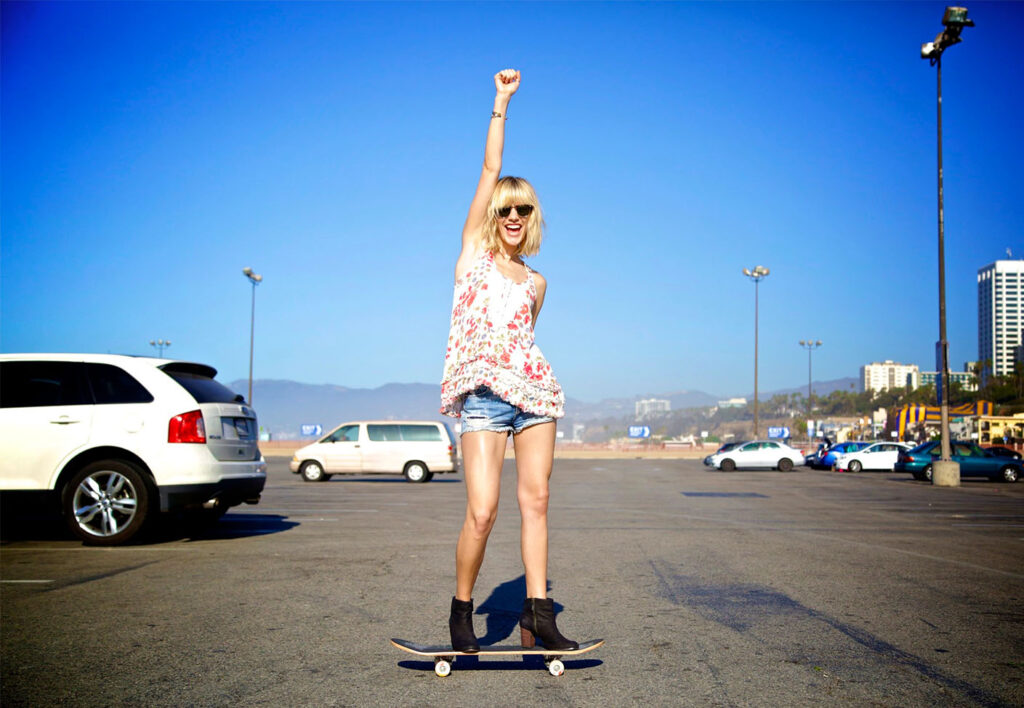 Santa Monica Parking Information
Santa Monica is a very pedestrian-friendly destination and visitors are encouraged to go car-free, but if you find yourself in need of parking information, here are some tips for Santa Monica parking at the beach, downtown and at metered parking spaces.
For a map of public parking in Santa Monica, take a look at the Official Santa Monica Visitors Map or visit the City of Santa Monica's website for more information. Please remember to always keep your valuables out of sight. Take your valuables with you or place them in your trunk before you arrive at a location where people might be watching.
Santa Monica Beach Parking
Santa Monica beach parking is broken down into the following three Zones:
Southern Zone: Lot 4 South and Lot 5 South
Central Zone: Lot 1 North (also referred to as the "beach lot"), Lot 3 North, Lot 1 South, Lot 2 South and Lot 3 South
Northern Zone: Lot 4 North through Lot 9 North
Real-time parking information and a downloadable app are available through the City. Many Santa Monica beach parking lots offer electric plug-in options and are:
Open from sunrise to sunset (except for Lot 1 North which is open from 6:00 a.m. to 2:00 a.m.)
$7 to $18 per day to park in (price varies based on day and season; no in and out privileges)
Santa Monica Pier Parking
A few other parking options exist for access to the Santa Monica Pier and nearby Santa Monica Beach:
The Pier Deck Parking Lot: limited parking is available seasonally during select days and times.
Civic Center Garage: This Santa Monica parking garage is located just off the 10 West freeway exit, on 4th and Olympic across from City Hall.
The Metro E Line: if you want a convenient way to access the Pier, try parking at one of the Metro parking garages at an Expo stop in Santa Monica, and hopping on the train. Parking starts at $3 and since there are no overnight penalties, they are a great place to find overnight parking in Santa Monica.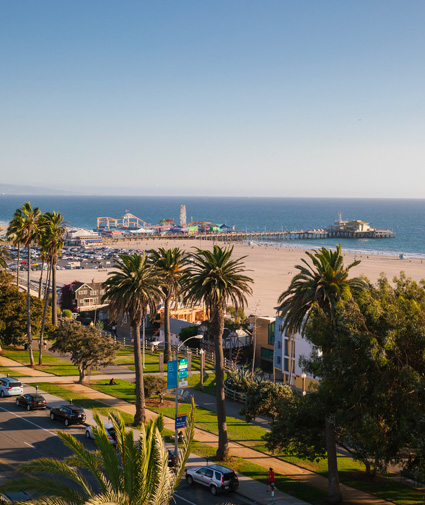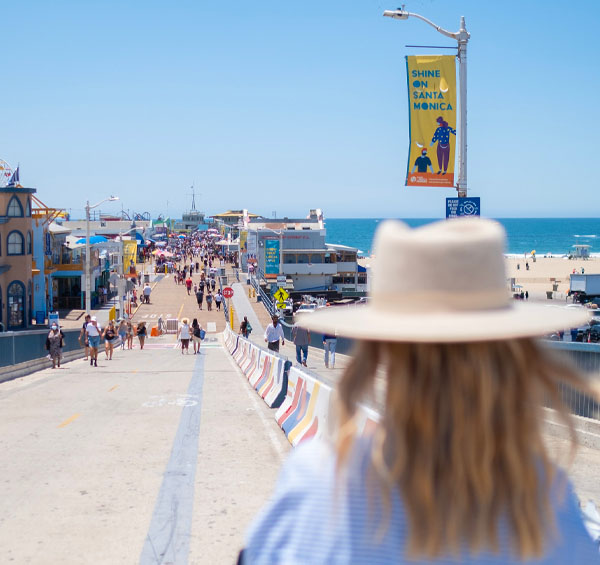 Downtown Santa Monica Parking
There are several public parking lots and structures along 2nd Street and 4th Street within Downtown Santa Monica, which allow for easy access to Third Street Promenade and the Downtown Santa Monica neighborhood.
Downtown Santa Monica Parking Structures #1-2, 4-8 and the Ken Edwards Center are:
Operated 24 hours daily
Free for the first 90 minutes; after that the parking rates vary depending on the day and duration of parking. See specific rates via the City of Santa Monica.
Need-to-Know Parking Info
Santa Monica has on-street parking meters throughout the city, all of which accept payment via coins or credit card.
Street Meters in Santa Monica
On-street parking meters and pay machines at City lots are typically $2.50 per hour in the Downtown and Beach Meter Zones and $1.25 per hour in all other Citywide Meter Zones.
To avoid a ticket when meter parking, keep in mind that there is no free parking in Santa Monica on Sundays, so don't forget to pay the meter on your weekend outing.
Santa Monica Parking Permits & ADA Parking
Santa Monica parking for visitors with Disability Placards or Plates is free in the above-mentioned lot zones.
Visitors who will need special parking permits for any reason should contact the city's parking department for permitting options.
Electric Vehicle Parking
If you have an electric car, there are several places for you to charge up your vehicle while exploring the city by foot! Look for charging stations at one of the city's more than 20 locations.
Additionally, there are EVgo DC fast charging stations located at Lot 29 , Lot 27 and the Civic Center Parking Structure.
View all of the city's EV charging ports.
*Please refer to the City of Santa Monica's parking page for the most up-to-date parking information.
Blogs
Discover Santa Monica
Explore itineraries, local tips, hot spots and curated adventures to make sure you get the most out of your Santa Monica experience.
View All Blogs