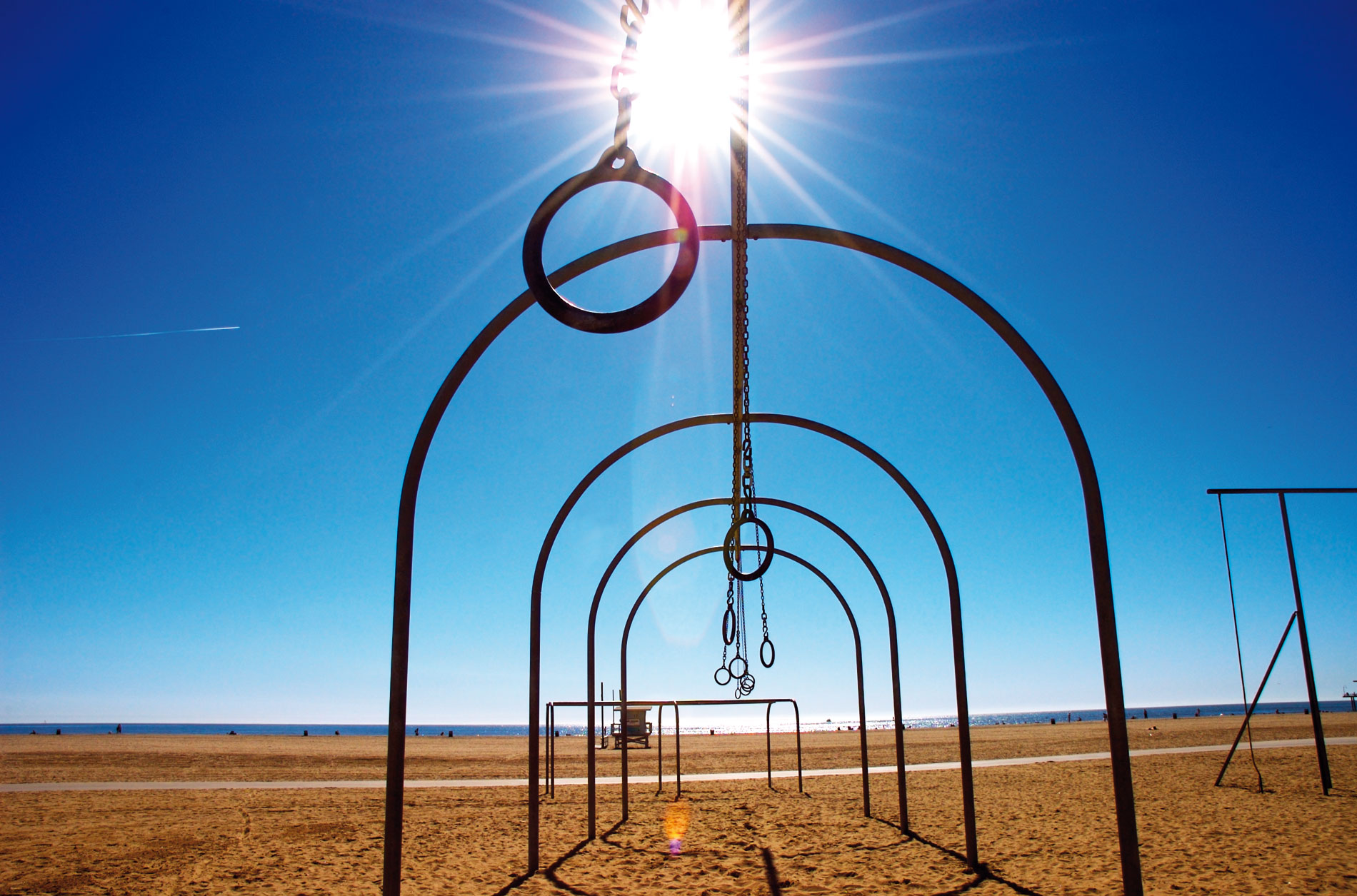 100 Free Things to Do in Santa Monica
Posted April 12, 2015
Free Santa Monica Health & Wellness Activities
Rollerblade, walk or jog along the boardwalk that stretches parallel to the Pacific, taking in magnificent views of mountains, the beach, and ocean.
Bike your way through Santa Monica with self-guided bike itineraries that range from wellness to art themed experiences.
Gather a crowd of friends or office mates for a game of frisbee on the beach. Pick up ultimate frisbee games can be found south of the pier.
Enjoy a game of volleyball at Santa Monica's many beach volleyball courts, where several US Olympic beach volleyball competitors have trained. Dotted along the length of the beach, there are courts available to the public on a first come, first serve basis. Olympic Gold Medalist Misty May‐Treanor notes the courts south of the pier are her favorite.
Flex your muscles at the Original Muscle Beach, which beckons visitors to test their strength and work on their beach body in an open‐air gym. Test out the fully restored areas featuring chinning bars, parallel bars, rings and small jungle gyms for children. Celebrities such as Jack LaLanne, Jayne Mansfield, and Mae West were frequent visitors at Muscle Beach, helping to establish Southern California as a body builder's paradise.
Explore the nearby Santa Monica Mountains Recreation Area, which offers visitors a stunning coastal mountain range with opportunities for hiking, exploring, and biking.
Live like a true Californian and try your hand at skateboarding along the sidewalks of Ocean Avenue.
Work out by jogging one of the many the stairways that lead from Ocean Avenue down to the Pacific Coast Highway.
Relax and unwind with a sunset meditation in a Santa Monica park.
The South Bay Bicycle Trail runs for 22 miles from Will Rogers State Beach to Torrance County Beach and provides a unique way to see a long stretch of Pacific coastline and get some exercise. With easy points of entry and exit, cyclists can make the ride as long or as short as they desire.
Bicycle along one of Santa Monica's great city bike paths, such as the Santa Monica Pier Bridge at Colorado Avenue, Bicknell Avenue, Ocean Park Boulevard or Ashland Avenue.
Take a dip, surf or body board in the Pacific Ocean.
Enjoy the winding stair walk and great views from Ocean View Park, off Barnard Way.
Polish up your forehand with a few games of tennis at Yahoo Park (Other free courts available at Marine, Memorial, Douglas, Clover and Los Amigos Parks).
Get your fitness on at the Nike and REI stores for local run clubs and outdoor basics programs to improve your overall health and knowledge of the outdoors.
Kids and teens (aged 6‐24) can keep fit and learn new skills at Virginia Avenue Fitness Gym and Boxing Ring.
Enjoy fabulous ocean views as you jog along the cushioned crushed asphalt path in Palisades Park.
Take your hockey stick and rollerblades down to the beach parking lot for a game of roller hockey.
Explore 100 Free Things to Do in Santa Monica: Free Art and Music Activities (76-100)