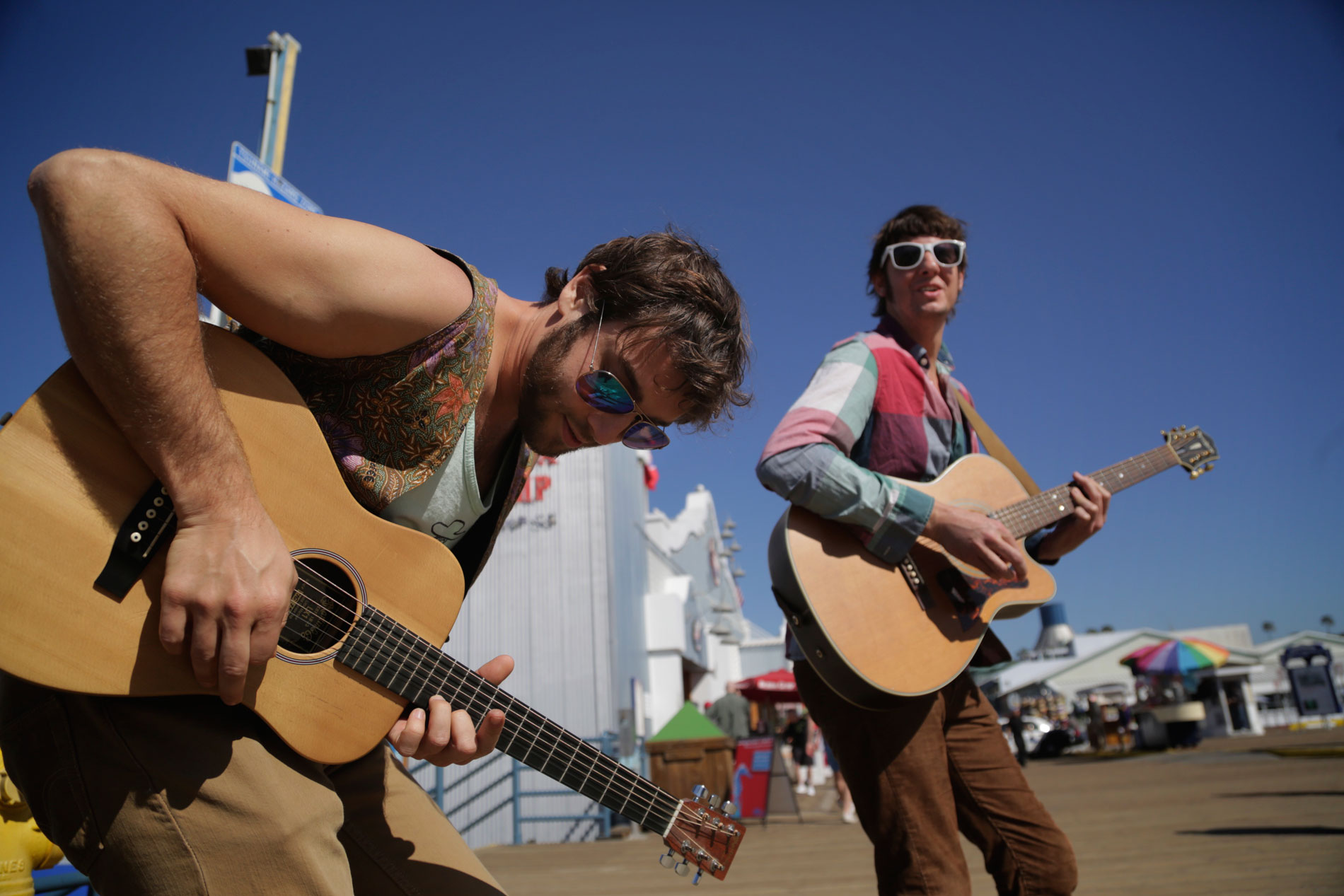 100 Free Things to Do in Santa Monica: Free Art and Music Activities
Posted April 12, 2015
Immerse yourself in the arts at Southern California's largest art gallery complex, Bergamot. Visit over 35 contemporary art galleries, studios, and architecture design firms.
Visit The Getty Villa, an educational center and museum dedicated to the study of the arts and cultures of ancient Greece, Rome, and Etruria.
Join in on a free Docent Tour of the Annenberg Community Beach House. Tours are offered daily from May‐February at the old Marion Davies/Hearst Beach house site at 415 Pacific Coast Highway.
Get a glimpse of the wall mural depicting ocean scenes outside of the Heal the Bay Aquarium on Ocean Front Walk.
Take advantage of Santa Monica's ideal year‐round weather and "Walk Santa Monica" to take in the city's many commissioned public art works.
The Santa Monica Library offers a dazzling public facility, showcasing cutting‐edge environmental technology and featuring solar panels and an energy efficient roof. Events include author talks, concerts and presentations.
Explore public art displays such as Pico Boulevard's "California Wash," which discusses the history of the natural waterway path to the sea and the local ecology that once dwelled there.
Schedule a special visit to The Eames House, a landmark of mid‐20th century modern architecture. Constructed in 1949 by husband and wife design pioneers Charles and Ray Eames, the Eames' gracious live‐work lifestyle continues to be an influential model in design and architecture. There is no fee for students or children. (www.eamesfoundation.org)
Enjoy a mirror‐and‐lens panorama that has documented Santa Monica for more than 100 years. Stop by Camera Obscura in Palisades Park for a life size, walk‐through pinhole camera – only one of three in the United States.
Experience "culture within culture" along Santa Monica Design District, featuring showrooms of modern design for home or business.
Hang out and strum a vintage guitar at legendary McCabe's Guitar Shop. Opened in 1958, McCabe's specializes in acoustic and folk instruments and offers thousands of books and recordings.
Show off your talents, whether it is poetry or comedy, at Open Mic nights at Un‐Urban Cafe on Pico Boulevard.
Hit the beach in search of art. Keep an eye out for "Singing Beach Chairs," a pair of playfully oversized lifeguard chairs by Douglas Hollis. In a strong wind, the aluminum tubes that form the backrests become 14‐ft‐tall panpipes.
Experience "Project X" at the 18th Street Arts Complex that provokes public dialogue through contemporary art making.
Check out the schedule of free feature films that are screened at the Main Library in the Martin Luther King Auditorium.
Enjoy Free Docent Tours of the Santa Monica Library on the 3rd Friday of every month.
Pick up a Santa Monica Art Trek Map which offers a comprehensive guide to public art works around the City.
Discover hidden art! Find Manfred Miller's haunting public art installation Twilight and Yearning consisting of three wooden boats lashed to the pilings underneath the boardwalk. Also find a huge concrete stamp roller that imprints a map of Los Angeles into the wet sand.
Attend a lecture at Santa Monica Community College. The college presents more than 100 distinguished speakers all year and is open to the public.
Pull up a chair for Cinema on the Street. Each summer, Third Street Promenade hosts a series of weekly outdoor movies that are the perfect pairing for a warm Santa Monica night.
Music to your ears. The award-winning Santa Monica Symphony presents free concerts at Santa Monica High School's Barnum Hall.
Free live music concerts for children come to the Pier. Wake Up With the Waves is a concert series that occurs on Saturday mornings in April through May at the Santa Monica Pier.
Stroll down Adelaide Drive to admire the elegant early Craftsman homes built by Santa Monica's founding residents.
Visit the Third Street Historic District, south of Ocean Park Boulevard. Architecturally, the buildings chronicle the evolution of design from the Victorian era through the revival styles of the 1920s and 1930s.
Enjoy great buildings from world‐renowned local architect Frank Gehry – from the Edgemar Building on Main Street to his one-time home of corrugated metal and chain link on 22nd and Washington, his talents are showcased right here in Santa Monica.
Explore 100 Free Things to Do in Santa Monica: Free Family and Outdoor Activities (1-56)