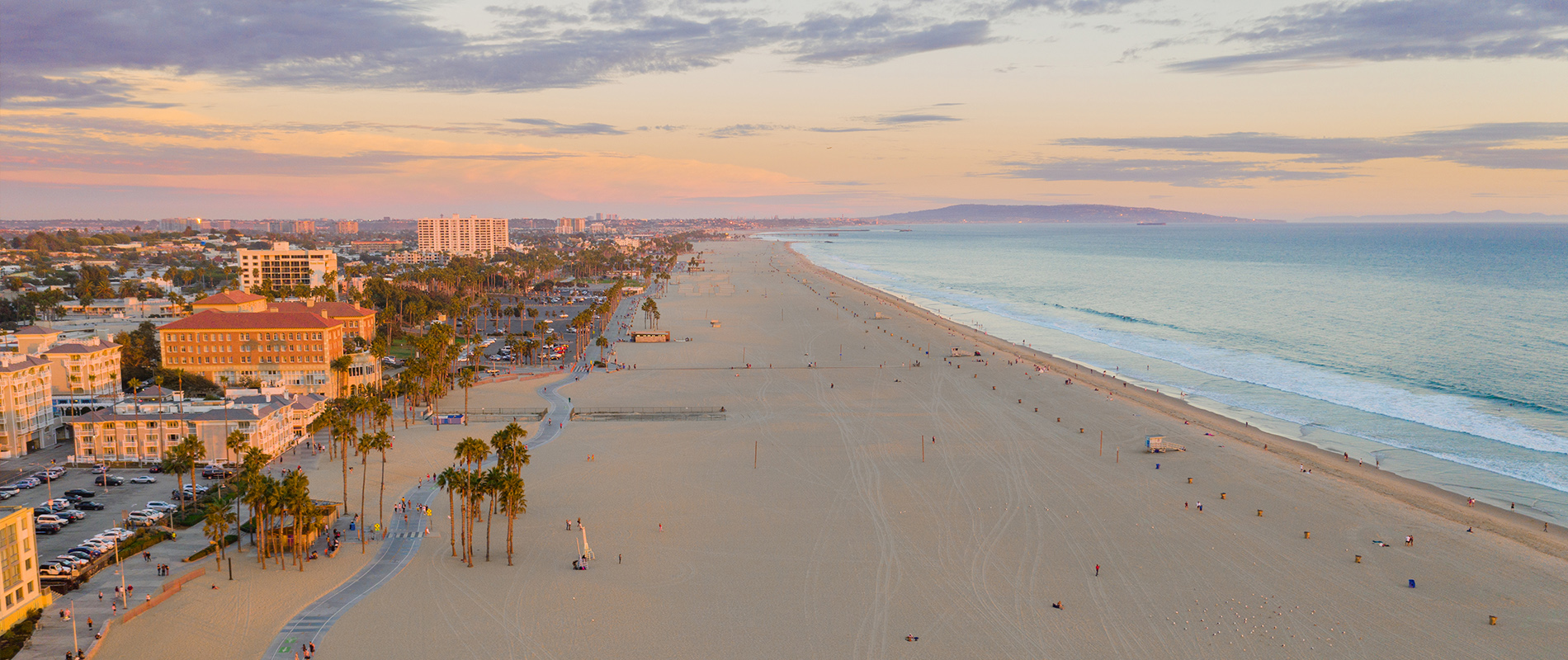 Get Outdoors and Enjoy Fresh Air and Sea Breezes in Santa Monica
Updated December 2, 2022 in
Explore
Posted June 16, 2020
There's nothing more inspiring than access to wide open spaces. With 3.5 miles of glistening coastline and 280 days of sunshine to match, Santa Monica offers an abundance of outdoor spaces that create the perfect backdrop for a day of fresh air and sea breezes.
Better yet, there's no need for a car to get around our beachside city. A walkable 8.3 square-miles, Santa Monica also has more than 100 miles of bike lanes, making it easy to explore the compact urban landscape on foot or by bike.
Read on for a list of our favorite ways to enjoy Santa Monica's outdoor spaces.
Sink into the Sand at Santa Monica State Beach
The best part of Santa Monica is the beach! Our stretch of beach is 3.5-miles in length, providing ample space for outdoor fun. Los Angeles County beaches, including our own, are open for the following activities:
Individual or family ocean activities (such as surfing, swimming, kayaking, paddleboarding and body surfing)
Individual or family active recreation & exercise (such as walking, running and using the beach bike path)
Sunbathing, sitting and lying on sand
Picnicking
Chairs, canopies or coolers
Fishing
Insider's tip: the area of the beach closest to the Santa Monica Pier tends to see the most visitors. If you're looking for some space head north past the Annenberg Community Beach House. This stretch of the beach generally receives less visitors.
Unique Beach Activities
Paddle out into the Pacific Ocean
Take a refreshing dip in the Pacific Ocean to soak your worries away. With a gentle year-round break, Santa Monica is the perfect destination for beginning surfers and also provides friendly ocean access for standup paddleboarders and kayakers.
Explore Santa Monica's Parks & Green Spaces
Santa Monica is home to more than 20 different parks — each with its own unique vibe. Make the most of the city's sunny weather by enjoying some outdoor recreation at one of the city's many parks. Please note that playgrounds are currently closed per the Los Angeles County Department of Public Health Officer Order.
For the latest details on City of Santa Monica parks and facilities, click here.
Santa Monica Mountains National Recreation Area
Just outside the city-limits of Santa Monica find a plethora of hiking trails in the Santa Monica Mountains National Recreation Area. With more than 500-miles of trails space abounds in this stunning natural area. Get a different perspective on Santa Monica as you climb to vistas that offer uninterrupted views of our beaches and landmarks, including the Santa Monica Pier.
Night Sky Show
Santa Monica College has launched a free, live online Virtual Night Sky Show program to showcase the stars. Presented on Zoom, an access link will appear each week under the "Planetarium Now" heading each Thursday. The Night Sky programs will last roughly 30 minutes, followed by a short question and answer period where guests can type questions into a chat box and we will answer as many questions as possible. A short intermission will begin at approximately 7:50pm prior to the start of the feature program at 8:00pm. These formats should be expected to evolve as we gain experience in this new environment. Find full details here.
Arts & Culture
Getty Villa Gardens: Just a short drive up Pacific Coast Highway is The Getty Villa, a replica of an Italian villa overlooking the ocean with four tranquil gardens along with a vast collection of Greek, Roman and Etruscan antiquities.
Architectural Walking Tours: History buffs can discover Santa Monica's architectural gems and culture through a self-guided walking tour curated by the Santa Monica Conservancy.
Street Art Walking Tour: Santa Monica is home to more than 130+ street art murals; one of the best ways to discover them is through a self-guided tour using our online guide.
Culinary
Farmers Markets: Named by Travel + Leisure as the best farmers market in the county, Santa Monica's markets attract local residents and chefs with the fresh produce, flowers, meats and cheeses. Markets are held Wednesdays & Saturdays at Arizona Ave/2nd St, Saturdays at Virginia Ave Park, and Sundays on Main St; click here for full schedule.
Malibu Discovery Wine Tours: Get the wine flowing with a scenic and private tour of the local wine region, encompassing the Santa Monica mountains and Malibu Wine Country; offers pickup/drop-off from all Santa Monica hotels.
Santa Monica Picnic Co: Enjoy the beautiful beaches in Santa Monica with a curated picnic experience. Santa Monica Picnic Co partners with local businesses to provide guests with an elegant, comfortable picnic experience that includes professionally designed furnishings, chef-curated cheese & charcuterie boards and refreshments.
Fitness & Wellness