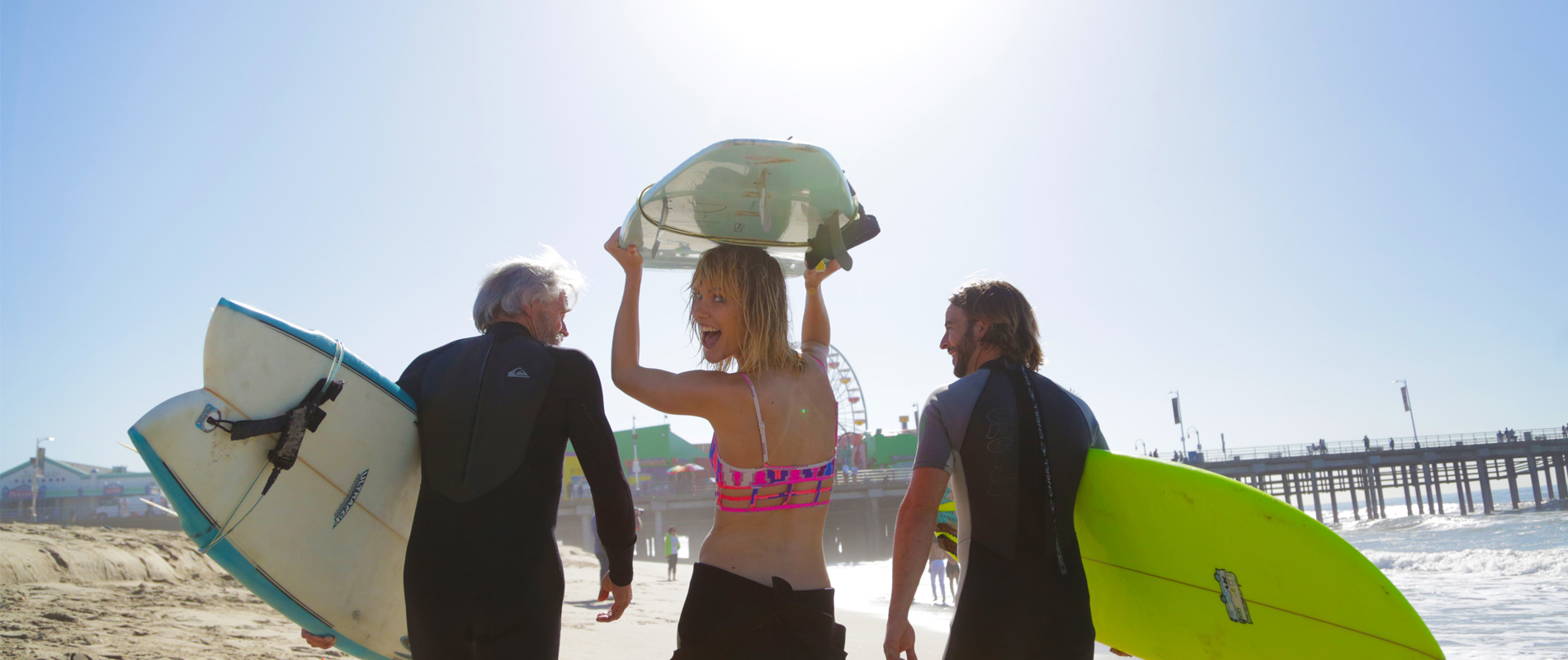 Learn a New Skill in Santa Monica
Posted November 13, 2019
Looking to pick up more than souvenirs and a tan in Santa Monica? The city by the sea offers plenty of opportunities to learn new skills ranging from jewelry making to boxing to stand-up comedy. Here are some of the best spots to pick up a fresh, new hobby.
Have fun with these Fitness Classes
Dial Jones Tennis Academy
Do you secretly wish you were a Williams sister? If so, then you must take tennis lessons at Dial Jones Tennis Academy. Located just steps from the beach on Barnard Way, this clinic is open to players of all levels and ages. Gifted tennis pros teach a variety of group classes daily so you always have a lot of options. For those who'd prefer more individualized attention, Dial Jones Tennis Academy also has private and family lessons.
Poseidon Paddle & Surf
There's no better place to take advantage of everything Santa Monica and its beaches have to offer than at Poseidon Paddle & Surf. This shop doesn't just sell gear and apparel for ocean activities, they also have surf and stand-up paddle board (SUP) lessons. Each session is two hours long and all equipment is provided. And don't worry: no prior experience is needed. Surf's up!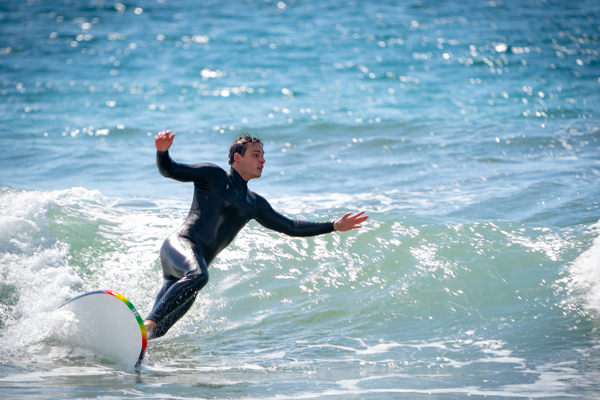 Gloveworx
Ready to sweat? Nothing gets your heart rate up faster than boxing at Gloveworx. The gym provides three types of classes: large group, small group and one-on-one. There's even a quiz you can take on the Gloveworx site to determine which session is best for you. But whatever you pick, you're going to get a killer workout. Watch out, Rocky: looks like you might have some competition in the ring!
Studio Maesto
It might take two to tango but it only takes one person to show up at Studio Maesto to learn how to salsa. The Latin American dance is taught here in a cozy setting by world-renowned dancers. And the first class is free, so there's no excuse not to try it out. After learning some new moves, you can try them out at the Third Street Promenade. Every Sunday night at 6pm a group meets up at Wilshire and Arizona to get their salsa dancing on.
Trapeze School New York
No visit to Santa Monica is complete without going to the Santa Monica Pier, and there's no more thrilling way to experience the pier than taking a class at Trapeze School New York. With trapeze, lyra, acrobatics and trampoline classes, you'll be able to have a once-in-a-lifetime experience while taking in the beautiful sights of the Pacific Ocean.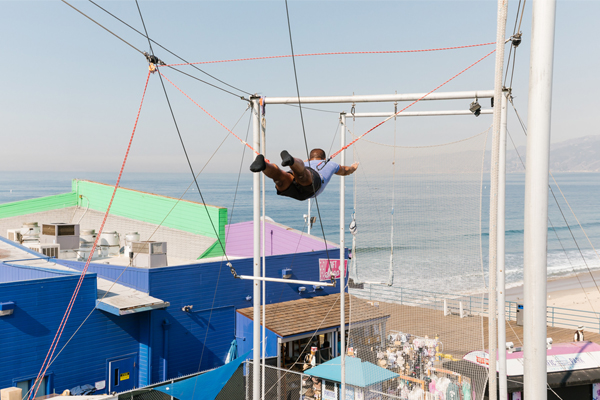 Get Artsy at these Studios
Camera Obscura Art Lab
The Camera Obscura Art Lab  at 1450 Ocean is abuzz with activity, where visitors of all ages can roll up their sleeves and dive into hands-on crafts, art, and cultural programs. Artist Residency programs bring local artists to the Camera to practice their craft and share their work with participants.
Paint:lab
"Everyone can paint!" is the motto at Paint:Lab on 14th Street in Santa Monica. Workshops on watercolors, painting and drawing are held daily and are for all abilities. The studio has unique classes too, including Brushes & Bites, where artists recreate a famous painting while noshing on wine and cheese. There's also a Yoga and Paint class held every Tuesday that's 40 minutes of yoga followed by 40 minutes of painting. For a more freeform experience, Paint:Lab holds an open lab where anyone can come on by and paint on their own using the studio's materials.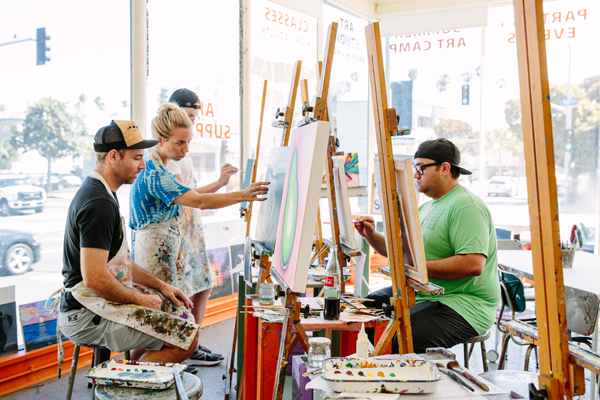 Let Loose at these Performance Venues
Greg Dean's Stand-Up Comedy Workshops
Hone your funny skills at Greg Dean's Stand-Up Comedy Workshops? For more than 30 years, Greg Dean has been teaching stand-up classes to some of the world's most successful comedians (um, ever heard of Whoopi Goldberg?). His approach to coaching comedy has been adopted by many and he's hailed as "the stand up comedy teacher's teacher." If you're not sure that the whole comedy thing is for you, Greg teaches a free stand-up class where you can dip your toe in the world to see if you like it. And even if you're not looking to make a career in comedy, Dean supplies valuable tools that can help you in all walks of life, from job interviews to presentations and sales.
Mi's Westside Comedy Theater
Mi's Westside Comedy Theater doesn't just offer visitors and locals stand-up comedy and improv shows to attend, they also teach those skills as well! Taught by experienced professionals, class types include stand-up, improv, sketch, voice over and more and range from beginner to advanced. Who knows – soon you could go from watching a show at the Downtown Santa Monica venue to performing in one!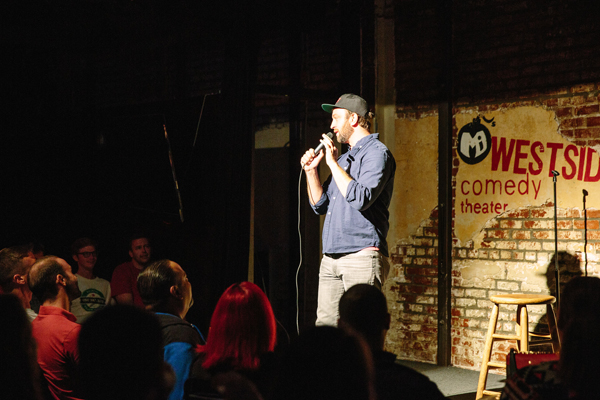 Learn Practical Skills at these Schools
General Assembly
General Assembly Santa Monica has a slew of courses for anyone interested in tech, data, design and business. A lot of the workshops are "bootcamps," which promise to make you proficient in a topic in one intense day-long session. The bootcamps are focused on topics like digital marketing, social media, coding, public speaking, visual design and more. Once you've completed classes at General Assembly Santa Monica you're ready to take nearby Silicon Beach by storm!
The Gourmandise School
Are you a whiz in the kitchen or are your knife skills lacking? At The Gourmandise School, it doesn't matter your culinary level. The program hosts a wide range of cooking classes seven days a week. From lessons on how to make Chinese dumplings to Neapolitan pizza to French macarons, there's something here for everyone. Located in Santa Monica Place, Gourmandise prides itself on using only "locally sourced, sustainable ingredients."