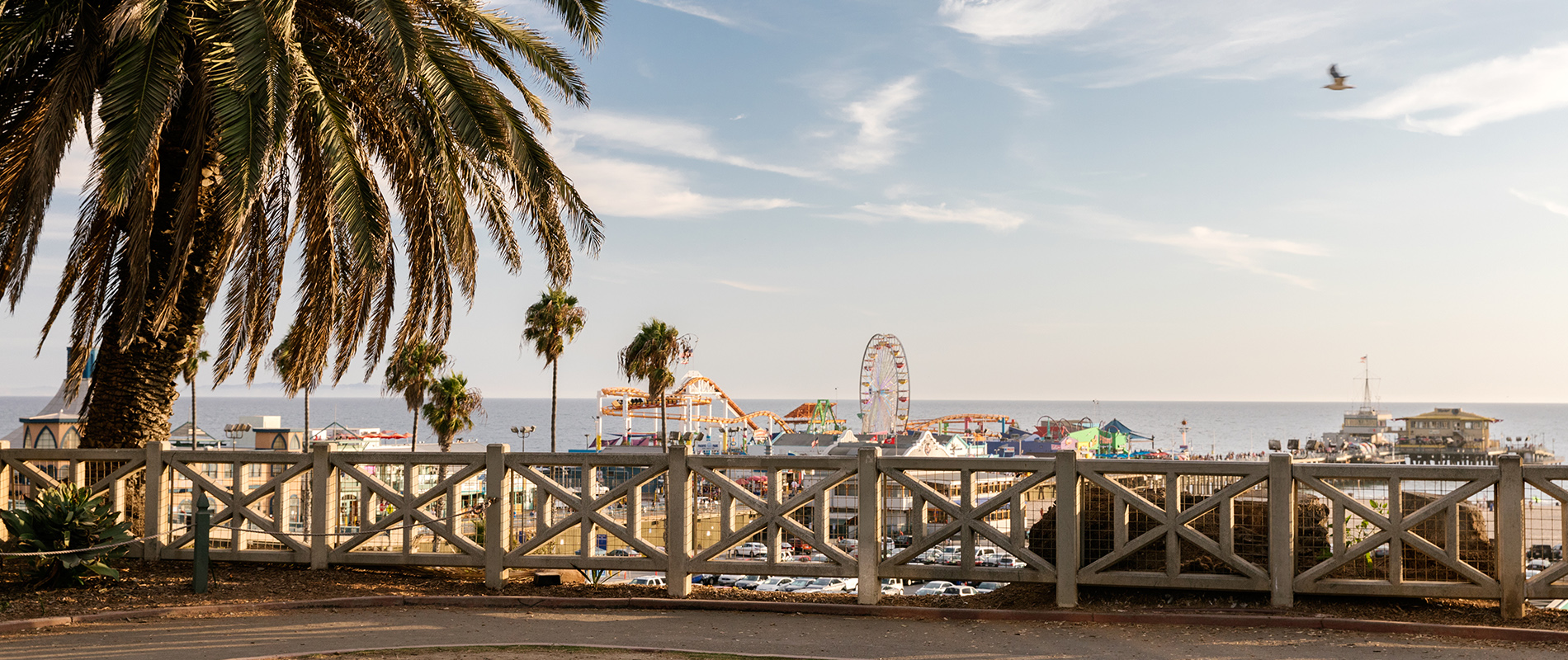 15 Movies to Satiate Your Santa Monica Wanderlust
Updated December 2, 2020 in
Explore
Posted March 30, 2020
Known as Hollywood by the Beach, Santa Monica has long been one of the silver screen's biggest stars, delighting viewers through the ages with its 3.5 miles of glistening coastline, breathtaking ocean views and historic architecture. Indeed, since the early days of movie-making, the city has been featured in hundreds of movies.
While many of us find ourselves at home, now is a great time to enjoy Santa Monica's iconic imagery from a safe distance by enjoying a flick – or two or three – that entertains while satiating wanderlust for Los Angeles' beachside city. Grab a seat on the couch, pop a bag of popcorn and travel to some of Santa Monica's most scenic settings with these 15 films.
Rebel Without a Cause, 1955
In this beloved classic film starring the iconic James Dean, a rebellious young man with a troubled past comes to a new town, finding friends and enemies alike. The school featured in the movie is actually Santa Monica High School, known to locals as SaMoHi. Fun fact: a host of movie stars including Sean Penn, Robert Downey Jr. and Charlie Sheen graduated from here.
The Sting, 1974
This American caper film stars two of cinema's biggest male stars, Paul Newman and Robert Redford, in a twisted plot about the quest of con men. Newman's character operates a carousel which is actually the Loof Hippodrome, located on the Santa Monica Pier. The building houses a carrousel that dates back to 1922 and features 44 hand-carved wooden horses.
The Muppet Movie, 1979
In the original on-screen adventure featuring the Muppets, Kermit and his newfound friends travel across the United States to find success in Hollywood, doing their best to escape a notorious frog legs merchant along the way. The iconic Palisades Park, paralleling Ocean Avenue and offering uninterrupted vistas of the Pacific Ocean, was used as a backdrop in the film.
Fast Times at Ridgemont High, 1984
If there's one film that put SoCal high school culture on the map it was Fast Times at Ridgemont High. Santa Monica Place, a luxury shopping complex designed by Frank Ghery, was used to stage the Ridgemont Mall where several of the film's characters hold after-school jobs.
Speed, 1994
There's never been a bigger adventure for the Big Blue Bus, Santa Monica's municipal bus operator than in this action-packed flick starring Keanu Reeves and Sandra Bullock. In the thriller, a young police officer must prevent a bomb exploding aboard one of the buses by keeping its speed above 50 mph. The Big Blue Bus has continued to be a popular mode of transportation for visitors and locals alike to explore Santa Monica's 8.3 square miles.
Forrest Gump, 1994
The presidencies of Kennedy and Johnson and events of the Vietnam War, Watergate and other historical happenings unfold through the perspective of an average Alabama man. In one scene, titular character Forrest Gump runs across the United States of America from ocean to ocean. He concludes his historic feat on the Santa Monica Pier, passing beneath the historic pier sign.
Get Shorty, 1995
A mobster travels to Hollywood to collect a debt and discovers that the movie business is much the same as his current job in this high-energy flick starring John Travolta and Rene Russo. In one scene the duo exits a theater which is none other than the Aero Theatre, a single-screen theater in Santa Monica that dates back to 1939.
The Big Lebowski, 1998
Mistaken as a millionaire with the same name, Jeff "The Dude" Lebowski, seeks restitution for a ruined rug and enlists his bowling buddies in the quest. One of the most memorable scenes in the film is a "bowling dance dream" sequence, filmed at the Santa Monica Airport. One of the airport's former hangars, the Barker Hanger, plays host to Hollywood celebrities each year when it hosts the E! People's Choice Awards.
Ocean's Eleven, 2001
Danny Ocean and ten accomplices map out a plan to rob three casinos simultaneously, but there's more to Ocean's Eleven than Las Vegas! In one scene, characters played by George Clooney and Brad Pitt meet at local favorite restaurant The Lobster, feasting their eyes on views of Palisades Park.
Lords of Dogtown, 2005
Lords of Dogtown is a film about Santa Monica filmed in Santa Monica! This movie details the surf and skateboarding trends that emerged from Santa Monica and Venice in the 1970's. Santa Monica is the setting for the entire film and many key landmarks make an appearance on screen.
Iron Man, 2008
The first film in the Avengers franchise, Iron Man After details the adventures of billionaire engineer Tony Stark as he creates a unique weaponized suit of armor to fight evil. In one scene Tony Stark is shown testing out his suit of armor with a night flight above the Santa Monica Pier. Making the connection to Santa Monica even sweeter, lead actor Robert Downey Jr. is a graduate of Santa Monica High School.
Hannah Montana: The Movie, 2009
One of the most popular television shows on the Disney Channel, Hannah Montana made her feature length debut in a film that contends with her conflicting desires to sing and maintain a connection to her roots in Crowley Corners, Tennessee. Towards the beginning of the film, Hannah Montana's BFF holds the ultimate birthday party at Pacific Park on the Santa Monica Pier.
Valentine's Day, 2010
In this rom-com saga, intertwining couples and singles in Los Angeles break-up and make-up based on the pressures and expectations of Valentine's Day. Not only does the film star a gaggle of popular actors including Julia Roberts, Jennifer Garner, Bradley Cooper and Ashton Kutcher, it also features multiple locations around Los Angeles' beachside city including the Santa Monica Pier.
The Social Network, 2010
A fictionalized account of Facebook founder Mark Zuckerberg's early days creating the social networking site, this film went on to win several Academy Awards including Best Adapted Screenplay. The Santa Monica Bay Woman's Club, a historic landmark clubhouse that dates back to 1905, transformed into a Harvard lecture auditorium for a scene in the movie depicting a lecture by Microsoft founder Bill Gates.
Her, 2013
In a near future, a lonely writer develops an unlikely relationship with an operating system voiced by Scarlett Johansson designed to meet his every need. In one scene the main character, played by Academy Award winner Joaquin Phoenix, visits a fair, which is in reality the Santa Monica Pier.