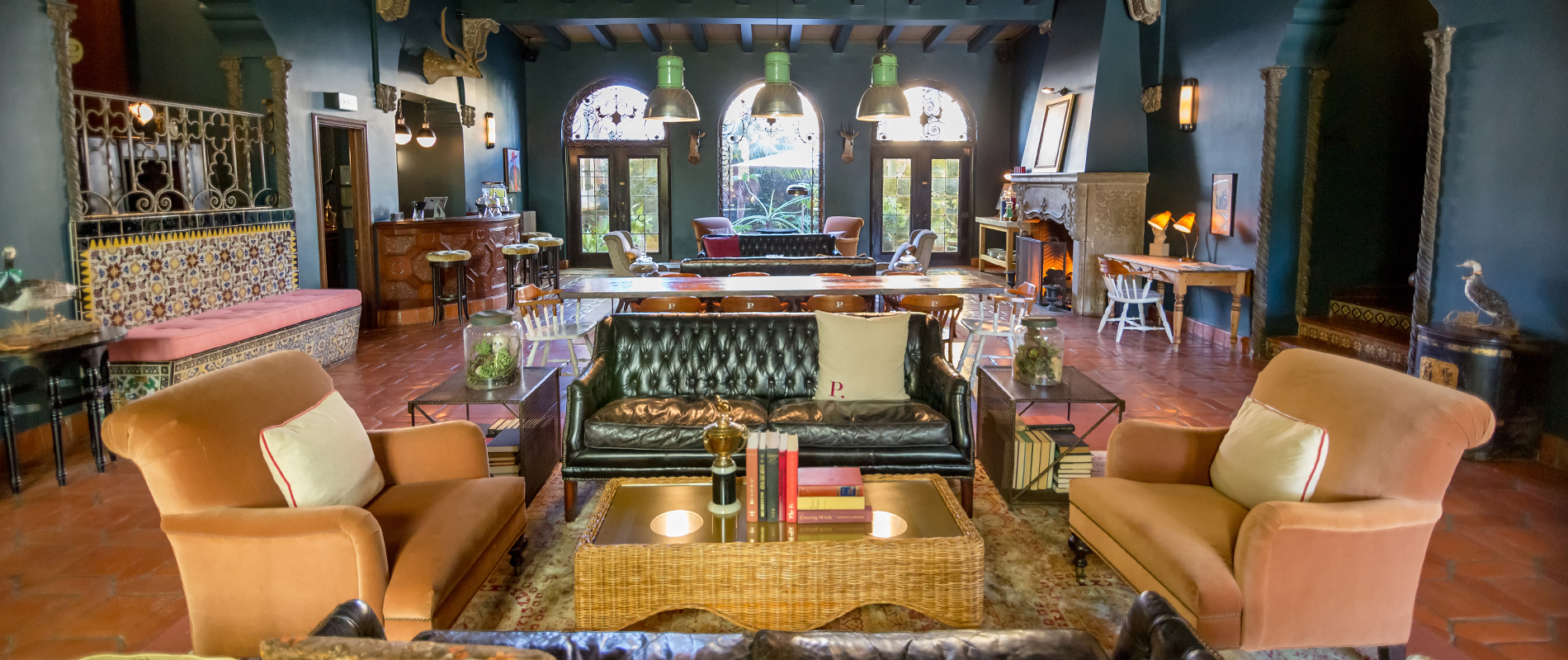 Santa Monica Hotels for Architecture and Design Enthusiasts
Updated January 17, 2023 in
Stay
Posted May 11, 2021
There's a lot Santa Monica is known for — breathtaking coastal views of mountains kissing the ocean, a vibrant dining scene, a sprawl of sand and sea, and a bustling shopping scene. In other words, the city is a field of dreams, calling foodies, creatives, beachgoers and vacationers alike. Add to the list: Architecture and design enthusiasts, who'll have a hard time these days picking a home away from home. From laidback coastal chic lodges to modern luxuries with boatloads of personality, these hotels transport guests to design havens while staying true to the city they call home. Here are the 10 stays you won't want to miss.
Santa Monica Proper Hotel
Ever since Santa Monica Proper Hotel opened its doors in the summer of 2019, it quickly became an emblem of Santa Monica cool. The renovated 1920s-era Spanish Colonial Revival building is where designer Kelly Wearstler let her imagination run wild, creating sunlight-flooded spaces kitted out with beachy, organic textures, smooth stone and raw wood. Palm fronds mingle with cinnamon-colored leather sofas and eclectic, unexpected finds deserving of a double take. This stylish brand of cozy also extends to the hotel's courtyards, terraces and rooftop pool deck. Guests staying at the hotel will fall in love with the rooms' sandy palette and marble vanities — and surely make plans to come back.
The Beacon
Fans of Streamline Moderne will find plenty to love at The Beacon — a seven-story white stucco building with long horizontal lines and elegant curvilinear forms. Built in 1939, the building resembles a grand ocean liner — docked only a short footfall away from the ocean. From the inside, the cruise-ship aesthetic comes into clearer focus with its tiered decks and pool loungers with striped cushions. Those spending nights at one of the hotel's 70 "staterooms" will feel the Art Deco influences in the light fixtures and simple-but-elegant furnishings.
Palihouse Santa Monica
Once the pair of wrought-iron gates open up to this charming boutique hotel nestled in a lush courtyard, you know you've stumbled upon an intimate, tucked-away open secret. Housed in a 1920s Moorish-influenced Mediterranean revival building, the Palihouse's lobby has all the trappings of an old-world hideout: wood-beamed ceilings, tufted green velvet half-circle booths, an ornate fireplace, gold-framed fine art and oversized leather couches. The hotel boasts 38 classic rooms, most of which feel like stepping into a European pied-à-terre. In other words, comfortable without falling short on style.
View this post on Instagram
The Georgian Hotel
The Georgian Hotel, located on Ocean Avenue's main drag, is unmissable with its striking turquoise facade that stretches eight stories high. Boasting balustraded balconies, an ornately embellished roofline and decorative Art Deco panels running up its length, this 88-year-old storied Santa Monica landmark is an immediate head-turner — with a rich history to boot. (It was one of the first skyscrapers built on the street and even housed a prohibition-era speakeasy). Though its exterior celebrates architect M. Eugene Durfee's brilliant distillation of period Revival-style and Art Deco elements, in contrast, the rooms are simple and refined with vintage touches discreetly incorporated throughout.
View this post on Instagram
Oceana Santa Monica
From the outside, Oceana's ivy-covered complex might seem fairly low-key, but step inside, and you'll see why this hotel has been drawing A-list crowds since its recent revamp. The 70-suite property is equal parts beach chic and California cool. The hotel's mid-century-modern furniture, wood-panel walls and four-sided glass fireplace is surely impressive, but one of the main focal points is the outdoor courtyard lounge, gussied up with unique tile work, a freeform pool, lush greenery, teak daybeds and sofas and fire pits. As far as rooms go, expect royal blue sofas, walls lined with modern artwork, and black and white photography, bold wallpaper and patterned throw pillows.
Viceroy Santa Monica
Sitting just a stone's throw away from sand and sea, this beloved decades-old institution took on a new identity after a $21 million overhaul. Now, the Viceroy Santa Monica offers a cool and colorful geometric sensibility that feels fresh and modern. Inside the glass building, the design is coastal but sophisticated — a marriage of neutral-toned wood and leather, juxtaposed with colorful accents and vibrant mid-20th-century artwork. The hotel's outdoor patio, open-air cabanas, wrap-around bar and plenty of seating nooks will give you even more space and time for lounging — and some major decor inspiration to take home.
View this post on Instagram
Loews Santa Monica Beach Hotel
If you're a fan of the breeziness coastal chic decor has to offer, you'll find yourself right at home at Loews Santa Monica Beach Hotel. A soaring, light-filled glass ceiling spans the spacious lobby, and floor-to-ceiling windows blur the lines between the outdoors and in. Here, rooms and suites are airy and bright. Think: greys and cool, milky whites propped up with hues of coral and sea blues, and blonde-wood furniture and wicker. Each one of Loews' suites has its own design character, but all pay homage to the tranquil playground the hotel calls home.
View this post on Instagram
The Ambrose Hotel
If there's anything you need to know about The Ambrose Hotel is that it puts the sustainability front and center. (Case it point: It's America's first LEED-certified hotel.) So, it's no surprise that this California-Craftsman property livens up its common spaces with botanicals and splashes of green. If you're not catching up on your sleep in one of the hotel's simple-but-spacious rooms, there are a handful of places to relax on the ground floor. Sidle up near the fireplace (and a gorgeous tree-root glass table), the hotel's reading nook or bar — fitted with white marble tabletops, a deep, velvety green wallpaper and hues of gold.
View this post on Instagram
Hotel Casa del Mar
Channeling a kind of Italian villa feel, this 1920s iconic hotel stands elegantly near the water's edge. Hotel Casa del Mar's renovated lobby's grand double staircase and coffered ceilings draw you back to the palatial hotel's glamorous past life, while wicker furniture, iron-and-blown-glass light fixtures and potted palm trees coax out a more contemporary Coastal attitude. (Thanks to interior designer Michael S. Smith's vision.) The hotel's spacious rooms and suites feel like a cozy beach house, all done up in sophisticated pastels, shells and shell motifs, and dark-walnut four-poster beds.
View this post on Instagram
Hilton Santa Monica Hotel & Suites
A few years in the making, Hilton Santa Monica just unveiled a comprehensive, full-scale redesign, thanks to the vision of LA-based Avenue Interior Designs. In the lobby, dreamy juniper greens flirt with tans and mustard yellows, and a green wall debuts a trendy neon pink "good vibes only" sign. The spacious rooms are now flush with an elegant palette of blush rose and creamy taupes complemented by touches of marble, wood and gold. But above all, the space is a study on how design can cater to today's priorities. Modular seating offers flexibility. An uncluttered, pared back concept prioritizes cleanliness — without sacrificing warmth and softness.
View this post on Instagram
Click here to view all Santa Monica hotels.