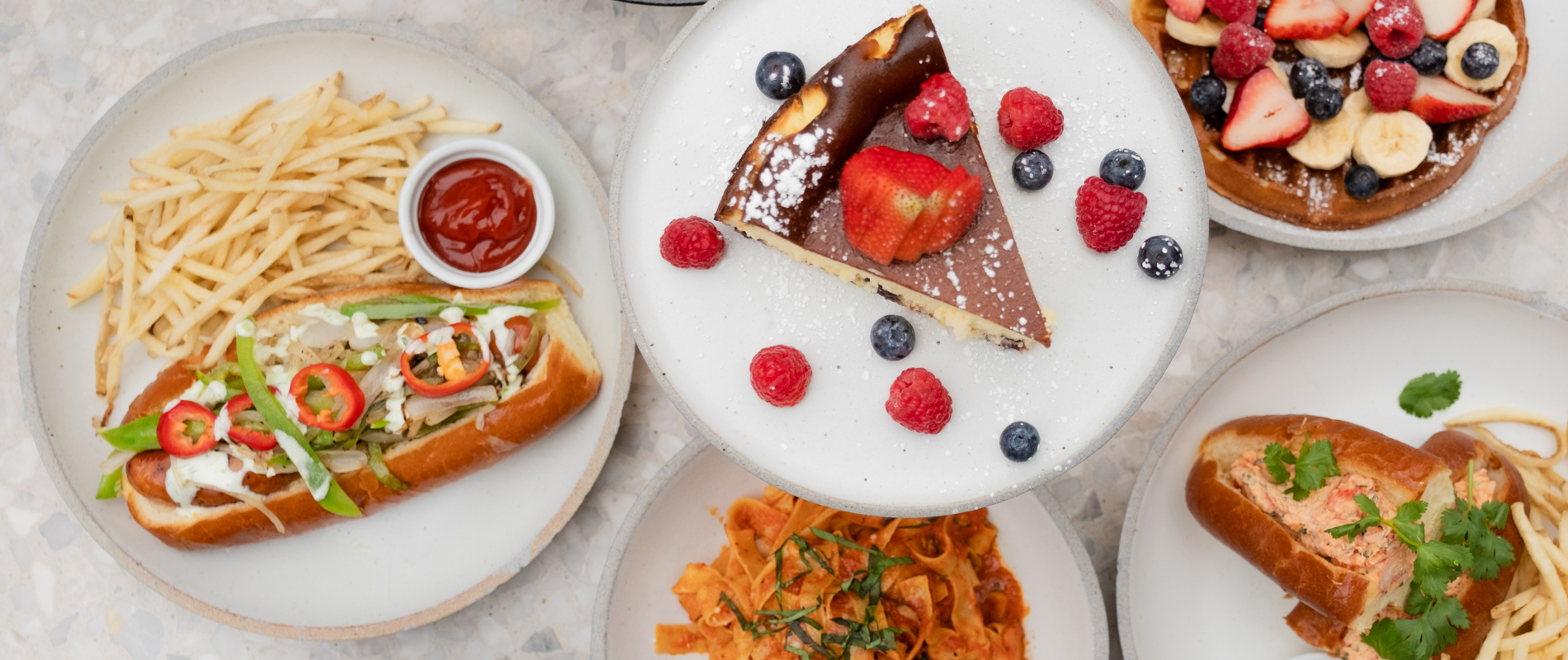 Santa Monica Restaurant Owners Discuss Visions for Their New Concepts
Updated September 20, 2022 in
Eat
Posted August 4, 2021
As we previously noted, Santa Monica has defied expectations from the past year and seen a surprising boom for New Restaurants. Founders from five concepts with diverse culinary backgrounds shared visions for their businesses.
Cafe Ruisseau
Edward Ackah-Miezah moved from Seattle to L.A. after high school to become an actor. By his mid 20s, he had a young family and felt pressure to make something happen. Ackah-Miezah had worked at a coffee bar near a film studio and noticed how often production assistants would bring big drink orders back to set. "I figured they had to be a better way for them to get coffee on set and came up with an idea to put together a mobile coffee cart that I could take to them," he says. "I started doing that in 2005 and had a lot of success with the business." After caffeinating productions like "The Bachelor" and "Iron Man," he debuted an open-air café in 2016 in Playa Vista and added a sleek Santa Monica outpost at the base of Goop's new headquarters in November 2020. He named Cafe Ruisseau for his daughter. The name means "brook" in French.
"I was first able to visit the space we're in before the pandemic started and was struck by the energy and vibrancy of everyone here," Ackah-Miezah says. "So many creative professionals and residents engaged in positive and progressive ideas really inspired me. I felt like a great coffee shop could act as a space for these individuals to connect help further great ideas."
"We ain't doing the pretentious coffee snob thing at Cafe Ruisseau," Ackah-Miezah says, "but still overwhelming amounts of sugar and syrup is best left for the other guys." He's particularly proud of house brew, a coffee blend they named for L.A. legend Kobe Bryant. "Coffee is the star of the show at our cafe, but don't sleep on our matcha or our chai either," he says. "Adding a touch of lavender or rose to them will have you doing a chef's kiss!"
"We strive to be more than just a place to get a great beverage," he says. "We really aim to be a space that helps to bring character to the area. A space where people truly feel seen and valued and get a sense of belonging and connection."
Le Petit Chez Mimi
Québec native Micheline "Mimi" Hebert opened her first restaurant, Chez Helene, in Venice in 1976. Since then, the life-long restaurateur has treated Westsiders to restaurants like Chez Mimi, which lasted from 1997-2010 across from Brentwood Country Mart before relocating to Pacific Palisades until 2015. Last fall, Mimi revived her neighborhood restaurant, opening Le Petit Chez Mimi near a cluster of Santa Monica tech and entertainment companies.
"Since I closed my last restaurant, over six years ago, I was dreaming to come back to Santa Monica," she says. "My years on 26th Street were unforgettable." She's appreciates the city's "sense of belonging and friendship." Many familiar customers have joined Mimi at different restaurants over the years and she sees them as family. "Like I reminded my staff, there are thousands of restaurants in L.A., if the people choose to come here, they are special," she says.
"I cook to please my customers," Mimi says. "I love traditional food, homey food. I mixed my cooking with my French Canadian background and my many experiences in France." She makes the most of a small kitchen by offering a robust menu.
Mimi suggests ordering dishes that most people don't cook at home like bouillabaisse, a seafood stew with roots in Marseille. For dessert, indulge in pouding chômeur, a Depression-era pudding from Mimi's hometown that she enriches with maple syrup and cream.
Interstellar
Chef Angie Kim and coffee-fueled husband Daniel debuted Interstellar in 2020 in a historic building above the beach with one goal in mind: "to start off people's day with great food and great coffee."
Interstellar refers to the space between stars. "For Daniel and I, these two stars represent the two cultures we grew up with and the space in between is where we reside," Angie says. "Growing up with two cultures, Korean and American, I always felt like I had a need to choose between the two. Interstellar was created to promote cultural embrace through food and drink. L.A. is a melting pot of so many different cultures! We specifically chose Santa Monica not only for its beautiful location, but because many tourists, locals and all travelers visit here, and we wanted to provide a comforting space where anyone feels welcomed and can try our dishes that incorporate a hint of globally unlimited ingredients."
"I hope to give people an experience of something familiar mixed with a little something new through our food and drink," Angie says. That could mean a lobster roll with sambal butter poached shellfish and lime aioli or Moroccan harissa pappardelle with burrata and nuoc mam (fish sauce). Angie's personal favorite dish is branzino ochazuke, a pan-seared fish and rice bowl seasoned with shiitake kombu dashi broth, soy sauce, and sesame oil that encapsulates Interstellar's global approach, drawing on Italy, Japan, and Korean influences.
Crudo e Nudo
Brian Bornemann is a Santa Monica native and partner Leena Culhane moved here 12 years ago. During the pandemic, he was furloughed as Michael's Executive Chef. Culhane is a folk musician and music teacher with culinary experience who released an album in 2020, but couldn't tour due to COVID-19.
"I was really yearning for a place to put my creative energy," Culhane says. "This is a very natural fit for me creatively because music for me is also about connection and it's also an expression of self." She and Bornemann collaborated on every aspect. "It was really empowering during a year in which I felt very powerless over so much stuff, as I'm sure a lot of us did," she says.
Crudo e Nudo first appeared as a pop-up co-starring her desserts and his raw seafood preparations, called crudo in Italy. The couple recently replaced a juice bar on Main Street. "It was just this beautiful alchemy of preparation meeting timing meeting some risk for us, but mostly great excitement," Culhane says.
Bornemann cooked in Tuscany and Milan before returning to the States. In Italy and at L.A. restaurants like The Tasting Kitchen, he developed a "from-scratch cooking mentality" that now informs Crudo e Nudo's market-driven butcher paper menu. Whether it's seafood, vegetables, or wine, they strive for sustainability and regenerative farming practices when sourcing from purveyors. "Buying a fish from us is like buying a car," Bornemann says. "You've got to know all the details. Where it came out of the water, who caught it, what time, how it got to us, the whole chain. Otherwise we just don't buy it and we don't sell it."
Recent crudos included everything from simply dressed striped bass to scallops and halibut. The menu also features "Veggies," a mix of salads, crudités and grain bowls, and "Compositions" like caviar "nachos" and steamed Venus clams. They also sell impeccably sourced seafood for people to cook at home.
Culhane also runs Lenny's "coffee & commune" in the space most mornings with a mix of house-baked and Gjusta pastries that helps generate donations for local nonprofits that have been hurting. Culhane also makes Crudo e Nudo's sole dessert, a "crème fatale" almond butter cup dusted with Maldon sea salt.
"The whole business relies mainly on this cornerstone of integrity," Culhane says. "Whether that's how we're paying our and treating our employees or where we're sourcing things." For her and Bornemann, community extends "beyond what we sell, really using this brick and mortar as a place where people can come to be fed in a lot of different ways."
View all Santa Monica cafes and restaurants.