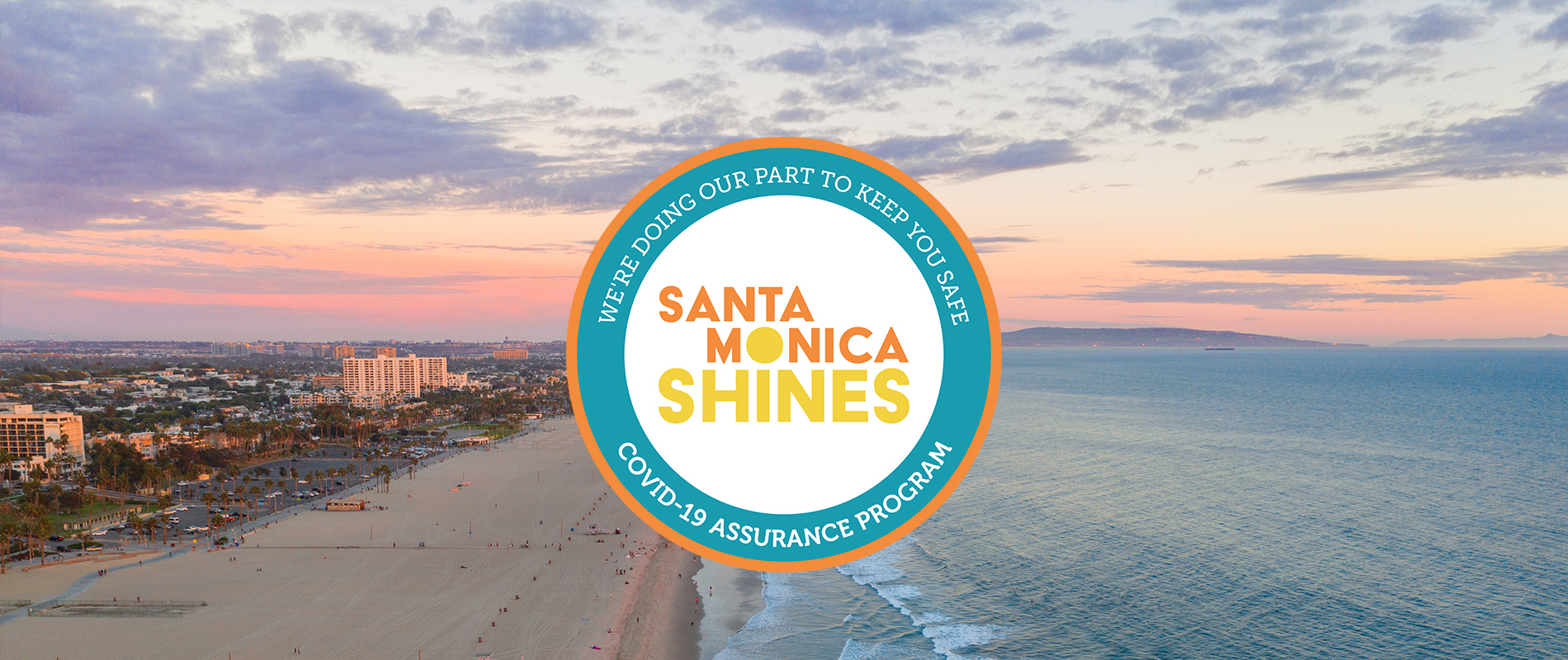 Santa Monica Shines COVID-19 Assurance Program: How Businesses are Going Above & Beyond
Posted October 12, 2020
The city by the sea is taking great steps to guarantee safety during the pandemic with the newly established Santa Monica Shines COVID-19 Assurance Program. Here is a guide to the first nine businesses to achieve assurance.
Santa Monica's businesses are opening up with lots of new guidelines in place to keep everyone safe. To help businesses meet these standards, Santa Monica Travel & Tourism has teamed up with the City of Santa Monica, Sustainable Works, Santa Monica College and Arrow Up to launch the Santa Monica Shines COVID-19 Assurance Program, which provides training for staff on health and safety protocols as well as site inspections to be sure that businesses are fully up to date. Here is a guide to the first ten businesses to achieve COVID-19 Assurance, and check out the link above for the full and updated list. Over 100 businesses have now started the program!
RESTAURANTS
The Albright
These past few months have included a lot of home cooking (for better or worse). Take a break from the kitchen thanks to this spot with a great ocean view patio on the Santa Monica Pier. The Albright has a seafood-centric menu available for both takeout and delivery, offering everything from lobster rolls — Connecticut and New England style — to fried clams and fish tacos.
View this post on Instagram
Lunetta
Chef Raphael Lunetta's contemporary restaurant features a crowd-pleasing menu full of sandwiches, pasta dishes and entrees — all made with local, fresh ingredients. Lunetta added an outdoor dining area with lots of shade plus foliages between the tables to beautifully create more separation. The restaurant hosts brunch on the weekends and happy hour Wednesday through Saturday 4-6pm. End the weekend right by picking up the Sunday Supper, a hearty prix fixe menu with three sides and an entree, plus dessert.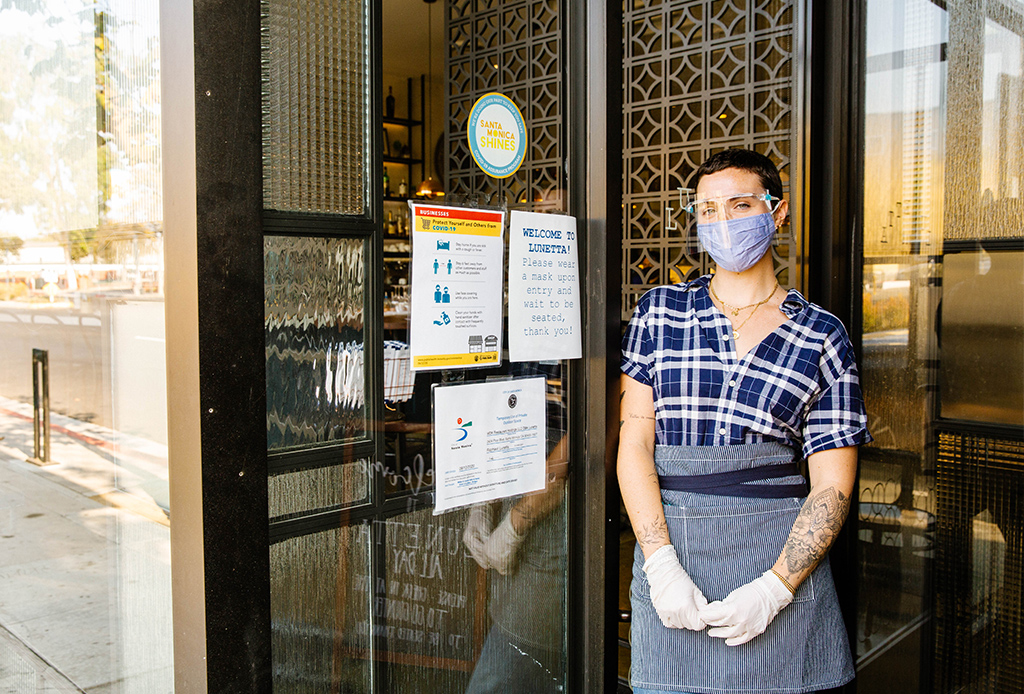 Water Grill
Seafood lovers should plan a trip to this Ocean Avenue restaurant. Water Grill, a Santa Monica staple, has an extensive menu of wild caught fish and iced shellfish platters plus a dozen different types of oysters available from the raw bar. There is also filet mignon and grilled chicken for those that prefer turf over surf. Seating is on the outdoor patio, where tables are separated by plexiglass barriers.
View this post on Instagram
ATTRACTIONS
Main Street Visitor Center
One of the first stops you should make on a trip to Santa Monica is the Main Street Visitor Center, where helpful travel counselors can inform you about what's going on in the city. They'll be able to provide you with maps and guides as well as give you the latest list of businesses that are part of the Santa Monica Shines Covid-19 Assurance Program.
Perry's Cafe and Beach Rentals
Santa Monica's stretches of sand have been great places to decompress during COVID-19. At Perry's Cafe and Beach Rentals, you can have a beachside lunch and also arrange for gear like chairs, umbrellas and boogie boards. Plexiglass has been added at check-out points, as well as contactless payments. If you want to work off that lunch, Perry's also rents out rollerblades, skateboards and a large selection of bicycles. There are a few Perry's locations throughout Santa Monica including Blazing Saddles, a rental-only offshoot located on the Santa Monica Pier. The well-ventilated space also has a hand washing station right at the entrance.
Pacific Park on the Santa Monica Pier
Pacific Park on the Santa Monica Pier are iconic landmarks, and the businesses found there are slowly reopening with safety as a top priority. Have fun in the sun and enjoy the views while checking out the shops, restaurants and activities open along the way.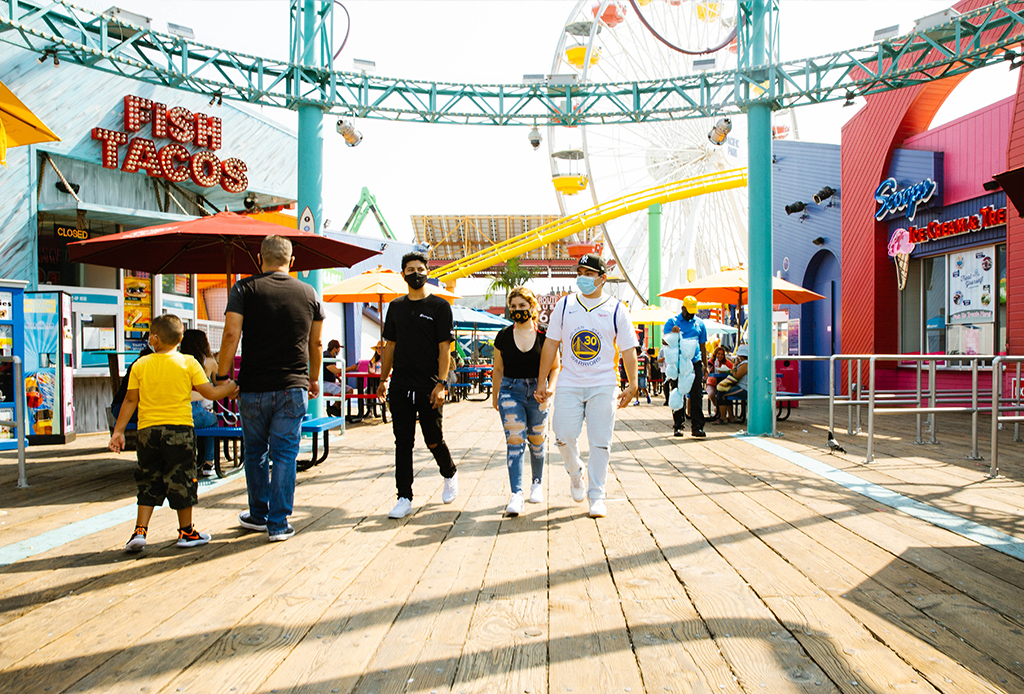 Westside Music Conservancy
This music school and performance space has not wavered in their commitment to music education and appreciation. Though Westside Music Conservancy classes and performances have been online since March, they are putting a number of safety protocols in place to be ready to welcome music lovers back through their doors as soon as possible. Surfaces within the building are regularly cleaned, and there is an outdoor area for safely waiting.
HOTELS
Sea Blue Hotel
Whether you are taking a vacation or need a bit of a staycation after months at home, this hotel steps from the beach and the Santa Monica Pier offers a great escape. Sea Blue Hotel has 27 rooms with bright, beachy decor and free wifi in case that staycation includes catching up on work. Head right through the hotel's courtyard for a sunny day on the beach, then back to chill out and order take-out from one of the great local spots to enjoy in your room. The hotel has strict cleaning protocols in place, with rooms being deep cleaned and common areas disinfected hourly.
View this post on Instagram
Viceroy Santa Monica
This luxury hotel, also located within blocks of the beach, has been a Santa Monica icon for 20 years. The 162 rooms — some with ocean views — have a serene coastal feel, and are thoroughly deep cleaned as part of the hotel's commitment to guest safety (HVAC filters are also regularly maintained and replaced). And even though you can stroll to the sand, Viceroy Santa Monica is all about relaxing poolside. Part of a recent renovation included transforming the outdoor patio where you can rent one of the open-air cabanas to sip sparkling wine by the two shimmering pools and soak up some sunshine.