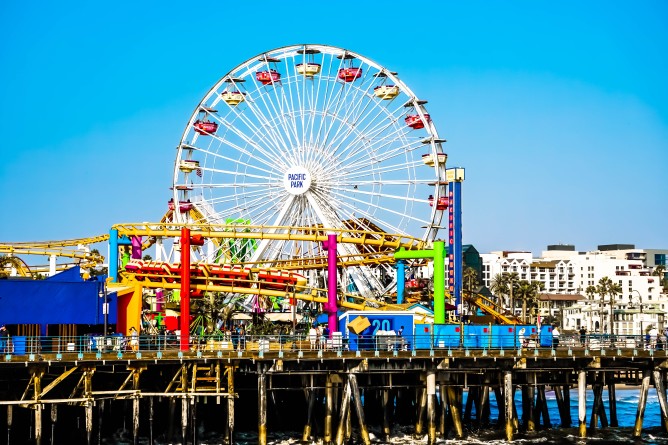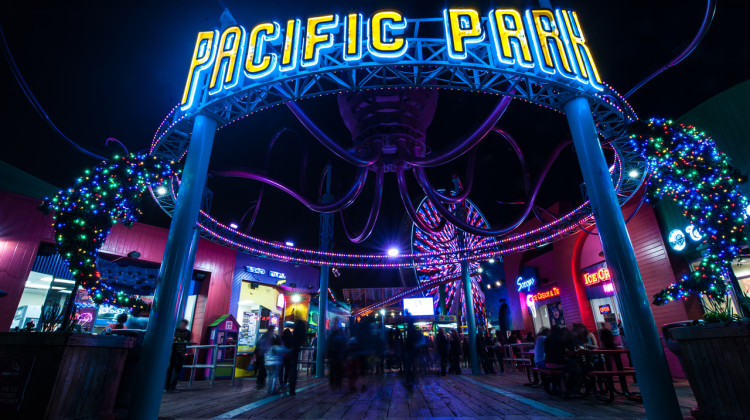 Pacific Park
Neighborhood:
Pier/Ocean Ave
380 Santa Monica Pier, Santa Monica, CA 90401-3128
Located on the world famous Santa Monica Pier, Pacific Park® is the family place to play! It's the West Coast's only amusement park located on a pier. Millions of visitors each year enjoy all the rides, games and fun you'd expect from one of Southern California's Leading attractions. Pacific Park® has it all... a dozen rides, midway games, ocean front specialty food outlets and seaside shopping.
Connect With Pacific Park
American Express
Discover
Master Card
Visa
Free Admission
Cash
Check
Family-Friendly
Meeting Facilities A/V Available
Hours Open - Monday: Varies
Hours Open - Tuesday: Varies
Hours Open - Wednesday: Varies
Hours Open - Thursday: Varies
Hours Open - Friday: Varies
Hours Open - Saturday: Varies
Hours Open - Sunday: Varies
Parking Available: Paid
WiFi Available:
Restaurant Capacity (Seated): 700
Restaurant Capacity (Standing): 700
File Upload - Health & Safety Policy: https://SantaMonica.simpleviewcrm.com/sched/getfilebykey.cfm?filekey=5df8c74a-aad9-472d-87a4-b15e52c8307d
Enjoy a fun filled, over-the-ocean event with unlimited amusement rides, midway games with cool prizes and delicious BBQ all mixed with sun, ocean breezes and spectacular views on the historic Santa Monica Pier. Pacific Park is the perfect iconic location for corporate events, company picnics, wrap parties, movie premieres, sales incentives and more!
Largest Room: 3400.00
Total Square Feet: 90000.00
Reception Capacity: 300
Theater Capacity: 300
Banquet Capacity: 300
Arturo is the man - he is LeBron amongst the Cavs. Arturo works in the photo booth adjacent to the exit of the roller coaster. He is head and shoulders... Full Review
This was by far the best Ferris wheel ride ever. My girlfriend and I happened to get on around the perfect time to watch the sunset over the ocean. What a priceless view! The ride was long and... Full Review

We had a great evening here! Since we weren't going to be there for too long, we didn't purchase the day pass, but instead just paid for a few tickets for a couple rides. My boys picked one out they... Full Review

Has great rides. pretty cheap 30$ for 1 day. line isn;t long. The only thing is that the mini-games are hard to win. Full Review