How to Visit the Santa Monica Pier
Updated February 15, 2023 in
Explore
Posted April 28, 2021
Open daily, Santa Monica Pier is a free attraction and a great place to make memories that last a lifetime. With any popular attraction, planning your visit ahead of time and bringing your patience and common sense are key to enjoying this iconic landmark. Below are a few tips to keep in mind if you're planning on visiting Santa Monica Pier and surrounding areas
Before You Visit
Now that you've decided to visit Santa Monica Pier, you'll need to figure out some logistics, such as when to go and how crowded it might be once you get there. Plan ahead or check before you go to make the most of your visit:
Plan your visit ahead of time. Mid-week visits or mornings will be less crowded.
Visit SantaMonicaPier.org for the latest information as hours and entrance locations may shift.
Want to see if the Pier is busy? Go to the live Pier cam to check it out before your visit.
Pack some sunscreen and remember to reapply.
Click here for the most recent mask requirements.
Go car free – use the Big Blue Bus, Metro Expo Line, bikes or shared ride vehicles – then you don't have to worry about parking!
If you do plan on driving, plan ahead and know where to park, how and where to pay and avoid parking frustrations. Check real-time parking availability in Santa Monica here.
While You're at the Santa Monica Pier
Once you arrive at the Pier, the options are endless. From Pacific Park, shopping, sightseeing, and more, how will you spend your time?
Your smartphone is a great tool, but Santa Monica is also full of friendly people including our police and city staff who are usually happy to help out with directions or even make a recommendation for dinner.
Keep Santa Monica clean! Do your part to always discard trash and recycling in the appropriate bins. Remember used masks and gloves belong in the trash.
Support local businesses. There are a variety of businesses on the Pier and they need your support to recover from this past year!
Santa Monica Pier Vendors
Santa Monica Pier has 13 official cart vendors located on Santa Monica Pier. All of these carts have earned the Santa Monica Shines COVID-19 Assurance Seal to ensure health and safety of customers and employees. To learn more about this program and see what other Santa Monica businesses have earned their seals, click here.
Food Carts
Candy Carousel
Churro Man
Downtown Fruit
Japadog
Pier Tamales
Retail Carts
Beach Signs
Hats Amazing
LA Beach Kites and Souvenirs
RedLine Sunglasses & Accessories
Tees -R -Us
Pier Photo
Two Photos In One
Windy Time
Remember, if you purchase items from a cart vendor, be sure they have an official vending permit issued by the City of Santa Monica as well as a LA County Public Health Permit for food items. Look for these permit decals on the vendors cart or badge.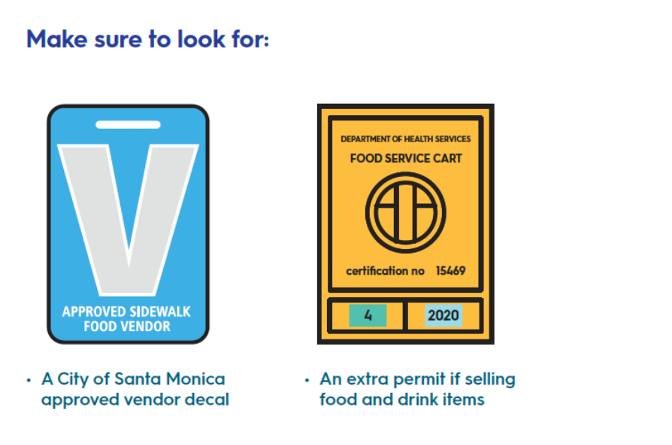 The City Council recently adopted three new rules to help improve safety and cleanliness on and around the Santa Monica Pier. The new rules prohibit the use of combustible fuels on the 112-year old wooden pier, including propane, butane, and other fuels commonly used for cooking; they prohibit dumping of cooking waste like fat or grease on or below the pier; and they prohibit the dumping of other commercial waste in nearby trash cans.
The new rules were needed due to the rapid increase in unlicensed vending on the pier, which created multiple health and safety hazards, including a risk of fire, water pollution, and garbage attracting vermin.
For Your Safety
For the past year, everyone has had to add a few safety precautions to their everyday lives. Visit our Travel Responsibly page for more information. While visiting Santa Monica Pier, please:
Be aware of your surroundings when walking and driving and be respectful to the many other people who are enjoying the Pier.
Santa Monica Police are always in the vicinity, but if you see something, say something. Report a non-emergency by calling Santa Monica Police Dispatch at 310-458-8491 or call 911 in case of an emergency.