Have you been sticking to those resolutions to get fit in the new year? If you feel your willpower slipping away, a visit to Santa Monica, California could be just the boost you need to keep your fitness resolutions alive. Research has shown that if you choose an activity you enjoy, you're more likely to stick with it…and there are a lot of activities to love in Santa Monica—both inside and out—that you won't find anywhere else. Here are a few:
The Original Muscle Beach
In the mid 1930s, the original Muscle Beach was established just south of the Santa Monica Pier, playing host to an endless number of gymnastic and bodybuilding competitions. Today, you can join other athletes on its sandy shores to flex your muscles through a variety of tumbling, gymnastics and core strength building activities—all with views of the historic Santa Monica Pier.
Breeze Bike Share
Santa Monica's Breeze Bike Share program kicked off in late 2015 with 500 bicycles at 75 hubs around the city. Feeling energetic enough to go for a run but don't have the energy to run all the way back? No problem! Check out a bike for the return trip, since you can rent these bikes for any period of time – for one-way or round trips. For the ultimate bike experience, grab a Breeze bike and cruise along the Marvin Braude Bike Trail for endless views of the coastline.
Park Panoramas
Santa Monica is home to a multitude of landscaped parks, creating the perfect ambience for a scenic walk or run or to lay out a yoga mat and find your inner zen. The serpentine flat paved path that stretches just over a mile at Clover Park—in Santa Monica's residential Sunset Park neighborhood—is popular with runners and walkers who watch planes take off from nearby Santa Monica Airport. The park also features a 15-station fitness course. Or jog on over to gorgeous Palisades Park—perched on the cliffs above the Pacific—and workout among the palm trees on the grass lawn and dirt path overlooking the ocean.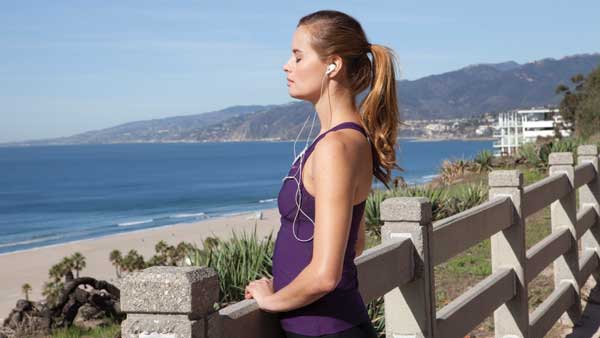 Trapeze School on the Pier
Historically, the Ferris wheel at Pacific Park has been one of the most sought-after locations to get an aerial view of Santa Monica. But now you can soar overhead on a flying trapeze at Trapeze School New York (named for its original location) on Santa Monica Pier. A couple of hours on the flying trapeze might be just the challenge your body needs. Classes are available for people of all fitness levels.
Looking to experience more of Santa Monica's health and wellness scene during your next vacation? Search fitness-focused activities and healthy dining options.
Mentioned in this Article