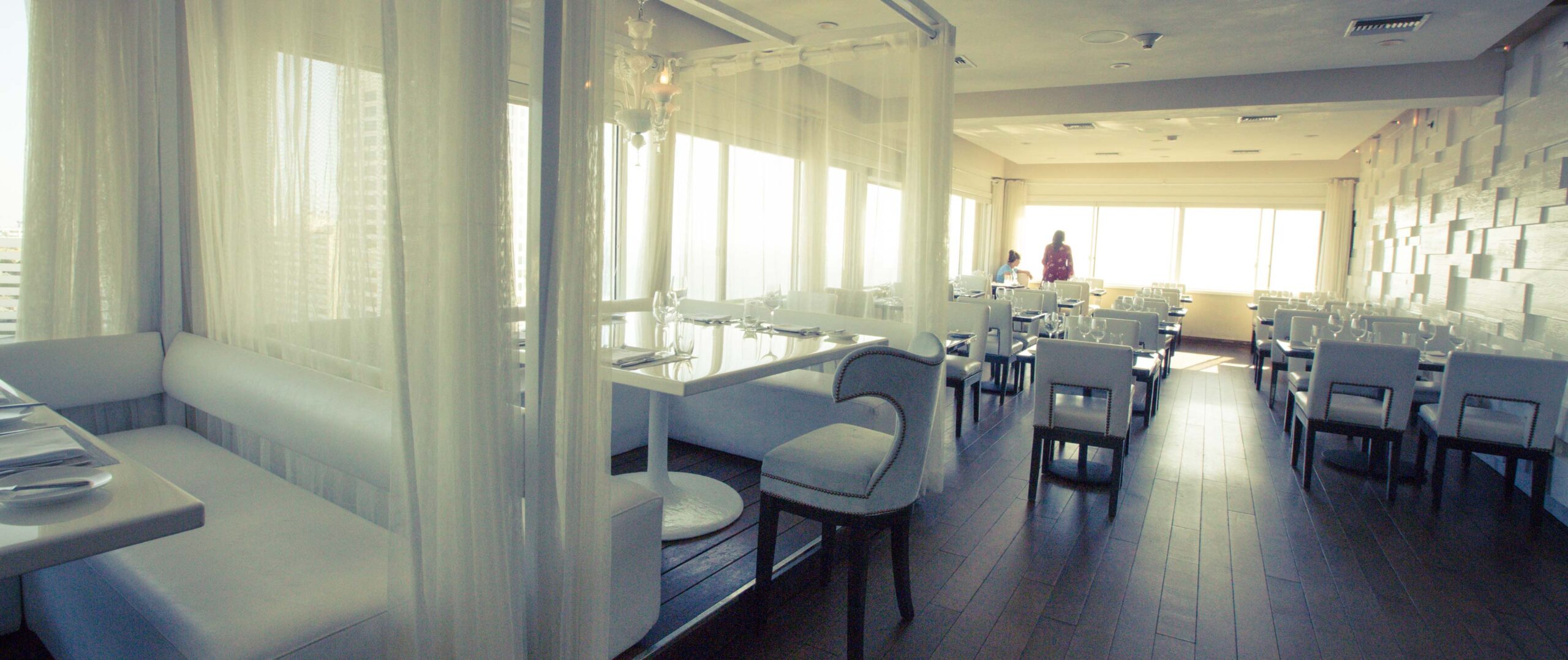 A Guide to Santa Monica's Hotel Bars
Posted July 19, 2019
Hotels aren't just places for guests to rest their heads for the night. These temporary quarters can also provide culinary highlights, wondrous views (at least in Santa Monica) and endless excuses to socialize with families, friends and even that special someone. Learn about some spots to enjoy multi-faceted experiences, centering on lively hotel bars. By Joshua Lurie
Le Troquet Patio Lounge
Le Merigot Santa Monica houses Le Troquet, a patio-centric lounge that's well suited toward socializing with friends (and fellow hotel guests) or après beach pop-ins. The patio features shaded furniture beneath tan umbrellas and overlooks a trickling fountain. Le Troquet hosts fire pits for cooler weather and living wall panels lined with succulents. To eat, try to contain complimentary pistachio consumption and consider starters like roasted baby beets and burrata salad served on a slab of compressed watermelon. "Shareables" include Kobe beef sliders and roasted garlic hummus with grilled pita, feta cheese, cumin aioli and paprika. "Handhelds" include three different burgers and a roasted beef fajita sandwich. Dinner starts at 5 pm and stars cauliflower steak with burrata cheese and basil tomato sauce and actual steak (Prime New York) served with yucca fries, roasted garlic aioli and chimichurri sauce. Daily specials rely on "local, seasonal and sustainable" ingredients and might involve smoked salmon flatbread and house-made spinach fettuccine pasta with shrimp, fine herbs, parmesan cheese and black truffle. Their robust cocktail program ranges from The Classics to The Signatures and Fruit Favorites befitting Santa Monica. Vodka-spiked berry lemonade and tangerine punch both incorporate hand-pressed juices. They've also developed a deep wine list.
Longitude Bar + Bistro
Longitude Bar + Bistro resides within Le Méridien Delfina Santa Monica, across from Santa Monica Highschool and uphill from the beach. The large lobby contains chandeliers that resemble grapes in gauzy globes, a grey bar with swiveling stools and flat screen TVs for watching sports and a sunny corner library. Longitude also provides pool service to hotel guests. Notable "petit plates" include crispy calamari steak strips served with Meyer lemon thyme aioli and creamy chicken croquettes plated on jalapeño-lime aioli. People playing for keeps will appreciate the sizable braised short rib plate and Longitude's indulgent banana croissant pudding. Happy hour runs daily from 3 – 6 pm and features six plates for $7 apiece. Chicken pesto flatbread and beef sliders with cheddar and mustard aioli stand out. To drink, Longitude pours 16 wines by the glass, craft cocktails and a fairly robust craft beer program that features local LA breweries like Three Weavers and Smog City. No matter what, guests receive complimentary, sinus-clearing wasabi peas.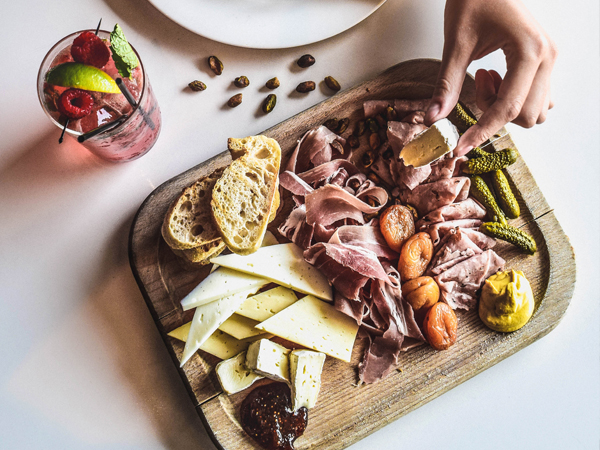 ONYX Rooftop Bar
ONYX Rooftop Bar resides atop The Beacon Hotel, a white edifice with ship-shaped curves. ONYX is a great place to catch the sunset or Pacific view with friends or to enjoy an after-hours date. Their wind-shielded patio touts a tree strung with prickly fiber optic Christmas ornaments, black and copper cushioned banquettes and a similarly apportioned indoor lounge with beehive-like purple and gold ceiling panels. A resident DJ spins on Saturday nights. Signature cocktails reference '60s and '70s movies and rock songs. The Starman riffs on David Bowie with a modern Moscow mule that generates "cryogenic fog" through liquid nitrogen. Purple Haze pays homage to Jimi Hendrix with a groovy gin & tonic made using lavender syrup and lemon verbena. Their signature ONYX berry mojito defies pop culture references, but still delivers big flavor. Good things come in fours when it comes to ONYX French fries and sliders. Quartets include a slider sampler of Kobe beef, pork, tempura chicken and short rib.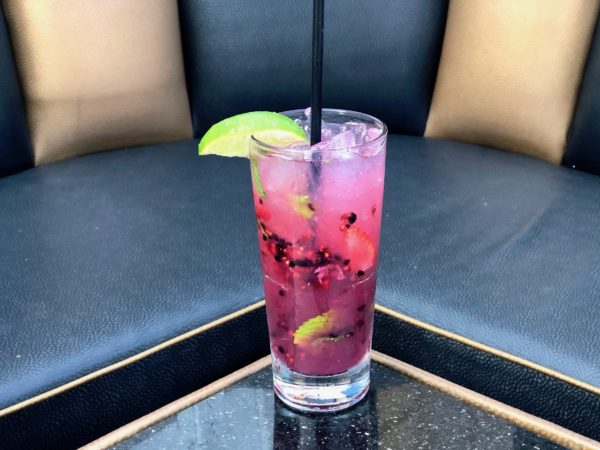 Palma
Proper Hotel's hotly anticipated Santa Monica outpost started hosting guests in June. Their fashionable Palma lobby lounge is a curved space featuring earth-hued couches, potted palm trees, an intimate library and wood arches that frame a full bar. Seating is almost entirely low-slung or communal, best suited toward business meetings or a light snack. Palma's all-day menu includes a tuna poké bowl with hearts of palm kimchi, a "proper" chopped salad and a signature cheeseburger starring grass-fed beef. Crispy grilled King salmon co-hosts market vegetables and coconut green curry jasmine rice folded with sprouted lentils. Palma divides specialty cocktails into two categories: refreshing and aromatic. Drinks include the Cherry Red Bicicleta, a blend of Avuá Amburana Cachaça with Bertroux Brandy, cherry, lemon and coconut. Too many Bicicletas may lead to a Broken Limb, another cocktail, not the malady. Palma also pours 14 wines by the glass, though bottles may make more sense in such a lounge-worthy setting. Perhaps a bracing txakolina from Antxiola, Spain?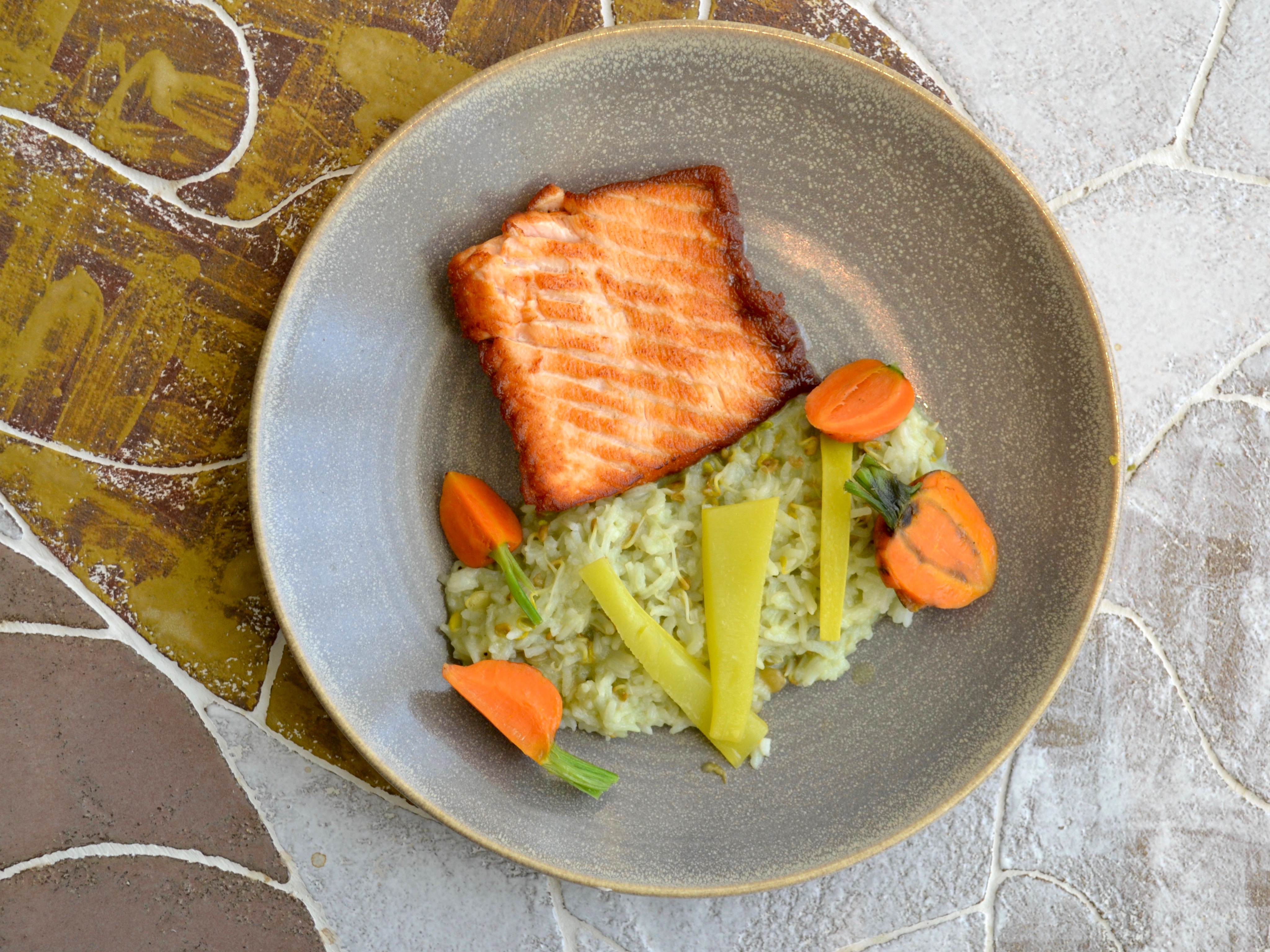 The Penthouse
Hotels typically dedicate penthouses to high rollers, but The Huntley Hotel devoted their prized 18th floor to The Penthouse, a restaurant, bar and lounge that overlooks the beach, pier and Santa Monica Mountains. Even restrooms have beach views! The sun-soaked space contains a round bar with copper accents. Booths and tables line the north and south windows, partitioned with translucent curtains. A lounge area teams tan cushioned banquettes and marble hexagon tiles. The Penthouse is a great choice for a sunset drink and small bites or a light dinner date, particularly during happy hour. From 5 – 7 pm, they offer a sizable selection of appetizers and cocktails for $8. They also offer 36 wines by the glass. To eat, Ora King salmon crudo co-stars black garlic shoyu, tart green apple, crispy skin "chips," salmon roe, an avocado swoosh and crispy quinoa. A heaping pile of fried calamari sports light, lacy batter and comes with spicy tomato jam (basically marinara). They also serve comfort food classics with signature tweaks like avocado toast and cheeseburger sliders. Ryan Magarian, a Portland bar star, crafted a menu that balances "signatures that have stood the test of time" like his watermelon cucumber mojito with seasonal cocktails like the hibiscus spritz.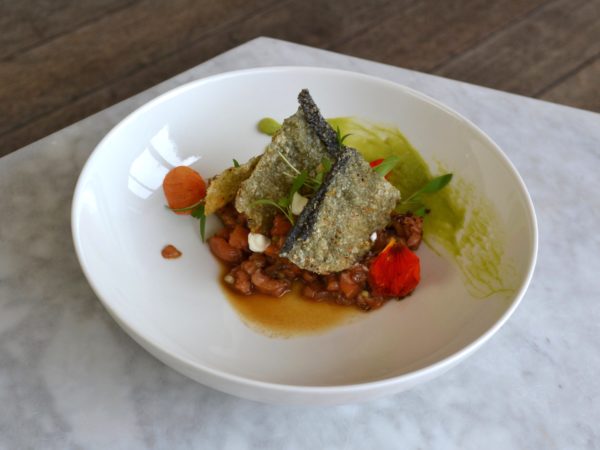 Terrazza
Catch is a Casa del Mar seafood restaurant with white and sea blue color palette. Terrazza is their more casual lounge with prized views of the Pacific Ocean, beach, pier and running/cycling path. Dungeness crab crostini is particularly strong, featuring sweet pulled crab folded with punchy minced jalapeño and strands of dill on grilled rye bread slathered with aioli. Terrazza keeps matters especially interesting by rotating daily proceedings. Happy hour starts at 3 pm from Sunday to Thursday and runs until 6 pm (midnight on Monday) and includes reduced priced shared plates like tuna poké or steamed mussels, plus $5 off draft beers, wines by the glass and all cocktails. Bonus: potato chips come with drinks. Tapas night runs every Sunday and Wednesday from 6 – 9 pm. Taco Tuesday runs 6 – 9 pm. Oysters & Louie lasts from 6 – 9 pm every Thursday.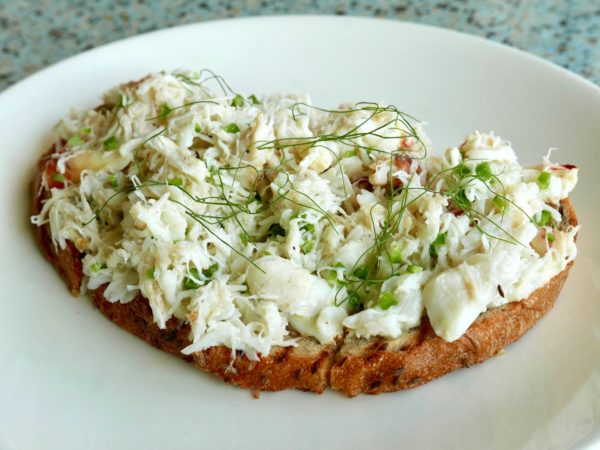 The Veranda
Executive Chef Garee Battad runs The Veranda inside The Georgian Hotel, a historic sea blue building with mustard colored trim that dates to 1933 and overlooks the Pacific Ocean and Santa Monica Pier. A covered patio with aqua and white striped awning and white arches leads to an L-shaped lobby bar and lounge area with grey and black cushioned banquettes sporting maze-like patterns. Share-friendly plates include "sailor-style" mussels with white wine, Pamplona chorizo, tomato, garlic, lemon and fingerling potatoes. Tacos al pastor substitutes grilled mahi-mahi marinated in "Oaxacan spice" for classic pork and piles guacamole, cilantro-ranch cabbage salad and pineapple pico de gallo on warm corn tortillas. High tea takes place daily from 2-5 pm and requires a reservation 24 hours in advance. They provide three tiers of service, topping off with The Palisades Tea, which includes a choice of hot tea, an array of delightful small bites, a Harmony Highball, caviar canapé and chocolate truffles for the road.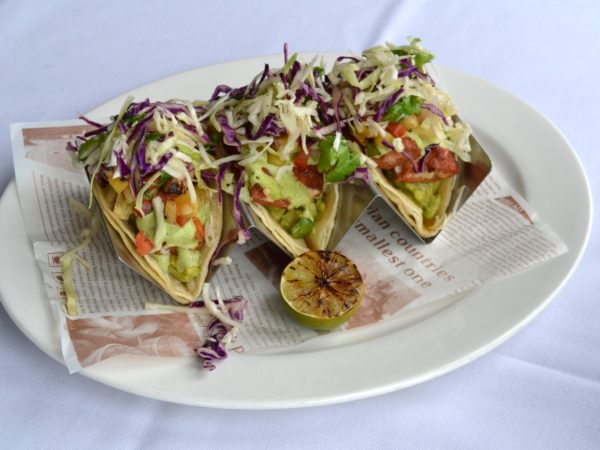 Hotel Restaurants To Note
While we're on the topic of  tasty things to find in a hotel we can't help but mention some hotel restaurants. With top-rated restaurants and farm-fresh local chains, Santa Monica's diverse restaurant scene makes it one of the best places to visit in Los Angeles. Plus, many of the city's most coveted restaurants lie within the grounds of its top hotels, meaning you don't have to venture far for a memorable meal. From quality beachside dining to sunset cocktails with sky-high views to exclusive breakfast buffets with ocean vistas, there are some delicious in-hotel restaurants not to miss.
If you're looking for something on the beach, 1 Pico at Shutters on the Beach offers a stunning location along with a seasonal, market-driven menu and impressive Californian wine list. Feast on the seasonal heritage-inspired menu of fresh California produce at FIG Restaurant – the light-filled bistro at Fairmont Miramar Hotel & Bungalows. Or, try out their daily happy hour, FIG at Five, for half off all items. Head to Hotel Casa del Mar where Catch Restaurant & Bar resides. This serene and inviting eatery will help you indulge your taste buds with some of SoCal's best seafood.