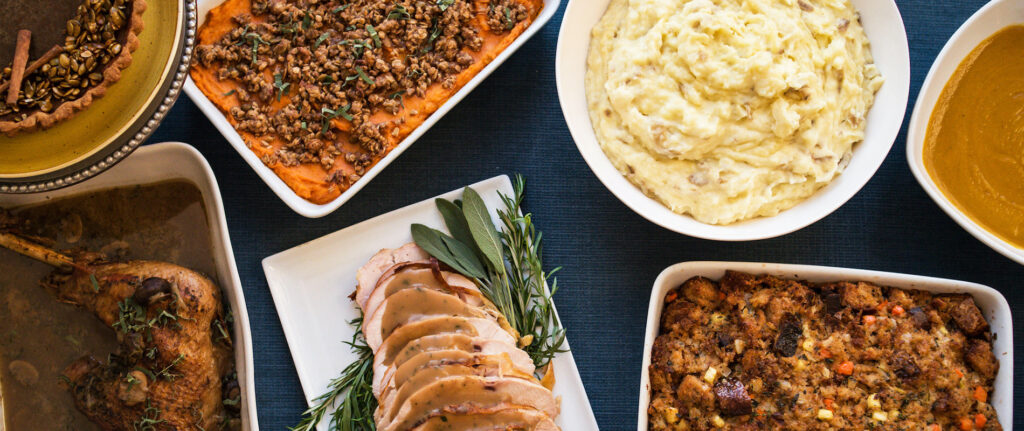 Thanksgiving in Santa Monica
Celebrate Thanksgiving without extensive food preparation by enjoying a Thanksgiving meal from one of Santa Monica's many restaurants. From prix-fixe menus and specially curated holiday-themed dishes, to a wide selection of Thanksgiving desserts, the finest Santa Monica cuisine is sure to make the day memorable. During the week, enjoy a range of activities.
Please note the events and specials listed below are for 2022. Check back for 2023 Thanksgiving offers.
Thanksgiving Dining
Enjoy Thanksgiving beachside from 11:30am to 9:30pm. The $125 prefix menu include choice of truffle caviar mousse, heritage turkey, dry aged wagyu new york steak and more. View menu and make reservations here.
Thanksgiving Special prix–fixe menu available from 12pm to 9pm.
Loews Santa Monica Beach Hotel invites guests to celebrate Thanksgiving by the beach with a festive dinner at Blue Streak restaurant with a menu created by Executive Chef Chris O'Connell. A family-style feast of traditional turkey Thanksgiving dinner will be served, alongside all of the seasonal accompaniments including cornbread stuffing, baked yams with marshmallow topping, arugula salad with pear, and much more. The menu is offered at $95 per adult and $35 per child 10 and under. Seating times are offered from 1pm to 7pm. Discounted valet parking is offered. Reservations can be made via Resy.
Gather and give thanks with a take home family meal of your favorite traditional dishes with a BOA twist. Enjoy a roasted turkey breast, mixed greens, rosemary dinner rolls, mashed potatoes, pumpkin pie and more! Serves 4 for $350, additional sides available. Preorder online by 5pm on 11/22. Pickup on 11/23 from 11am to 4pm.
We are thrilled to share our special Thanksgiving take-home package with you. This package serves between 2 to 4 people. The cutoff time to order will be Monday, 11/21 at 12pm. Serves 2-4 people, available for pickup on Thanksgiving from 12:00pm to 2:30pm. View the full menu.
Thanksgiving Catering is available for pickup and delivery 11/22-24. Thanksgiving doesn't always have to be about turkey, we have plenty of plant-forward entrees for you to enjoy this holiday season!⁠ Pre-order our house made Organic Vegan Turmeric Lasagna before it's too late. This crave-worthy lasagna will give you all the autumn feels and pairs perfectly with our Fall Harvest Salad. ⁠Preorder online.
Order a Thanksgiving menu featuring traditional classics with a focus on high-quality ingredients sourced from the nearby farmers' market. Enjoy a Half Mary's organic turkey that's brined for 48 hours alongside a traditional turkey gravy. Load up of sides of creamy smashed potatoes, organic cranberry sauce, roasted harissa carrots, buttermilk biscuits and lots more. For dessert, there are yurkey-shaped ginger cookies and of course, there's pie—organic pumpkin, double-crust apple crumble (available as a "take & bake" option too) and bourbon pecan. You can also add feast-friendly wines from Esters Wine Shop & Bar to your order, in case you don't have time to pop by their shop. View the menu here and pre-order online or e- mail catering@huckleberrycafe.com. Orders are accepted until 11/17 at 3pm. Pickup or delivery on 11/24.
Order from a family-style menu including butternut squash soup, organic turkey, baked ora king salmon, vegan lasagna and more. View the menu online.
Enjoy Thanksgiving at FIG! Gather around our table and enjoy a sumptuous, special holiday menu at FIG. FIG @ 5 will not be available on Thanksgiving Day and there will be no a la carte menu. Or take FIG Thanksgiving To-Go, let us pass the turkey with our FIG to-go dinner. Feeds up to 8 guests and will be available for pick-up on 11/24, from 8am to 2 pm.
Enjoy a special Thanksgiving dinner for $38 per person. Orders are available for pickup or delivery. View the menu and call (310) 829-5443 to order.
Holy Cow's holiday feast package includes one main entree, and five side dishes; order add on's or dessert a la carte. Pre-order the Thanksgiving Feast by 11/21 at 10am and pickup on 11/23 by 5pm.
The perfect addition to your Thanksgiving spread! 11 Parker House Rolls with 4 oz of Honey Butter, warming instructions included. Place your preorder thru 11/18 for pickup at the bakery. Available for pickup only. Order here.
Raise a glass to the joy of the holiday season and enjoy a special $58 Thanksgiving plate with your loved ones.
Enjoy Thanksgiving at Lunetta with your choice of starters, mains and desserts. There is a variety to chose form including: Maine diver sea scallops, roasted chestnut soup, maple herb turkey, pan-roasted Atlantic black bass, and a variety of pies. Enjoy in house for $95 per person, or takeaway for $110 per person. Book your reservation and view menu here.
Pre-order a Thanksgiving Family Feast to-do, available in 2 sizes serving up to 10 people. View the menu and order here.
Pull up a seat to Meat on Ocean's Thanksgiving day feast! A special menu will be offered, $68 for adults and $25 for children 12 and under. Make a reservation.
Make Memories, Not Dinner! Gather at Osteria on Thursday, November 24 and enjoy a special Thanksgiving dinner. Osteria will be open 11:30am-9:00pm on Thanksgiving Day; in addition to the special menu, the full menu will also be available. View the menu and make a reservation online.
Enjoy Thanksgiving at home with a ready-to-heat meal including roasted turkey, black truffle gravy, herbes de provence stuffing, cranberry relish, pomme purée, haricot verts casserole, harvest grain salad, apple crumble and pumpkin burnt basque cheesecake. Preorder and pickup 11/23.
Celebrate Thanksgiving with a delicious feast filled with holiday favorites from Chefs Susan Feniger & Mary Sue Milliken. Thanksgiving dinner at home includes roasted turkey, herbed gravy, sautéed greens, honey lime yams, cranberry relish, smashed fingerling potatoes, and chimichurri. Enjoy dinner at home with simple warming and serving instructions to make hosting a breeze. Whether you need just the sides for Friendsgiving or the full feast for the fam, we'll help make your holiday gathering a little easier. Pre-order by Friday, 11/18 at 3pm. Pickup or delivery on Tuesday, 11/22 or Wednesday, 11/23 between 1pm to 6pm. View the menu and order here.
Not a fan of turkey? Enjoy the freshest, most flavorful sushi, nigiri, sashimi, maki, and more with Chef Masa Shimakawa at Soko. Dinner reservations are now available.
For Angelenos looking to avoid the kitchen and travelers searching for an elevated taste of home, Sugar Palm is the perfect location to give thanks surrounded by family and friends. The experience features a choice of starter, entrée, and dessert, plus an array of complimentary sides. View the menu and make your reservation today.
The culinary team at Hotel Casa del Mar is dreaming up a delicious Thanksgiving feast by the sea. Reserve an ocean view table now. Enjoy lunch or dinner on 11/24 with a 3-course menu. Reserve a table for your Thanksgiving meal.
Impress your guests without the stress. Order from a selection of items including an herbed turkey, ham, stuffing, pies, and sides including sweet potato casserole, An's famous garlic noodles, and more. Preorder by 11/18 and pickup 11/23 from 4-6pm or 11/24 from 9-11:30am. View menu and ordering instructions.
Order a whole smoked turkey and all the fixings, including gravy, mashed potatoes, roasted green beans, challah stuffing and more; serves 4-6 people, $350. Order pumpkin or peacan pie and a variety of caviar. View the menu and order online.
Enjoy a set menu with a roast turkey or veggie roast, stuffing, mashed potatoes, gravy, vegetables and cranberry sauce, with your choice of starters and desserts. $55 per person. Reservations on Thanksgiving from 12pm-8.30pm, call (310) 451-1402. We open at 10am for breakfast; bar is open for regular hours 10am-2am.
Desserts and Drinks
The team is baking up whole "World Famous" Rose Petal Pies, Crème Brûlée Pies and Malted Chocolate Cakes. Just make sure you pre-order online from their website 72 hours in advance to guarantee a pie or cake. The restaurant is closed on Thanksgiving, pickup is available on 11/23 from 2pm to 6pm.
Shelves are stocked with Champagne, Sparkling Rosé, Gewürztraminer, Beaujolais, Gamay, Pinot Noir—all the classic wines you'd want to pair with the feast. Holiday Gift Boxes are available now, featuring the team's favorite festive wines, sweet treats and savory, artisanal snacks. "The little kitchen that could" is also whipping up stunning cheese & charcuterie platters, available in 2 sizes with lovely cheeses, artisanal meats and pretty accoutrements that will keep guests entertained while you finish cooking. New this year are the cutest, 8" lavender almond buttermilk pies, inspired by Jeremy Fox's famous lavender almonds. Everything's available to pre-order online via Tock until 11/22 for pickup from 11/23-24. The team can also ship Holiday Gift Boxes to most states when you order through Esters' online shop. Esters will be open early too on Thanksgiving from 10am to 2pm for last-minute shopping with free coffee, treats and pairing advice from the sommeliers.
Sweet Lady Jane's pumpkin pie, a seasonal favorite, is laced with a hint of bourbon and spices. Pumpkin cheesecake features a delicious blend of spices and pumpkin with a whipped cream icing top and graham cracker crust. Pre-order now.
Our signature Thanksgiving Ice Cream Pies are available on a first-come, first-serve basis from now until 11/24. They're the perfect, crowd-pleasing dessert for a Friendsgiving, fall potluck, and of course, the actual holiday. Swing by or order delivery through your favorite app, like the Rustic Canyon Family one. Pick from a caramel apple ice cream pie with an addictive salty crumble, a chocolatey pecan ice cream pie with brown sugar ice cream and a spiced, creamy Pumpkin Ice Cream Pie that also happens to be vegan and dairy-free.
If you'd like to guarantee a pie, pre-order online from their website now until 11/18 for pickup at the shops 11/21-24.
Get your preorders in for Thanksgiving! Pick from pumpkin pie, apple pie, peacan chocolate, and tea cakes. Pickup is only available on 11/22-23. View desserts and pre-order here.
Thanksgiving is almost here and what better way to celebrate with family and friends than with some delicious pie. Choose among our selection and create wonderful memories with your loved ones this holiday season. Pre-order for pickup or delivery.
Preorder Thanksgiving pies, rolls and bread. Available for pickup 11/22-23.
Move over, Pumpkin! Pre-order your whole squash pie for the holidays! Place your order now through 11/20 for $28. Pick up dates 11/21-22. Make hosting that much easier this year. pre-order here.
Urth Caffé's world-famous pies are made with the finest, freshest ingredients and baked fresh every day. Pre-order your Urth pie (or pies) and be the star of your Thanksgiving. Place your order before 6pm on 11/21.
Preorder your Thanksgiving pie online or in-store by 11/19. Enjoy an all-organic, gluten-free, soy-free, and dairy-free pie crust filled with your choice of soft serve and toppings. Find favors and toppings here.
Things to Do
Take an afternoon ride on Thanksgiving or enjoy classes throughout the weekend. View the schedule and book here.
In the season of giving, donate $10 to the Westside Food Bank and receive 10% off your entire purchase, now through 11/30.
Santa Monica Businesses:
Submit a special offer to have it added to this page, please submit offers here.
Blogs
Discover Santa Monica
Explore itineraries, local tips, hot spots and curated adventures to make sure you get the most out of your Santa Monica experience.
View All Blogs