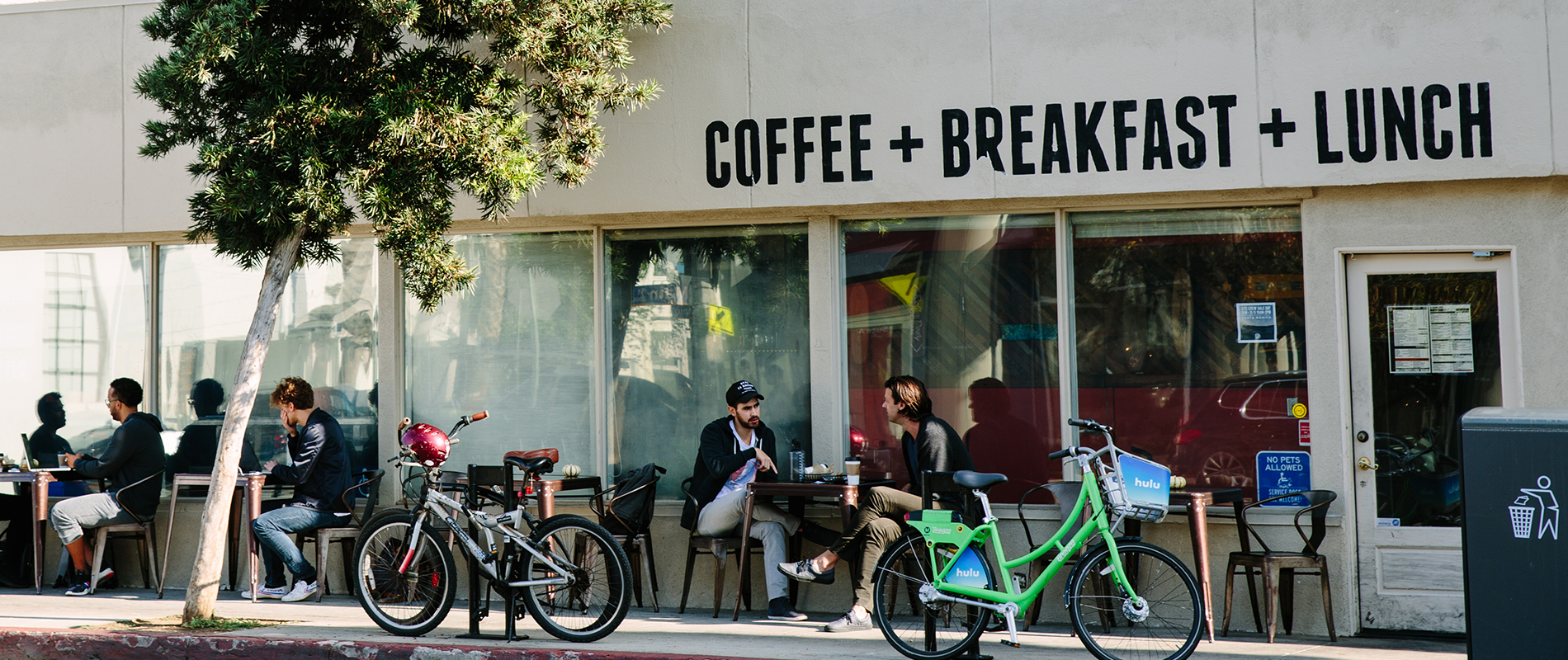 Santa Monica Coffee Shops & Teahouses
Updated July 28, 2022 in
Eat
Posted June 11, 2021
Our Guide to Some of the Best Coffee Shops in Santa Monica
Whether you're a coffee connoisseur or just looking for cute coffee shops in Santa Monica, you've come to the right place. We know that finding exactly what you're looking for can be tricky, but with our list of unique local drinks, rest assured you'll find your perfect Santa Monica coffee shop.
As specialty coffee bars and thoughtful teahouses become more prevalent in Santa Monica, businesses have started serving unique drinks to stand out in the crowd. Restaurants are also taking non-alcoholic beverage programs seriously. Learn about signature coffee and tea drinks from cool coffee shops in Santa Monica that aren't regularly available from the corner caffeine factory.
Boba Tea & Me
Evelyn Liao Douglas and husband Kyle Douglas started with a boba truck in 2016 before launching their Boba Tea & Me storefront in 2017. Visitors seeking refreshment will find a creative welcome party, including an anthropomorphic teacup logo with leaves sprouting from their jutting straw and paintings of pop-art pandas in headphones.
Fun extends to beverages, which arrive in colorful cups that depict Santa Monica Pier. Boba Tea & Me makes honey grapefruit green tea with real fruit juice. They also have passion yogurt green tea with Yakult and passion fruit syrup. Add two-toned boba for more bounce.
View this post on Instagram
Caffe Luxxe
This specialty coffee bar from Mark Wain and Gary Chau has become a favorite Montana Avenue hangout thanks to their artful coffee drinks and classy, Italian aesthetic. The duo roasts coffee beans in Gardena and now has locations spanning from Santa Monica to Montecito. In addition to craft coffee, lattes, and cappuccinos, they also have signature drinks that can't be paralleled. A popular drink at Caffe Luxxe is Nico, a petite espresso drink co-starring half & half and candied orange, sprinkled with cinnamon and garnished with orange zest.
View this post on Instagram
Coffee Commissary
Tyler King's L.A.-born coffee bar micro-chain now roasts beans in Vernon that fuel outposts like this eye-popping location at MINI of Santa Monica. They offer outdoor seating on their covered patio featuring pink splashes, neon signage, and zigzag logos along Santa Monica Boulevard. In Cuba, café Cubano features sugar (or brown sugar) sweetened espresso topped with frothy crema. Coffee Commissary's version is a cappuccino with house-made Saigon cinnamon syrup and whole milk.
Dogtown Coffee
Legendary local skateboard and surf culture, which centered on a beachfront area called Dogtown in the '70s, inspired Assaf Rez, Itai Rez and Itai Klein to open Dogtown Coffee along Main Street in 2012. Dogtown Coffee expanded to the Fairmont Miramar Hotel & Bungalows in 2019. Their Salty Dog Iced Coffee treats 24-hour cold brew to distinctly bittersweet caramel before topping the drink with savory sea salt infused foam. The result is a great coffee treat that you can't find anywhere else.
View this post on Instagram
Dr. T House
Wilson Chen opened his meticulous tea bar across from Santa Monica College in the Pico Center strip mall along Pico Boulevard. Purists will appreciate the high-mountain Taiwanese tea that Dr. T House brews to order.
White Peach Oolong Cheesy Teassy is more unique, featuring fruity, fresh-brewed iced tea topped with cheese milk foam. This frothy crown combines fresh milk, condensed milk, heavy whipped cream, cream cheese, sea salt and sugar in proper proportions. Students pair tea drinks with photos they take in front of green wings that Chen had painted on the east wall. The shop also features delectable food options from Takoyaki to Taiwanese sausages.
View this post on Instagram
Earthbar
Health food legend Bernard Bubman and David Hakimian launched Earthbar. Now Bob Lustig and Maryam Rashtian run the business, which operates a location across from Palisades Park at the base of Ocean View Hotel. A sun image radiating blue and green rays on the wall reads, "hello earthling," referring to an Earthbar customer.
They offer grab-and-go snacks and beverages, though they specialize in made-to-order drinks like the iced matcha latte. Matcha lattes are available other places, but this unique preparation incorporates hemp milk, vanilla, cinnamon, and agave sweetener.
Love Coffee Bar
This Santa Monica coffee shop from designer Kambiz Hemati features a California Republic flag and a wall reminder that COFFEE DESERVES LOVE. In their world, so does tea, as evidenced by drinks like Santa Monica Fog, a hot beverage that combines decaf peppermint tea, rosemary simple syrup, and steamed oat milk. Basically, it's like drinking a frothy liquid candy cane. To enjoy this drink (and others), Love Coffee Bar set up a big concrete back patio that features plenty of shade and metal tub planters filled with trees.
View this post on Instagram
Paderia Bakehouse
Nathan Vuong debuted this globally inspired Orange County bakery in 2017 and recently expanded to an eastern Santa Monica side street. A living wall with staggered ferns and hanging planters help accent a tantalizing display case filled with baked delights like buttery Filipino ensaymadas and flaky Portuguese egg tarts. Paderia Bakehouse looked south to find inspiration for their nutty signature coffee drink. Iced mazapan coffee features hazelnut coffee topped with crème froth (heavy cream and salt) and Mazapan peanut candy bits.
View this post on Instagram
TUMBI Craft Indian Kitchen
Longtime restaurateur RJ Singh has had many Indian hits over the years, most recently TUMBI Craft Indian Kitchen located near Third Street Promenade. TUMBI's visually arresting space provides a fitting forum for the restaurant's modern menu. Masala chai is a classic drink featuring hot, frothy Indian black tea and milk with a masala spice blend that includes warming cinnamon, star anise, and cardamom.
La La Land Kind Café
La La Land Kind Café is Santa Monica's unique café with an inspiring mission – hiring foster youth and spreading kindness in the community. In 2017, La La Land's executives set out to provide everything that young people in foster care might need to become self-sustaining adults through their We Are One Project. They found that the youths they worked with were most successful when they were able to gain work experience at a first-time job, and La La Land Kind Café was born. Check it out for a range of lattes, specialty drinks, teas, and snacks that support a great cause.
Click here to view all Santa Monica coffee shops.