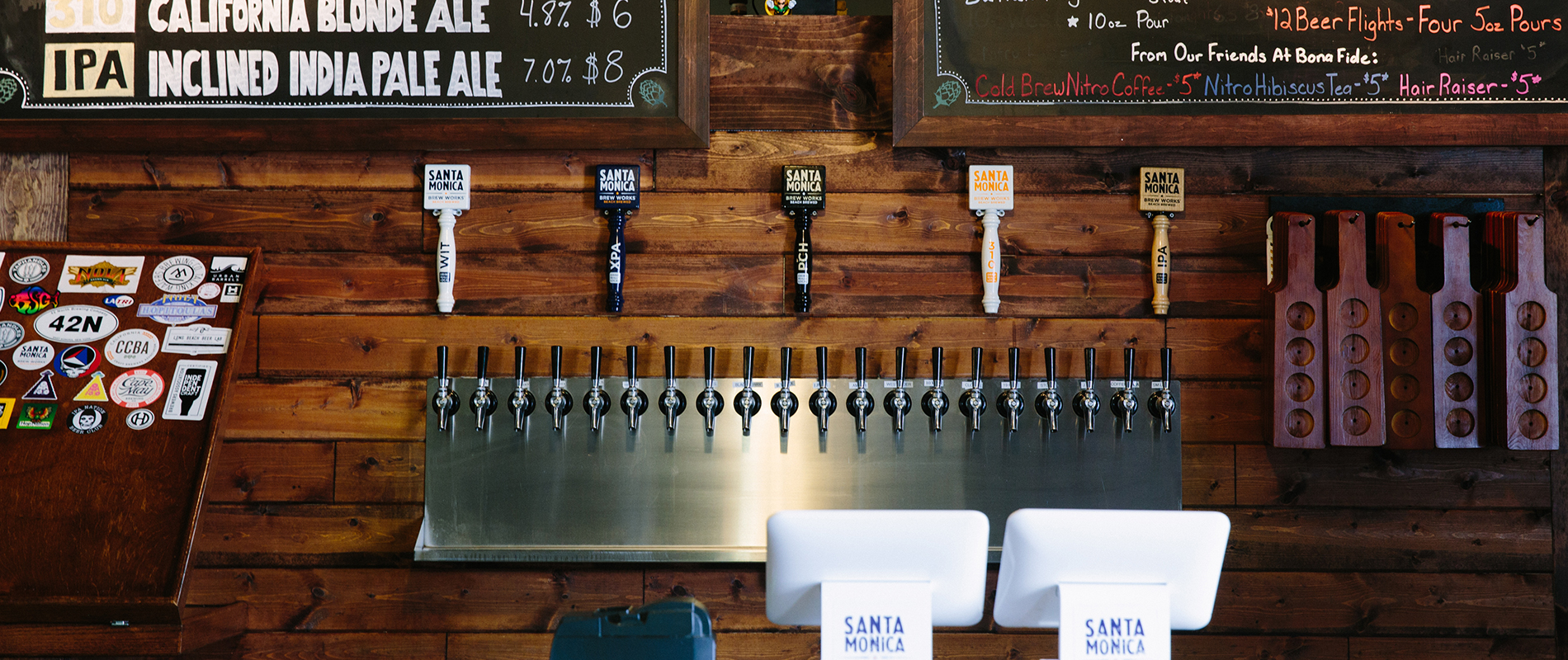 Local Libations in Santa Monica
Updated September 20, 2022 in
Eat
Posted June 2, 2021
Toast the town with a hip sips from the cool and creative Santa Monica bar scene. Whether your drink of choice is a Napa pinot, a Central Coast chardonnay, a farm-to-glass craft cocktail, or a locally brewed craft beer, you'll find countless reasons to raise a glass in Santa Monica. Cozy up to a counter, chill on a sunlit patio or perch in a parklet—the city's sipping suits every mood or day of the week.
Craft Cocktails
The Mistfit Restaurant + Bar
Whatever your pleasure, you'll find it at The Misfit Restaurant + Bar, a bustling establishment just off the Third Street Promenade. Offerings span many key beverage categories, including a stirred and strong signature Misfit cocktail featuring barrel-rested gin, Carpano Antica sweet vermouth and orange bitters. Draft beers primarily draw from SoCal breweries like Craftsman and Societe. An eclectic wine list includes private label rosé and Chardonnay from Dunnigan Hills AVA near Sacramento. The Misfit's vibe is so warm, you'll want to take a souvenir home. You can: vintage cocktail shakers are for sale.
View this post on Instagram
Lanea
One block away, Lanea is an open-air bar that curates over 400 tequilas and mezcals. These agave-based spirits also factor into beach-friendly cocktails from John Neumueller, Connor McRaith and the Bar Director Drew Simon. Seasonal, locally inspired drinks might include the fiery SOCALienta Margarita made with Thai chilies, Serrano chilies, habanero honey, pineapple, and citrus. Watermelon.Sugar.High is a rum-based summer hit that includes watermelon juice, lime juice and Strega, an herbaceous Italian liqueur. Petra Zavaleta, who also runs the Barbakush barbacoa (pit-roasted lamb) experience in Baldwin Park, oversees the food program. She utilizes hand-made corn tortillas to craft exquisite tacos and quesadillas filled with everything from shrimp to spinach & mushrooms and barbacoa.
View this post on Instagram
Local Santa Monica Wines
Bodega Wine Bar
"Have fun" is rule No. 1 on Bodega Wine Bar's "manifesto." You're certain to do that at this cozy, neighborly spot – now featuring a parklet out front – where the wines, including the bubbly, are affordable. Hit-the-spot, share-friendly bites range from bacon-wrapped dates to a brownie sundae. Happy hour lasts from 3-6 p.m. on Monday – Thursday and Sundays from 7 p.m. – close. Bodega Wine Bar also hosts Wine Wednesdays featuring $25 wine bottles starting at 3 p.m.
View this post on Instagram
Esters Wine Shop
Shop, sip, and nibble at Esters Wine Shop & Bar, which Kathryn Weil Coker, husband Tug and the Rustic Canyon Family opened in a beautiful 1937 Art Deco building. Compare first impressions with the knowledgeable staff and other guests at the three-sided bar, communal table, or patio. Or deepen your knowledge of Esters' favorite small wine producers at the weekly Sunday evening tastings. They also started offering tastings to-go, featuring four mini bottles, a cheese pairing, printed tasting notes, and a link to a video where either Kathryn or sommelier Zaitouna Kusto share stories about the wines.
View this post on Instagram
Craft Beers
The Daily Pint
London native Phil McGovern's unpretentious bar, The Daily Pint, has been a mainstay near Santa Monica College since 1987. Thirty-six craft beers course through taps and casks at any given time, and they also curate 100+ bottles. The Daily Pint pours one of the largest and rarest single-malt whisky collections west of the Mississippi. The Daily Pint is also a popular place to watch sports, given the eight flat-screen TVs. Customers can even play pool, shuffleboard and foosball while imbibing.
The Library Alehouse
This gastropub hosts an inviting back patio and has been pouring craft beer at The Library Alehouse on Main Street since 1995. Locals flock here not just for the two-dozen-plus lagers, ales, stouts, and more varieties on tap at any given time, but also for comfort food. The ferocious Hell Burger delivers a one-two-three punch with pepper Jack cheese, jalapeño, and habanero aioli. Fish tacos (grilled or fried), five chicken wing variations, and four crispy shoestring French fry preparations are also popular.
View this post on Instagram
Santa Monica Brew Works
"Drink really local" is the motto of the first and only craft brewery in Santa Monica, Santa Monica Brew Works. At their popular tasting room and biergarten, that's easier than ever to accomplish. Sample the five core "beach-brewed" beers and rotating specialty suds Wednesday through Sunday. Craft brews include PCH, a golden milk Porter brewed with Madagascar vanilla beans, chamomile and cacao; a refreshing Cucumber Kölsch; and Head in the Clouds, a must-have juicy double IPA. Also look for Santa Monica Brew Works craft beers on many local restaurant and bar menus.
View this post on Instagram
Ashland Hill
Ashland Hill is an open-air gastropub from The Verge Company between Ashland Avenue and Hill Street that rotates 16 beer taps and also spotlights gin-fueled cocktails, including a citrus-forward Gin & Tonic, a traditional Gimlet, and classics with twists like the Salt & Pepper Negroni. A pathway leads from a parklet out front to a covered, light-strung patio in back featuring a Raymond Chandler quote on the wall, which reads, "It seemed like a nice neighborhood to have bad habits in." Thankfully, that doesn't apply to Ashland Hill's beverages, or to beer-battered foods like fish and chips or chicken and waffles.
View this post on Instagram
Father's Office
Father's Office had been in business since 1953. Chef Sang Yoon upgraded this Montana Avenue classic from a neighborhood favorite to a national destination in 1999. That's when the L.A. native took over and started cooking gourmet bar food like the now famous Office Burger, which comes on a baguette with caramelized onions, bacon compote, Gruyere, Maytag blue cheese and arugula. Yoon's team pays just as much reverence to the beer program, which rotates 36 taps in categories like Malty, Hoppy, Yeasty/Spicy and Fruity and Herbaceous. They also designate bottles as "the really good sh—," selling rarities like Cascade Brewing Bourbonic Plague, a sour Imperial Porter aged in bourbon barrels with dates and spices.
View this post on Instagram
BONUS
JuneShine
JuneShine doesn't fit into the three key alcoholic beverage categories listed above, and that's the point. San Diego based co-founders Forrest Dein and Greg Serrao debuted their organic, probiotic kombucha in 2018 and recently expanded to Santa Monica with an airy Main Street tasting room. The company relies on sustainable and carbon-neutral business practices to ferment the 6% ABV beverage in flavors like Hopical Citrus, featuring Cascade and Simcoe hops; Midnight Painkiller, a pitch black play on the tropical cocktail made with pineapple, coconut, orange, nutmeg, and activated charcoal; and Chile Mango spiked with tongue tingling habanero. The sun-streamed space touts beachy décor, a rounded bar facing 16 driftwood tap handles, and features a planter-framed white wood deck out front.
View this post on Instagram
View all Santa Monica bars and lounges.