Santa Monica is an arts and culture hub, home to 110+ street art murals all within its 8.3 square miles and eight neighborhoods. The Mid-City neighborhood gets plenty of attention for its arts and entertainment offerings, particularly Bergamot's galleries and The Broad Stage's shows, as well as top-notch eateries.
To see the murals that are in the Mid-City neighborhood, scroll down or view the Google map of locations.
Mural by David "Meggs" Hooke
Cross Campus, 929 Colorado Ave
This mural is an abstract expression of movement that, for me, represents the flow of creative freedom and ideas. I chose a vibrant color palette to represent the energy and surroundings of Santa Monica's iconic beachside culture and hopefully inspire a positive feeling for passerbys on the street and Metro Expo Line. – Meggs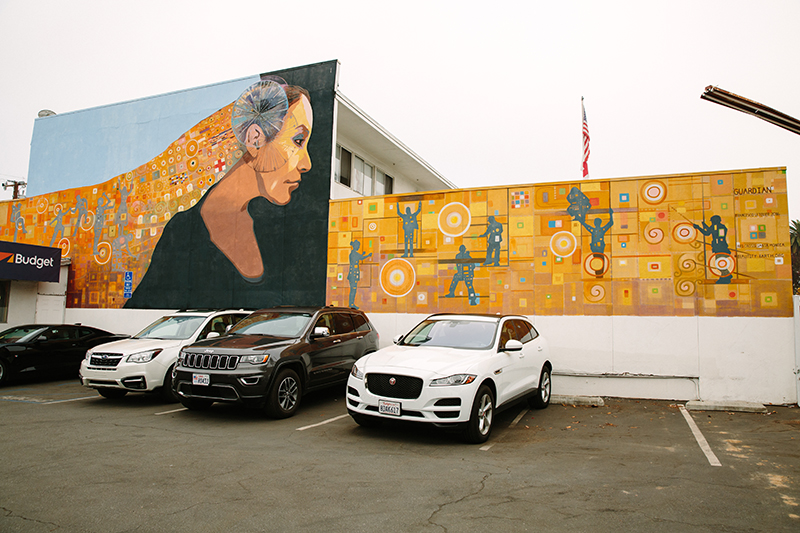 The Guardian by Francisco Letelier
American Red Cross, 1450 11th St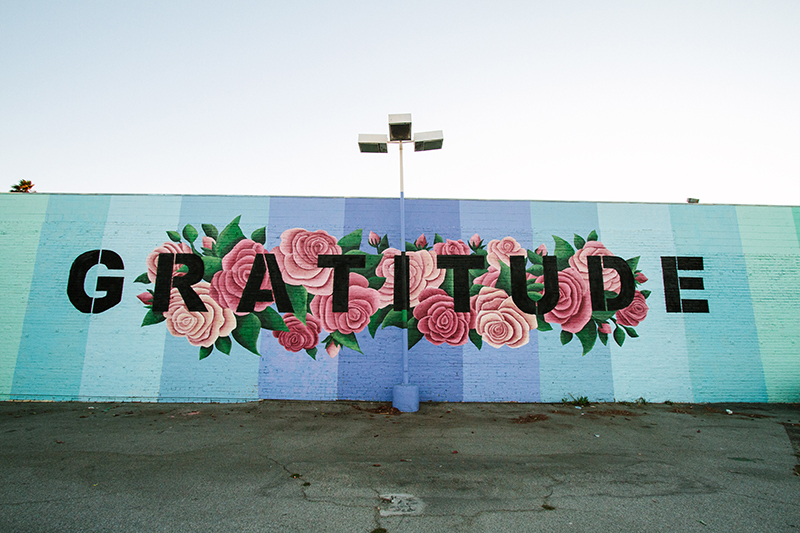 Gratitude by Cloe Hakakian & Ruben Rojas
Marco Polo Imports, 1302 Santa Monica Blvd
This mural is a pleasant reminder to come from a place of gratitude. When we are grateful, we are abundant. We have enough and can receive all the blessings that life has to offer us. Gratitude is living in abundance. – Ruben Rojas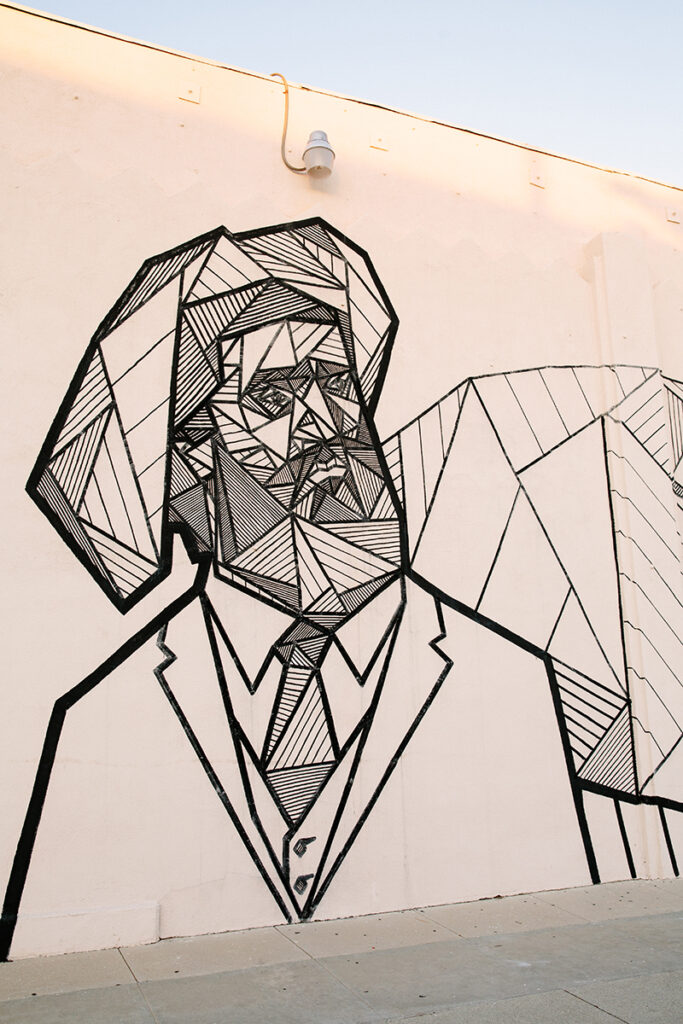 Mural by Allison Kunath
Marco Polo Imports, 1302 Santa Monica Blvd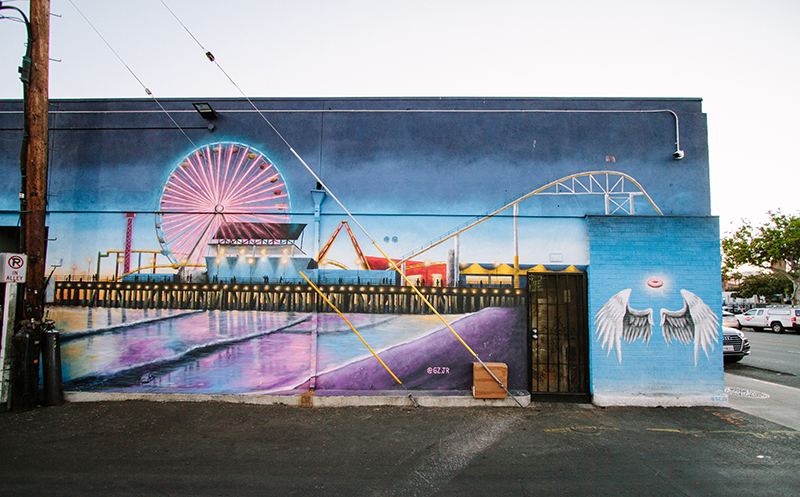 Mural by Gustavo Zermeno Jr
DK's Donuts (Back of Building, on 16th Court), 1614 Santa Monica Blvd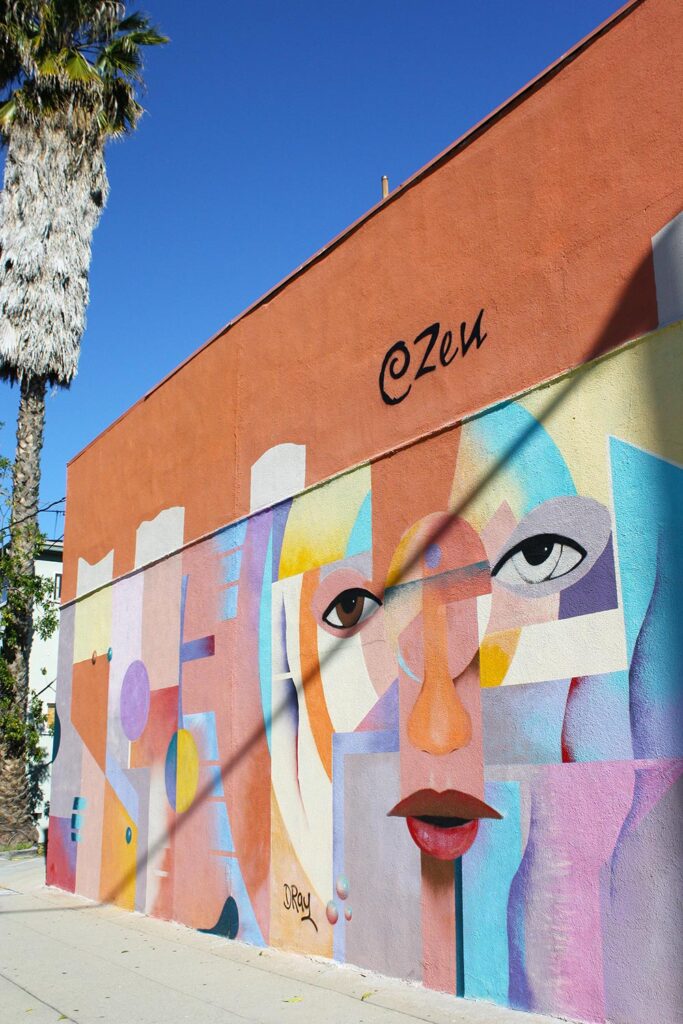 Mural by Dray
2901 Santa Monica Blvd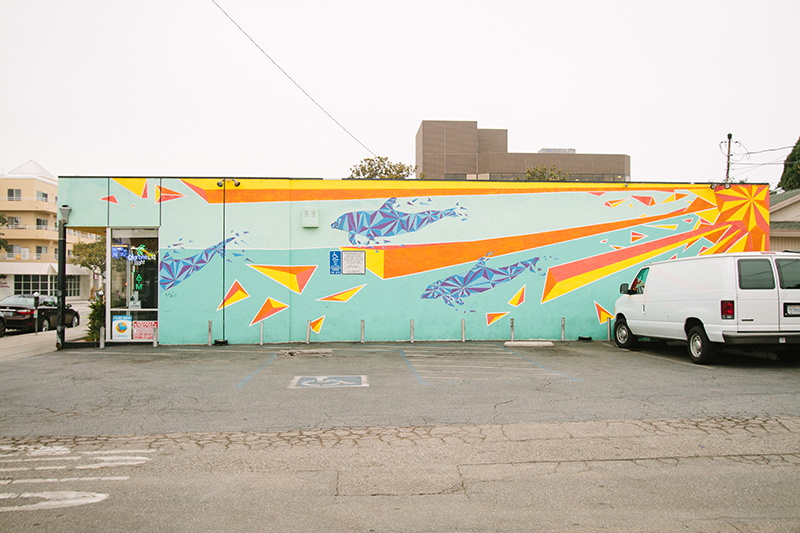 Mural by Sean MacCuish
Ladd's Liquors, 1011 Broadway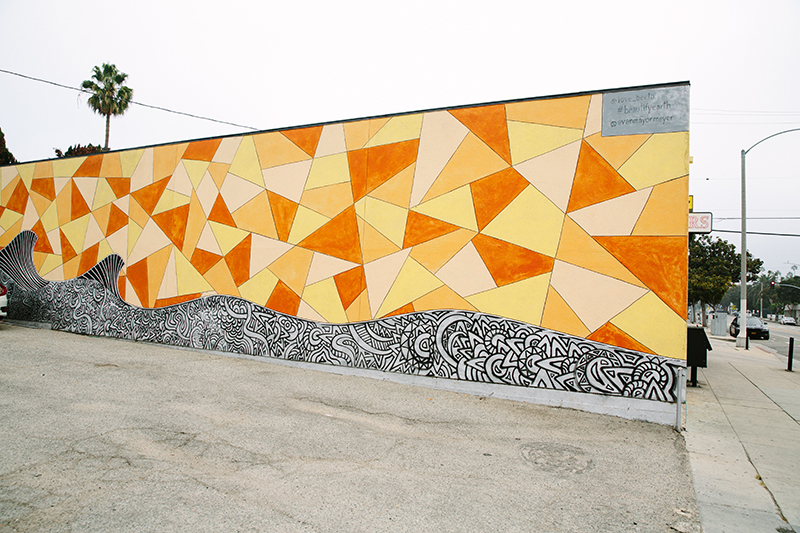 Sea by Berto (Upper Portion) & Evan Meyer (Lower, Black & White Portion)
Ladd's Liquors, 1011 Broadway
I was primarily creating abstract surf art during that period – usually influenced by my time in the ocean. This piece is an evening sunset. The sea looks black in contrast to the bright sky behind it. Big open ocean swells surfing before dark. – Berto
Mural by Marcel "SEL" Blanco & Risk
Rock Paper Scissors Building, 2308 Broadway
This iconic building was one of the first to commission a graffiti artist to paint its exterior walls way back in the late 1980s. Through the years, the paintings had faded, so the current tenants decided to reach out to artist Risk, one of the original artists, and have it redone. What you see is a vibrant collaboration between world renowned graffiti artist Risk, SEL, OG Abel, Vyal, Sonny Boy, and Nathan Ota. – SEL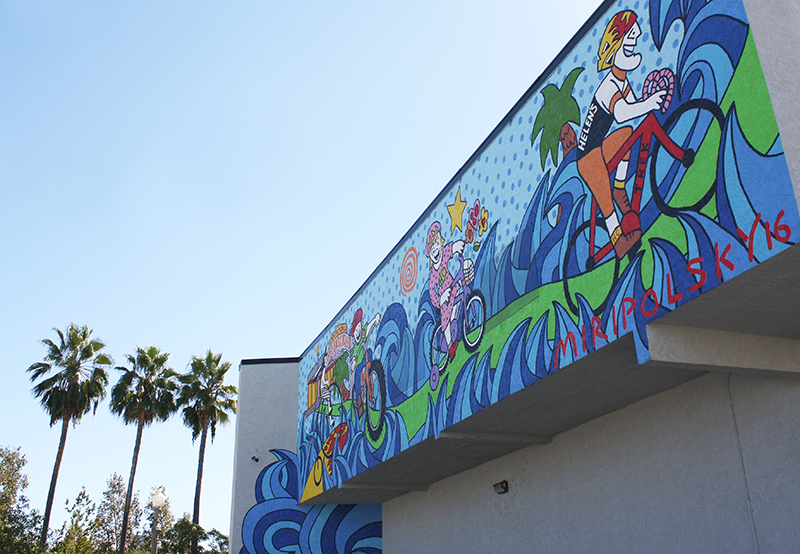 Mural by Miripolsky
Helen's Cycles, 2549 Broadway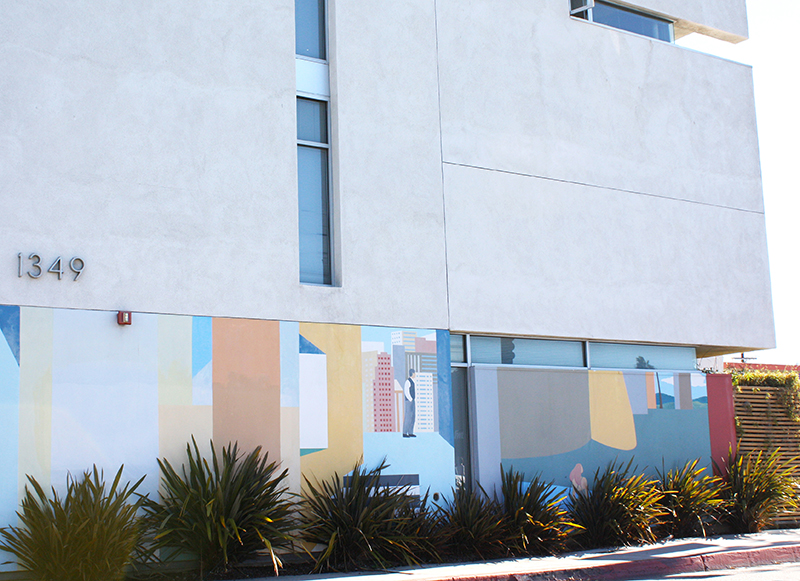 Residential, 1349 26th Street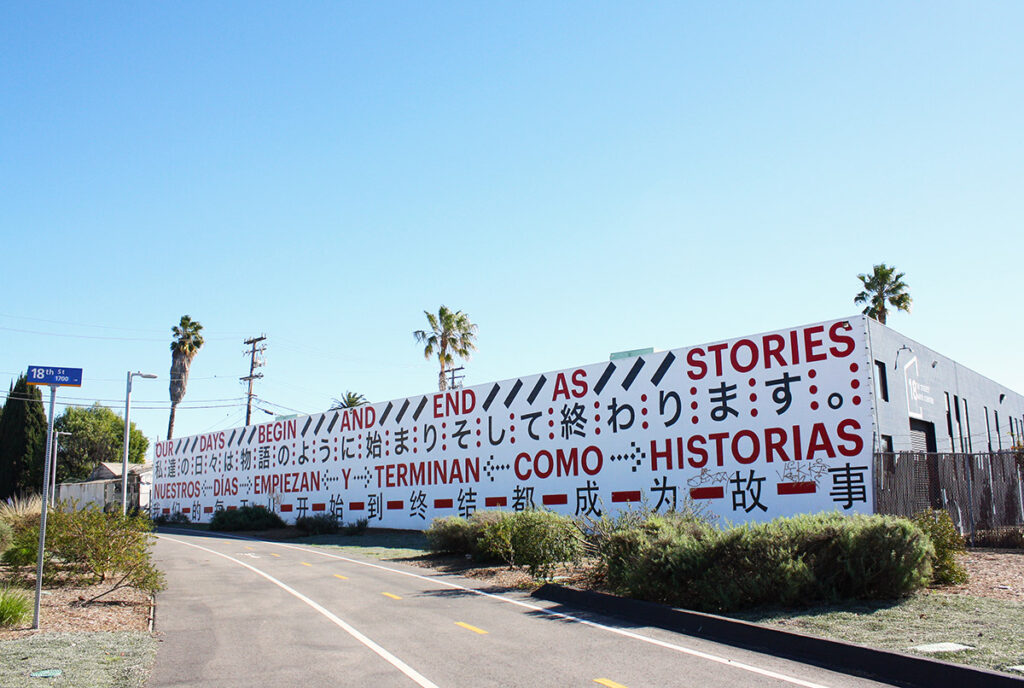 Mural by Brendan Fernandes
18th Street Arts Center, 1639 18th St (North Wall Facing Metro Expo Line)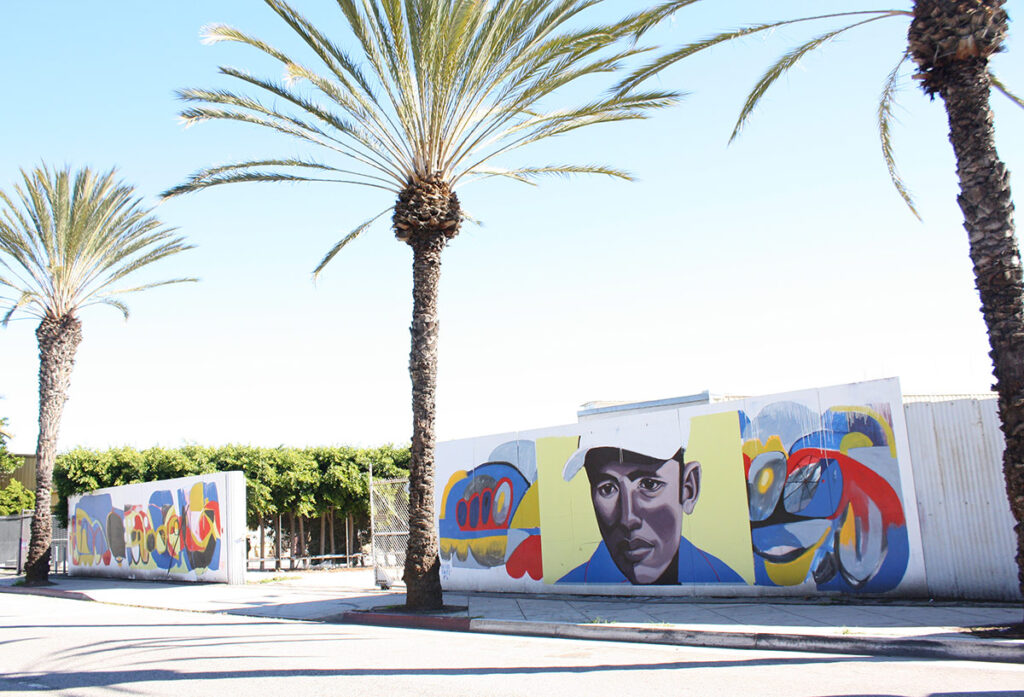 Mural by Rodrigo Branco
Bergamot, 26th St at Olympic Blvd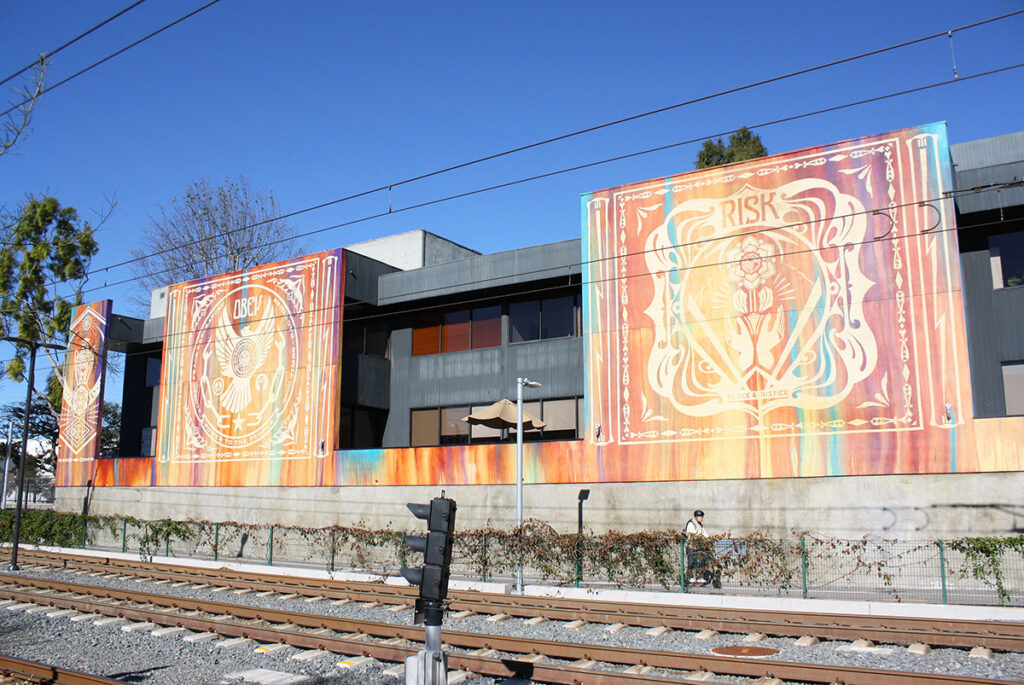 Mural by Shepard Fairey & RISK
XYZ, 2800 Olympic Blvd (South Side of Building)
Freeway Underpass, Stewart St in between Virginia & Kansas Ave

Mural by A2HD
Bon Voyage Auto Body, 2319 Michigan Ave
Recycle, Renew, Repair, Restore by Eva Cockcroft
Santa Monica City Yards, 2500 Michigan Ave
Mid-City Mural Locations
Now that you've see the artwork, check out the exact locations on the map below. Then, visit the murals in person and share your own photos on social media using #SeeSantaMonicaMurals.