Street Murals: Mid-City
Posted December 20, 2018

Santa Monica is an arts and culture hub, home to 170+ street art murals all within its 8.3 square miles and eight neighborhoods. The Mid-City neighborhood gets plenty of attention for its arts and entertainment offerings, particularly Bergamot's galleries and The Broad Stage's shows, as well as top-notch eateries.
To see the murals that are in the Mid-City neighborhood, scroll down or view the Google map of locations.
Mural by David "Meggs" Hooke
Cross Campus, 929 Colorado Ave
This mural is an abstract expression of movement that, for me, represents the flow of creative freedom and ideas. I chose a vibrant color palette to represent the energy and surroundings of Santa Monica's iconic beachside culture and hopefully inspire a positive feeling for passerbys on the street and Metro Expo Line. – Meggs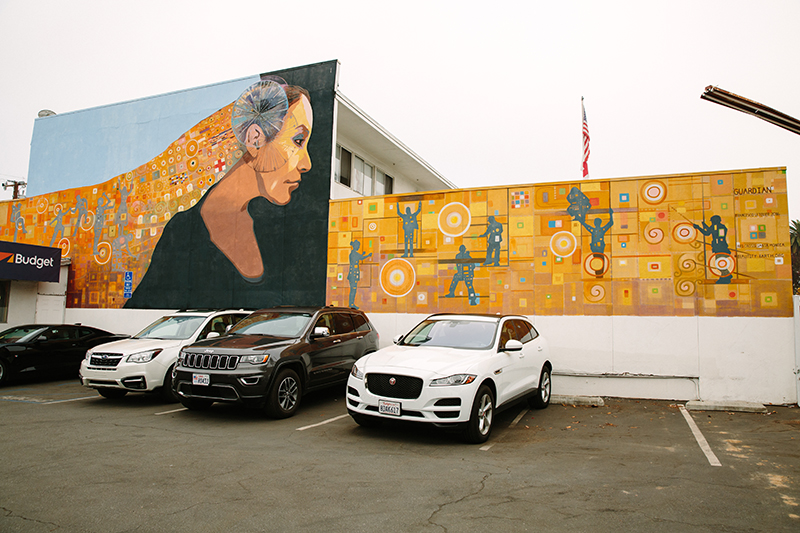 The Guardian by Francisco Letelier
American Red Cross, 1450 11th St
The Guardian mural employs the benevolent, metaphoric figure of a woman to celebrate The Red Cross and the historic role of women in the organization. The figure's hair is inspired by artist Gustav Klimt's paintings. The template of shifting quadrant uses allowed me to create patterning that incorporates references to Pre-Columbian art, European folk art and other expression representing the many communities served by the Red Cross. On either side of the woman, the people on scaffolding are an art historical reference from mural history, like Diego Rivera and Fernand Leger's work. I'm depicting people feeding others, caring for others, helping someone climb up, and so on. Scaffolding is a metaphor for people working together. – Francisco Letelier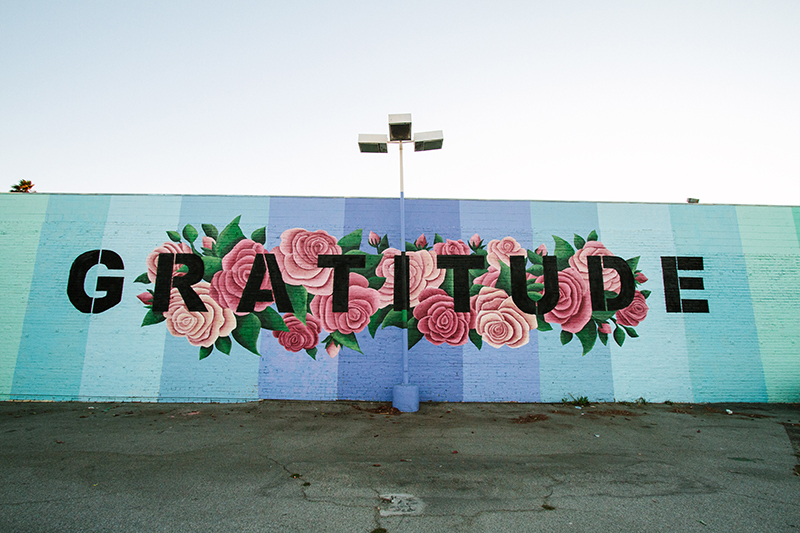 Gratitude by Cloe Hakakian & Ruben Rojas
Marco Polo Imports, 1302 Santa Monica Blvd
This mural is a pleasant reminder to come from a place of gratitude. When we are grateful, we are abundant. We have enough and can receive all the blessings that life has to offer us. Gratitude is living in abundance. – Ruben Rojas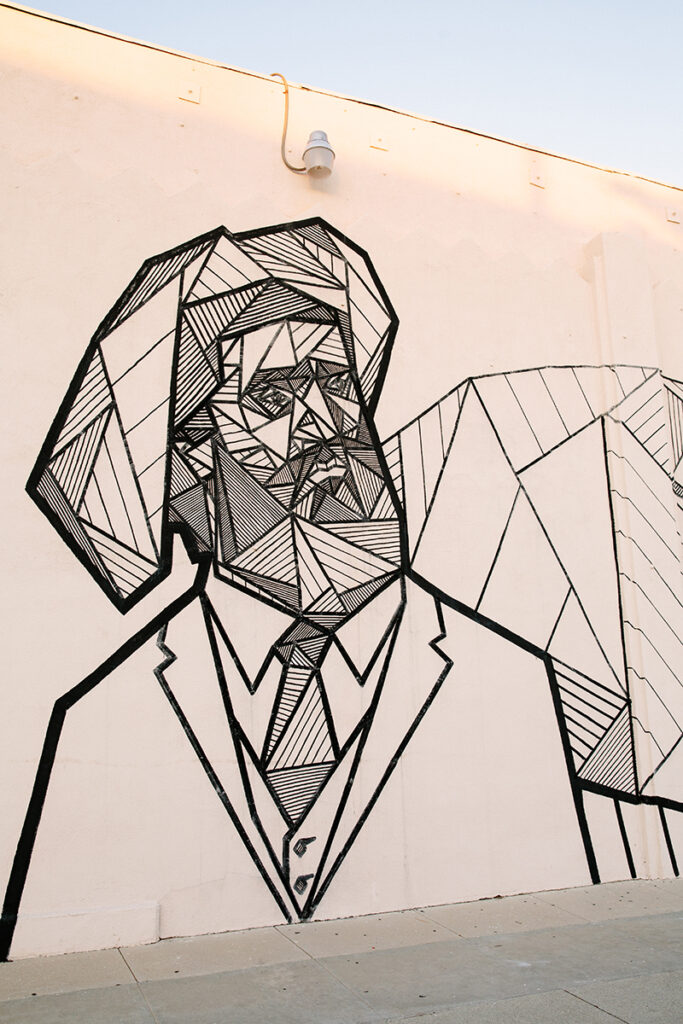 Mural by Allison Kunath
Marco Polo Imports, 1302 Santa Monica Blvd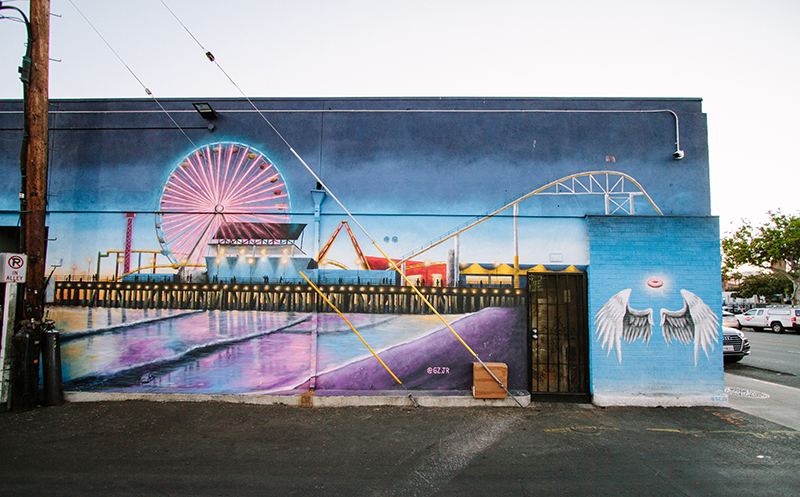 Mural by Gustavo Zermeno Jr
DK's Donuts (Back of Building, on 16th Court), 1614 Santa Monica Blvd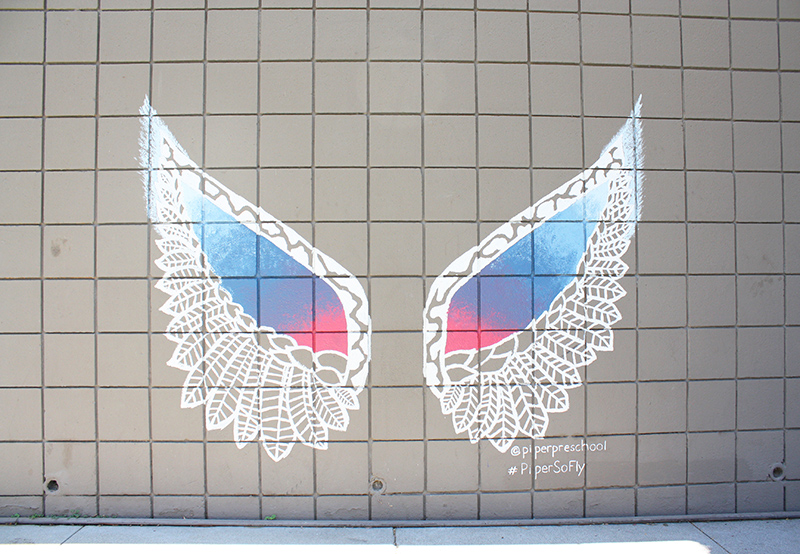 Piper Preschool, 807 Arizona Ave (on Lincoln Blvd Side)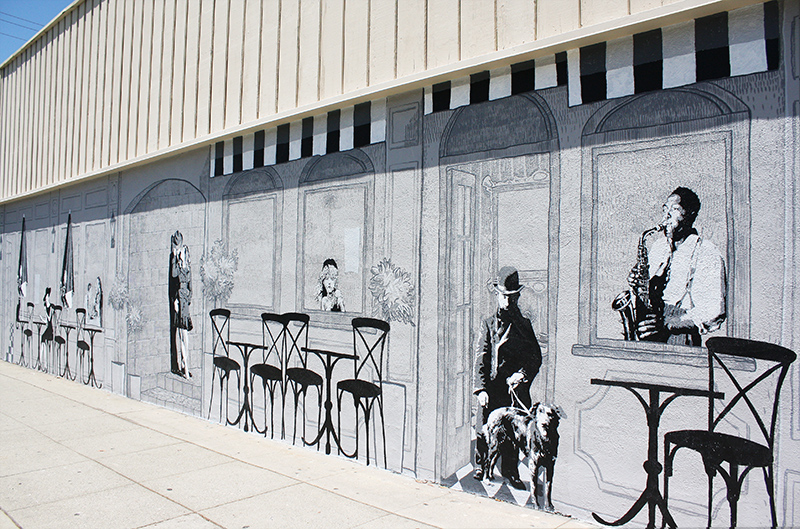 The Santa Monica Synagogue, 1448 18th St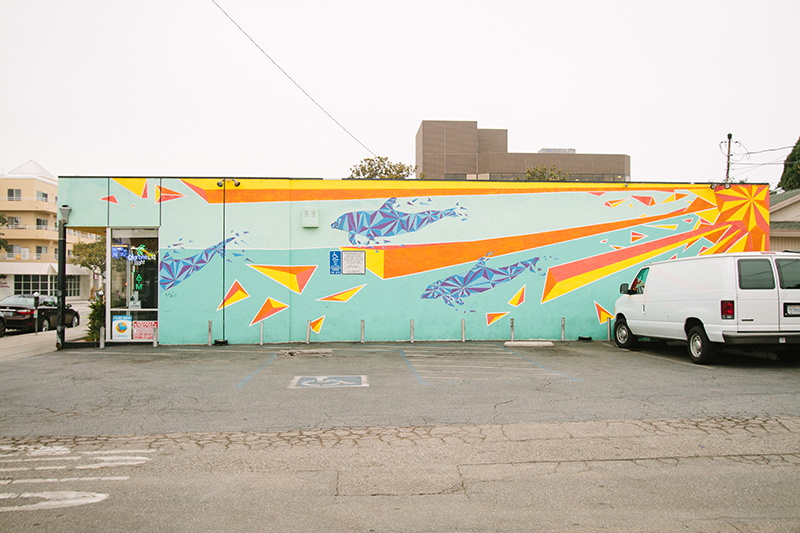 Mural by Sean MacCuish
Ladd's Liquors, 1011 Broadway
The mural was part of Beautify Earth's goal to bring art and color to ugly walls, and I have been grateful to work with them in the past in collaborating on that goal! The dolphin and seahorse mural design has been a style I have worked with for awhile and stemmed from my work with stained glass long ago. Adding geometric shapes and different colors to create some depth to a flat image. This was one of the first murals I did with Beautify Earth and have similar murals around LA with similar vibes, the most recent and largest being on Crenshaw Blvd. – Sean MacCuish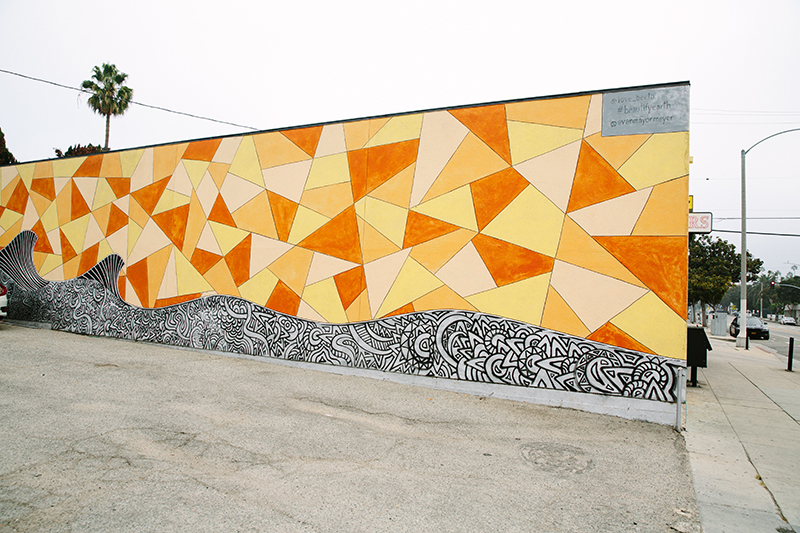 Sea by Berto (Upper Portion) & Evan Meyer (Lower, Black & White Portion)
Ladd's Liquors, 1011 Broadway
I was primarily creating abstract surf art during that period – usually influenced by my time in the ocean. This piece is an evening sunset. The sea looks black in contrast to the bright sky behind it. Big open ocean swells surfing before dark. – Berto
Mural by Marcel "SEL" Blanco & Risk
Rock Paper Scissors Building, 2308 Broadway
This iconic building was one of the first to commission a graffiti artist to paint its exterior walls way back in the late 1980s. Through the years, the paintings had faded, so the current tenants decided to reach out to artist Risk, one of the original artists, and have it redone. What you see is a vibrant collaboration between world renowned graffiti artist Risk, SEL, OG Abel, Vyal, Sonny Boy, and Nathan Ota. – SEL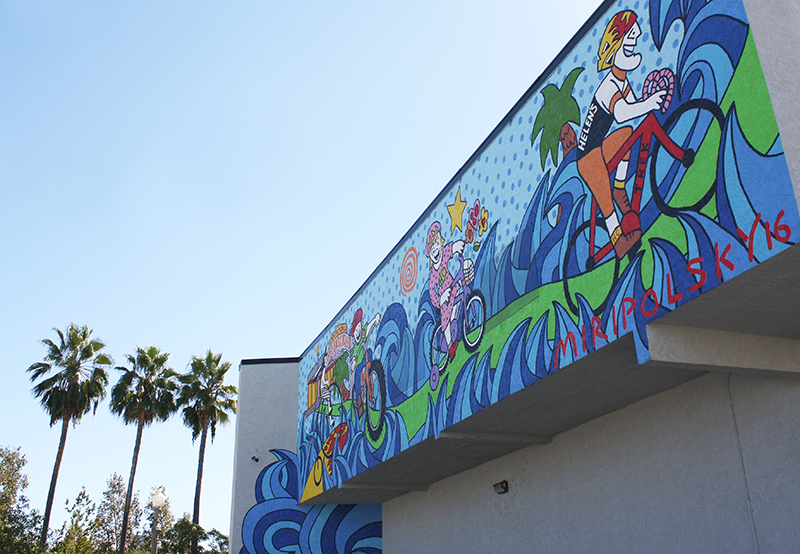 Mural by Miripolsky
Helen's Cycles, 2501 Broadway
My mural on the Helen's Cycles flagship store was commissioned by Jay Wolf, the owner of the Helen's stores in Southern California, in 2016 in honor of Helen's 80th year doing all their business in Southern California. I took my cue from the client and created a family outing cycling on the green path by the ocean. – Miripolsky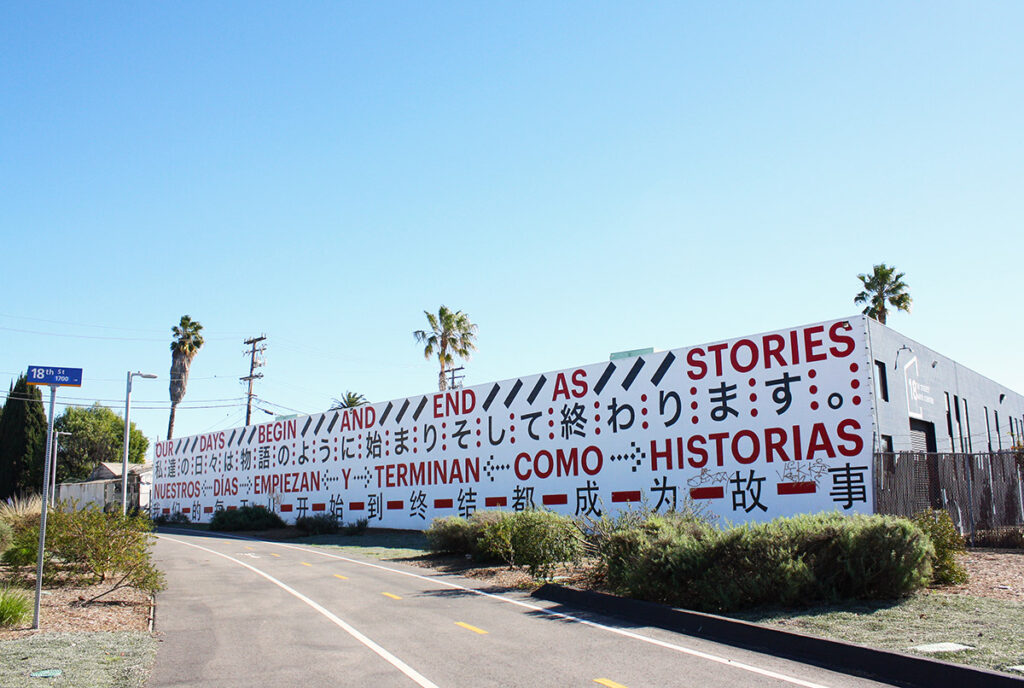 I'M DOWN by Brendan Fernandes
18th Street Arts Center, 1639 18th St (North Wall Facing Metro Expo Line)
Commissioned by the 18th Street Art Centre, I'M DOWN was a two part project consisting of a series of participatory public actions and a large-scale mural. The large-scale mural remains in Santa Monica's Pico neighborhood. Through several languages spoken in the area, and through its bold graphic design, the mural tells a story of immigration and gentrification in the area. Following a series of performances that like so many others moved through and moved on from the neighborhood, the mural remains onsite as a witness to what changes will later come to Pico. – Brendan Fernand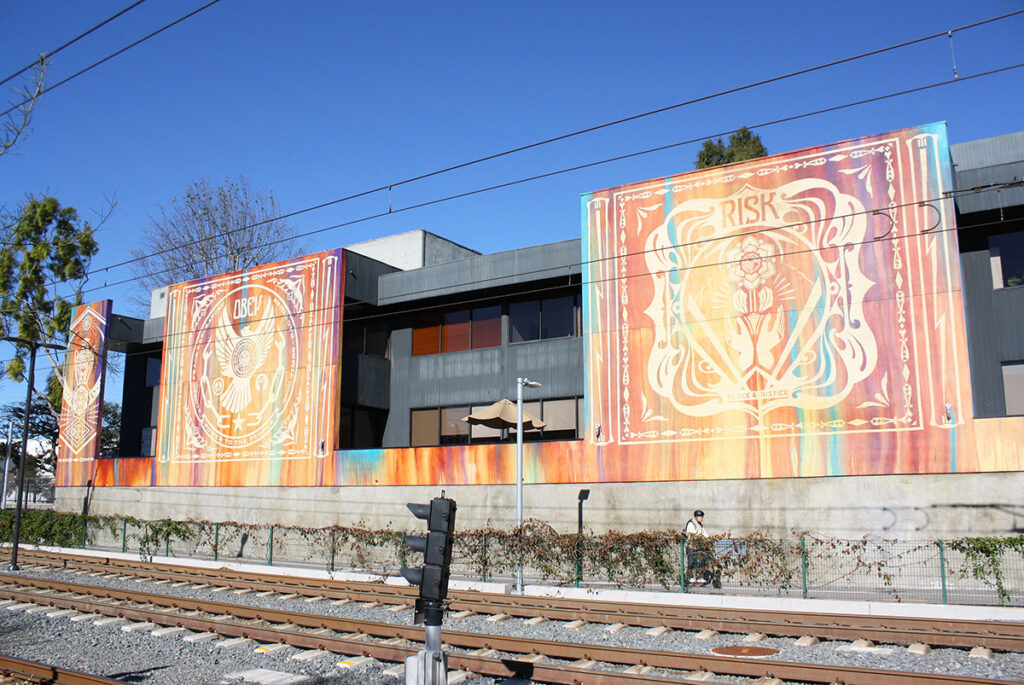 Mural by Shepard Fairey & RISK
XYZ, 2800 Olympic Blvd (South Side of Building)
Freeway Underpass, Stewart St in between Virginia & Kansas Ave
Mural by A2HD
Bon Voyage Auto Body, 2319 Michigan Ave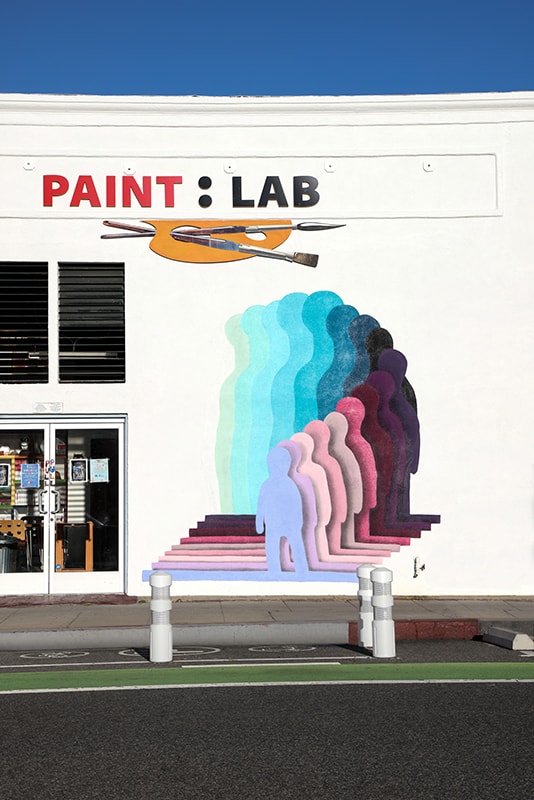 Mural by 1010zzz
Paint Lab, 1400 Broadway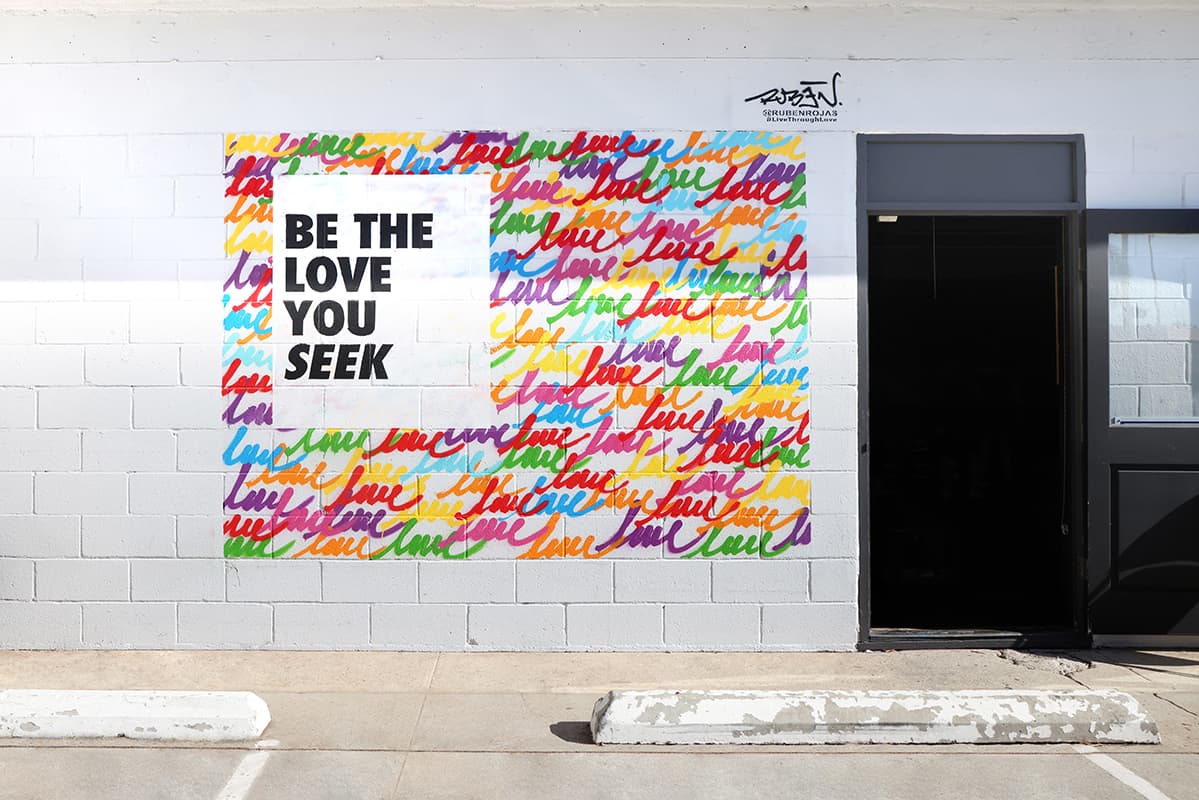 Mural by Ruben Rojas
Box N Burn, 3201 Santa Monica Blvd.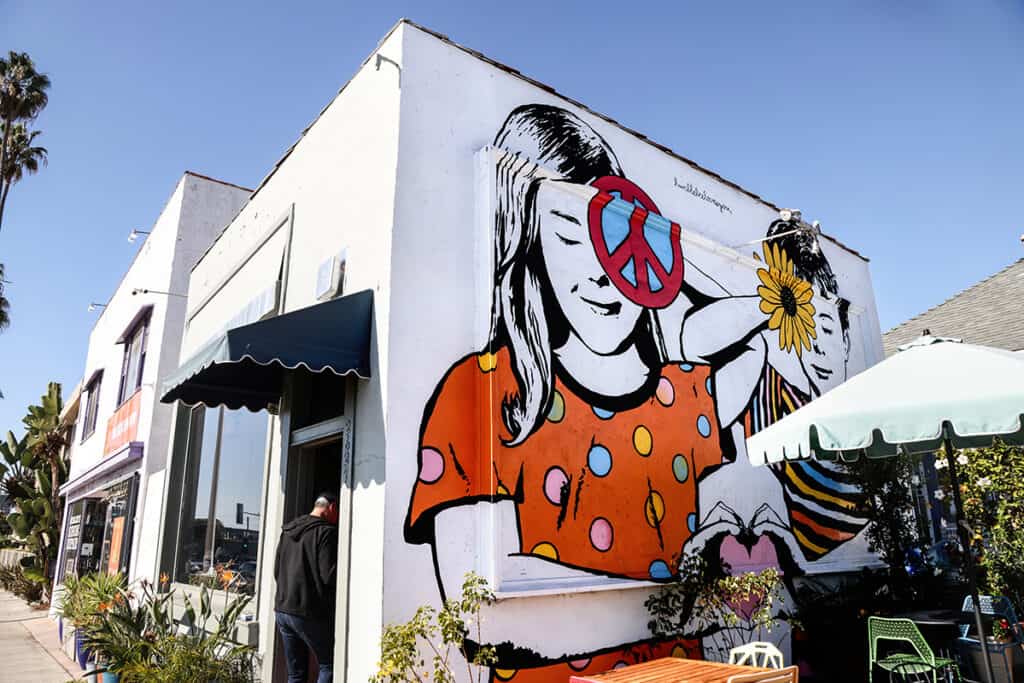 Peace, Love and Unity by bumblebeelovesyou
Lokl Haus, 2627 Santa Monica Blvd.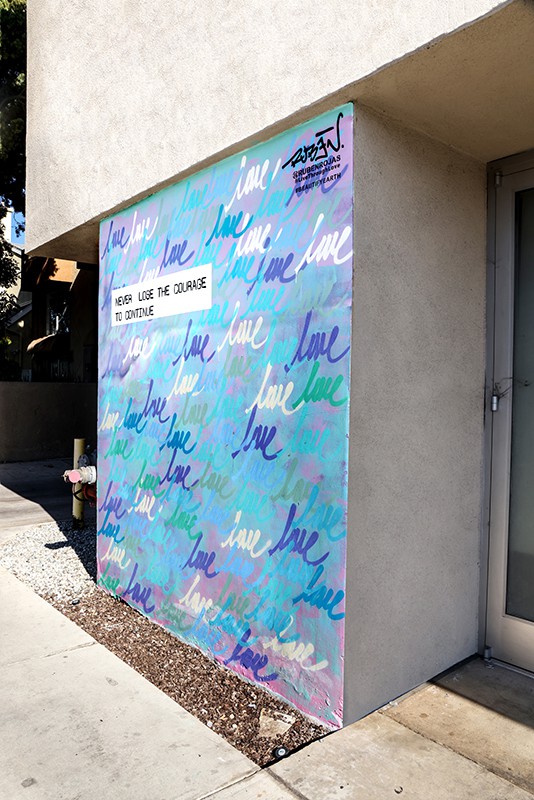 Love by Ruben Rojas
Residential, 1350 26th Street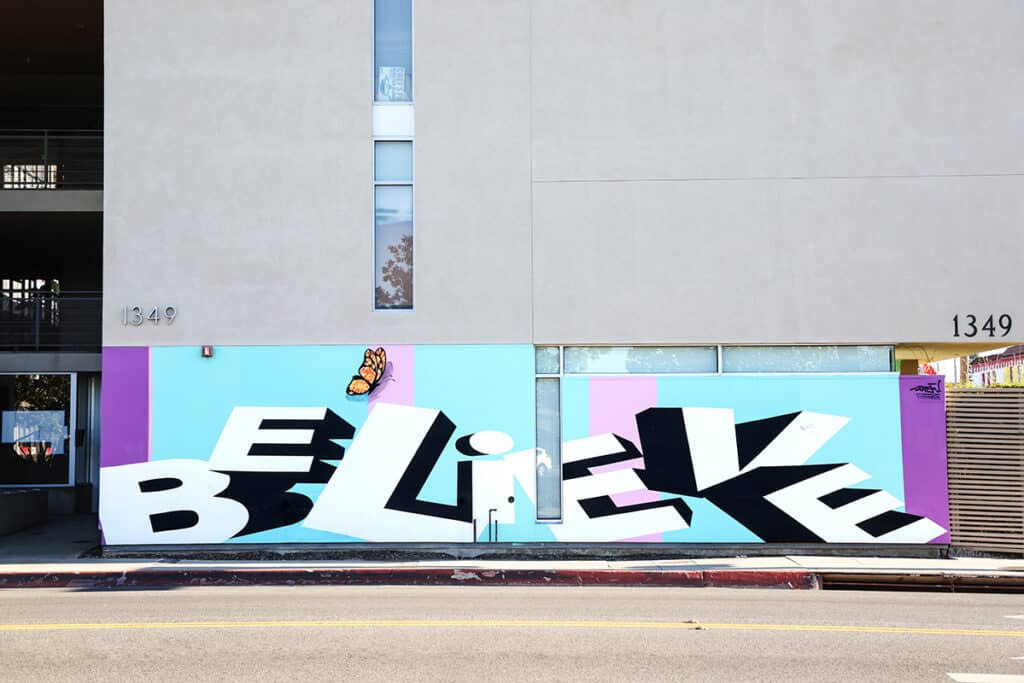 Believe by Ruben Rojas
Residential, 1349 26th Street
Back to Top | Back to Complete Street Art Guide
Mid-City Mural Locations
Now that you've see the artwork, check out the exact locations on the map below. Then, visit the murals in person and share your own photos on social media using #SeeSantaMonicaMurals.