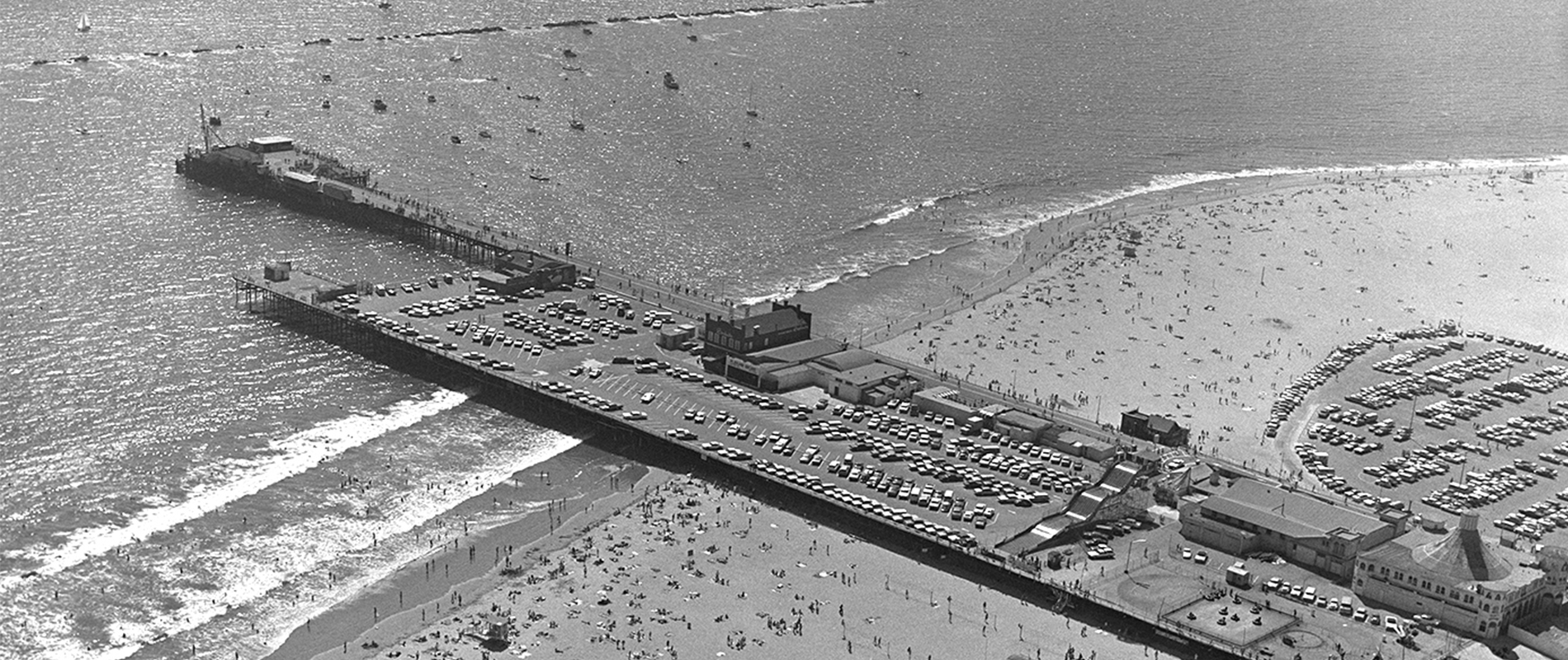 Santa Monica Then & Now
Posted September 29, 2021
From its earliest residents, the Tongva, and its founding as a town in 1875 to serving as a home for Japanese and African Americans, Santa Monica has grown and evolved from a small seaside outpost to a diverse, thriving community. Follow the story of this dynamic city through these rarely seen Then & Now photographs.
Original Muscle Beach
Just south of the Santa Monica Pier, this stretch of sand equipped with outdoor fitness and gymnastics equipment, including parallel bars, ropes, rings and weights, has attracted dozens of fitness buffs, gymnasts, locals and tourists alike since it was first installed in the 1930s. The name Muscle Beach was just catching on in those early days as athletes, actors, circus and stunt people, and bodybuilders found their way to Santa Monica's beachfront outdoor gym and a subsequent fitness boom took off across America. The area was christened with the term Original Muscle Beach in 1989 so as not to confuse it with Venice's Muscle Beach, established in 1963, and home to bodybuilders such as Franco Columbu, Arnold Schwarzenegger and others.
(L) Credit: Santa Monica History Museum, George Tate Collection
(R) Acrobatics at Santa Monica Original Muscle Beach
Belmar Neighborhood
Many African Americans arrived in California from the southern states, during the 1880s through post World War II, seeking a better lifestyle and less anti-black sentiment in the days of segregating Jim Crow laws. They settled in South Santa Monica, in what would become the Belmar Triangle neighborhood, with social life largely centered around the Phillips Chapel Christian Methodist Episcopal (CME) Church, a remodeled version of which now sits at 4th and Bay Street. The community was thriving despite racial discrimination as African Americans built homes and opened businesses, including the La Bonita Bathhouse and Café, and enjoyed the Bay Street Beach. In the 1950s, however, the area was claimed through eminent domain and razed to the ground to make way for the Santa Monica Civic Auditorium. The demise of the neighborhood was in part a national program by the federal government to build interstate highways too. Today, a compelling outdoor exhibit with 16 panels chronicling the story of the African American community at Historic Belmar Park, at 4th Street and Pico Boulevard, honors this historic neighborhood.
(L) Credit: Santa Monica History Museum, Bill Beebe Collection
(R) Photo by: Leroy Hamilton. "A Resurrection in Four Stanzas" April Banks. 
Santa Monica Pier
First built in 1909 to serve as a sewage pipeline, the Santa Monica Pier quickly became a fishing and boating destination instead. Soon after, famous carousel and amusement park developer Charles Looff arrived, adding a second pier with a beautiful carousel featuring 44 hand-carved horses inside the historic Hippodrome building, which still stands at the south end of the pier today. Looff also added bowling and billiards hall, as well as a ballroom. More rides opened and in 1940 and soon the iconic neon sign above the pier ramp was installed. Over the subsequent decades, the pier changed ownership several times and fell on hard times. By the 1970s, the Santa Monica City Council was moving toward destroying the pier to make way for a resort hotel; residents were up in arms and managed to save the pier, though violent storms in 1983 did, ultimately, severely damage the beloved landmark. Restoration efforts and the opening of the Pacific Park amusement park in 1996 have brought the Santa Monica Pier back to its former glory, adding the world's first solar-powered Ferris Wheel. Lively and family-friendly, the Pier sees four million annual visitors.
(L) Credit: Santa Monica History Museum, Outlook Collection
(R) Aerial of Santa Monica Pier 
Santa Monica Bay Woman's Club
On the 1200 block of 4th Street in downtown Santa Monica, this Classical Revival style building, dating back to 1914, served as a meeting place for women and hosted countless balls, charity events, concerts and bridge games in its heyday. The club's origin story starts with suffragist and community activist Elmira T. Stephens, who formed a local women's group called "The History Class" to discuss current affairs and civic matters in 1904. Eventually, the group formalized with major support from the wives of the city's co-founders, Georgina Frances Sullivan Jones, wife of Santa Monica city co-founder and senator John P. Jones (the couple and their family lived in what is the Fairmont Miramar hotel today); and Arcadia Bandini de Baker, wife of the Santa Monica city co-founder Robert. S. Baker. With architectural features such as a tiled hip roof, beautiful inscribed frieze and stained glass, the building has been a popular filming location in recent times. Virtual tours of the building are also available here.
(L) Credit: Santa Monica History Museum Collection
(R) Photo by: @kennythewoods
Inkwell Beach
A two-block stretch of sand, just south of Santa Monica pier, Inkwell was where African American beachgoers often flocked with minimal racial harassment. The term "Inkwell" was used derogatorily, referencing the skin color of the beachgoers, but the community managed to turn it into a symbol of pride. An African American investment group sought to develop a resort in the area but was blocked by the Santa Monica Bay Protective League (the area later went on to be the home of Casa del Mar and Shutters on the Beach). It was at the Inkwell where Nick Gabaldon, the first African American-Mexican surfer, taught himself to catch waves.
(L) Credit: Shades of L.A. Photo Collection and the Los Angeles Public Library
(R) Exterior of Hotel Casa del Mar. 
Japanese Fishing Village and Japanese Community of Santa Monica
Earning their livelihood from the daily catch in Santa Monica Bay, a Japanese fishing community sat at the foot of Santa Monica Canyon, just north of Long Wharf, a mile-long pier constructed by the Southern Pacific Railroad Company in Santa Monica Bay from 1892-94. The wharf was eventually removed. The Japanese fishing village was destroyed in a fire in 1916, and most went on to work as gardeners and open laundries. After World War II and the forced incarceration into internment camps, many Japanese returned to rebuild their lives in southern California. The Nikkei Hall, located at 1413 Michigan Ave, was built in 1957 as a community center for people of Japanese ancestry.
(L) Credit: Santa Monica History Museum, John P. Jones Collection
(R) Santa Monica coastline
Tongva People
The Tongva have called southern California home for thousands of years. Their territory once stretched from Malibu to Laguna Beach and extended as far inland as the San Gabriel mountains. They also lived on a few of the Channel Islands. As hunters and gatherers, they fished for abalone in elaborate, handmade canoes and gathered acorns (a staple of their diet). They also traded with other tribes like the Chumash. As they were forced to assimilate to Spanish and Mexican culture, the Tongva were rechristened the Gabrieliños for the San Gabriel Mission. In honor of the Tongva, Tongva Park was built and named in their honor.
(L) Credit: Santa Monica History Museum, Outlook Collection
(R) Tongva Park
Bergamot Station Arts Center
A railroad station from 1875 to 1953, then a streetcar stop, and later celery packing and ice-making plants, the warehouse buildings of Bergamot Station have lived numerous lives before reaching their present-day avatar of 5-acre art gallery complex, the Bergamot Station Art Center. Today, some 30+ galleries showcase artists working in all mediums from around the world, along with a handful of other creative businesses. A few galleries of note include Laura Korman, Shoshana Wayne and Craig Krull. The Metro brought the area back to its roots in 2016 with a 26th/Bergamot station stop. The arts center remains a hidden gem in the area.
(L) Credit: Santa Monica History Museum Collection
(R) Art show at Bergamot Station Art Center
Love history? Click here for a list of activities for history lovers!