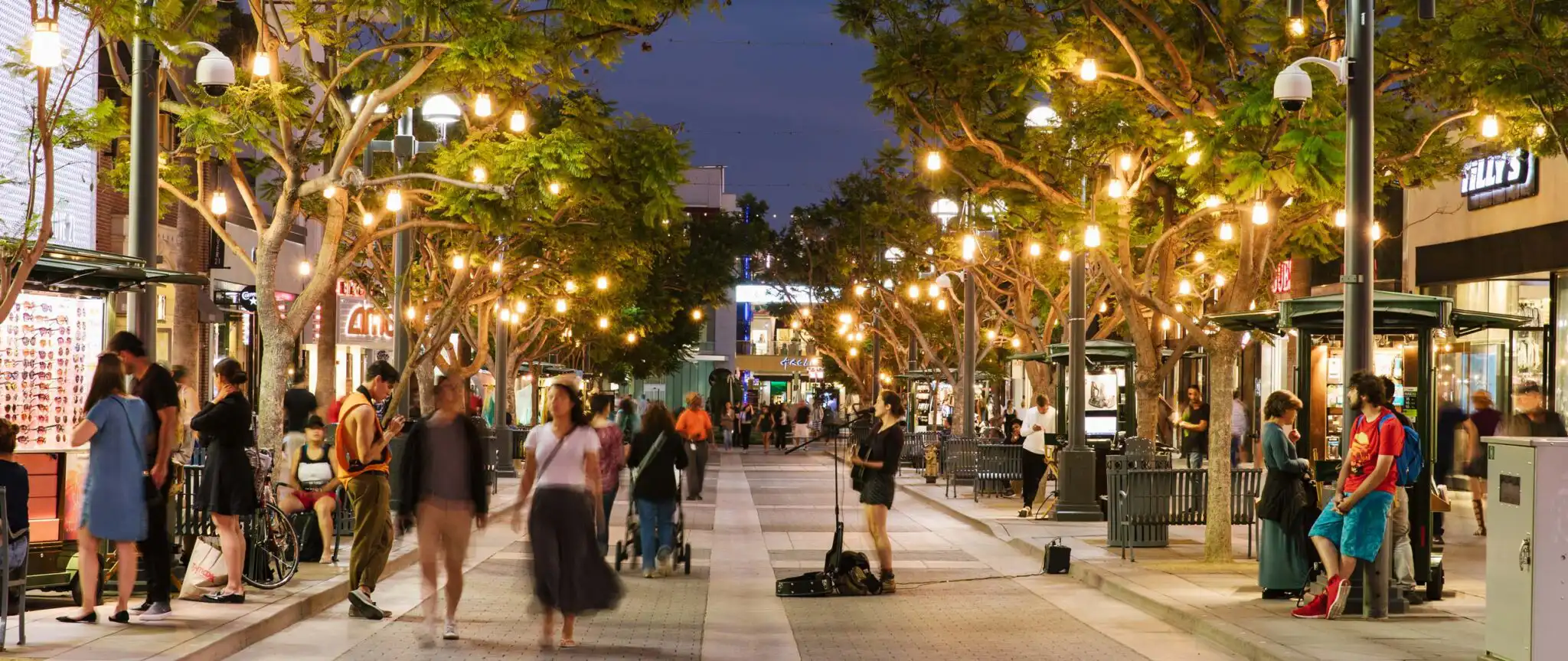 The Best of Late Night in Santa Monica
Updated September 15, 2023 in
Eat
Posted November 5, 2019
Santa Monica is full of activity when the bright California sun shines on it during the day. But, nights in this vibrant city are equally exciting, with a wide range of hot spots staying open into the wee hours. Here's a list of places to check out if you're up late and looking to experience the Santa Monica nightlife.
Late Night Music and Dancing
The Basement Tavern
For a taste of Prohibition-era charm, look no further than The Basement Tavern. This speakeasy hotspot inside The Victorian has plenty of activity throughout the week. Mondays are '90s nights, and there are often live-band karaoke and musical acts that are always on the schedule. Additionally, libations like the Shnozberry Spritz and Faithfully Yours are to die for. Happy hour runs from 5 p.m. – 8 p.m. Tuesday through Saturday, and all-night happy hour goes from 5 p.m. – 2 a.m. on Sunday and Monday.
Senator Jones
In the mood to dance the night away? Visit Senator Jones at Wilshire Blvd. and 21st St. This neon-lit 5,000-square-foot club has incredible DJs spinning a wide assortment of music until the wee hours. Plus, the cocktails are not to be beaten. Come on Tuesday nights for Salsa and Bachata dance lessons, then stay on the dance floor until the tunes stop playing at 2 a.m.
The GasLite
If you're up for a night of clubbing fun, The GasLite is where it's at! This place is all about good vibes, awesome drinks, live karaoke and a dance floor that's always jumping. The GasLite is so good it has been featured in Elle Magazine, The Los Angeles Times and Funny or Die's Jewel Undercover Karaoke video.
The Room
The Room Santa Monica is the ultimate nightlife destination. With its casual atmosphere and a mix of hip-hop and top hits, The Room offers dancing, DJs and delicious drinks every Thursday through Saturday from 9 p.m. to 2 a.m. Just remember to adhere to the "smart & stylish" dress code and if you're interested in bites alongside your beverages, late-night food is available, along with options for reserving tables and even bottle service.
1212 Santa Monica
1212 Santa Monica is a fantastic dining spot during the day that turns into an extraordinary nightlife destination on Fridays and Saturdays. 1212 Santa Monica amps up the vibe with a top-notch nightlife experience featuring Los Angeles' finest DJs for an upscale experience that's simply unparalleled.
Rooftop Bars 
Santa Monica rooftop bars offer a unique and unforgettable experience for locals and visitors. When the sun starts setting, enjoy stunning panoramic views of the city and the Pacific Ocean from these hot spots. 
Élephante
Élephante is a rooftop and restaurant located on 2nd St. Head to Élephante for an evening dinner featuring coastal Italian cuisine and for a drink at one of their three bars on the property. Their cocktails are inspired by Italy and they have an extensive wine menu. During the week, Élephante closes at midnight and on Fridays and Saturdays closes at 1 a.m.
Calabra
Calabra is located inside the Santa Monica Proper Hotel. Calabra is a rooftop restaurant and bar by executive chef Kaleo Adams. Calabra combines the vibrant energy of Santa Monica with the rich flavors of Mediterranean cuisine. Here you can get an unforgettable dining experience until 11 p.m. most nights. 
ONYX
ONYX is a renowned indoor/outdoor rooftop bar and lounge on top of Sonder The Beacon Hotel in Santa Monica. The rooftop bar has panoramic ocean views that showcase the stunning beauty of Santa Monica and offers a place to unwind and relax with one of their many carefully crafted drink selection and small plates. Onyx also has a dynamic DJ lineup and weekday happy hour.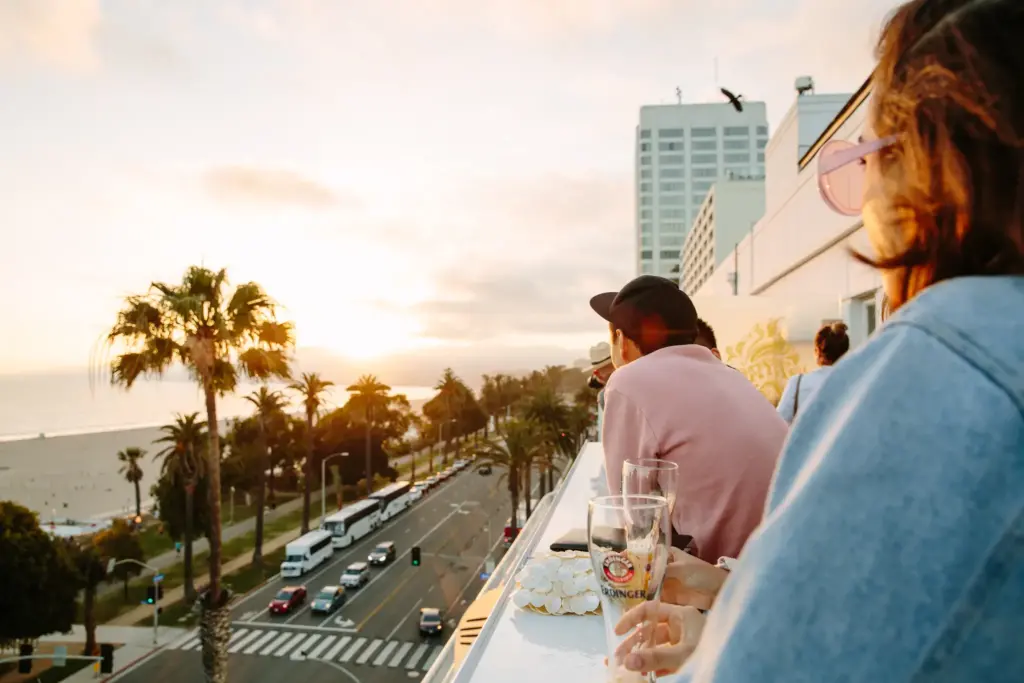 Late Night Dining
Mel's Drive-In
Mel's Drive-In is a throwback to old Hollywood. Stepping inside this vintage eatery feels as if you were transported to the 1970's. With classic diner fare on the menu, Mel's operates until 2 a.m. Sunday through Thursday, and on Fridays and Saturdays it's open 24 hours. This iconic restaurant even features a juice and smoothie bar complete with wellness shots.
Chez Jay
Chez Jay is a 60-year-old dive bar and an iconic spot declared a historical landmark. Open until 2 a.m., and located just half a block from the Santa Monica Pier and a short stroll from the Third Street Promenade, the menu includes steamed clams, iceberg wedge salad, surf and turf, steak au poivre, shrimp scampi and chicken marsala, complemented by desserts: cheesecake Chez Jay, sticky toffee pudding and chocolate chip cake.
Rock 'n Pies
At 2 a.m., when cravings strike for Buffalo chicken wings, eggplant parmigiana, pasta soaked in red sauce, or pizza with artichokes, anchovies, and salami, you're in for a treat at Rock 'n Pies. Satisfying those immediate desires, they also offer desserts like cookie pizza, cannoli, and cheesecake until 3 a.m. daily. Their weekday happy hour menu presents options like a meatball sandwich or a bowl of Rigatoni Bolognese from 4 p.m. to 7 p.m.
What To Do in Santa Monica at Night
Santa Monica Pier
No matter what time of day, the Santa Monica Pier is constantly abuzz with activity. If you're looking to take a stroll down this beachside landmark, you can do so any time since the area never technically closes. However, Pacific Park, which includes the midway games and rides, is open until midnight on Friday and Saturday nights.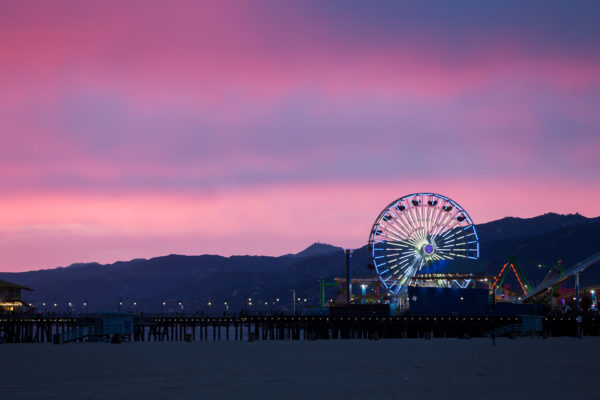 Third Street Promenade
The Third Street Promenade is another area that never actually shuts down. Most stores are open until 9 p.m. with restaurants serving food until 10 p.m. Want to keep the party going? You can stop into Britannia Pub and order burgers and beers until 2 a.m.
See a Show
Looking for some other entertainment? Santa Monica offers many cinematic and live performances. For classic elegance, check out the Aero Theatre, or if you are looking for modern comforts,  AMC Theaters is the spot. For live performances, visit The Crow and Westside Comedy Theatre; shows at these venues are filled with laughter.
Does Santa Monica Have Good Nightlife?
Santa Monica boasts a lively and energetic nightlife, catering to various preferences and tastes. The city offers many choices, ranging from rooftop bars that provide breathtaking views to vibrant venues featuring live music and elegant lounges for those seeking a more refined evening. With its stunning beaches, sunny weather and exciting nightlife options, Santa Monica provides a great setting to create unforgettable memories while enjoying a fantastic night out. After a night out, recover at one of many fantastic brunch spots in Santa Monica.