Sample one of the city's most delicious weekly rituals – Farmers Markets. By Elizabeth Turner
Los Angeles is justly celebrated for its spectacular farmers markets, and the Downtown Santa Monica Farmers Market on Wednesday is the most famous of them all. Top chefs arrive early every Wednesday to scoop up the best seasonal offerings from local farmers, fishmongers, cheesemakers, and more. Expect a convivial vibe and a feast for the senses – bright colors, fresh flavors and scents, and great people-watching. This is just one of four weekly farmers markets locals flock to in three different Santa Monica neighborhoods, year-round, rain or shine. Here's a weekly breakdown.
Downtown Santa Monica Farmers Market
Wednesday: 8am-1pm
Saturday: 8am-1pm
Arizona Ave. between Third Court and Ocean Ave., and on Second St. from parking structure 2 to parking structure 4
Conveniently intersecting the Third Street Promenade shopping district, the Wednesday market caters to local chefs with the largest selection of farmer stalls; the Saturday market is a bit smaller. (Tip: Free 90-minute parking is available in the parking structures on Second and Fourth streets; enter from Wilshire Boulevard or Santa Monica Boulevard.)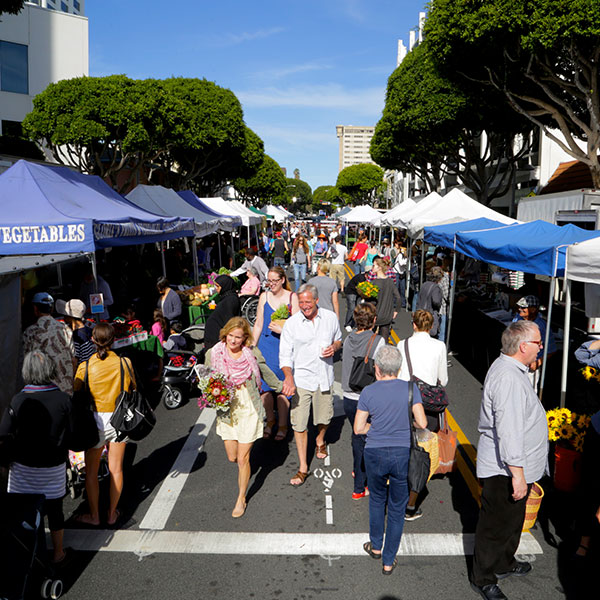 Main Street's Heritage Square
Sunday: 8:30am-1:30pm
2640 Main St.
Situated in a small square in Santa Monica's Main Street shopping district, this market features live music and kid-friendly activities like face painting.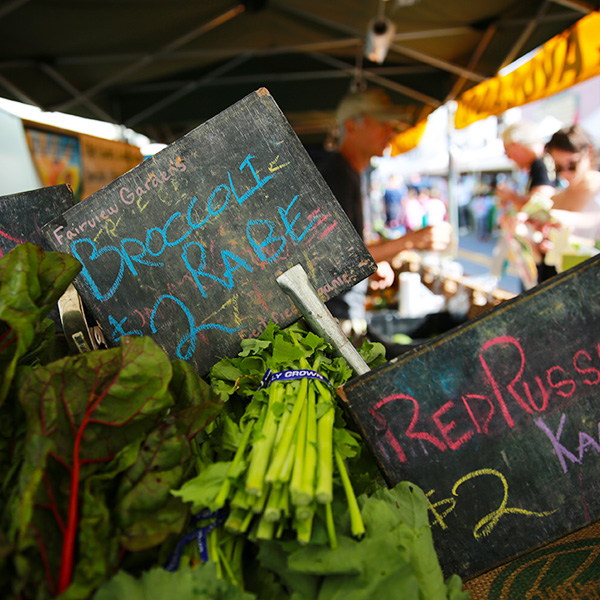 Pico Boulevard's Virginia Avenue Park
Saturday: 8am-1pm
2200 Virginia Ave. at Pico Boulevard and Cloverfield Blvd.
For those who like to shop and feast at the same time, this family-oriented market has plenty of tables and chairs, plus it's adjacent to the Virginia Avenue Park with a playground where kids can run around.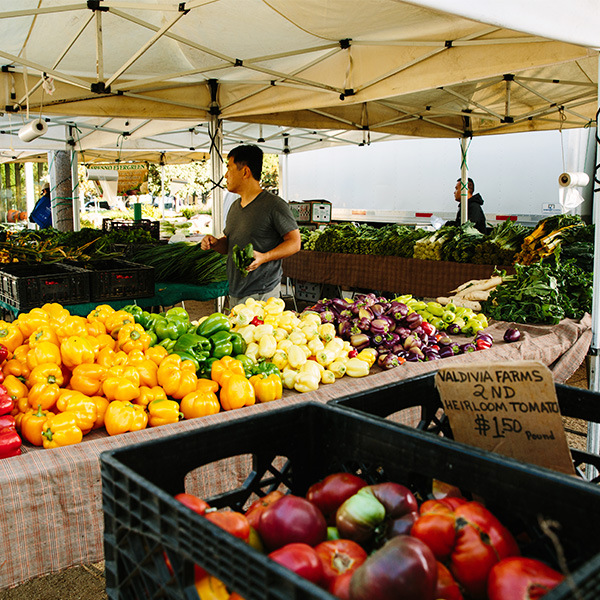 Events
Santa Monica Farmers Markets have unique programming throughout the year. For a full list, visit the Santa Monica Farmers Market page. Below is a preview of the annual events:
Annual Chile Roast at Virginia Avenue Park – Every Saturday in September
Santa Monica Farmers Market Pumpkin Decorating – October
All You Can Carry Pumpkin Patch – October
Seasonal Picks
Santa Monica's farmers markets generally offer local specialties like beets, some varieties of citrus, and green leafy vegetables year-round, but to find the best produce at its seasonal peak, follow this list.
Spring
• artichokes
• asparagus
• broccoli
• cauliflower
• fava beans
Summer
• cherries
• corn
• nectarines
• plums
• tomatoes
Fall
• apples
• figs
• grapes
• lima beans
• pears, persimmons
• pomegranates
• pumpkins
• winter squash
Winter
• beets
• blood oranges
• Brussels sprouts
• kale
• mandarins
• mushrooms
• sweet potatoes
• tangerines
Santa Monica Restaurant Week
In January, participating Santa Monica restaurants showcase the area's abundant fresh produce by crafting dishes centered around the year's featured ingredient. santamonica.com/restaurantweek