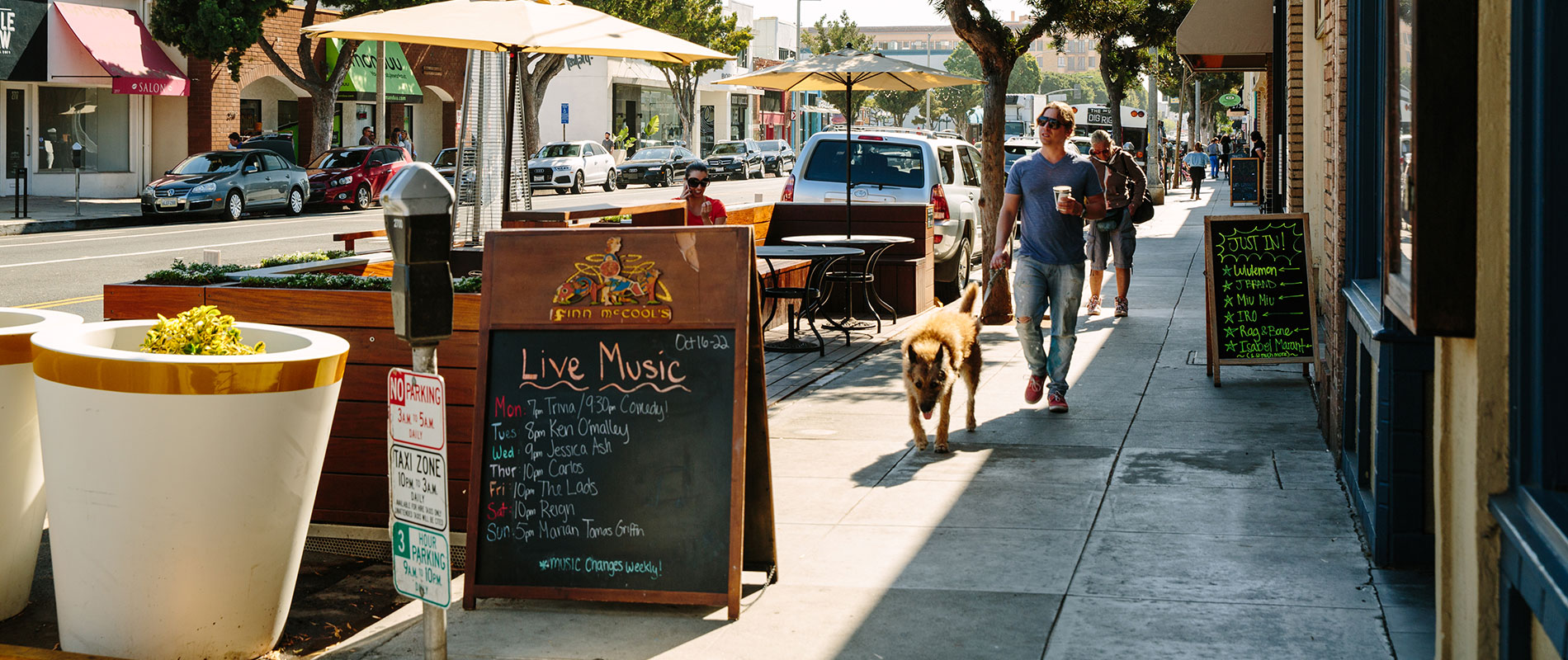 Places to Watch the Super Bowl in Santa Monica
Updated February 10, 2023 in
Explore
Posted January 30, 2018
With millions of people across the United States tuning in to watch the Super Bowl each year, it's not a question of whether you'll watch the game, it's a question of where. From sports bars to Irish pubs to outdoor grills with big screens, if you find yourself in Santa Monica for the Super Bowl, make a beeline for one of these coveted hot spots and take advantage of Super Bowl specials.
Super Bowl Specials & Offers
Come celebrate LAs most exciting sporting event of the year in Santa Monica's Best Restaurant & Bar — Super Bowl LVII. The game will be on & there will be all the delicious drinks & food ready. Doors open at 1:30pm. Enjoy massive projector screen, over 8 tvs, a full bar, table service, food menu and reserved seating. Each table ticket comes with a food & beverage minimum spending (minimum spend does not include taxes & gratuity). If you do not reach the minimum, you will be charged the difference as a table fee. Reserve your table here.
Preorder your Super Bowl Sunday package for pickup and feed your team! Each package Includes Glazed BBQ Ribs; Half Dirty Chicken; Mac N Cheese; Cole Slaw; Potato Salad; White BBQ Sauce, Charred CA Salsa, BBQ Sauce; Peanut Butter Crunch Cake Serves 2. The cutoff time to order is 4pm on Friday, February 10. Get your package here.
Don't miss this amazing electric bikes sale for Valentine's Week! Come and get a 10% discount on all electric bikes, locks, helmets, baby seats, car racks on more. Some e-bikes are already on sale. Sale ends February 13.
Enjoy game day takeout and delivery menus that offer a bit of whimsy and comfort. There's the $99 "Super Smorgasbird" pack featuring 1 dozen Pickle Chick Wings, Four Cheese Kugel, choice of ACG Caesar Salad or Simple Lettuces and 1 dozen Chocolate Chip Cookies. You can also get a dozen Pickle Chick Wings, Salads and Cookies à la carte, as well as Four 8 oz. Koji-Marinated Prime Flatiron Steaks with Montreal Seasoning to cook on the grill, Whole Cakes & Pies, and pre-batched Margaritas and Old Fashioned's. Pre-order by February 9 at 11 a.m. through their website for pickup & delivery on February 12 from 11 a.m.-2 p.m.
Looking or Kick off Super Bowl Sunday with earlier weekend brunch starting at 10am and dine with a variety of game-day friendly drinks and snacks for pickup and delivery. This is the place you order from if you want something a little "chic" for your viewing party, like stunning Cheese & Charcuterie Boxes, jewel-toned Market Platters with housemade dips, new Sandwich Platters featuring a variety of options like Italian, Jamon Beurre, Garden and that famous Grilled Cheese, batched Old Fashioneds and a tightly-curated selection of football-friendly wines. Everything will be available for pre-order through Tock starting February 1, with pickup & delivery on February 12 from 10 a.m.-3:30 p.m.
It's time for a Super Bowl party on the patio! Come watch the game (or Rihanna) this Sunday surrounded by fresh air, an electrifying atmosphere and classic American food. Staying in? Delivery is available!
Organic, famers market-driven versions of game day classics are the local favorite. Order for pickup or delivery, and enjoy highlights like Chicken Finger Platter with carrots, celery and a variety of housemade dipping sauces, a seven-layer dip with housemade tortilla chips, Niman Ranch Burger Sliders, Fourless Chocolate Brownie Bites and more. Pre-order now through the website by February 9 at 3pm for pickup and delivery on February 12.
Feed the team with NFL Playoff Party Packs. Pre-order party packages from Uber Eats and Postmates to enjoy Chef Citrin's famous Dirty Chicken, Spicy Giardiniera, Cabbage Slaw and a choice of two sauces for pickup on game day. Party packs come in various sizes.
Offering a couple of Italian-inspired, game day specials to pre-order for pickup and delivery, like Crispy Wings with hot honey garlic butter, basil & fennel pollen and a "Milo Supreme" Pizza featuring soppressata, pepperoni, mushrooms, red onion, mozzarella, olives & aged parmesan, you're sure to get a touchdown with game day food from Milo + Olive. Dishes are available to pre-order through their website from January 20-February 9 for pickup & delivery on February 12, starting at 11 a.m. The specials will also be available for pickup & delivery on the various apps, like ChowNow, UberEats and more, but pre-ordering is best to guarantee availability.
Let Pono Burger cater your Super Bowl Party! Enjoy Grilled House Buffalo or Kona Coffee BBQ Wings platter specials for takeout all day on Saturday and Sunday! Take home 24 for $25.95 or 36 for $36.95. All platters include carrots, celery and Pono Burger's house-made ranch. Orders can be placed for takeout or curbside pickup either on their website or by calling 310-584-7005.
Enjoy big game headquarter vibes with big screen tvs, surround sound, food specials, beer to-go specials, good vibes and more! Come on February 12th to watch the big game and score a "Gameday Meal Pack" from Emmy Squared Pizza. This is one watch party you won't want to miss. Book your table here.
Tackle the game day spread with SOCALO's ready to eat salsas, chips, and Queso Ahumado, a smoky cheese dip, for your Big Game watch party at home! Get ready for kickoff with our heat and serve Lamb Birria Tacos, Chicken Enchiladas, Pozole, Quesadilla Kits and score major points with your friends and fam. Pickup and delivery available Saturday, February 11 between 1pm – 6pm or Sunday, February 12 between 11:30am – 1pm.
Big game specials are making a splash at Stella Barra this Super Bowl Sunday. Come between 12-6pm for crowd-pleasing specials like jumbo Chicken Wings or Cookie Packages. View specials here. Click here to make a reservation.
It's going to be epic at Tavern on Main! Dine on a game-winning breakfast including all-you-can-eat pancakes and bottomless mimosas. With a multitude of tv screens, awesome game-day vibes and a $30 Sampler Platter including nachos, chicken wings, sliders and pickles, there's plenty of fun to be had at Tavern on Main.
It's time for The Victorian's Super Bowl Party February 12! Join for pre-game and after party drink specials, tailgating food menu, a DJ and game sounds throughout the whole house! Click here for more information and tickets.
Meet in the back dining room February 12 at 2:30pm for a special Big Game viewing party, with multiple screens and special Game Day dining options to enjoy! Enjoy a full menu plus game day specials like Braised Short Rib Sliders: house made brioche, wild arugula, crispy shallot, horseradish creme fraiche; Chicken Wings: green circle organic chicken wings, truffle hot sauce, truffle ranch; BBQ Baby Back Ribs: Berkshire baby back pork ribs, coleslaw, persimmon BBQ sauce; Duck Sausage: house made brioche buns, caramelized onion, pickled radish, foie gras aioli; Maine Lobster Mac and Cheese: half Maine lobster, house made pasta, tomato bisque, hook's cheddar. Seating is first come, first serve.
Places to Watch the Super Bowl
Brittania Pub
A great little pub located in Downtown Santa Monica, Britannia Pub offers large screens to watch the game, along with inside and outside dining options.
Busby's West
Screening virtually every sports game from around the world on its 50 TVs, Busby's West is a Santa Monica live sports hot spot. Choose from 20 draft beers, and chow down on burgers, wings, and more while you watch the NFL game.
Cabo Cantina
Centrally located on Third Street Promenade, Cabo Cantina features indoor and outdoor seatings while showing a variety of games, often with watch parties featuring drink specials, bottomless mimosas, and more!
Del Frisco's Grille
Want a side of ocean views with your Super Bowl? Reserve an oceanside patio table at Del Frisco's Grille and enjoy food and drink specials, prize giveaways and more, while you watch on a 60-inch screen.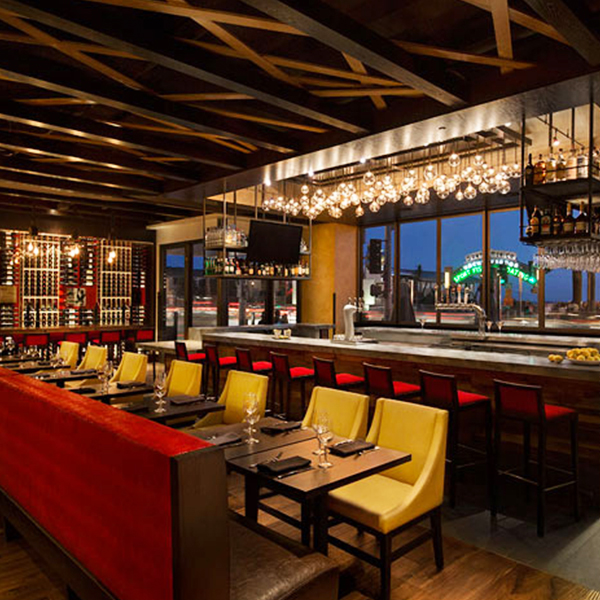 O'Briens Irish Pub
With 15 flat-screen TVs throughout the pub and an electric atmosphere, O'Briens Irish Pub is one of the best places in Santa Monica to watch the Super Bowl. Plus, its beers, food and service don't disappoint.
Tavern on Main
Rub elbows with the locals at Tavern on Main– a chilled neighborhood bar on Main Street that's perfect for low-key live sports accompanied by cool draft beer, cocktails and food.
Sonny McLean's
Santa Monica's original Irish Gastro Pub, Sonny McLean's, is also a perfect place in town to catch football games – with 40 beers and ciders on tap, 23 flat-screen TVs, and housemade specialties.
Jameson's Pub
You can catch all the big games in high definition at Jameson's Pub. They offer slow-roasted prime rib specials and pub favorites and you can chase it with a shot of Jameson Irish whiskey on tap.
Barney's Beanery
Open daily until 2am, Barney's Beanery has been a popular local hangout for more than 90 years. Sixty TVs, great bar food, a friendly crowd, and a Route 66 location, make it ideal for big games.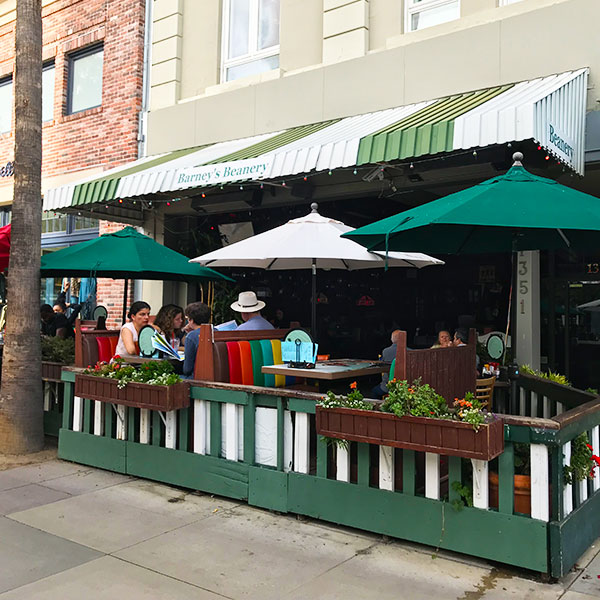 Ye Olde King's Head
Famous for more than 40 years, Ye Olde King's Head is an iconic British Pub, Restaurant & Gift Shoppe located between 3rd Street Promenade and the beach. Its live sports schedule always draws a crowd.