Santa Monica is an arts and culture hub, home to nearly 100 street art murals all within its 8.3 square miles and eight neighborhoods. The Ocean Park Blvd/Santa Monica Airport Area neighborhood boasts an authentic local vibe, a crop of talked-about restaurants, and "Where did you get that?!" boutiques and shops.
To see the 17 murals that are in the Ocean Park Blvd/Santa Monica Airport neighborhood, scroll down or view the Google map of locations.

Village Car Wash, 181 Ocean Park Blvd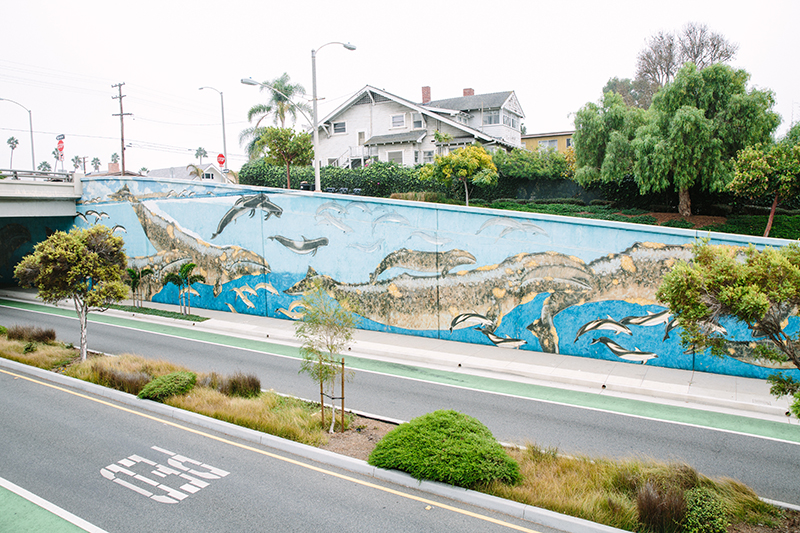 Whale of a Mural by Daniel Alonzo
Ocean Park Blvd at 3rd St (South Wall)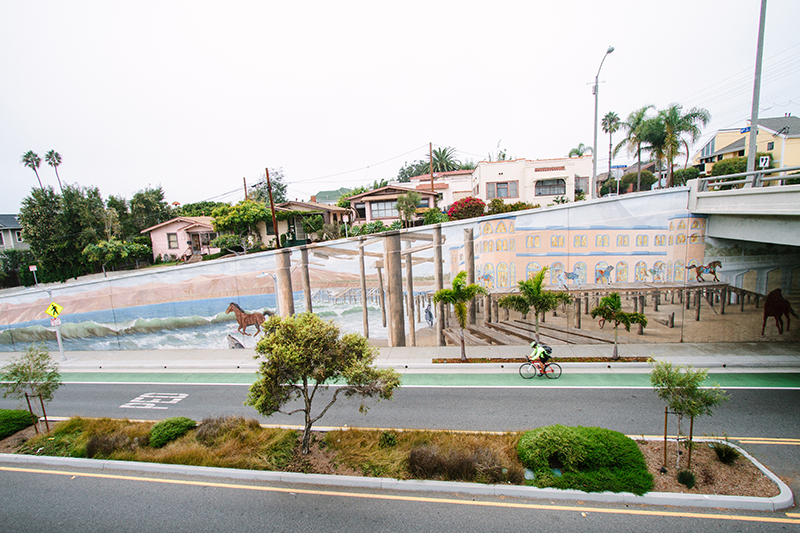 Unbridled by David Gordon
Ocean Park Blvd at 3rd St (North Wall)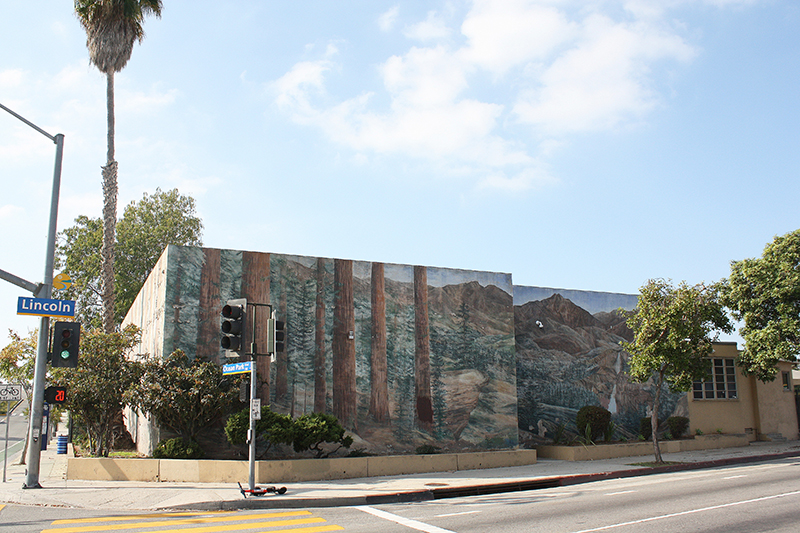 Mural by Jane Golden
Olympic High School, 721 Ocean Park Blvd

Mural by Karen Kinney
Cafe Bolivar, 1741 Ocean Park Blvd
The inspiration behind the mural on Cafe Bolivar came from a postcard-sized collage I created many years ago for an exhibit in London. This particular collage was made from paper scraps, ink, and acrylic, and the overall design, bright colors, and geometric elements fit really well with Cafe Bolivar's storefront and aesthetic. I began my art career in collage, so it was satisfying to turn a small art piece made from so many disparate elements into a large painting for the public to enjoy. – Karen Kinney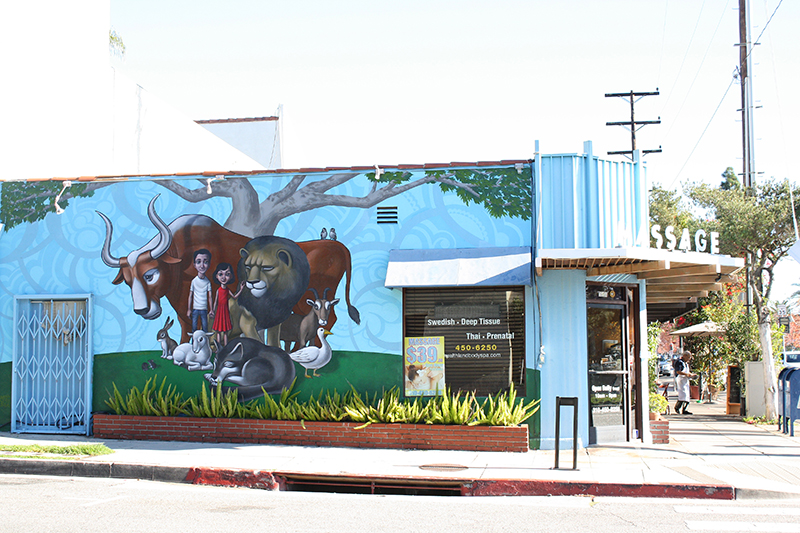 Peaceable Kingdom by John Park
Health Land Body Spa & Massage, 3001 Ocean Park Blvd
"Peaceable Kingdom" was designed with cues that were given from the client. Initially, the request was just to paint a mural that depicted children and animals in a nonspecific way. The request immediately reminded me of the theme of a "Peaceable Kingdom," which is in reference to Isaiah 11: 6-7 and is a subject that other artists have depicted throughout history. Adding this element of specific storytelling allowed me to develop the design in a more cohesive way. – John Park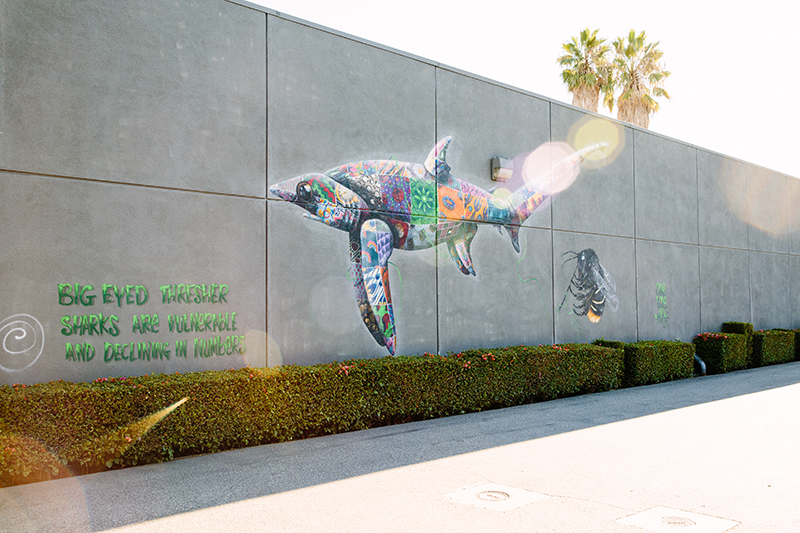 Mural by Louis Masai
Blick Art (West Side of Building), 2602 Lincoln Blvd

Coin Op Laundry, 2626 Lincoln Blvd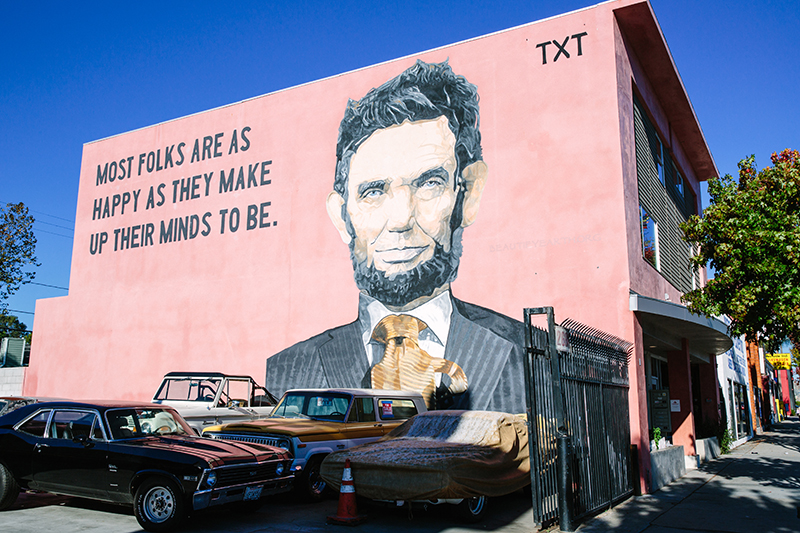 Mural by Trek Kelly
Baila Baila, 2640 Lincoln Blvd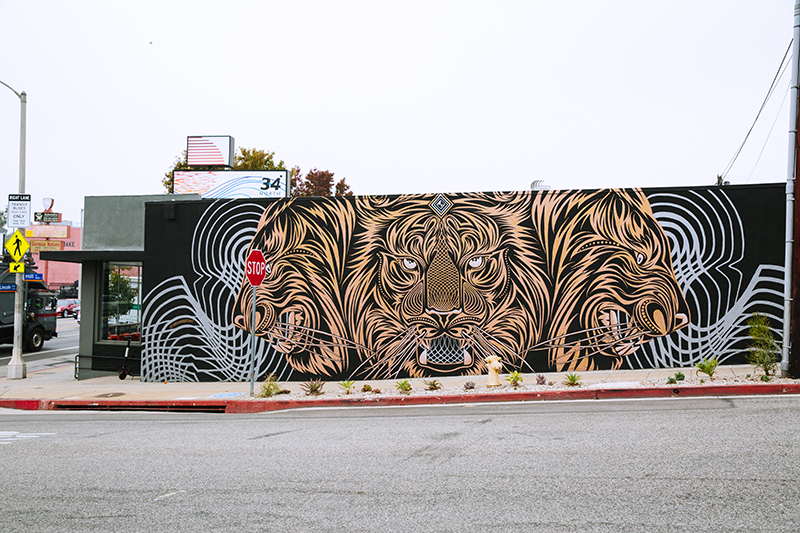 Mural by Chris Saunders
34 North, 2723 Lincoln Blvd
McDonald's (Parking Lot), 2809 Lincoln Blvd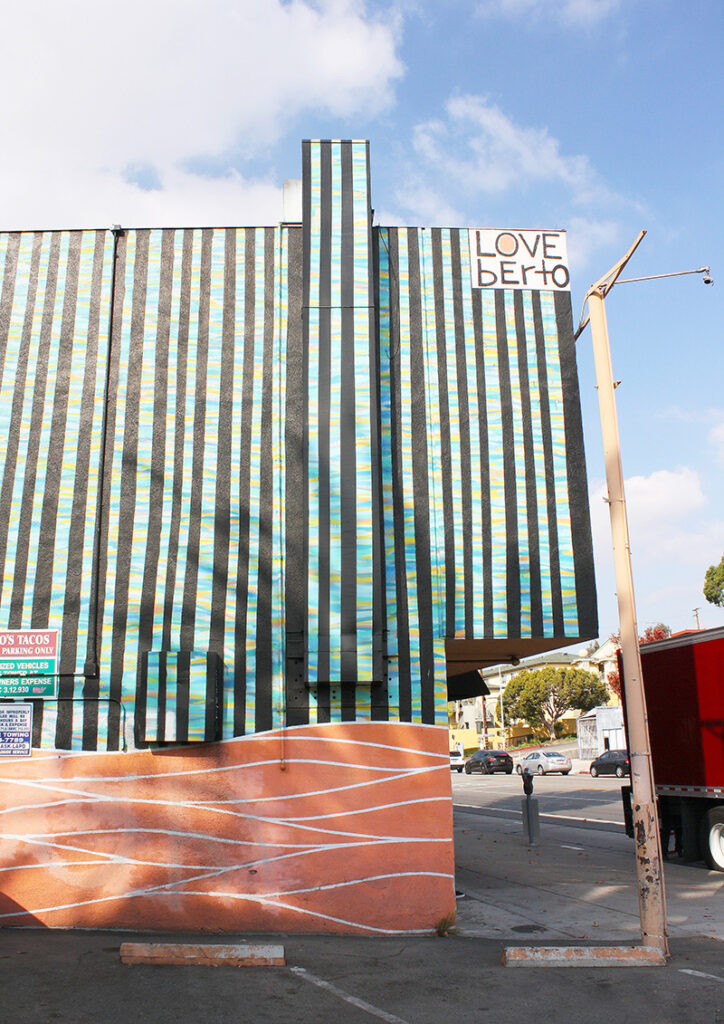 Mural by Berto
RIZE, 2906 Lincoln Blvd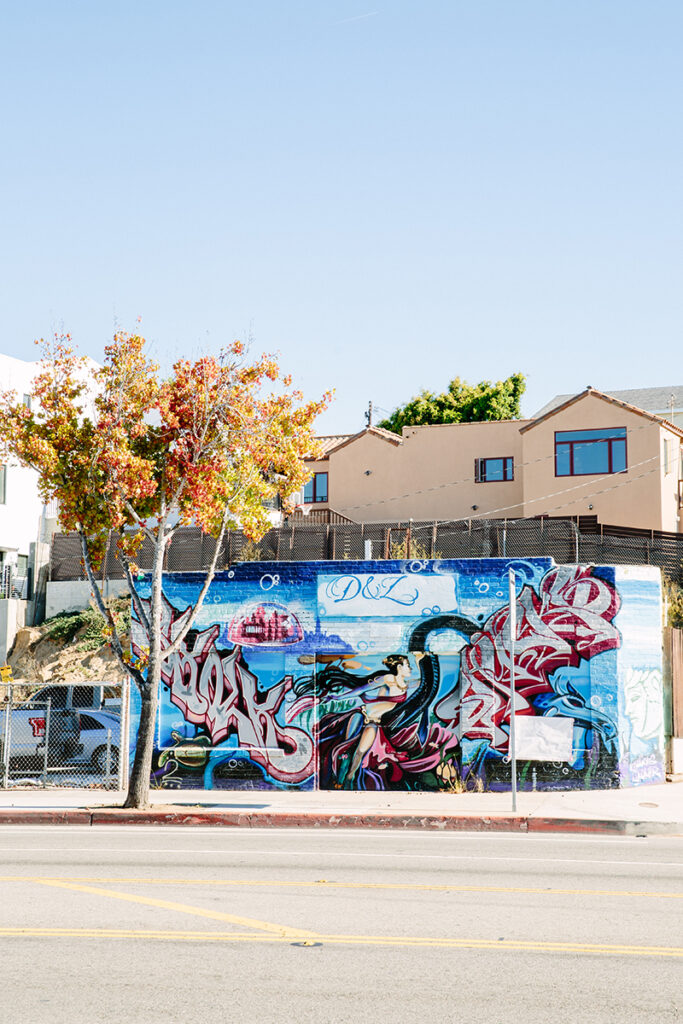 Mural by Shucks Skoler
D&L Plumbing, 2919 Lincoln Blvd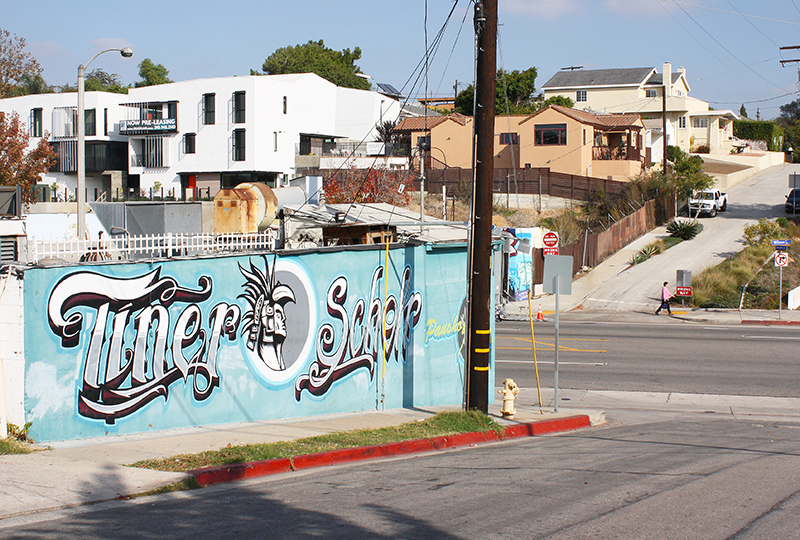 Pancho's Tacos, 2920 Lincoln Blvd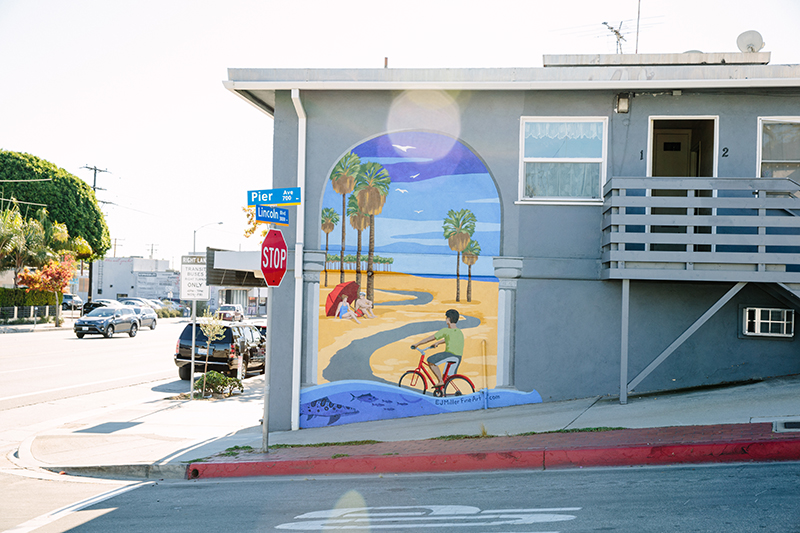 Lincoln Pier by Emily Miller
Gillian Bissett Colour Salon, 3000 Lincoln Blvd
The "Lincoln Pier" mural is inspired by the value of connections, for one local family and the entire community; our connection to the ocean and ocean life; our connection to diverse cultures; and the connection between the cities of Santa Monica and Venice. The project was commissioned in honor of the building's owners, Frank and Cathie Gaudiano, who were residents of the area since the 1940s and 2nd generation immigrants from Italy and Ireland. Frank's TV repair shop was located in the building for over 20 years. The ocean-themed mural features local fish including a leopard shark, bonito, and smelt as well as The Strand bike path. – Emily Miller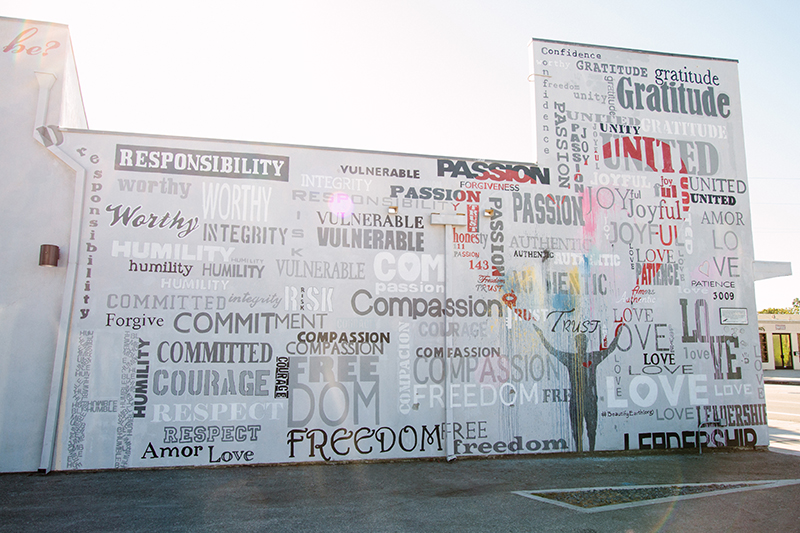 Corner of Love by Ruben Rojas
Cardio Barre, 3009 Lincoln Blvd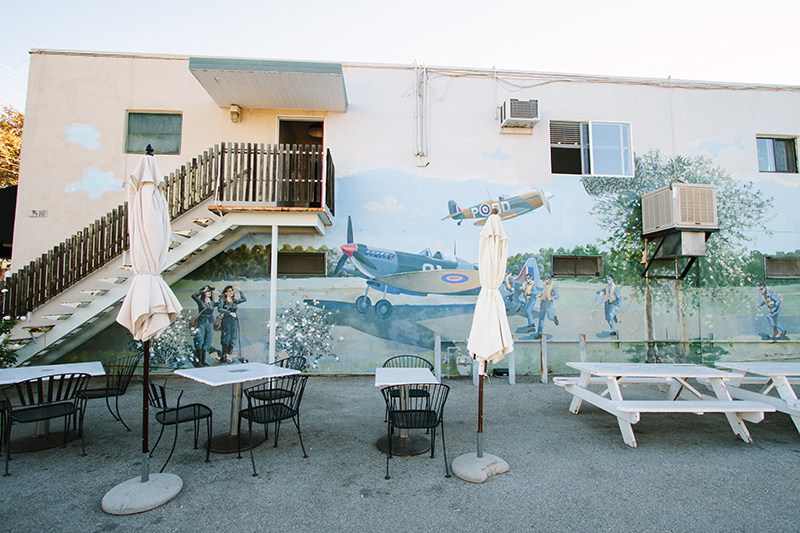 Spitfire Grill, 3300 Airport Ave
Ocean Park Blvd/Santa Monica Airport Mural Locations
Now that you've see the artwork, check out the exact locations on the map below. Then, visit the murals in person and share your own photos on social media using #SeeSantaMonicaMurals.