Santa Monica is an arts and culture hub, home to 130+ street art murals all within its 8.3 square miles and eight neighborhoods. The Downtown Santa Monica/3rd St Promenade neighborhood has the highest concentration of shops, restaurants, and hotels in town, it also gives off a local vibe with its twice-weekly farmers market on Wednesday and Saturday and lively street performers.
To see the murals that are in the Downtown Santa Monica/3rd St Promenade neighborhood, scroll down or view the Google map of locations.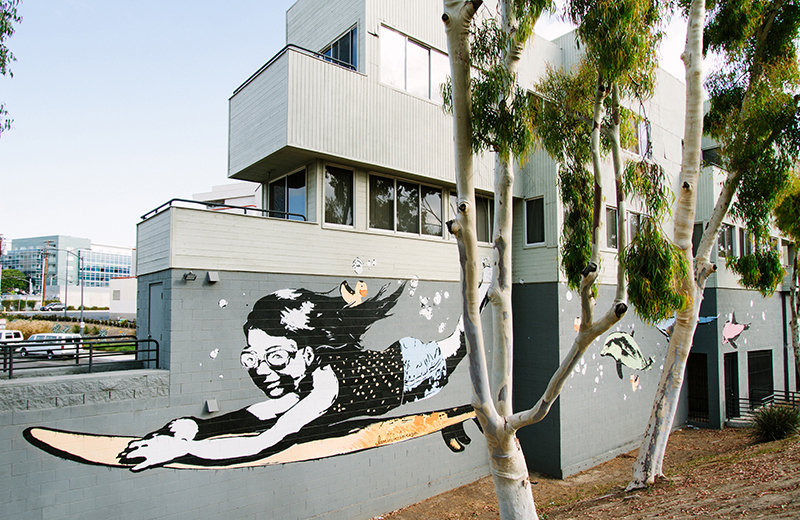 Duck Dive by Bumblebeelovesyou
Offices, 10-West Exit at 4th Street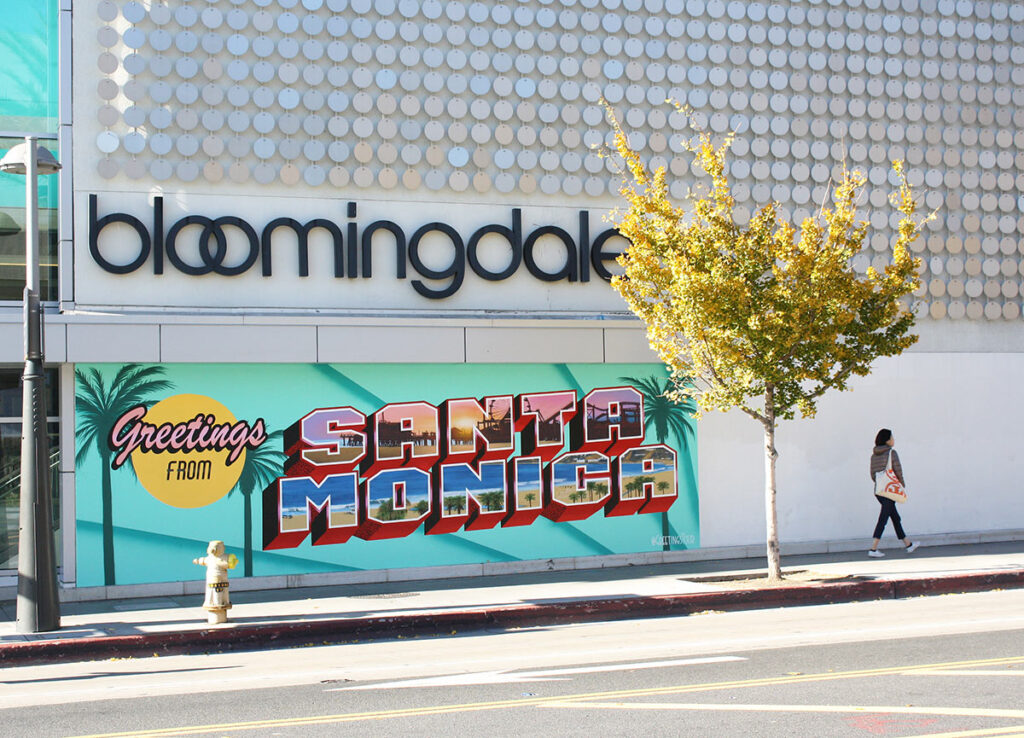 Mural by Victor Ving & Lisa Beggs (Greetings Tour)
315 Colorado Ave
Santa Monica Tribute Mural by Ruben Rojas
Santa Monica High School, Olympic Blvd at 6th St
In October 2018, Beautify Earth took the opportunity to say thanks for all of the love and support that they said the City of Santa Monica – the city they started in – has given them. In honor of that, they created this tribute mural to Santa Monica. It's approximately 1/4 mile long and is visible to everyone passing by on the 10 Freeway.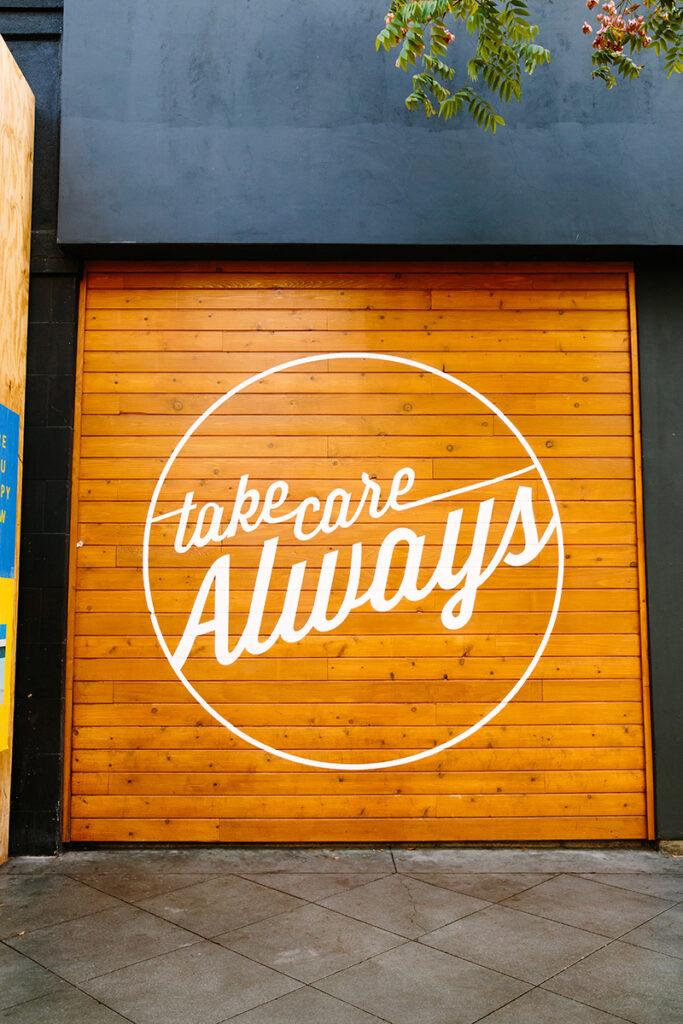 Take Care Always
BIBIBOP Asian Grill (On Santa Monica Blvd Side), 1401 3rd Street Promenade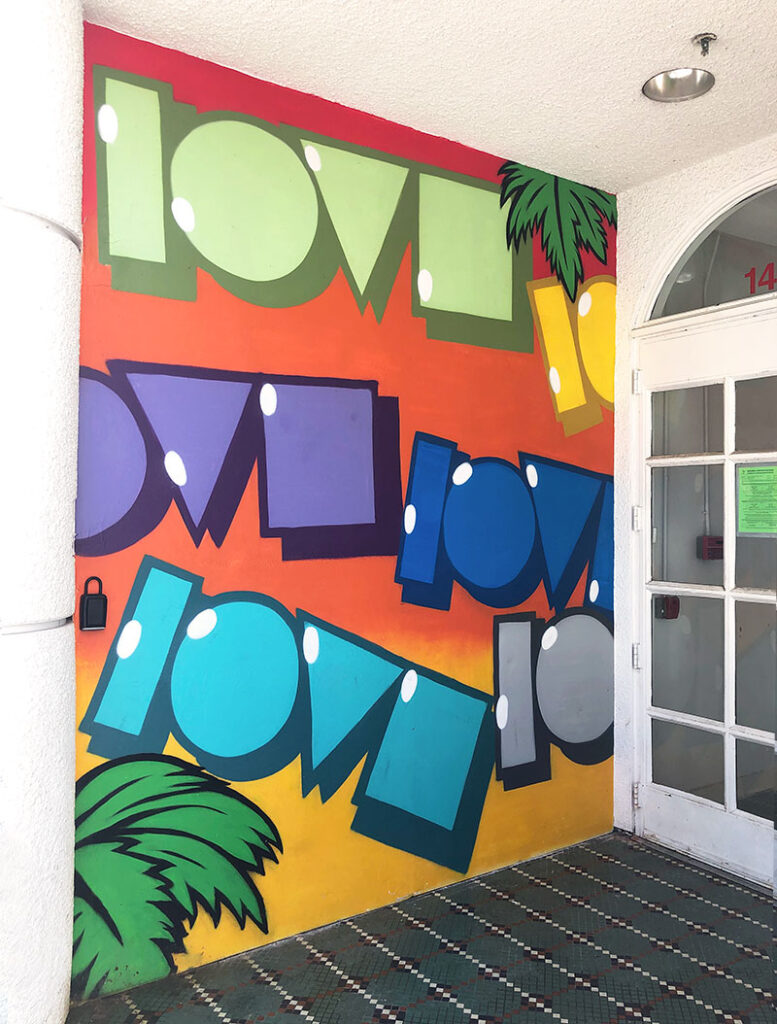 1444 3rd Street Promenade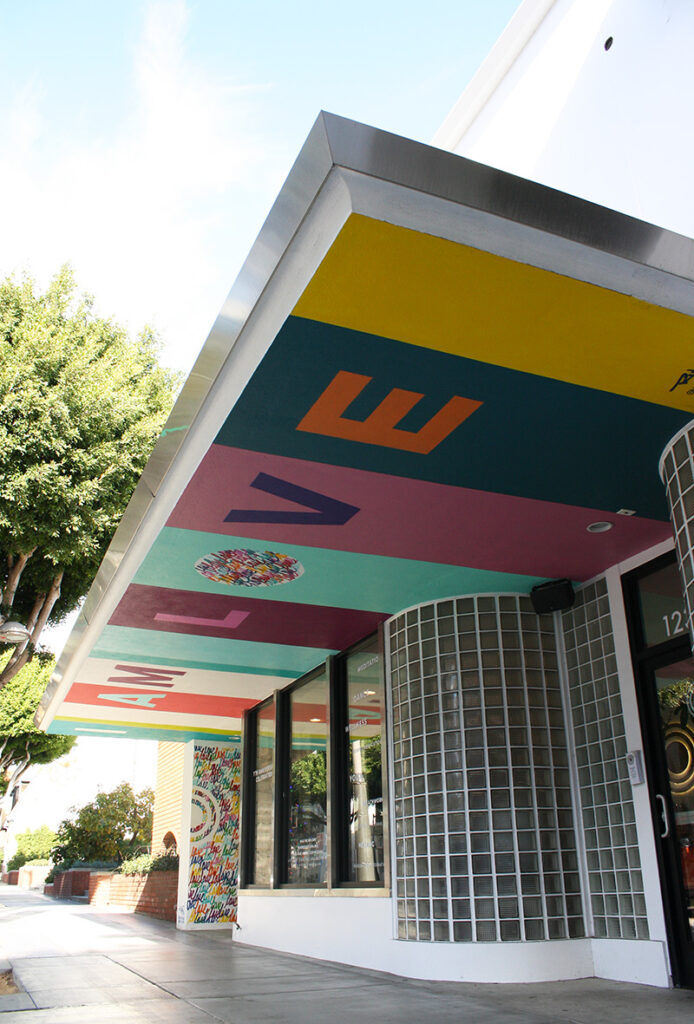 I Am Love by Ruben Rojas
1231 4th St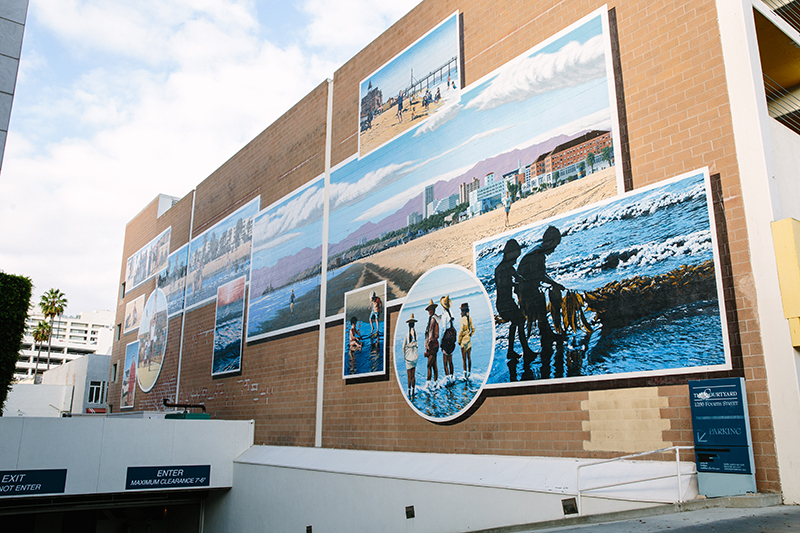 Santa Monica Beach by Art Mortimer
Parking Structure One, 1234 4th St
When I was initially contacted by the Milken Family Foundation about the mural on the side of the parking structure, the challenge was: What would it be and be about? At the time, I had been living for years in Ocean Park about a half block from the beach & parking lot, where one can walk right down to the beach. But Downtown Santa Monica, although it is a beach city, is separated from the beach by the Palisades cliffs. So, the idea of my mural is to bring the beach experience, both historical and contemporary, up into Downtown Santa Monica— to make the beach experience part of the downtown. So the people who work at the Milken Family Foundation can look out their windows and have a beach experience, instead of seeing nothing but a blank, concrete block wall. And passersby in the city can get a taste of life on the beach as well. – Art Mortimer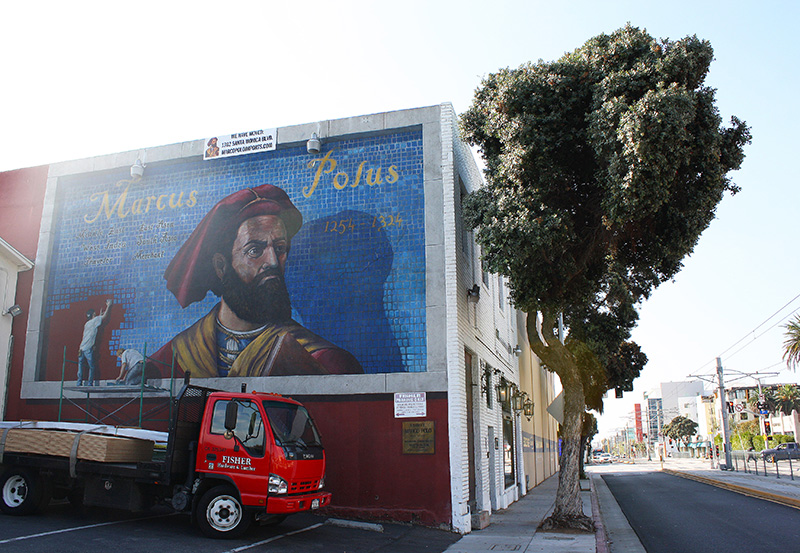 Marcus Polus
716 Colorado Ave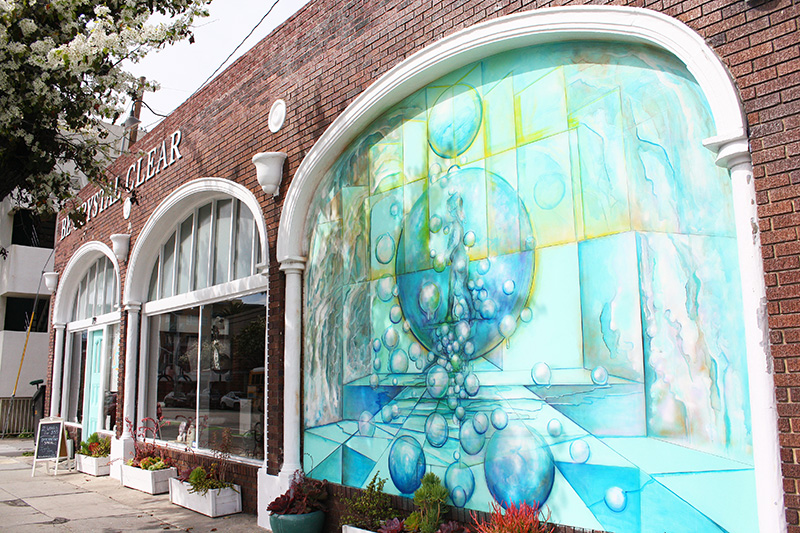 Child of the Universe by Brian Farrell
719 Broadway
There is a child in a sphere. She represents everyone, everything, every being. There are many spheres, many worlds, parallel universes. We are the same particle matter that is the universe. The piece is based upon a theory I have that the universe is a large sea. It's liquid. Our matter energy co-mingles with the particle energy of the environment. We are one with it. Everything is alive and organic because it is all particles. All existing in an infinite sea known as the universe. It's multi-dimensional. Matter wraps in and bends around in dimensions the human consciousness can't perceive. Yet, it's there. Your world, your existence is merely a perception of your own mind. You exist only in your world you have created. The planets, moon, stars, galaxies are all right next to you; a dimension away in the vast sea. Wrap your head around that idea and you will move more freely, unobstructed, without force because you are one with your surroundings and it is one with you. Once the human shell is gone, you can time travel, move through walls. There is no time, just energy moving through an invisible ocean. – Brian Farrell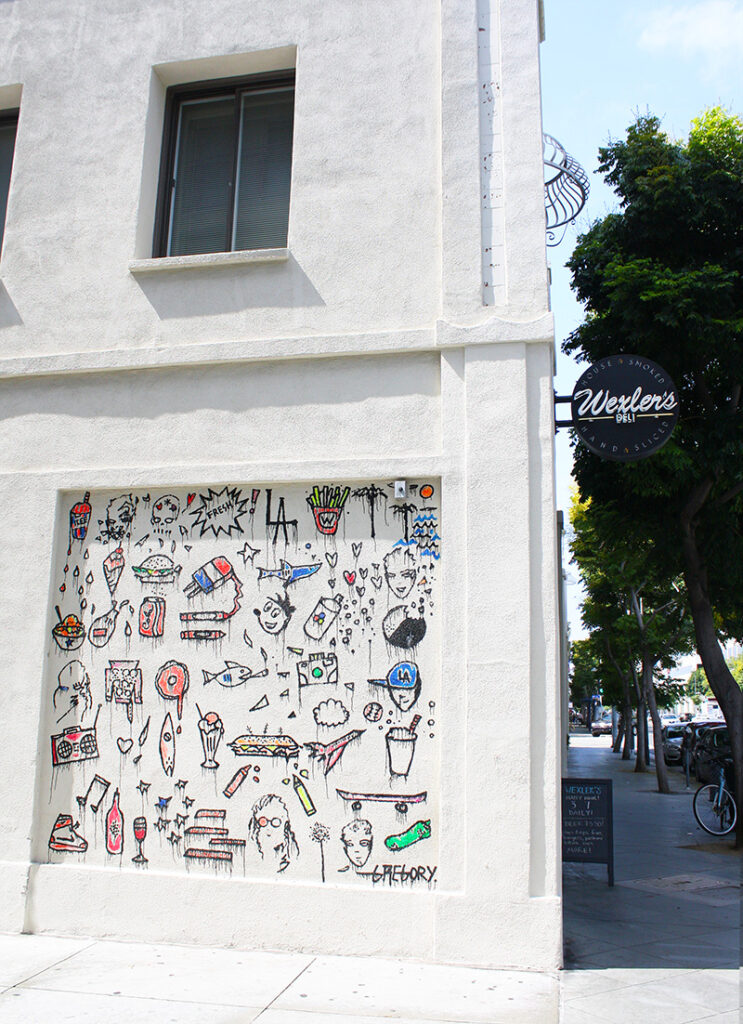 Mural by Gregory Siff
Wexler's Deli, 616 Santa Monica Blvd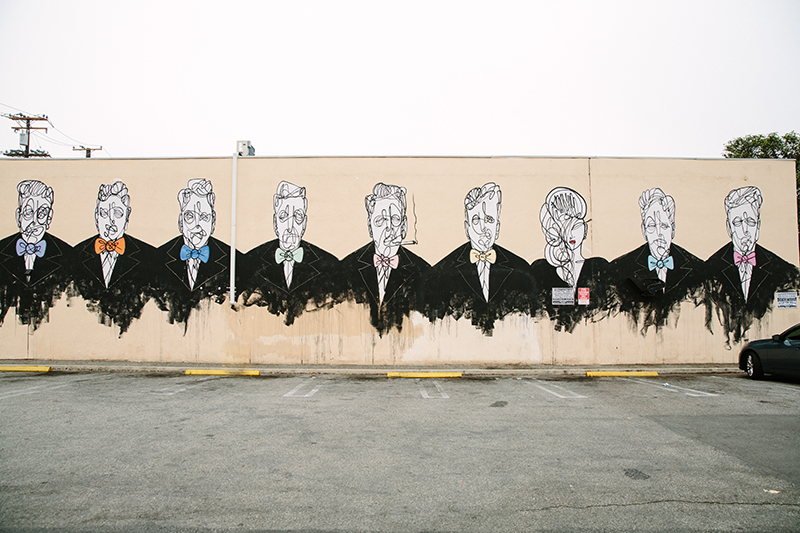 Mural by Stephen Palladino
CVS (Parking Lot), 1411 Lincoln Blvd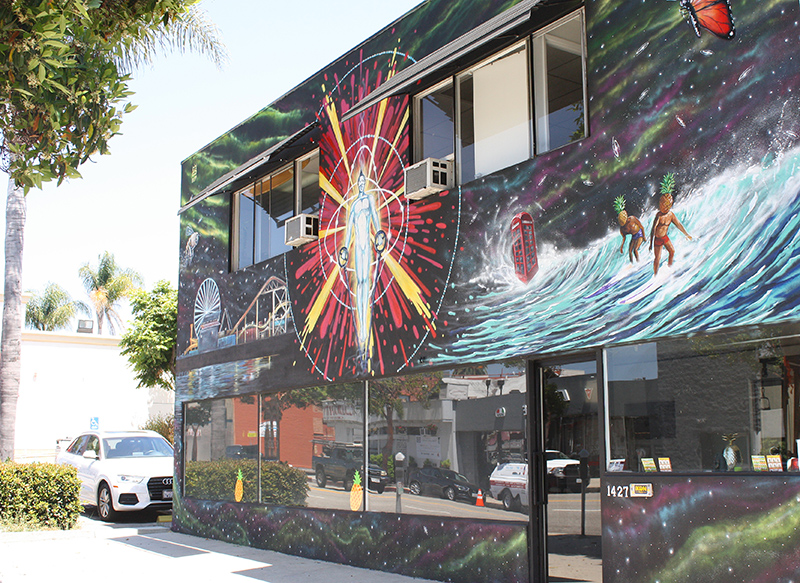 Mural by Clinton Bopp
Kriobox, 1427 Lincoln Blvd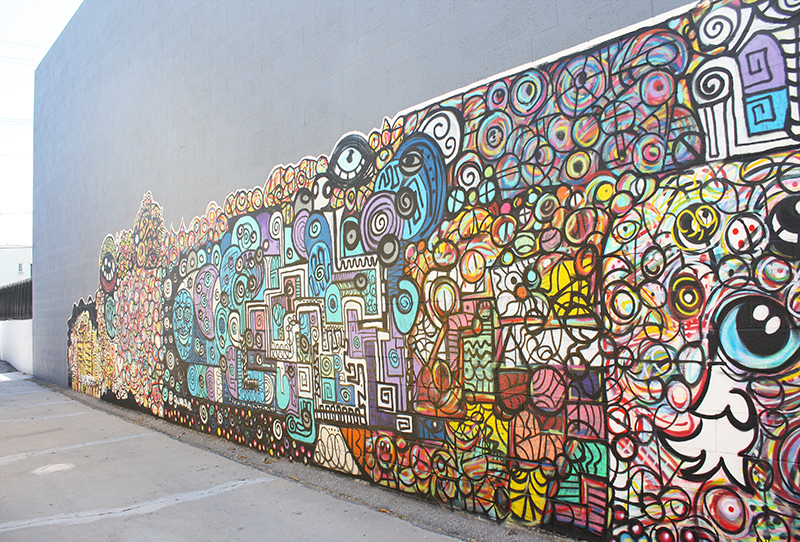 Mural by Daniel Richmond & Pietro
Kriobox, 1427 Lincoln Blvd (South Alley)
Back to Top | Back to Complete Street Art Guide
Downtown Santa Monica/3rd Street Promenade Mural Locations
Now that you've see the artwork, check out the exact locations on the map below. Then, visit the murals in person and share your own photos on social media using #SeeSantaMonicaMurals.