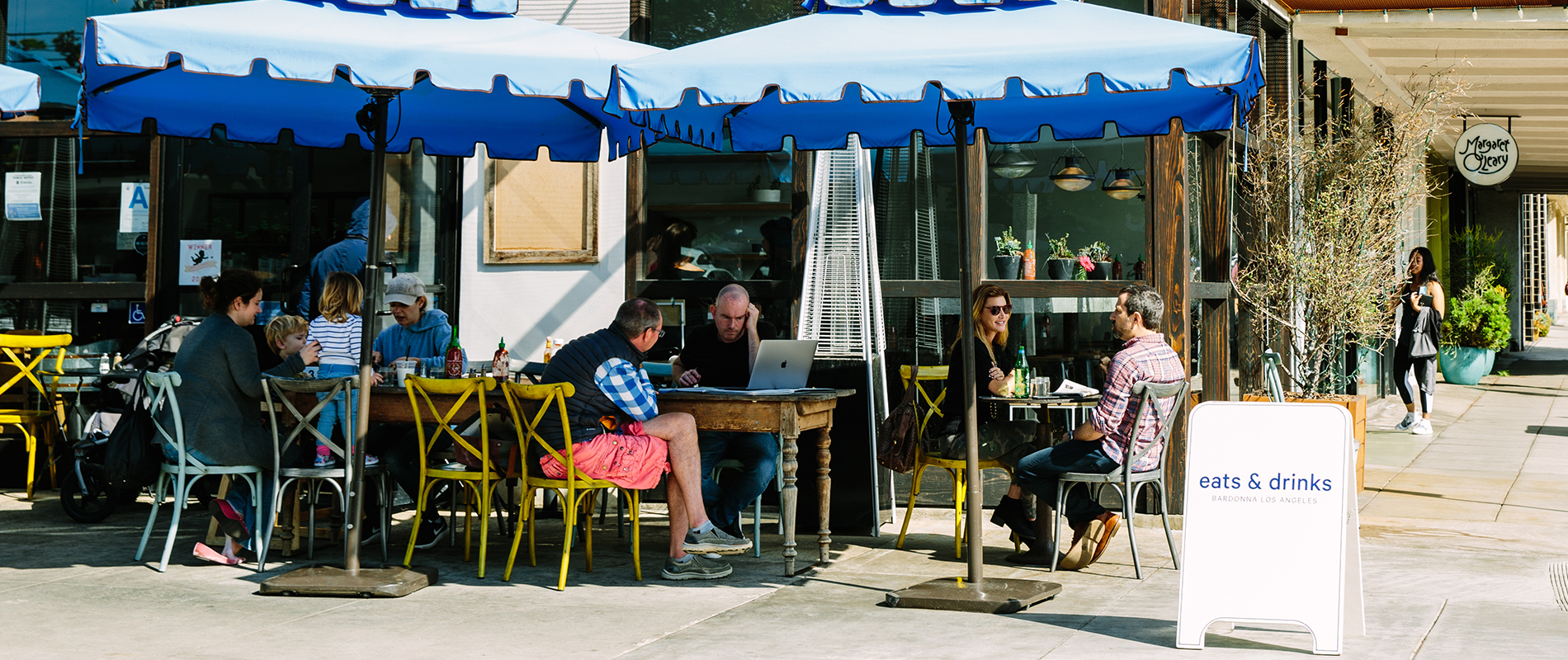 Healthy Dining Options in Each of Santa Monica's Neighborhoods
Updated May 19, 2021 in
Eat
Posted March 24, 2021
Healthful eating is a snap no matter where you are in Santa Monica. A wide variety of cuisines can be enjoyed while knowing that these dishes are good for you. Visit these restaurants all over town for diverse fare that will tantalize your taste buds.
The Hive
Stop by The Hive for vibrant acai bowls, tasty juice combos, reenergizing tonics and creative smoothies. They've also got light lunch options, bone broth and yes-—coffee. It's the perfect daytime pick-me-up.

View this post on Instagram
Sensible
Whether for paninis, wraps, salads or soups, Sensible is nothing less than sensational. Wash it all down with one of their fresh juices or silky smoothies for a balanced but tasty treat.
Main Squeeze
At Main Squeeze, you're sure to find your match in their wide variety of juices and smoothies. Or, customize your own smoothie using the ingredients you like. Add a loaded avocado toast for a delicious snack.
Papille Gustative
Papille Gustative is your neighborhood cafe serving fresh farm to table fare. Produce is sourced locally from nearby farmers and is updated for each season. You'll find a plethora of tasty brunch dishes during the day and a trim but refined dinner menu at night. It's quintessentially Californian cuisine.

View this post on Instagram
Thai Vegan II
Everyone can enjoy tasty, conscientious Thai food at Thai Vegan II. Begin with vegetable rolls and salads, then move on to one of their soups. Soy proteins feature on a wide variety of plates, whether paired with noodles, rice dishes, or curries.
Bluey's Kitchen
Head to Bluey's Kitchen for casual, beachy vibes with health-focused food, furnished with juices, smoothies and coffee. Influences hail from all over at this Aussie-owned joint, with burgers, falafel, sandwiches and more.

View this post on Instagram
Kyes
You can feel good eating at Kyes, where it's all about the Kyeritos—a wrap that binds together fresh, natural ingredients. Whether it's with nori and lox, bulgogi and kimchi, turkey and goji aioli or corn jicama and pico de gallo, they're all delicious.
Bardonna
Brunch all day at Bardonna, where daytime favorites are complemented with grain bowls and sandwiches—and all enjoyed on an outdoor patio. A fan favorite is the colorful Herbs N' Eggs, featuring a rainbow of fresh vegetables, house lox, and soft boiled eggs. There's a coffee bar, too, with fresh pressed juice so you can sip and savor.

View this post on Instagram
Uplifter's Kitchen
Coffee, pastries, all-day breakfast and lunch feature at vegetarian paradise Uplifter's Kitchen. You'll feel good partaking in any of their menu items, which include Austin-style breakfast tacos, a loaded breakfast burrito, a sesame tofu zucchini noodle bowl and portobello mushroom sandwich.
Crimson
Crimson, the Medierranean Mecca, serves up grilled treasures like chicken, sirloin and lamb kebabs at two locations. Wraps with falafel or chicken shawarma are also available, as are a variety of salads, including baba ganoush, and dolma—all of which are the perfect sides for a Middle East feast.
AVO Café
All vegan and all organic items can be found on the menu at AVO Café, which includes toasts, smoothies, coffees and teas. Paninas, pizzas, quinoa bowls and burgers comprise the extensive lunch selection.
Satdha
The plant-based Thai restaurant, Satdha, offers imaginative takes on favorites—many of them also gluten-free. Mung bean threads are used in the Pad Thai and battered eggplant is covered in red curry. Don't overlook the jarred pickle selections to take home.

View this post on Instagram
Interstellar
Interstellar is quite the rare gem, bringing a variety of breakfast specialties together with Korean-influenced tacos, burgers and rice bowls. Further down the menu are pastas, making this a one-of-a-kind destination.

View this post on Instagram
Go Greek Yogurt
Don't miss dessert at Go Greek Yogurt, where you'll find deliciously balanced, signature flavors such as rose, lemon honey, and hazelnut among classics such as plain and strawberry. If you're feeling more like a beverage, order your yogurt in smoothie form.
Huckleberry
It's a pastry paradise at Huckleberry, where breakfast and lunch reign supreme. Choose treasures from their dynamic case like a classic croissant or persimmon tart. Order straight from the kitchen items such as their fried egg sandwich or organic roasted turkey melt. Family size offerings are also available for big parties.

View this post on Instagram
FIG Restaurant
Head to FIG Restaurant inside the Fairmont Miramar, where healthy options for breakfast, brunch, dinner and even grab-and-go are available. Grain selections, items fresh off the griddle and pressed juices will start your day off right. At dinner, expect more luxurious selections, such as caviar and lentil soup bisque. After all, you deserve it!