Sit back and relax with these spas, plus products you can use to create your own spa at home.
What we all need right about now is a little pampering. Ok, a lot of pampering. Santa Monica spas are able to provide indoor services at 25% capacity and some have also created outdoor spaces you can still get a massage or a mani-pedi where the ocean breezes and California sun add to the experience. There are also local shops and businesses that make it easy to create that feeling of calm and rejuvenation at home or in your hotel room. Here are some of the best ways to relax in Santa Monica. Ommmm.
If you want to be pampered…
Relax in a cabana at the Raven Spa
Minutes from the pier, Raven Spa has outdoor cabanas that make the best use of the fresh seaside breeze. Whether you are feeling stressed, tired, or simply looking to focus on your health and wellness, the therapists here will work with you to feel relaxed and re-centered. Book a Swedish or deep tissue massage or discuss a custom massage that really targets your problem areas.
View this post on Instagram
Get an outdoor mani-pedi at Tracy's Nails
You can now perk up your fingers and toes out on the patio at Tracy's Nails. Book a manicure or pedicure (or both!) at this Montana Avenue spot where you can relax outside while indulging in some self-care. Rigorous health and safety measures are in place at the salon, from staff wearing masks and gloves to social distancing and temperature checks before entering.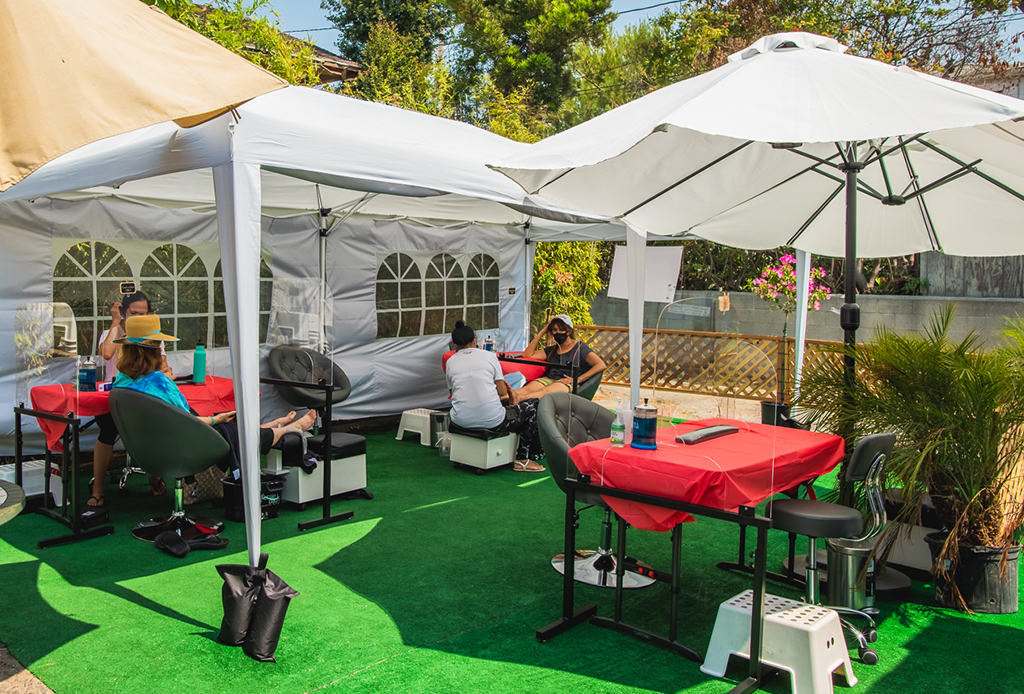 Have a massage al fresco at Cha Spa
If you need to work out some of those tense neck muscles, massages at Cha Spa's Montana Avenue are now offered outside in an airy gazebo. Licensed massage therapists provide reflexology, full body, and combination sessions accompanied by relaxing music to help you melt away the tension of the week and deal with body aches. They also offer Chinese massage, based on traditional Chinese medicine, to apply pressure to any areas that need extra attention. The Main Street and Wilshire Boulevard locations offer various services indoors.
View this post on Instagram
If you want to create your own spa experience…
Recharge with The Now
If you're looking to get away from your computer and recharge your personal energy, The Now offers Swedish inspired services with a wide array of enhancements available depending on your needs. Or you can stock up on products to create a serene oasis at home. There are lots of classic body products to choose from from lotions to lip salves, plus eye masks to hydrate and brighten. Add a sense of calm with the herbal silk pillow that can be heated or cooled, perfect for headaches (or hangovers). Top off your order with scented candles or incense sticks and you are ready for a well-deserved spa retreat without leaving the house.
View this post on Instagram
Focus on your skin with Radiance Wellness Spa
This wellness center in downtown Santa Monica offers vegan, cruelty-free, organic and handmade products designed by a skin therapist. At Radiance Wellness Spa you can pick a hydra firming or volcanic lava clay mask for starters, invest in a variety of treatment oils to bring on the glow (don't forget the rose quartz crystal massage tool), and include some detox salt soak.
View this post on Instagram
Escape with Larissa Love
Santa Monica-based boutique beauty brand Larissa Love uses organic ingredients to formulate lotions, cleansers and more for both men and women. There are lots of products to choose from, including hydrating creations incorporating shea butter and oatmeal with grapefruit, fig and orange blossom to soothe tired skin. But to really create a stress escape, pick up the home fragrances inspired by destinations in Greece and Italy like Rhodos and Capri and fill your house with scents like sea water, jasmine and lavender.
View this post on Instagram
Face Masks from Willow Spa
This day spa on Santa Monica Boulevard carries a wide variety of services from massages, facials and body treatments. Willow Spa offers indoor and outdoor treatments, but has a limited number of outdoor spots available, so make sure to request it ahead of time. Looking to treat yourself from the comfort of your own home, then we say splurge on the skin-rejuvenating masks to find some Zen with very little effort. For a particularly indulgent self-care spa day go for the chocolate mousse and pumpkin latte hydration mask. All you have to do is mix up a cocktail, sit back and let the mask do all the work.
View this post on Instagram
Mentioned in this Blog Post