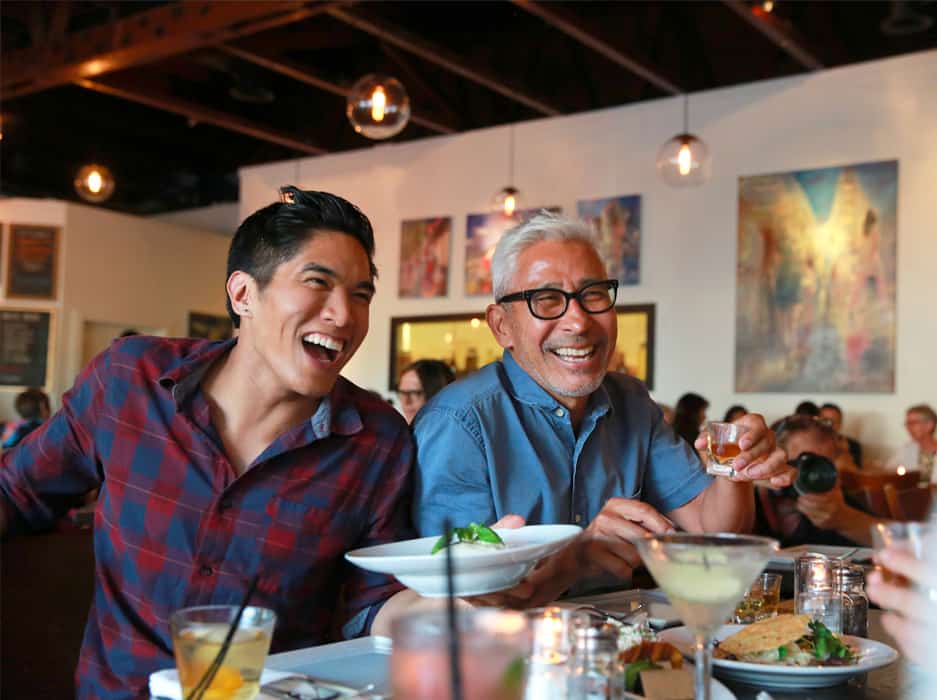 Top new Santa Monica restaurants
The Santa Monica dining scene grows and evolves every year, and we recently welcomed some new flavors to the menu. Explore these tasty new spots and check out some of the old classics in our complete dining guide.
Get the Dining Guide
Augie's on Main
Turns out Michelin-star goodness can be found in a fast-casual setting. Two-Star Michelin Chef and Santa Monica native, Josiah Citrin opened this Main Street stop with a relaxed vibe and lots of flavor. Augie's on Main is known for its "dirty chicken"—a spin on a roasted Jidori chicken, which earned its claim to fame on the menu at Citrin, another of Chef's Michelin-rated restaurants. Grab lunch or dinner Wednesday through Sunday.
Need directions? Here's the address: 2428 Main Street
LouLou
French Californian cuisine on a Santa Monica rooftop? Sign us up! LouLou's decor combines French Riviera feel with the best of California's vibe for the ultimate flavor experience. You'll find live music played here by artists and DJs so add to the ambiance. Make sure to make a reservation to secure your spot at this new Santa Monica hot spot. 
Need directions? Here's the address: 395 Santa Monica Place, #300
Lotus Dim Sum Dumpling House
Break out your chopsticks and prepare for flavor takeover when you visit Lotus Dim Sum Dumpling House. From noodles to nigiri to buns and dumplings, this spot won't disappoint. And be sure to check out their happy hour, Monday through Friday 2:30pm – 5:30pm.
Need directions? Head to: 326 Wilshire Boulevard
Vamos. Vamos.
This is nacho average Mexican food spot. In fact, Vamos Vamos' specialty is nachos and margaritas (and you'll have to ask about their unique origin story). Chef Ivan Barros brings his French training and Italian cooking background to an eclectic menu of wood fired pizzas, New Mexico specialties and more. Enjoy their tasty bites from 3:00pm to midnight every day.
Need directions? Here's the address: 2917 Main Street
Tu Madre
Catch a flight to Santa Monica, and then get a flight of margaritas at Tu Madre, on 6th and Broadway. Margarita flights come with a firecracker and floral accessories. So, make sure to have your camera ready once you order because you'll want to share it. And, of course, the tequila pairs wonderfully with their signature red velvet churros, unique tacos including vegan and vegetarian options or their all-day breakfast burrito.
Need directions? Here's the address: 316 Santa Monica Boulevard
Travel safely and sustainably to help maintain Santa Monica's beauty while staying healthy with these tips.
Blogs
More good vibes in Santa Monica
After you've had your fill of food, explore the pier, the promenade, music and other fun throughout the city. Check out more travel inspiration in our latest blog posts.
View All Blogs