Santa Monica Metro Expo Line
Posted June 19, 2017
The Metro Expo Line in Santa Monica provides an easy way to visit multiple attractions during your stay in Santa Monica, from the Pier all the way to downtown Los Angeles. Here are three easy steps to help you get your trip started, as well as a few ideas on where to visit.
Step 1 – Get a TAP Card at a Santa Monica Metro Station
Your TAP card is your ticket to ride. Buy a TAP card at a TAP vending machine located at Metro Rail stations, or order one online at taptogo.net. The card is reloadable, so make sure not to lose it! If you load a dollar value onto the card, you can even use that value on the Big Blue Bus.
Once you have your card, all you have to do is load it with your fare amount or a pass and then TAP at the validators in any light rail station before boarding. Some platforms do not have a turnstile, make sure to still tap your card before boarding.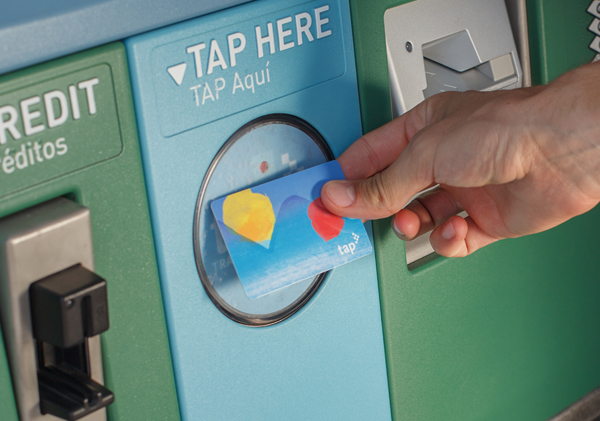 Step 2 – Plan your trip
There are three Expo Line stations in Santa Monica: 26th St / Bergamot Station, 17th Street / Santa Monica College and Downtown Santa Monica. You can connect with any of these stations via bus, bike or foot. Bicycles are allowed on the Metro Expo Line in Santa Monica, and there are designated spaces on each train car for them.
For rail schedules, routes, times and connections, definitely check the Trip Planner at metro.net.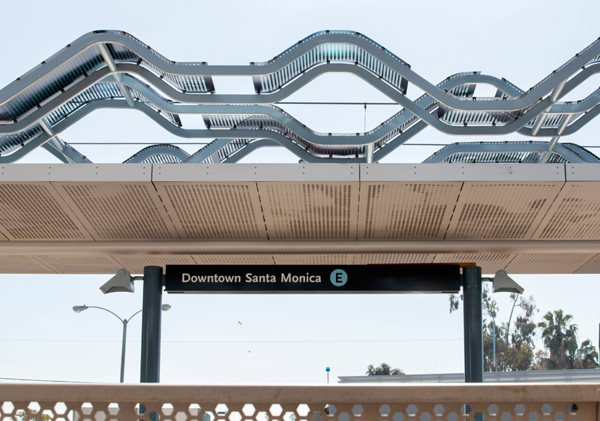 Step 3 – Pick a Santa Monica Metro Station Stop & Have Fun!
There is no end to the food, culture, and fun available via the Expo Line. Here is just a small sample of the destinations from Santa Monica's light rail line: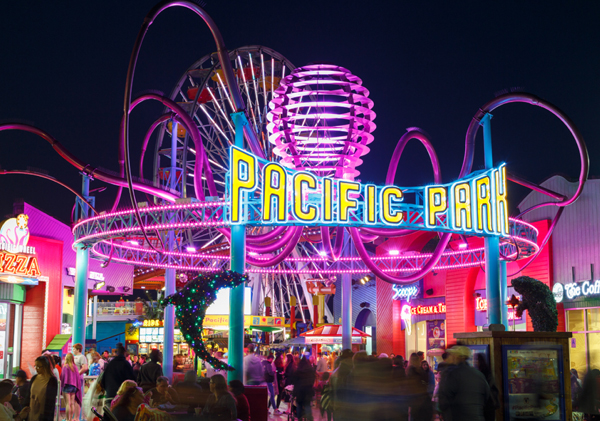 Don't forget to explore the other end of the Santa Monica Metro Expo Line! If you're in Santa Monica and need a car-free way to get to a show at the Kirk Douglas Theatre, a game at Crypto.com Arena (formerly Staples Center), or a concert at the Walt Disney Concert Hall, plus connections to all the major sites and attractions throughout Los Angeles, all you have to do is hop on board.
The train goes all the way to the 7th Street Metro Center station on Figueroa Street. A trip to Downtown LA on the Santa Monica Metro E Line (Expo), or vice versa, takes about 46 minutes; much faster than sitting in traffic, and no need to worry about parking!
Getting To The Santa Monica Metro Expo Line
Hop on the Big Blue Bus, ride a bike, or take a walk to get to the Metro E Line in Santa Monica. Since trains run about every 12 minutes, you're never more than a few minutes from your next ride. Your TAP card can be used on both the Expo Line and the Big Blue Bus, so load your fare, TAP & go!
You can ride directly to one of Santa Monica's three metro stations thanks to the city's 100+ miles of bike routes. Bikes are permitted on the train, and each car has a designated area for them.
Parking is also available in Santa Monica at the 17th Street/Santa Monica College station for a small fee. If you're visiting Santa Monica for the day, consider parking at one of several parking lots along the Expo Line and riding into the city for a day of fun at the beach.
This article is sponsored by Metro.