Santa Monica is an arts and culture hub, home to nearly 100 street art murals all within its 8.3 square miles and eight neighborhoods. The Pico Boulevard neighborhood ends at the beach and links Santa Monica High School, Santa Monica College, and Virginia Avenue Park, where a beloved farmers market takes place each Saturday.
To see the 38 murals that are in the Pico Boulevard neighborhood, scroll down or view the Google map of locations.

SASKIA by Joe Nicoletti
Animal Kingdom, 302 Pico Blvd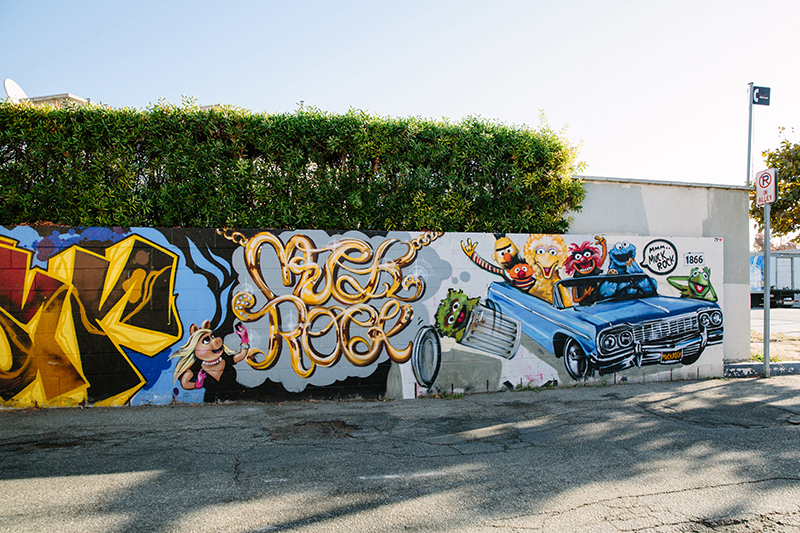 Sesame Street by Jules Muck
Pico Blvd at 7th Court (Alley)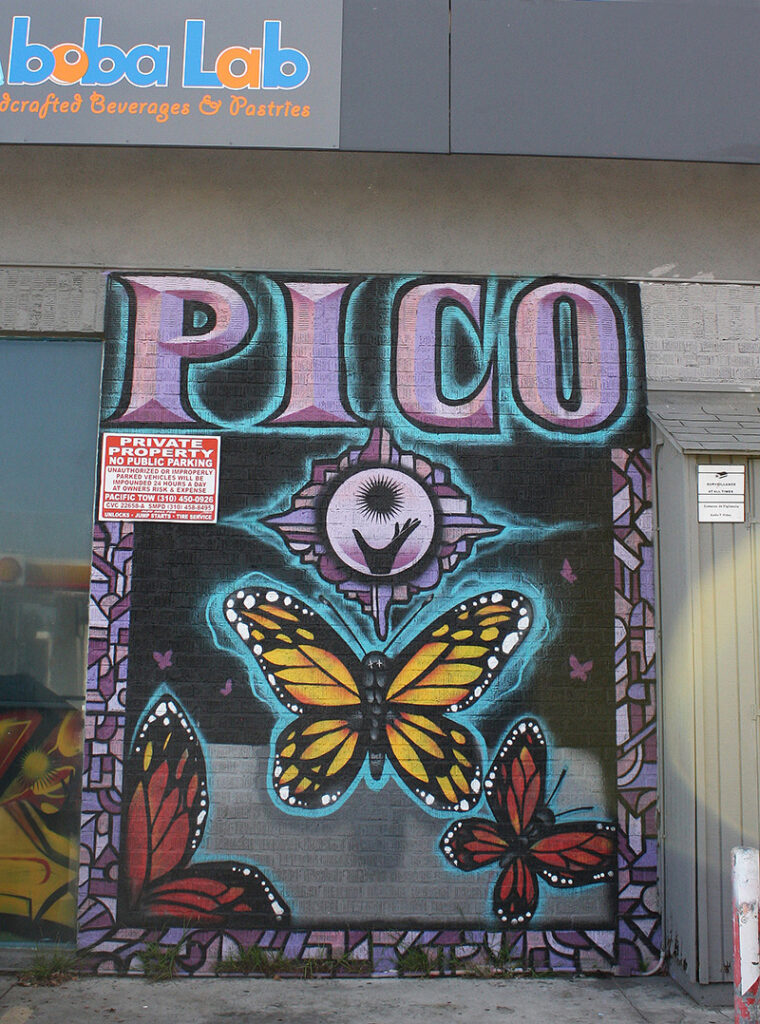 PICO
Boba Lab, 711 Pico Blvd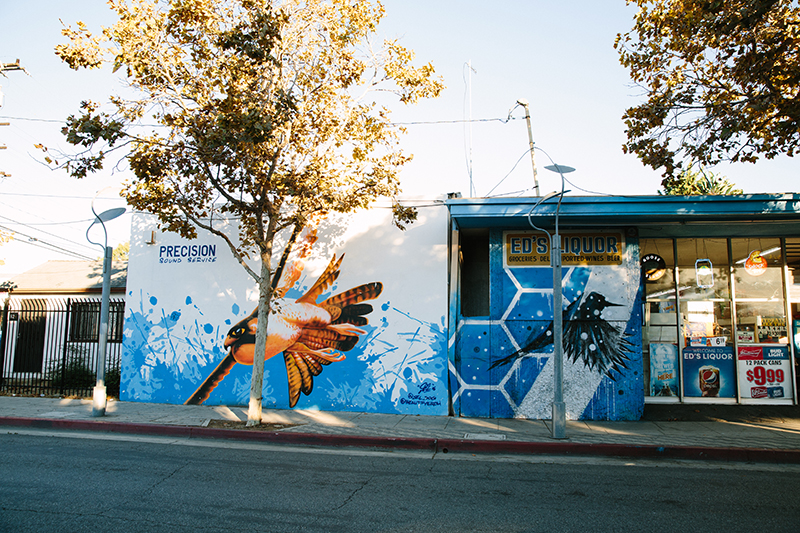 The Falcon by Marcel "SEL" Blanco
Precision Sound & Service, 823 Pico Blvd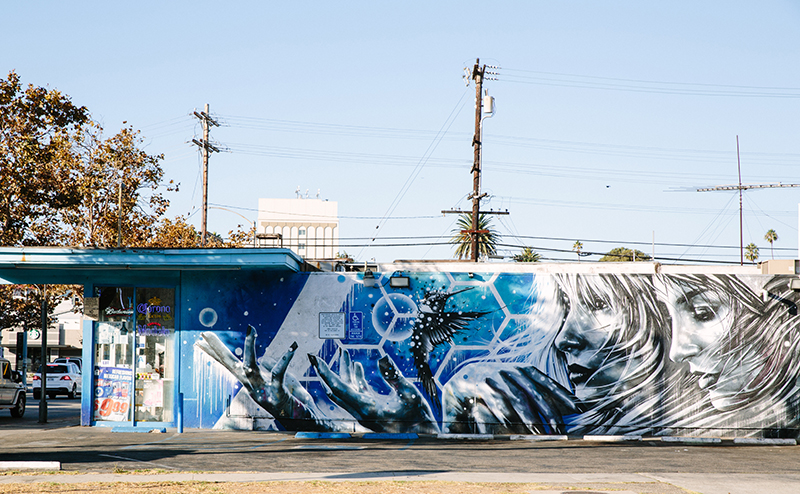 Brazilian singer Claudia Leitte by Christina Angelina
Ed's Liquor, 825 Pico Blvd
Reflect and Inspire by Marcel "SEL" Blanco
CLARE Foundation, 901 & 1002 Pico Blvd
Both murals were organized by Beautify Earth and commissioned by the Clare Foundation, a facility that helps people with drug addiction to get back on their feet. I wanted to create something that would stimulate positive thought for both the people visiting the center and the surrounding community. Each piece presents a person in thought. What are they thinking? What have they been through? The birds are flying free to represent the possibility of where their future is headed. Like a bird, they, too, are free to head in any direction – the choice is theirs. – SEL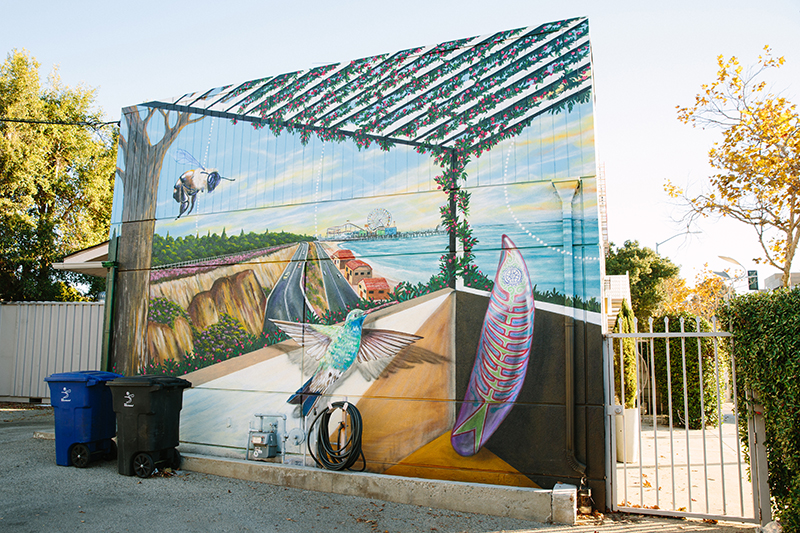 Mural by Clinton Bopp
Advantage Real Estate, 1021 Pico Blvd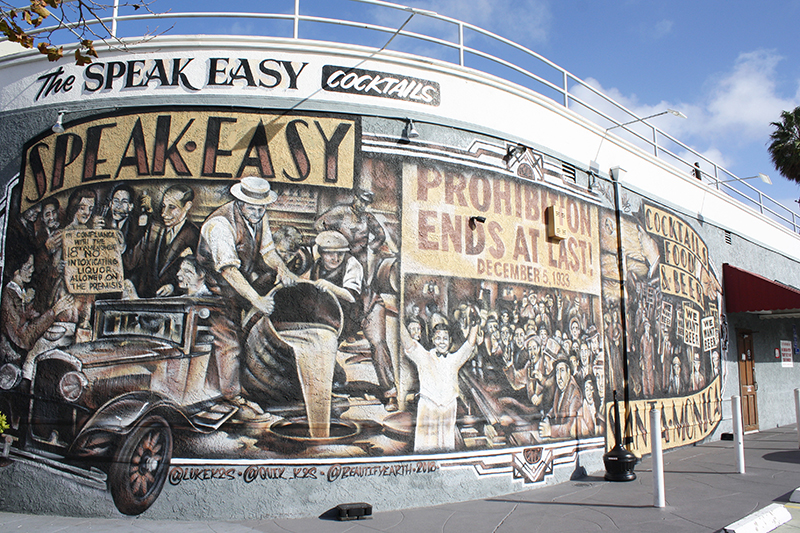 Speak Easy Santa Monica by LUKE K2S & QUIK K2S
Speak Easy Cocktail, 1326 Pico Blvd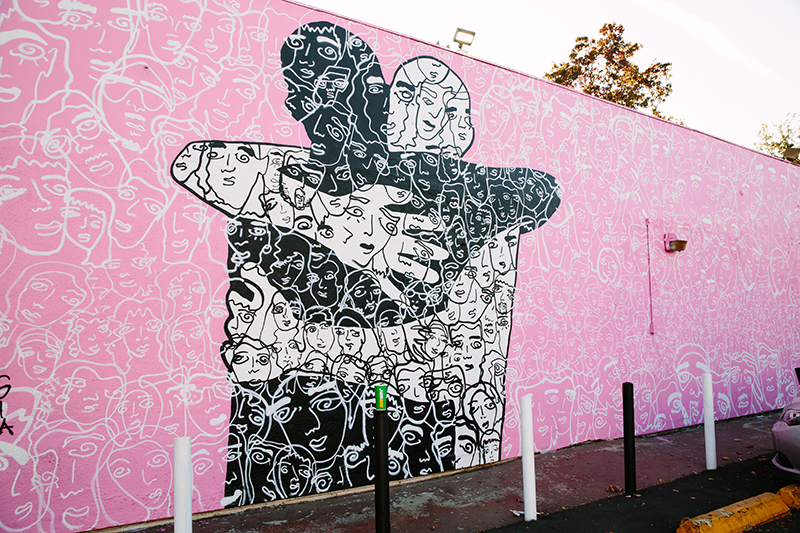 Be everywoman LA by Davia King
Subway, 1801 Pico Blvd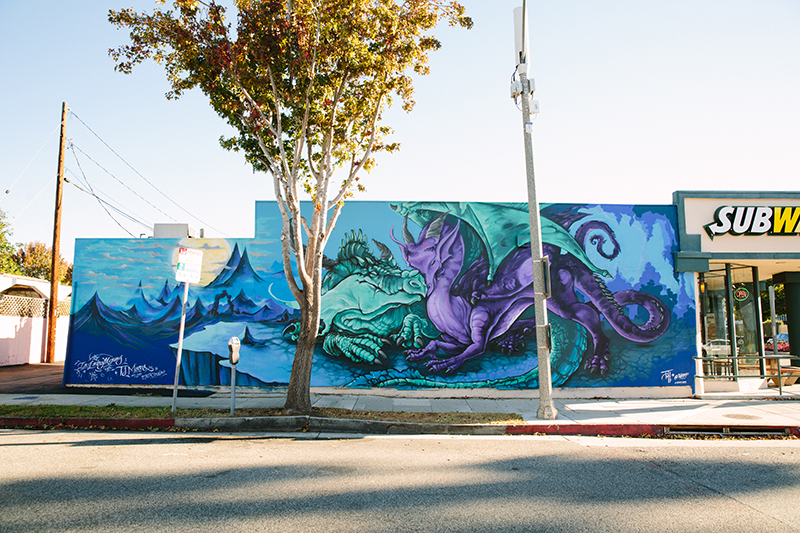 Elastic Dragon by DJ NEFF
Subway, 1801 Pico Blvd

Owl Heart by Evan Meyer
Grey Block Pizza, 1811 Pico Blvd
I love owls. I'm inspired by them. I wanted to keep the Grey Block Pizza building grey but bring color to it. An owl is a source of love and wisdom and naturally has a heart-shaped head, so I wanted to accentuate that. If you look deep in eyes, there are hearts in there too. The rest of the shapes are my style and pattern but focused on the owl. There's a dark center that leads to bright borders. There's contrast between intense and very colorful – dark greys and blacks with hot pinks for example. This represents the importance of balance in our lives. – Evan Meyer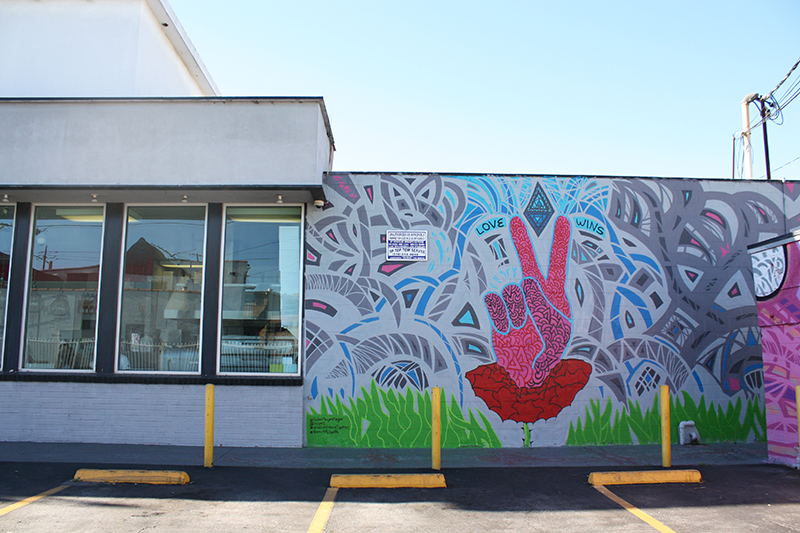 Love Wins by Evan Meyer
Grey Block Pizza, 1811 Pico Blvd
The company Toms started a campaign to end gun violence after the Thousand Oaks shooting and have commissioned murals across the United States, all incorporating the peace sign. Each artist does their own interpretation with their own words to promote no more gun violence. Beautify Earth is their partner on this and for this piece, I chose the words "Love Wins." – Evan Meyer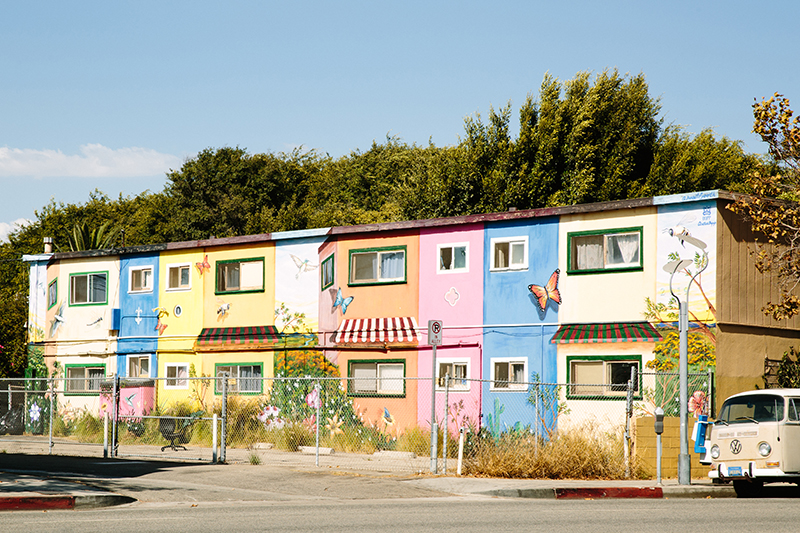 A Place Called Home by Clinton Bopp
Residential, 2019 Pico Blvd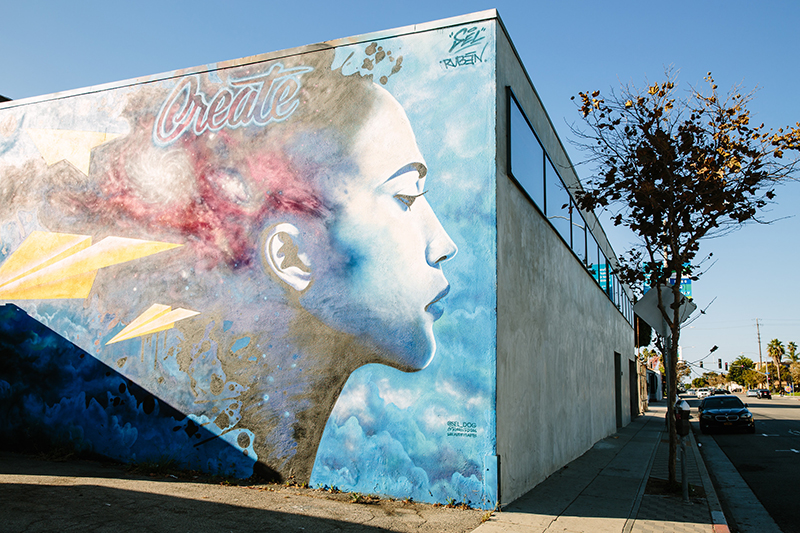 Create by Marcel "SEL" Blanco & Ruben Rojas
Threshold Sound + Vision, 2114 Pico Blvd
This was a collaboration between Ruben Rojas and me that was commissioned by Zappos.com to display one of their core values "Create". We wanted to exhibit the endless possibilities of creativity. The mind is a vast galaxy, but can be playful and childlike with no limits. – SEL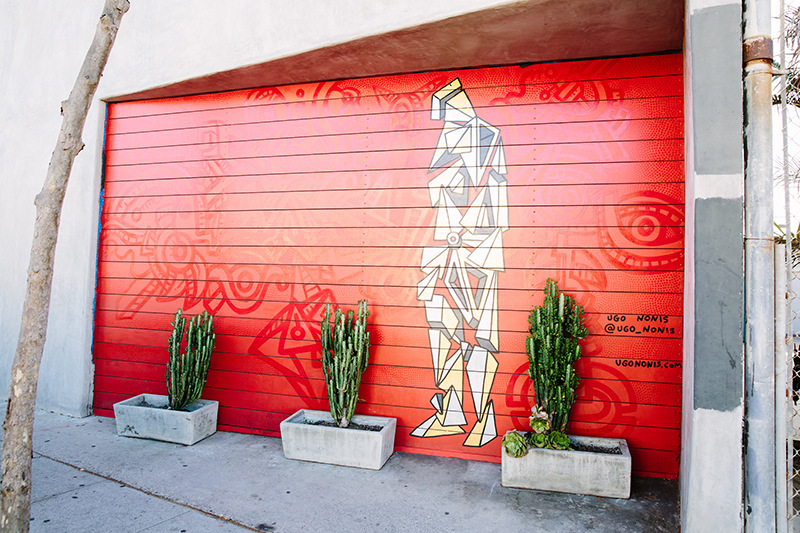 Mural by Ugo Nonis
Threshold Sound + Vision, 2114 Pico Blvd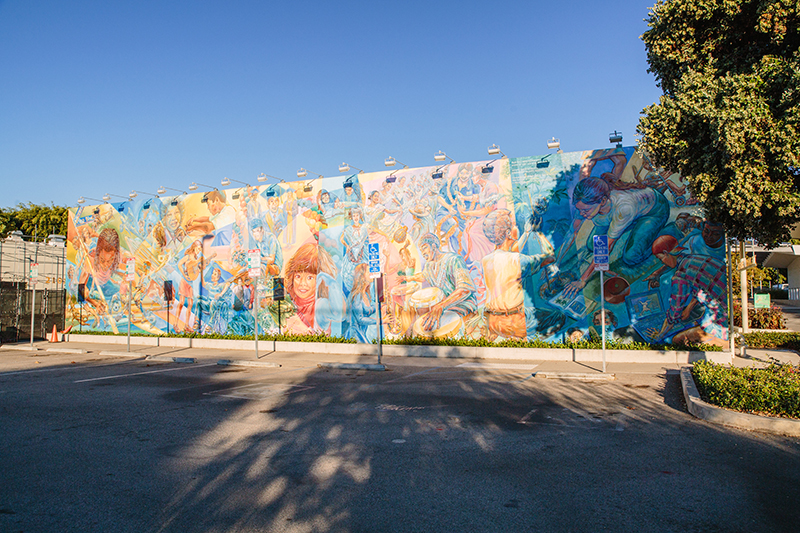 Our Pico Neighborhood by East Los Streetscapers
Virginia Ave Park, 2200 Virginia Ave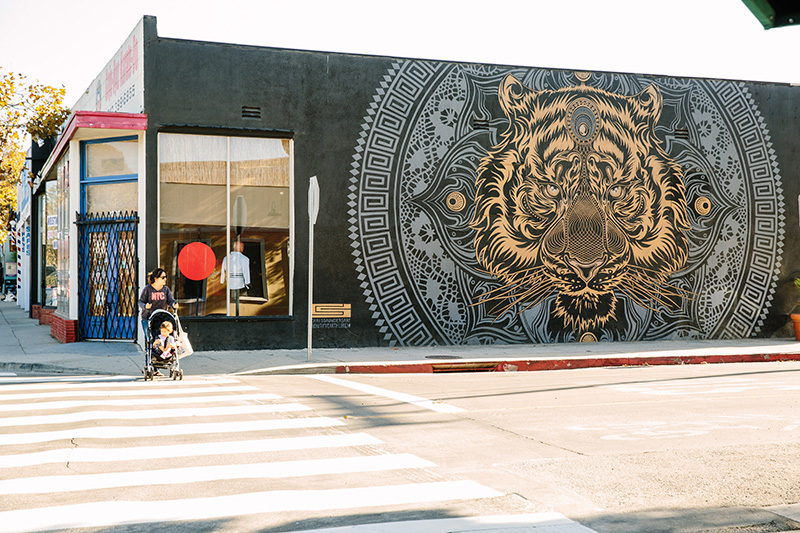 Eye of the Tiger by Chris Saunders
Goju Ryu Karate, 2202 Pico Blvd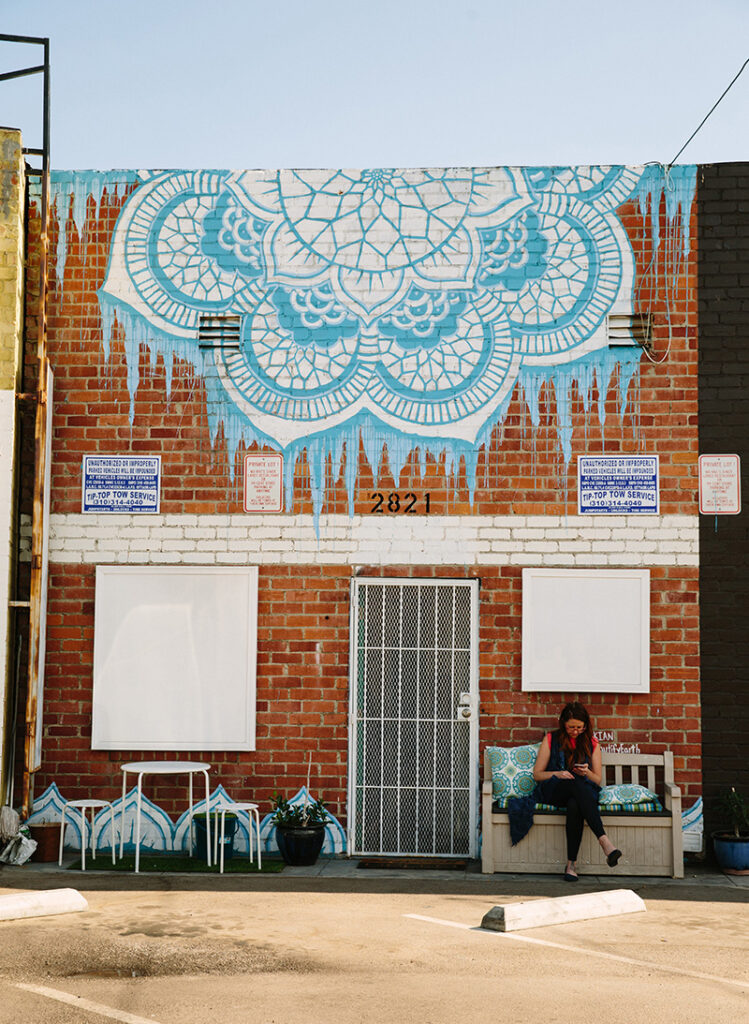 Mandala by Cloe Hakakian
Framed, 2821 Pico Blvd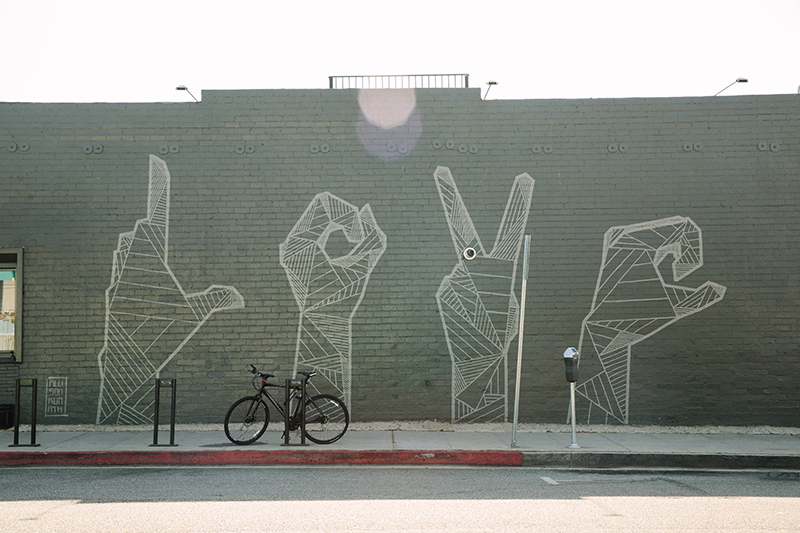 Love by Allison Kunath
The Brixton, 2827 Pico Blvd
All of my work is inspired by beauty that occurs between people, and sharing the experience of love is one of the most important parts of being human. The hands that spell out the word "love" are intended to draw a direct reference to the fact that love is something that is built (as if by hand) intentionally and carefully. – Allison Kunath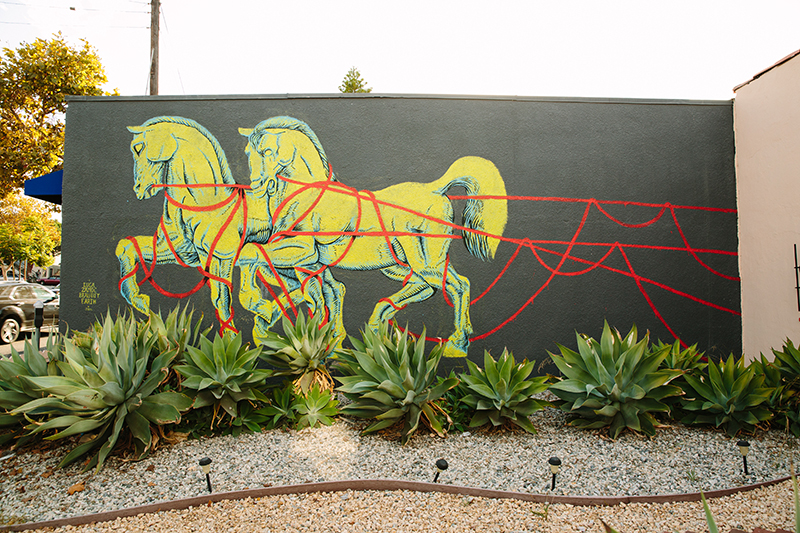 Mural by Luca Zamoc
Ameritech Signs, 3015 Pico Blvd
The Pico mural by Luca Zamoc was the first mural to go up during the "Pico Rennaisance" – as I like to call it. It's special as it's done by an Italian artist who worked with the community to represent the concept of "stronger together" – hence the horses pulling the rope together. – Evan Meyer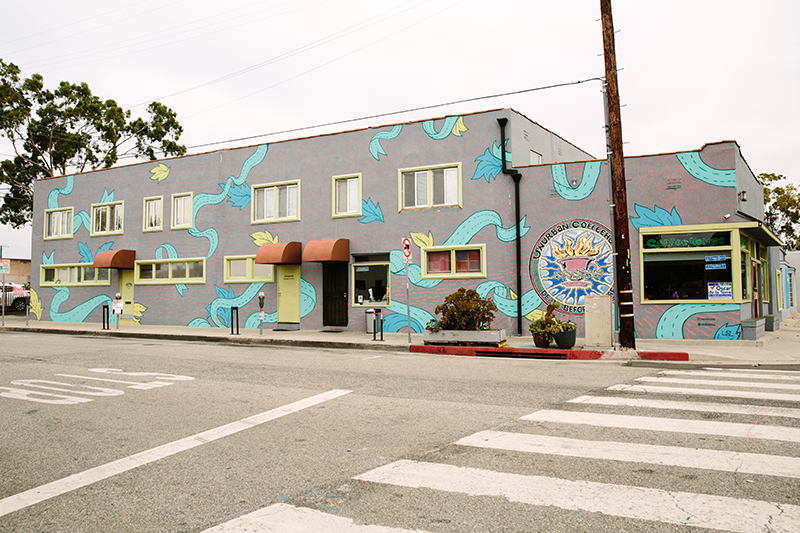 Expanding Love by Uriel Bautista of Six Degrees LA
UnUrban Coffeehouse, 3301 Pico Blvd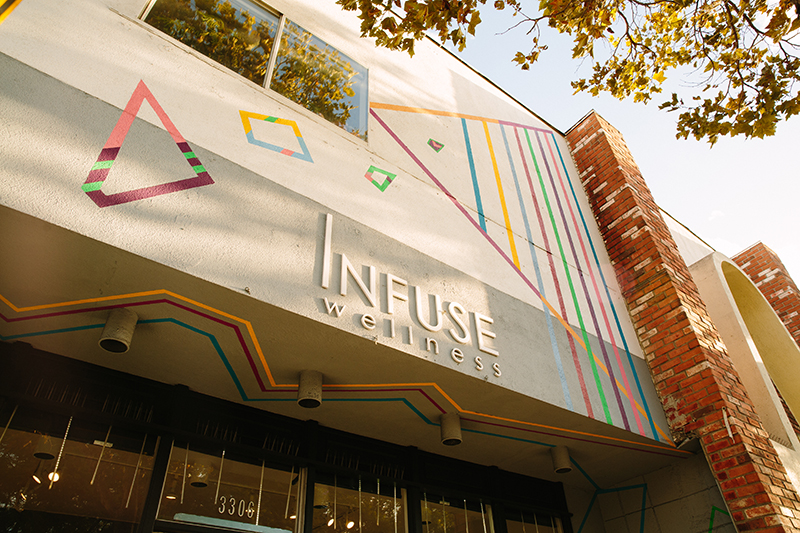 Mural by Caroline Geys
Infuse Wellness, 3306 Pico Blvd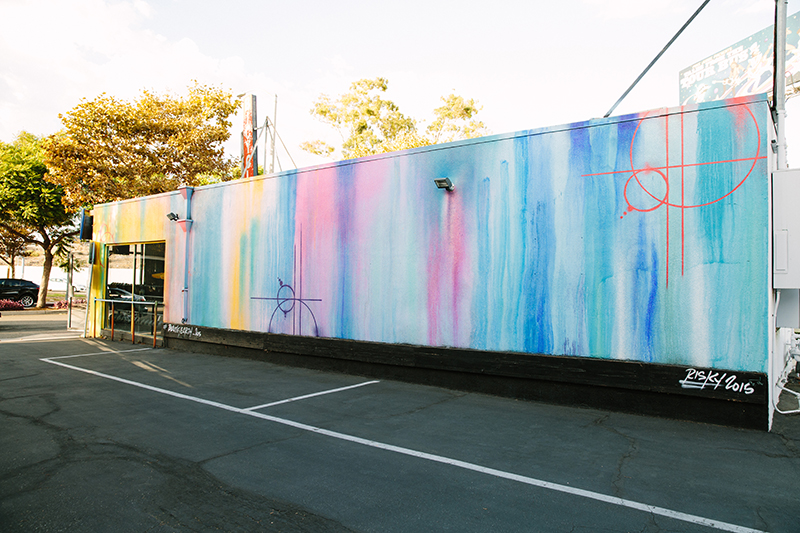 Mural by Risk Rock
Blue Republic CrossFit, 3328 Pico Blvd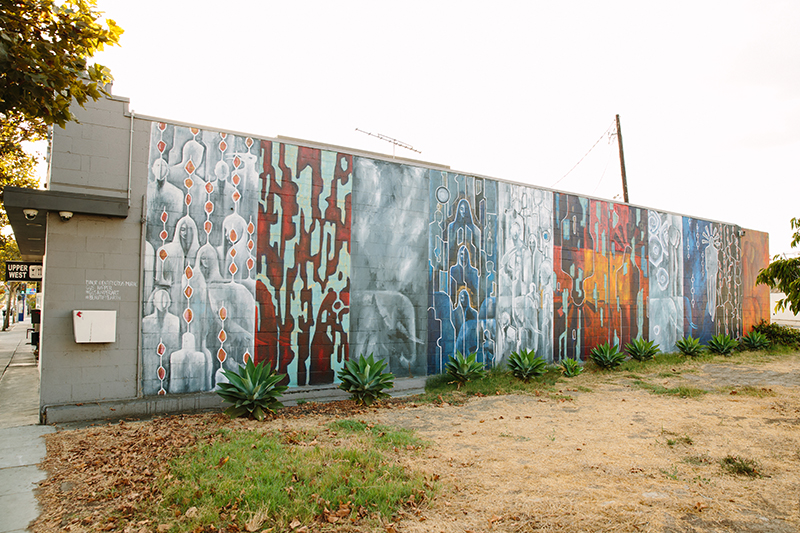 The Minor Identity Crisis Mural by Gus Harper
Gateway to Pico Blvd Santa Monica, 3325 Pico Blvd
This mural is a celebratory image of our spiritual journey, and each color column represents different phases in our lives. The elephants migrating throughout the mural represent us on our journeys. The mural wraps around the corner of the wall and ends with a symbol of beauty, my rose mandala. This Mural was born out of a body of work which is concerned with overcoming fear and becoming the best versions of ourselves. I was born and raised in Santa Monica, so for me it was an honor to paint a large mural facing east that is the first thing you see as you cross into Santa Monica on Pico Boulevard. – Gus Harper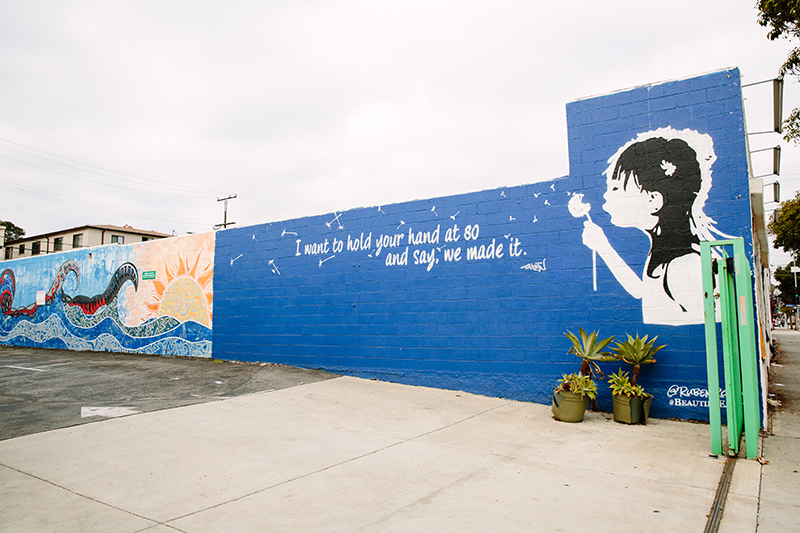 Hold Your Hand by Ruben Rojas
Unilight Wholesale Electric, 1824 Lincoln Blvd
I painted this mural to propose to my now wife Zee Rojas. From the start, she has encouraged me to continue pursuing my passion for art and pushed me to share my poetry with the world. This mural is a culmination of both of those pursuits and how I chose to ask her to marry me. – Ruben Rojas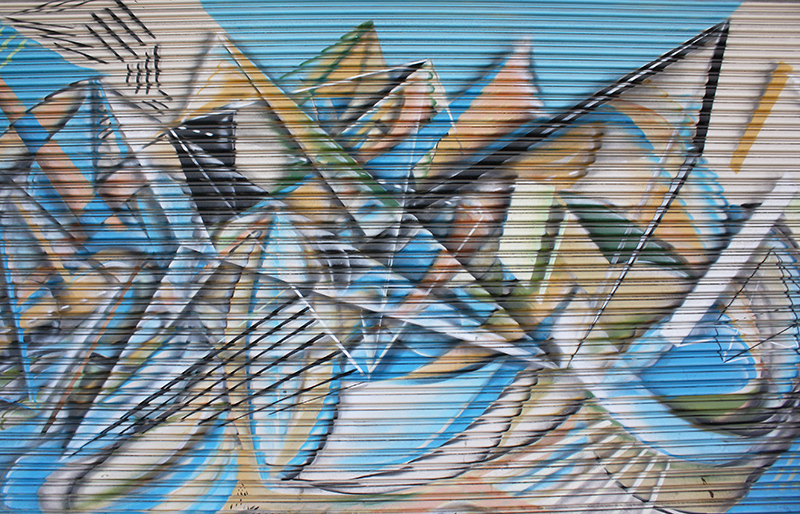 Unilight Wholesale Electric, 1824 Lincoln Blvd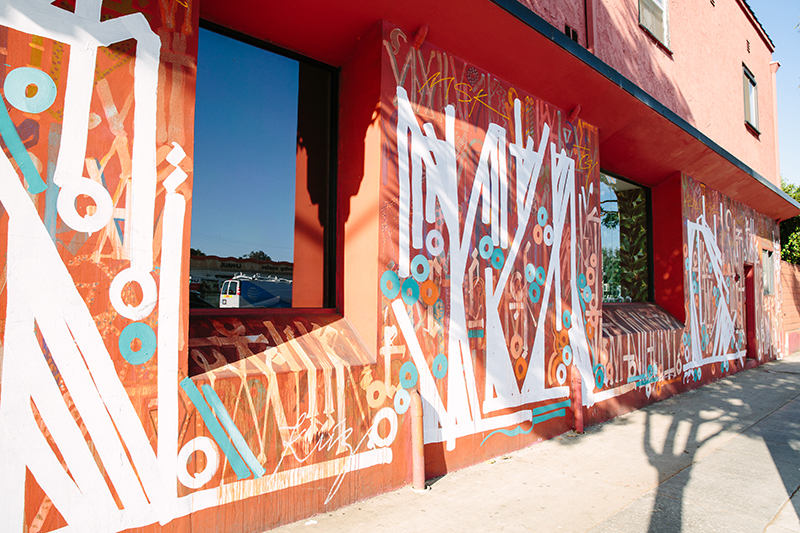 Mural by RETNA
Wallpaper City & Flooring (East Side of Building), 1758 Lincoln Blvd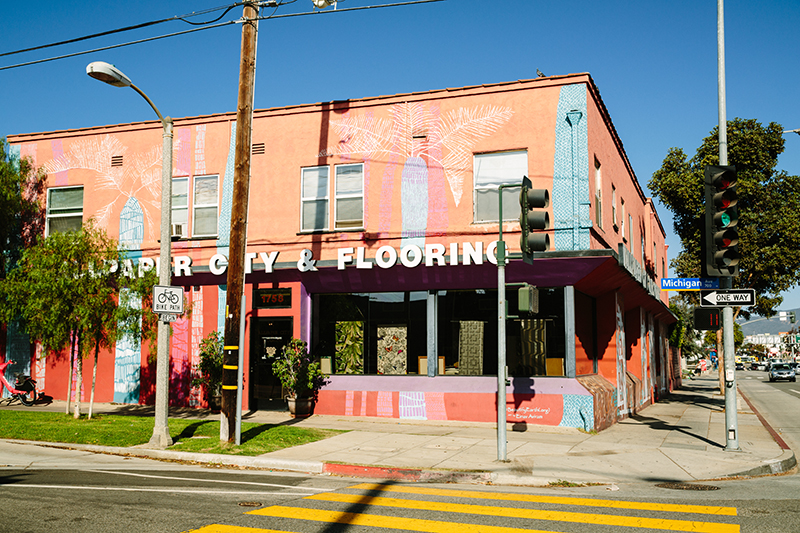 Mural by Einav Aviram
Wallpaper City & Flooring (South Side of Building), 1758 Lincoln Blvd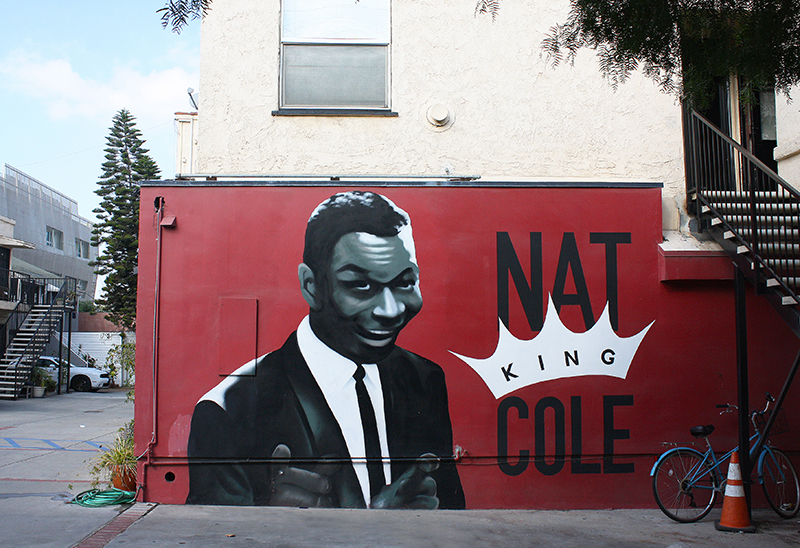 Nat King Cole
Wallpaper City & Flooring (Behind Building), 1758 Lincoln Blvd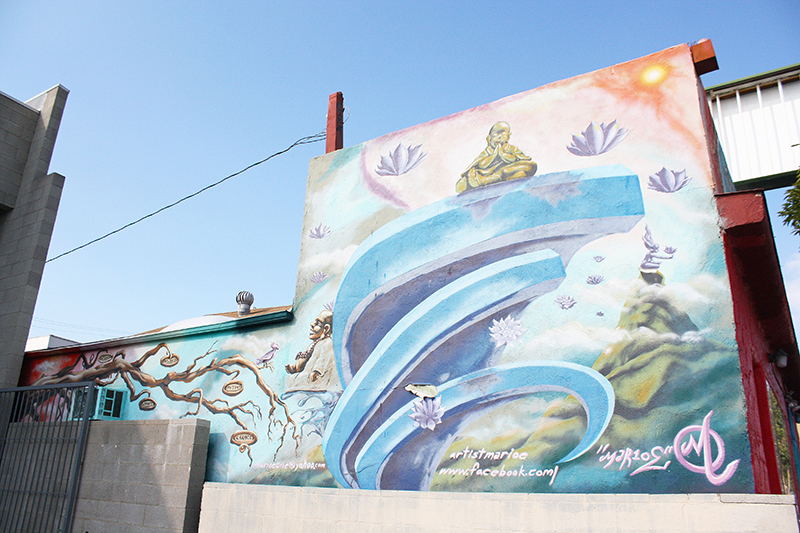 Mural by Marioe
Kathmandu Boutique, 1844 Lincoln Blvd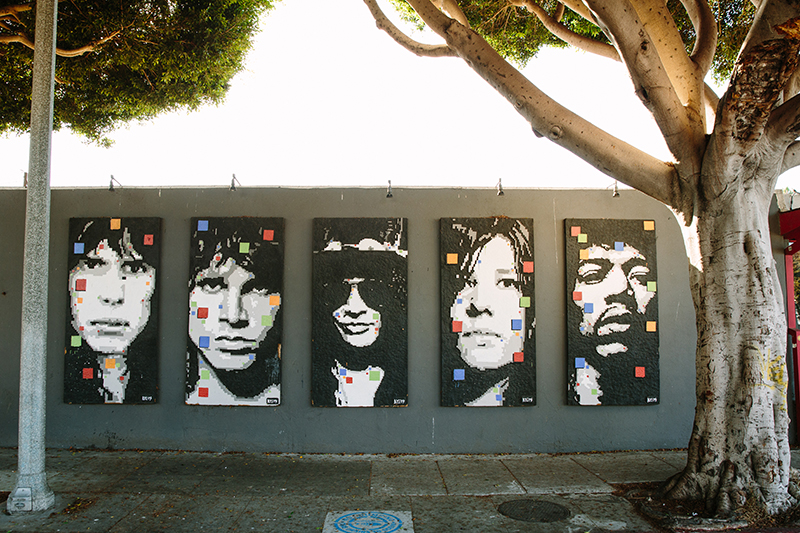 Mural by Blake Byers
Trip Santa Monica, 2101 Lincoln Blvd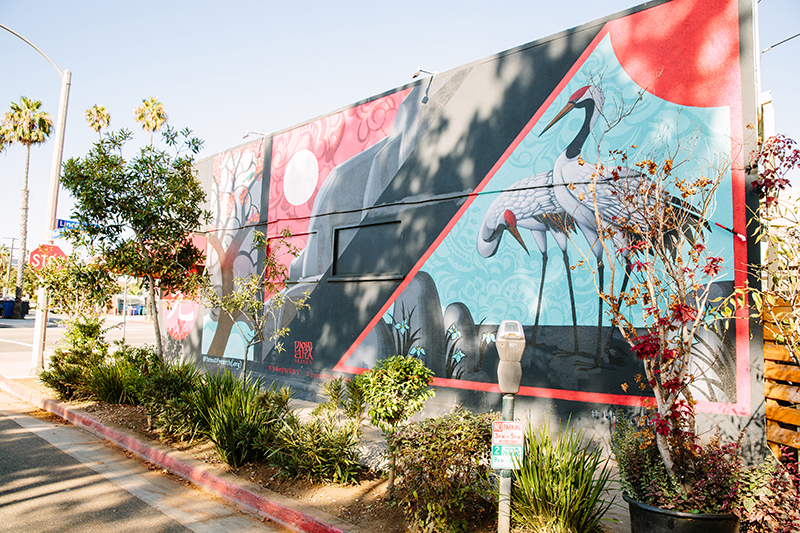 Hwatu by John Park
2127 Lincoln Blvd
"Hwatu" was painted in November of 2015. The overall design is based on a popular card game in Korea called Hwatu, which depicts different animals and landscapes on small plastic cards. It was created based on the wishes of the shop owner who wanted something based in Korean Culture. – John Park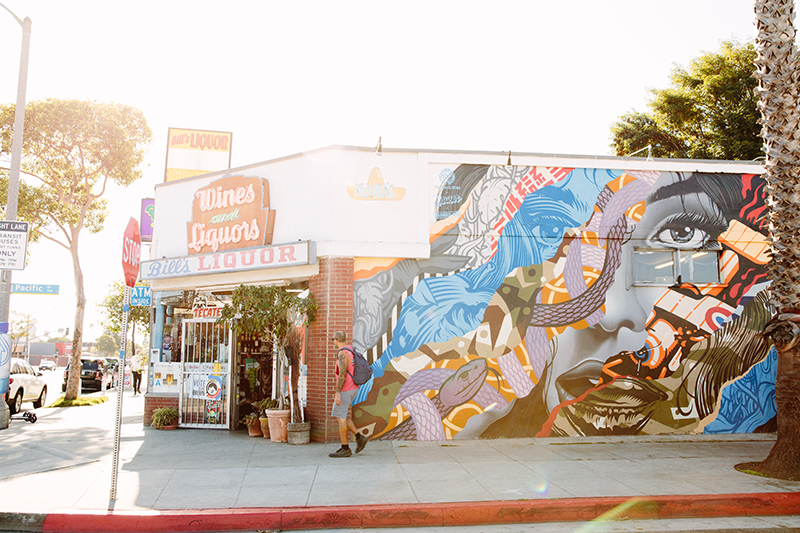 Sharon of Eden by Tristan Eaton & Hauser
Bill's Liquor, 2202 Lincoln Blvd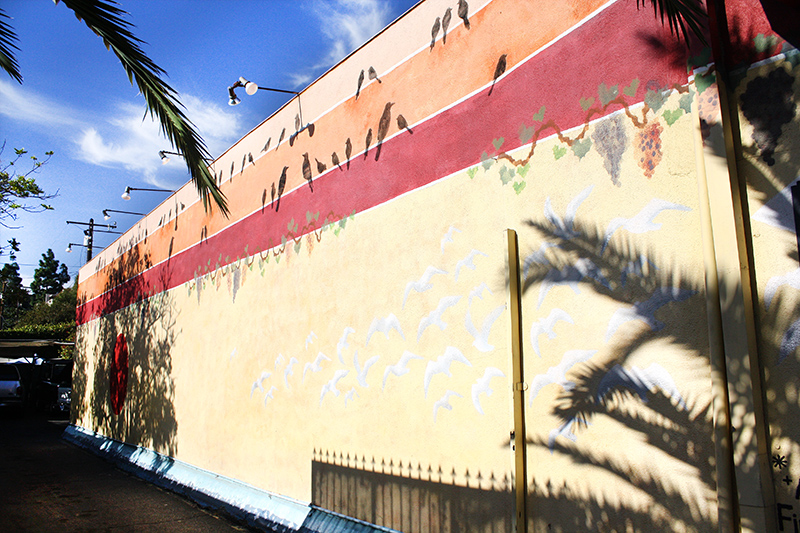 Mural by Amelia Drake Fine Art & Magjik
Bill Dunn Auto Upholstery, 2212 Lincoln Blvd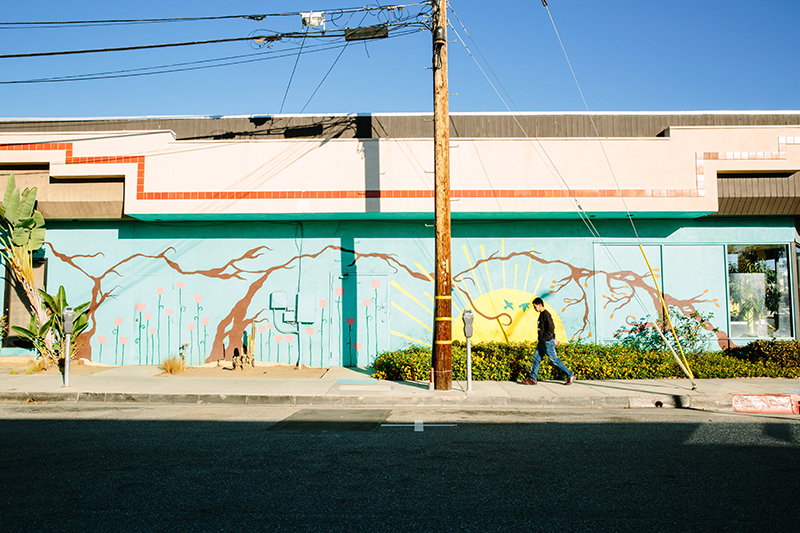 Mural by Naira Hart
Satdha Thai Kitchen, 2218 Lincoln Blvd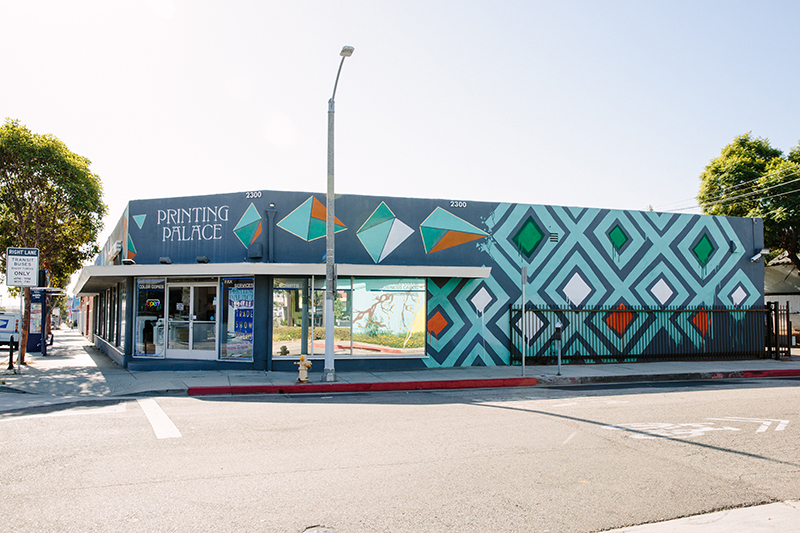 Mural by Meex One
Printing Palace, 2300 Lincoln Blvd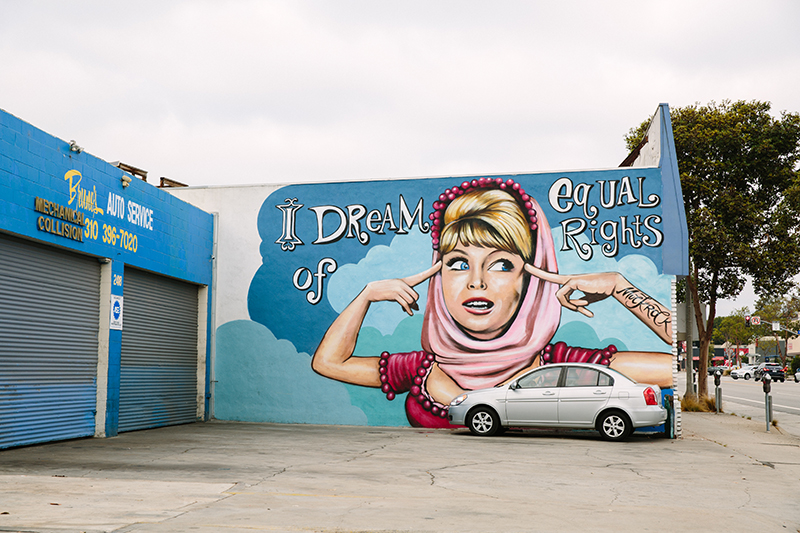 I Dream of Equal Rights by Jules Muck
Livestyle Design Studio, 2408 Lincoln Blvd
Pico Boulevard Mural Locations
Now that you've see the artwork, check out the exact locations on the map below. Then, visit the murals in person and share your own photos on social media using #SeeSantaMonicaMurals.