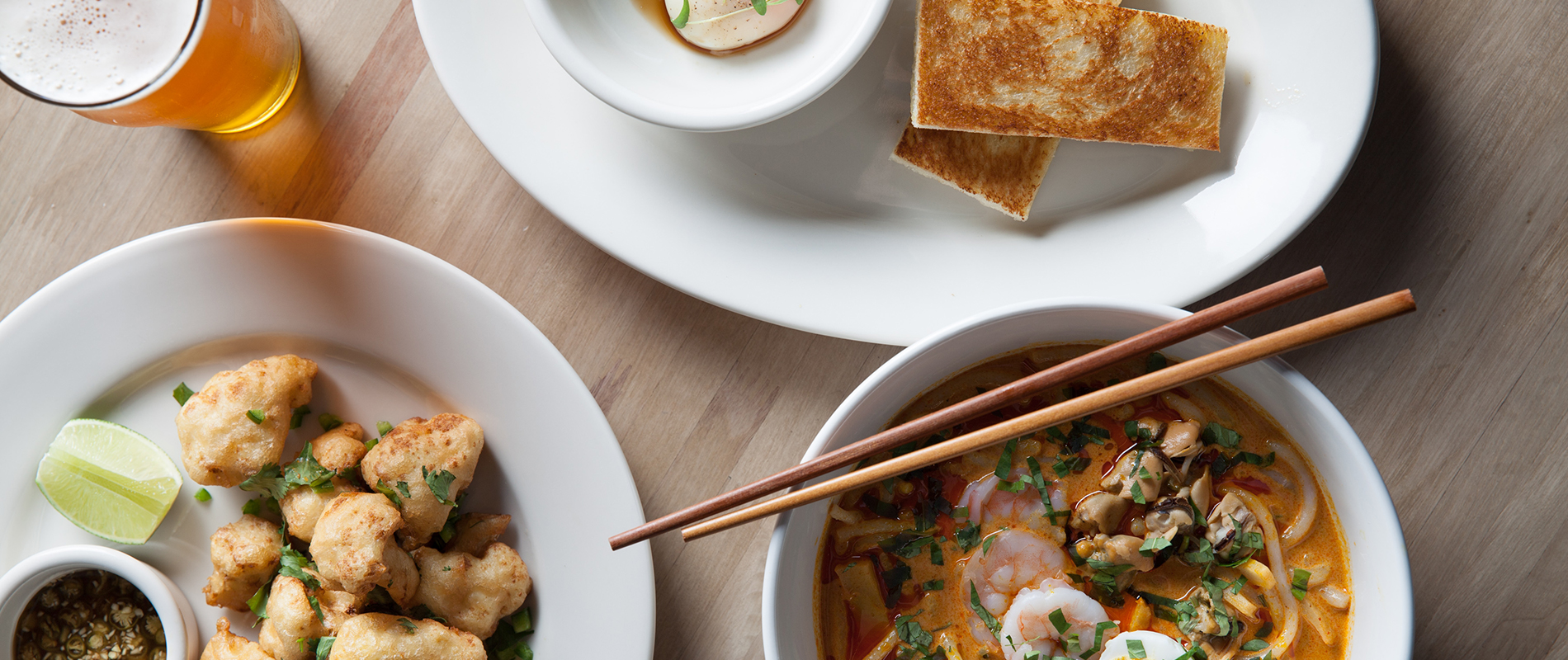 Best Asian Restaurants in Santa Monica
Updated May 12, 2020 in
Eat
Posted July 3, 2019
Even though Santa Monica doesn't house dedicated enclaves devoted to Asian cuisines the sprawling continent's culinary traditions have become pronounced strengths of the seaside city's thriving dining scene. Learn about 10 places to eat compelling food from countries like China, India and Japan and order from pan-Asian menus that defy easy categorization. By Josh Lurie
Cassia
2012 Food & Wine's Best New Chef Bryant Ng and wife Kim Luu-Ng teamed with local hitmakers Josh Loeb and Zoe Nathan from Rustic Canyon Family of Restaurants on Cassia. Their modern, multi-faceted 200-seat Asian brasserie occupies the base of a 1937 Art Deco building. Their raw bar contributes crave-worthy preparations like "sunbathing" prawns tossed with Fresno chiles, garlic and Vietnamese hot sauce. A wood grill yields delectable proteins like pig's tails and whole butterflied sea bass. The hit parade also includes Vietnamese pot au feu, Asian-influenced charcuterie and tandoor-fired naan bread with accompaniments like chopped escargot and pork meatballs in cashew curry.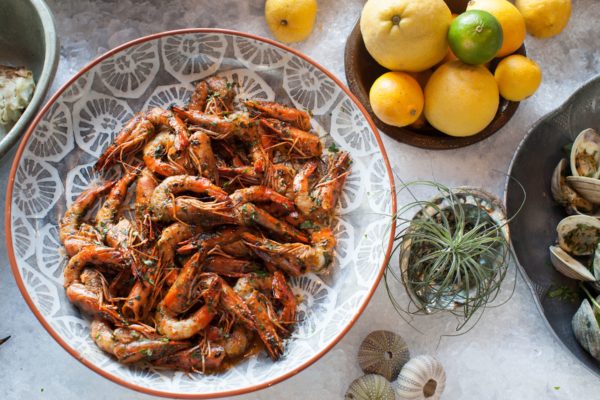 Chinois on Main
Culinary icon, Wolfgang Puck, founded Chinois on Main with designer Barbara Lazaroff in 1983, helping to popularize Asian fusion. This airy, art-lined restaurant with skylights and a bold orchid-lined window remains vital with help from longtime chef Rene Mata. Chinois chicken salad, grilled Szechwan beef with spicy shallot cilantro sauce and Shanghai lobster with curry sauce and crispy spinach have all survived the test of time. Whole sizzling catfish with flaky meat and tangy ponzu dipping sauce comes with a complimentary show: tableside filleting. Hama Hama oysters pan-seared with sweet curry are served on the half-shell in light cucumber sauce with salmon "pearls" (aka eggs).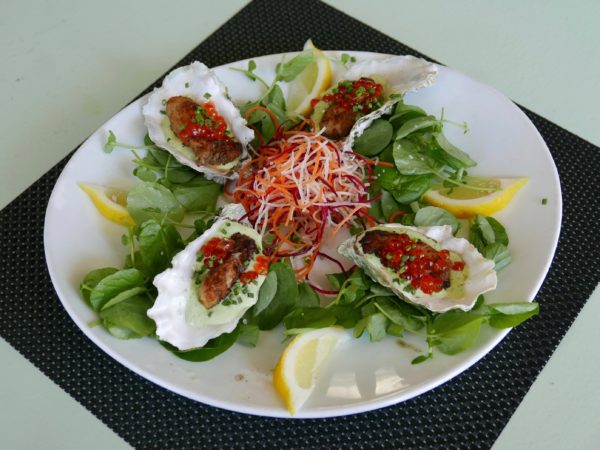 JINYA Ramen Bar
JINYA Ramen Bar founder Tomonori Takahashi opened a branch of his emerging chain along Main Street in 2015. The glass-fronted outpost features wood booths and counter stools indoors and an umbrella-shaded patio with communal table and central fire pit. JINYA makes 12 different chicken, pork and vegetable ramens, not including a rotating chef's special. Iterations might involve spicy meatball ramen with chicken broth, crumbly beef meatballs, bok choy, bean sprouts, scallions, seasoned egg, fiery "JINYA original chile seasoning" and thick noodles. Pegged to St. Patrick's Day, they rolled out "green monster" combining chicken broth stained green with kale paste, green onions, crispy kale, crispy onions, chicken chashu and vegetable noodles. Ramen rules at JINYA, but people supplement with small plates like chicken karaage and kale "lollipops."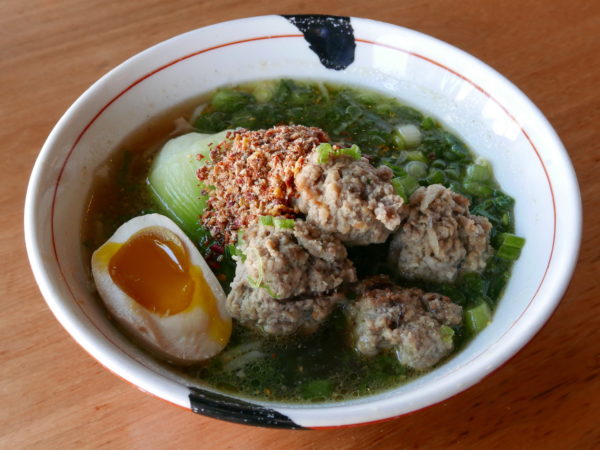 KazuNori: The Original Hand Roll Bar
Los Angeles sushi legend Kazunori Nozawa and son Tom Nozawa teamed with business partners Jerry Greenberg, Lele Massimini, Cameron Broumand and Clement Mok to create SUGARFISH by sushi nozawa in 2008 and followed suit with KazuNori: The Original Hand Roll Bar in 2014. Their Santa Monica outpost by the beach features a three-sided wood bar and "Fish Market" on grey panels in back. Guests can order single hand rolls served with warm rice nestled in crispy nori wrappers, but most people opt for combos. Highlights include silky Faroe Islands salmon and sesame seeds, bay scallops folded with mayo and masago and Nozawa's signature blue crab hand roll accented with mayo. Blackboard specials might include Santa Barbara uni, albacore and salmon skin.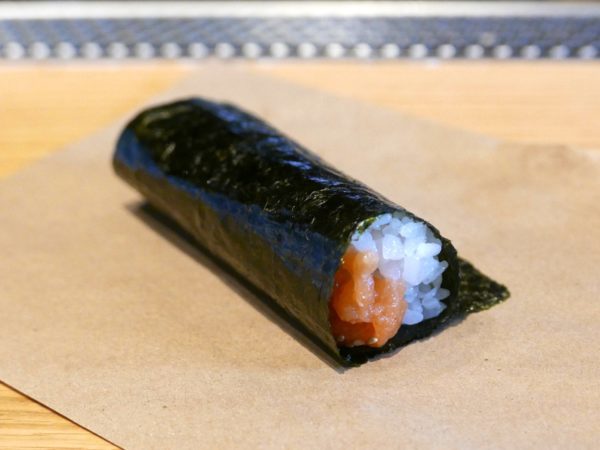 Mom & Bop
Michelle Yum is a Seoul-born chef who attended culinary school in Philadelphia and cooked for a decade in Manhattan before moving to L.A. Mom & Bop is her first restaurant. The strip mall space across from Santa Monica College specializes in salads and bowls built atop a choice of kale, brown rice, purple rice or glass noodles. Fat Belly features meaty roasted pork belly, corn, crunchy carrots, edamame, cucumber kimchi, crispy onions, kimchi chimichurri and if you're smart, a supplemental soft soy-pickled egg. Mom & Bop's Wake-up Breakfast bowl co-stars spam, tiny sausages, dried anchovies, sliced almonds, sunny-‍side-up egg and house-made kimchi. Fun starters include bulgogi kimchi fries and beef dumplings in chile oil.
Samosa House
Samosa House, the popular fast casual, Culver City-born Indian concept, resides along Main Street. The space houses colorful orange and yellow walls with decorative sunburst patterns and mismatched wood tables. Most people visit for combo plates, choosing from steam trays filled with dishes like matar paneer (Indian cheese and pea curry), charcoal smoked cauliflower and kathal (jackfruit). Chole bhature involves puffy fried bread studded with fennel seeds and served with stewed chickpeas, tangy yogurt sauce and punchy mango pickle. Tomato chilli uttapam is a massive chickpea and rice flour pancake topped with spicy tomato sauce, onions and cilantro, served with sambar, smoky tomato sauce and coconut sauce.
Sunny Blue
Keiko Nakashima runs a tiny glass-fronted shop called Sunny Blue on Main Street featuring six stools and an overhead menu dedicated to omusubi (Japanese rice balls). Staffers dust all omusubi with ultra-savory furikake, wrap with thin crispy nori and serve the results in cardboard boats. Popular offerings include earthy miso mushroom with King oyster with enoki mushrooms and ebi mayo, sweet chopped shrimp folded with creamy mayo. Specials might include spicy tuna bacon and daikon edamame. Complementary side dishes include cool, crunchy gobo tossed in bonito sauce and similarly crisp and earthy daikon salad tossed in tangy ponzu dressing.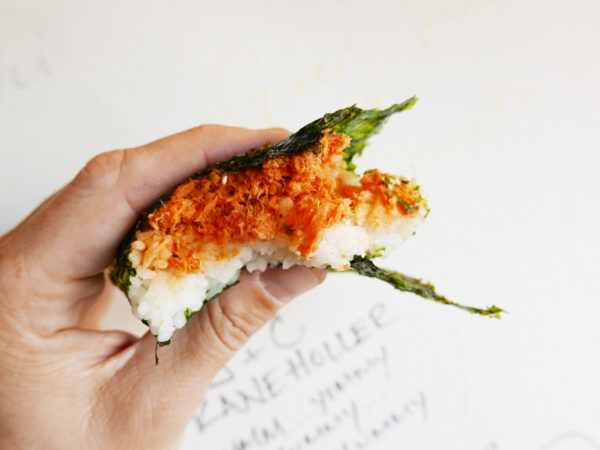 Takuma
Takuma is a welcoming izakaya from chef-owner Suzuki Takuma that features cream-colored walls (flat and wavy) and a trio of blue flags. Share-friendly Japanese comfort foods include skewered chicken tsukune (meatballs) crafted with ground chicken leg, brushed with sweet soy "yakitori" sauce and plated with pickled ginger. Blowtorched mackerel is another popular choice involving fatty vinegar-marinated sashimi blow torched tableside and served with more pickled ginger. Equally delicious is the brown rice scallop risotto, which is slow-cooked in a creamy lobster broth in a sizzling stone bowl, available topped with sharp Parmesan cheese shavings. Takuma leaves little doubt on what to drink, presenting sake bottles in decorative vices that emerge from wood panels.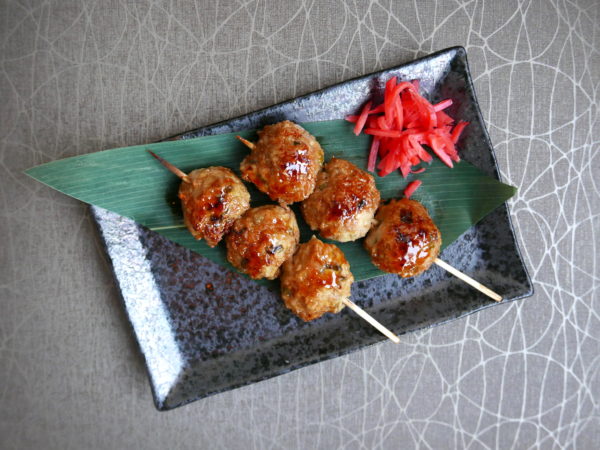 TUMBI Craft Indian Kitchen
Longtime hospitality professional R.J. Singh also runs Sirtaj Hotel in Beverly Hills and added TUMBI Craft Indian Kitchen to his portfolio in 2018. Chef Imran Ali helms the kitchen at this modern restaurant with a metal-framed patio, exposed wood rafters, colorful murals and vivid India photos. Modern riffs on recognizable Indian comfort foods include a pani puri quartet with crispy puff pastry cups filled with mung beans, chickpeas and shallots perched atop shot glasses filled with tamarind-mint water chasers. Uttapam is a thick rice & lentil flour crepe topped with scrambled egg bhurji that's seasoned with onion-tomato-chile and curry leaf, served with sambar (south Indian soup), coconut and tomato chutneys. Chef Ali shows particular flair with a plate of tangy apricot curry starring flaky, sustainably caught Patagonian toothfish, taro chips and blistered sweet peppers. Lunch incorporates compartmentalized Indian-style office or school lunches called tiffins. Their boneless butter chicken leg in butter tomato curry stands out, served with saffron basmati rice, dal bhukara (lentils), papadum, salad and achar (pickles).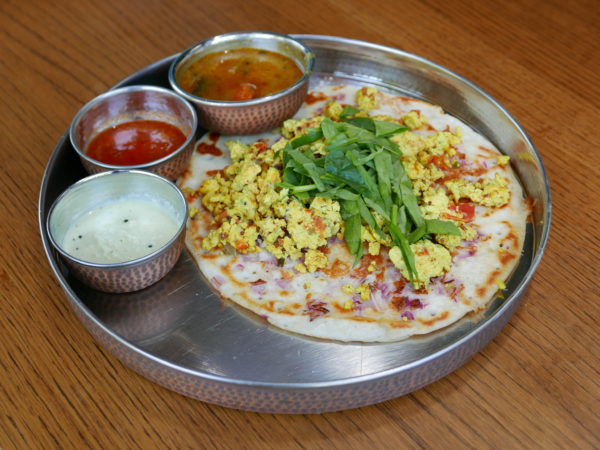 Viet Noodle Bar
Viet Tran was born in Hue (central Vietnam) and raised in Saigon, but showcases Northern Vietnamese cooking at Viet Noodle Bar. He expanded from Atwater Village to eastern Santa Monica in 2014. The breezy space contains wood tables, green chairs and white art-lined walls. Viet Noodle Bar has a way with fish. Turmeric fish noodles feature whitefish tossed with dill, turmeric, crispy shallots and cilantro over thick, bouncy rice noodles is a signature dish that's sure to leave you satisfied. Their bitter melon & fish rice plate is a bit more divisive, but so well done, starring the same fish with green onion, paprika, cayenne, sesame, crispy shallots and turmeric (or brown) rice. Other popular options include pho (chicken, beef or fish), crispy shrimp rolls and banh mi loaded with chicken or spicy sardines.