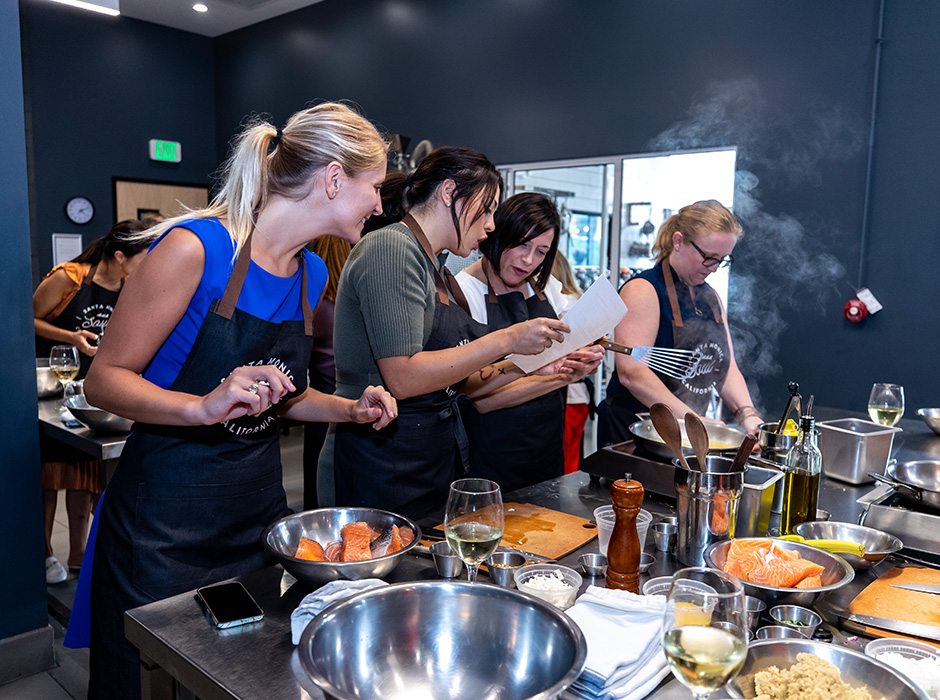 Team Building
Beaches, food experiences, art classes and wellness activities offer endless opportunities for team building and group activities while getting a taste of the California lifestyle. Find team building experiences that fit your group's needs in Santa Monica.
Connection & Collaboration
Santa Monica naturally curates the perfect environment to strengthen your team and promote connection and collaboration. From sandy experiences to high-flying adventure, any team is sure to walk away with shared experiences and fun memories.
Sea to Sky
Bring the team together for unique experiences at Santa Monica Beach. Strengthen teamwork skills when participating in a beach volleyball class with Santa Monica Beach Volleyball or bring your team independently to enjoy friendly competition at one of the beach's public courts. There's plenty of beach sports to participate in, including beach tennis, soccer and pickleball. Looking for something more relaxed? Easily transport classic team-building exercises and games to the sand and add an extra twist when booking a bespoke beach picnic with Santa Monica Picnic Co. Add game sets to your picnic experience, including badminton, ladders, cornhole and spike ball to throw extra fun into any team-building exercises. Teams looking for more high-flying adventures need to look no further than the Trapeze School New York. Located at Santa Monica Pier, groups of all sizes can sign up for trapeze and silks classes and experience the ultimate trust fall.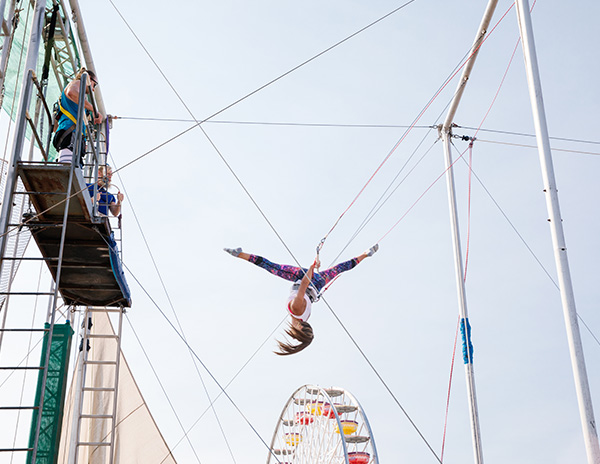 Break the Mold
Ignite imagination with art and pottery classes throughout Santa Monica to inspire introspective thoughts, personal reflection and a sense of accomplishment. For activities that strengthen familiarity, collaboration and trust, improv classes at M.I. Westside Comedy Theater are sure to bring teams closer together through humor and lighthearted fun.
Foodie Fun
Sign up for classes at The Gourmandise School where teams can cook their own food and eat it too! Challenge team communication and cohesiveness as teams work together to follow various, unique recipes under the watchful eye of a master chef. Once the food is cooked, savor the taste of accomplishment while sitting together for a team dinner.
Rest & Relaxation
Enjoy a moment of relaxation with yoga classes in the studio or on the beach. Beach Yoga So Cal hold a variety of classes throughout the week for groups with varying levels of experience. Participate in a Sunset Beach Yoga class for quiet moments of team reflection or build confidence with a Beach Power Flow class.

Have Questions?
Feel supported when you reach out to Santa Monica Travel & Tourism's team of experts today!
Blogs
Discover Santa Monica
Explore itineraries, local tips, hot spots and curated adventures to make sure you get the most out of your Santa Monica experience.
View All Blogs