48 Hours in LA: A Healthy Hedonist's Guide
Posted October 23, 2018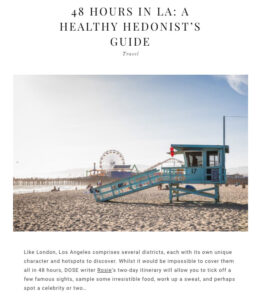 The following morning, discover part of the secret behind the glow of LA's superstars with a class at SoulCycle Santa Monica, whose regulars include David Beckham and Demi Lovato.
Stroll around the many shops and boutiques in the well-heeled pedestrianized streets of Downtown Santa Monica and the Santa Monica Place mall, making sure you pay a visit to Alo Yoga for gorgeous yoga wear to bring home.
Top off your trip with a visit to Santa Monica Pier's Pacific Park, home to the most-Instagrammed spot in LA: that ferris wheel. End your trip on a high by climbing aboard to catch a final fantastic view of the Golden State.
– DOSE, August 20, 2018