Known for its longstanding commitment to sustainability, Santa Monica continues to practice and push for greener, environmentally-friendly ways of living and doing business, including a focus on sustainable tourism. In recent years, even more of Santa Monica's businesses, hotels and restaurants have stepped up their sustainable practices.
Green Attractions
The City of Santa Monica is the very first city to achieve Platinum level certification under the LEED for Cities program, making it a leader in sustainability for global travel. The U.S. Green Building Council (USGBC) developed LEED, which is the world's most commonly utilized green building grading system. Local governments, are exhibiting leadership and responsibility through certification at the municipal scale through LEED for Cities, aiming to reduce their environmental impact.
Annenberg Community Beach House
Just north of the Santa Monica Pier is Annenberg Community Beach House – the country's first/only public beach club and a Gold LEED certified building that used recycled blue jeans for insulation. This public facility is located on five acres of oceanfront property that was initially developed during the 1920s by William Randolph Hearst for actress Marion Davies. Visitors can take a dip in the same original marble pool where the old Hollywood elite did, play volleyball, have lunch at the Back on the Beach Cafe, take yoga classes and learn about Santa Monica history and cultural heritage with free docent tours at the Marion Davies Guest House.
Heal the Bay Aquarium
Featuring hands-on presentations and interactive exhibits, the Heal the Bay Aquarium is a part of the "Heal the Bay" program – an initiative to educate, inspire and empower its visitors to be stewards of the environment. General admission is $5 per person; kids ages 12 and under are free; groups of 10 or more are charged $3 per person, regardless of age.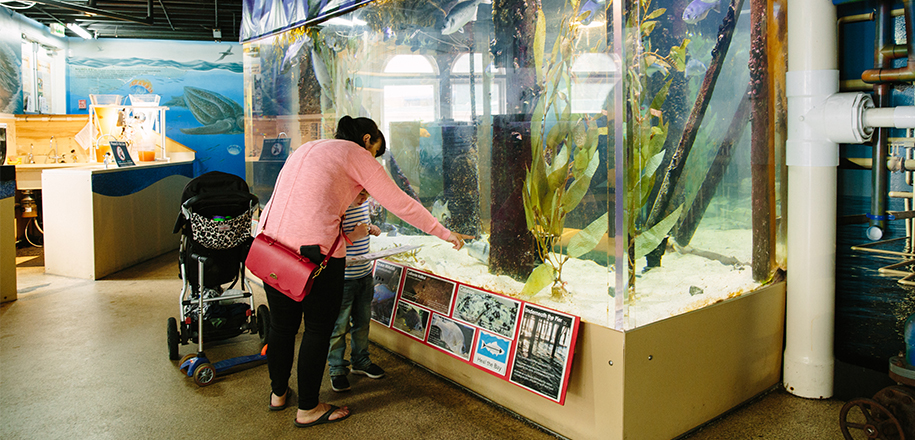 Heal the Bay Cleanups
The Heal the Bay organization hosts monthly free, volunteer-based beach cleanups where locals and visitors can come together to beautify and clean up beaches by picking up trash, plastic water bottles and other waste that might otherwise end up in the ocean.
Tongva Park
The architect responsible for New York City's celebrated High Line Park, James Corner Field Operations, has designed Tongva Park's six-acre urban oasis just two blocks from the Pacific Ocean. Enjoy Santa Monica's architectural park for winding walkways, observation decks, picnic tables and ample open grass. The modern green space faces the ocean and is centrally located, making it easily accessible during your visit. It is filled with native and drought-tolerant plants, reducing its water needs and making it more sustainable, not to mention much of its watering comes from the Santa Monica Urban Runoff Recycling Facility (SMURFF)!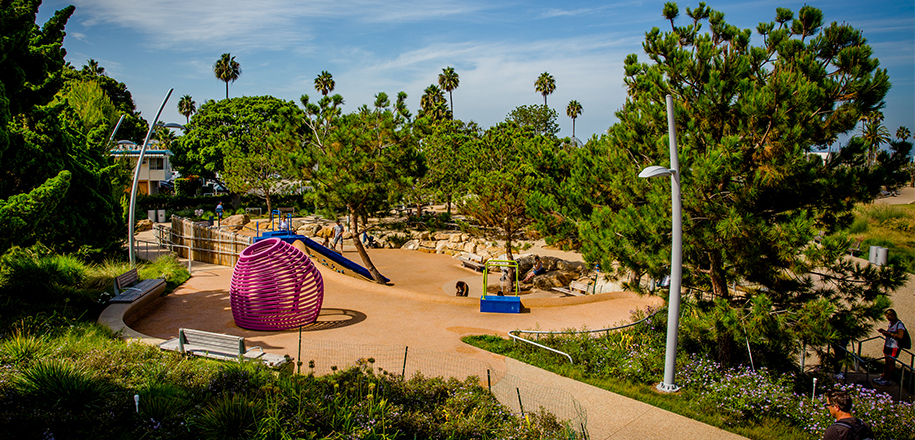 Pacific Wheel at Santa Monica Pier
Named by Travel + Leisure as one of the "World's Coolest Ferris Wheels," the 13-story Pacific Wheel is the world's first and only solar-powered Ferris wheel. From a seat on the Pacific Wheel, visitors and locals alike take in panoramic views of the Los Angeles coastline and mountains from more than 185 feet above the Santa Monica Pier. The Ferris wheel's 174,000 energy-efficient LED lights create an 85-foot high computer-generated light show for nighttime beach-goers to enjoy.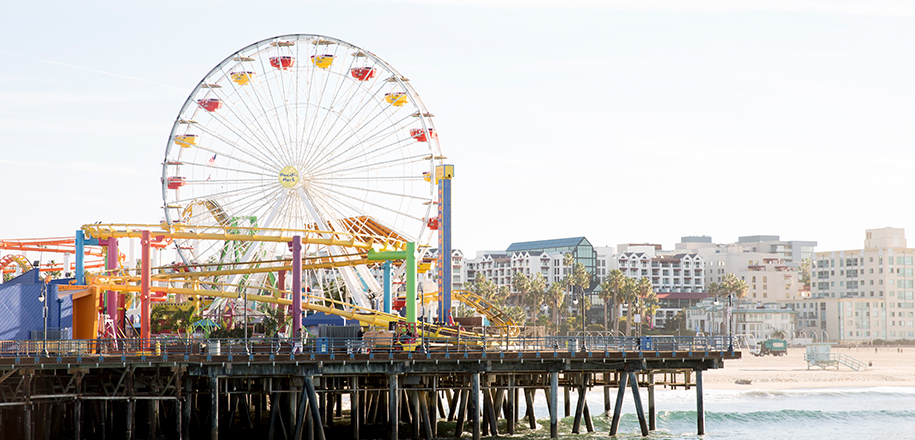 Green Hotels in Santa Monica
Ocean View Hotel, Santa Monica Motel and Shore Hotel are all certified green hotels in Santa Monica, by the Santa Monica Green Business Certification Program, part of the California Green Business Program Network, which leads the state and nation in working with small to medium-sized businesses to grow a vibrant and healthy green economy. The program details measures for conserving resources, preventing pollution, reducing carbon emissions and minimizing waste. For a current list of all the Santa Monica Certified Green Hotels that meet the criteria established by the California Green Business Network, click here.
The aforementioned properties and The Ambrose Hotel are Gold LEED (Leadership in Energy and Environmental Design) certified properties and Proper Hotel is Silver LEED certified, which offers eco-friendly accommodations in addition to a variety of fantastic amenities. To improve sustainability and allow guests to have an eco-experience, these hotels feature a range of green business practices including reduced water consumption, increased water and energy efficiency, installation of solar panels and LED lighting and more.
The Shore Hotel boasts a solar energy-heated pool, next to which guests will find Raw Elements, a reef-friendly non-oxybenzone sunscreen, available in a pump dispenser.
The waterfront Hotel Casa del Mar uses low VOC paints, has implemented low flow toilets and utilizes ORCA technology to reduce food waste as some of its eco-friendly efforts. And employees at the hotel even earn rewards for walking, biking and carpooling to work.
At the Viceroy, eco-friendly measures include refillable toiletries in the bathroom, leak-detection system for all fixtures, comprehensive recycling for everything from light bulbs to printer cartridges, and even $10 off overnight parking for guests who arrive in hybrid cars.
Loews Santa Monica Beach Hotel touts a WELL Health-Safety Rating achievement, meaning they maintain excellent air and water quality, in addition to enhanced ventilation and particle filtration at the property.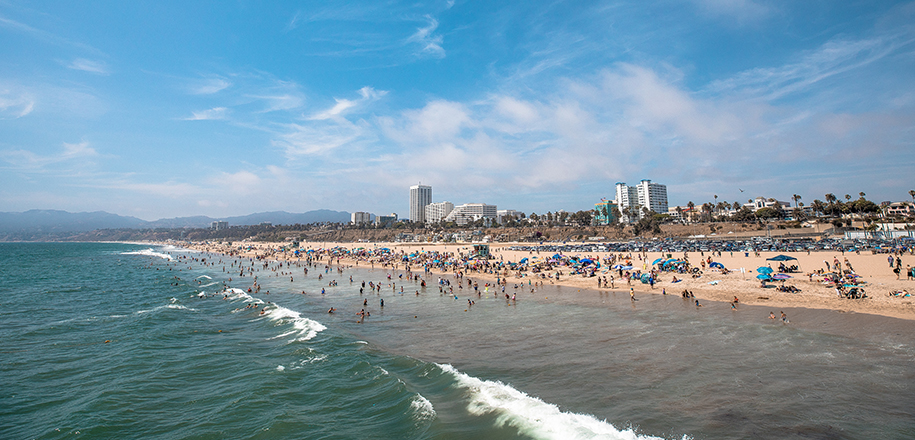 Go Car-Free
Santa Monica provides environmentally green public transportation options and services for visitors and residents to get around the city, such as Metro, Big Blue Bus, electric scooters, the Santa Monica shuttle Circuit (formerly Free Ride), a free service to transport riders to Downtown Santa Monica, the Santa Monica Pier, Main Street, and Montana Avenue, and the Metro Expo Line. Additionally, at just 8.3 square miles, it's easy to navigate the city on foot.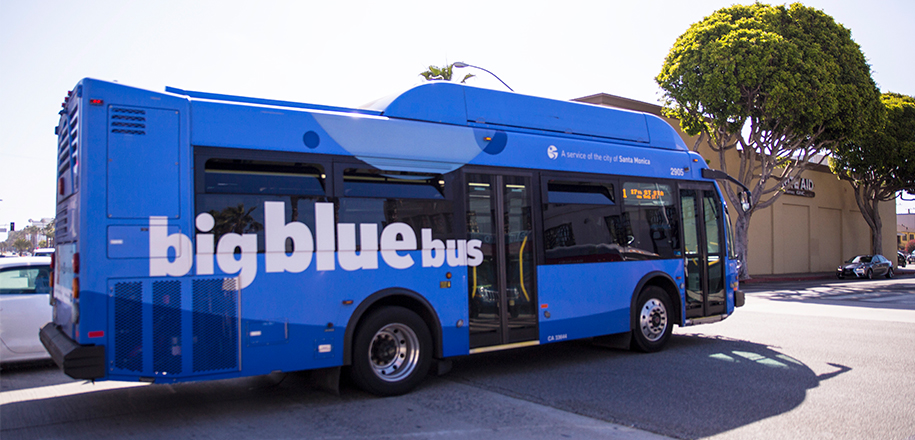 Bikes
Another great way to get around Santa Monica's unique local communities is on a bike. The Santa Monica Bike Center, in downtown, rents bikes for $20 for two hours. And if visitors bring their own rides, the Bike Center also offers a safe bike valet program with bike parking for a nominal fee. For riding along the coast, Perry's Café and Beach Rentals also rents hourly or all-day cruisers to ride on beach paths.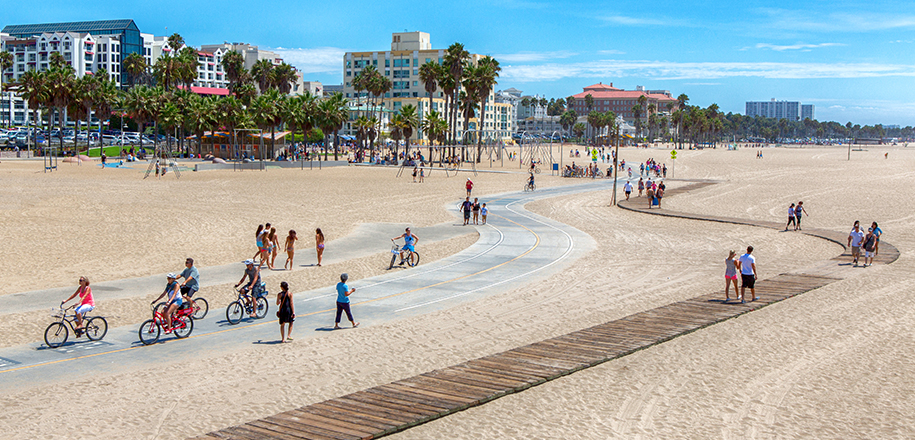 SUSTAINABLE RESTAURANTS & FOOD IN SANTA MONICA
Santa Monica Farmers Market
Named one of the best in the country by Travel + Leisure, the farmers market sets the tone for Santa Monica dining. With nearly 200 different growers and food purveyors at the beach city's four weekly farmers markets, Santa Monica continues to attract famous chefs who value locally sourced ingredients and foodies who want to explore the diverse culinary offerings. You'll find no shortage of local, organic ingredients as well as a variety of plant-based options when you visit Santa Monica.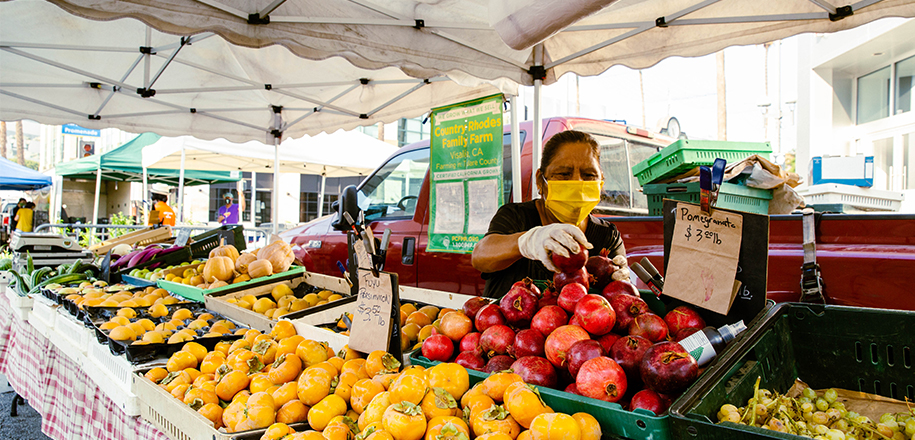 Farm to Table Restaurants
Many restaurants in Santa Monica work with nearby farmers or source from local markets to ensure their food doesn't have to travel far. Lunetta, Fig at the Fairmont Miramar, and the Rustic Canyon family of restaurants (Birdie G's, Cassia, Esters Wine Shop & Bar, Huckleberry Bakery & Café, Milo & Olive, and Sweet Rose Creamery) are all committed to sourcing locally grown produce, meats and provisions as much as possible.
Santa Monica Seafood
Dating back to 1939, this local seafood distributor and market has been a longtime champion of responsible fishing practices. Santa Monica Seafood's partners with the Monterey Bay Aquarium's Seafood Watch program and applies the program's rankings to its own inventory. The distributor also founded the Responsible Sourcing Vendor Program to support other fish suppliers toward more sustainable practices.
Shopping
Recontained
Helping consumers rethink their everyday use of plastic containers and single use plastics, Recontained on Ocean Park Blvd. sells personal care and home cleaning supplies that can be refilled and reused over and over again as well as biodegradable options, including a package-free laundry stain stick made with orange essential oil, glass pumps of shampoo and conditioner and scour brushes made from coconut husks that don't end up in landfills.
Square One Refills
Along Montana Ave, the pint-sized Square One Refills shop specializes in sustainable personal care and home care products. Bring your own bottles and jars to be refilled with body washes, shampoo and dish soap. You'll also find soap bars wrapped in paper, natural deodorant, solid dishwashing block soap and more.
Santa Monica Place
Gold LEED certified, Santa Monica Place delivers three levels of exciting retail and dining options with beautiful views of the Pacific from the top Dining Deck. Originally operated as an indoor, enclosed mall, Santa Monica Place was renovated into an open-air concept and reopened in August 2010. The new design maximized sunlight and fresh-air throughout the property and facilitated an uninterrupted walkable experience for shoppers to navigate throughout the mall. Today, Santa Monica Place incorporates water-efficient landscaping, a green roof element and many other sustainable property features to reduce their carbon footprint.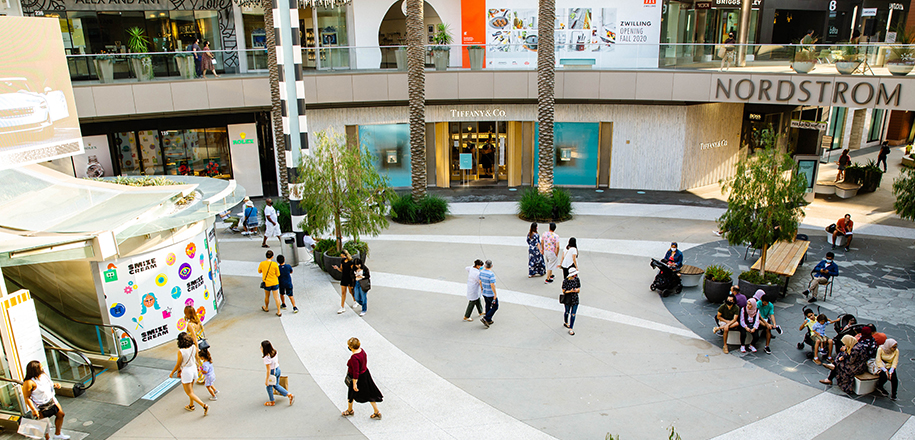 Main Street
Also known as the "Green Light District," this eclectic Main Street is where the locals go. It provides a laid back beach lifestyle and a commitment to sustainability – this street has more certified green businesses than any other in Santa Monica, and is also home to a community garden. You'll find boutiques, design galleries, cafes, bars, restaurants and more.
Reformation
Based in downtown LA, this fashion label is known for its sustainable practices using low-impact materials, deadstock fabrics and vintage clothing to make its pieces. The brand also works with the Bonneville Environmental Foundation to neutralize its water footprint, and encourages consumers to cold wash clothes and skip the dryer to save energy. Browse Reformation's super cute clothes at their Main Street store.
View all Santa Monica Green Businesses
Mentioned in this article