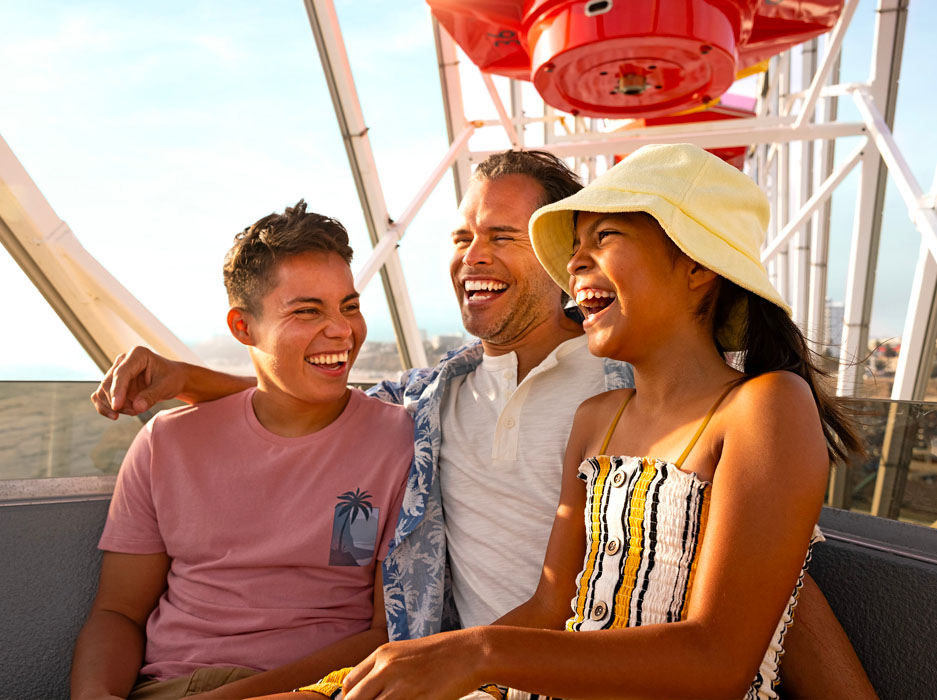 Three Day Itinerary in Santa Monica
Stretching along 3.5 miles of Pacific coastline, Santa Monica is a beach city with an extraordinary number of things to see and do for beach lovers, foodies and everyone in between.
If you're visiting for 72 hours, use this three day itinerary–we've packed it with a variety of Santa Monica experiences to give you a glimpse of living like a local. We hope you come back again for a longer stay to explore even more of what Santa Monica has to offer!
Day One: Morning
Start your morning the way locals do – with a refreshing dip in the Pacific Ocean. Learn to catch a wave and hang ten as you take a surf lesson with Aqua Surf School. Headquartered in Santa Monica, Aqua Surf provides surfing instruction services throughout Southern California. Their systematic way of teaching students all but guarantees you'll be able to pop up in the water.
After your hard work in the waves, it's time to be pampered for lunch. Enjoy uninterrupted ocean views with the sand beneath your feet as you enjoy lunch at Perry's Beach Café and Rentals. Representing "California's beach lifestyle," Perry's Café and Beach Rentals has served as an icon on the beach scene for 40 years. Perry's offers a full menu of gourmet burgers, fresh sandwiches and salads to satisfy your palate.
Hit the pier
Take a short stroll to the historic Santa Monica Pier. Set at Santa Monica's westernmost point, the Santa Monica Pier is a staple of this picturesque seaside community. Packed with family-friendly activities, restaurants and shops, it also has stunning views and over a century's worth of history.
Peep the park
Enjoy Pacific Park, an oceanfront amusement park home to the world's only solar-powered Ferris wheel, taking in a panoramic view of the Southern California coastline from more than 130 feet above.
See the sea
Don't leave without visiting the Santa Monica Pier Aquarium, Heal the Bay's marine education facility, which inspires understanding and conservation of Southern California coastal waters, watersheds and marine life through education, interaction and discovery.
Explore Downtown Santa Monica
Now it's time to explore Downtown Santa Monica, just steps from the ocean. Begin at the world-famous Third Street Promenade, an alfresco shopping experience includes more than 200 shopping, dining and entertainment outlets, all in the heart of Downtown Santa Monica. The pedestrian-friendly shopping haven maintains a distinctly Southern California vibe, visitors can bask in the breezes from the nearby ocean while soaking up a colorful, upbeat scene filled with musicians and entertainers.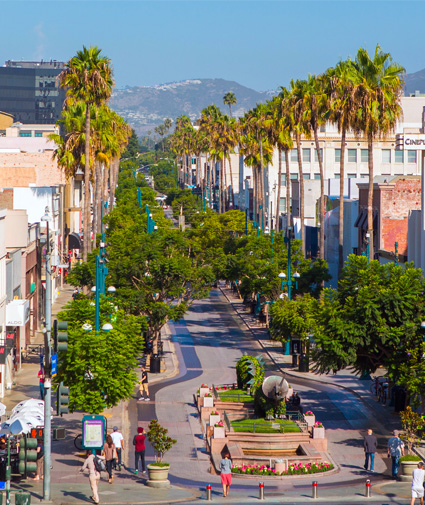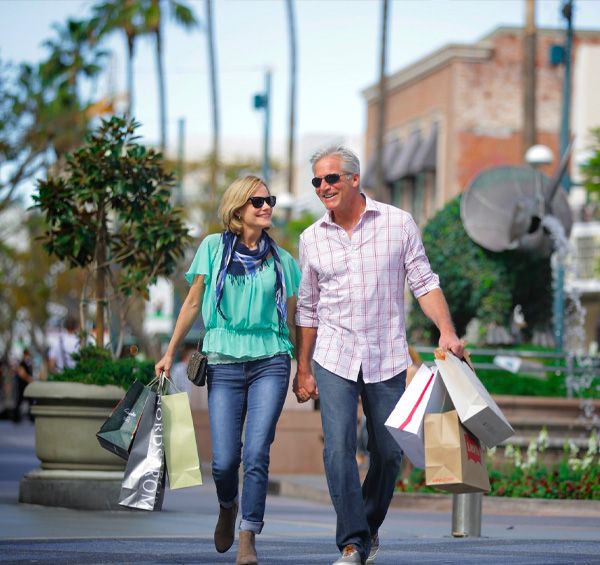 Day One: Evening
For your first sunset in Santa Monica, make sure you have a seaside view. Head to Terrazza at Hotel Casa del Mar for a cocktail with panoramic views as the sun sinks into the Pacific Ocean and colors of magic hour fill the sky. As darkness takes hold, stroll a few blocks to Chez Jay, a longtime local favorite dive bar with a retro, peanut-strewn vibe.
Day Two: Morning
Gorgeous topography, temperate weather and a bike-loving populous help make Santa Monica an ideal destination for a two-wheeled adventure. Explore, get exercise and soak up the fresh air as you pedal on a self-guided bike tour of Santa Monica. Many of our 41 hotels offer complimentary bikes for guests or you can pick up a set of wheels at Santa Monica Bike Center.
Known to locals as "the Strand," this iconic multi-use recreational path stretches from Torrance in Los Angeles' South Bay area up to Will Rogers State Park in Pacific Palisades, packing in 22 miles of inspiring coastal scenery. The bike path parallels the entire 3.5 miles of beach found in Santa Monica and connects the city with neighboring Venice Beach.
As you pedal along, soak up Southern California's beach culture, famous for its surfers, body builders, exhibitors, street performers and spectacular ocean views.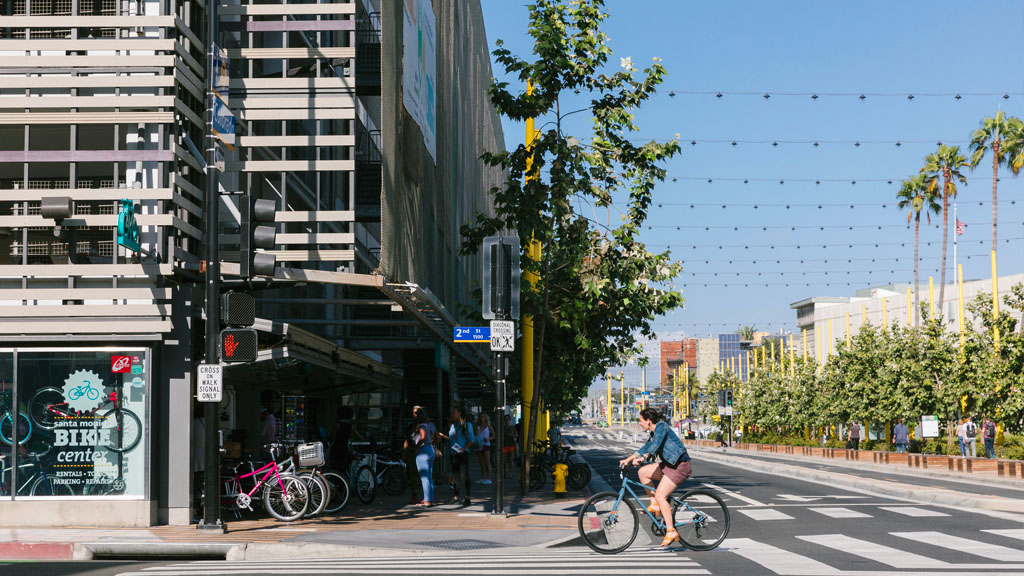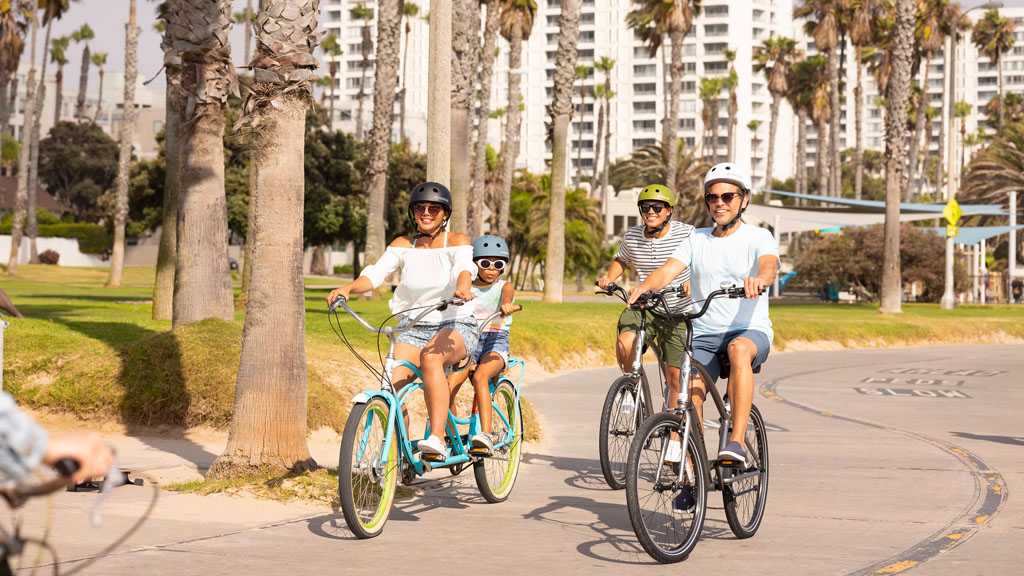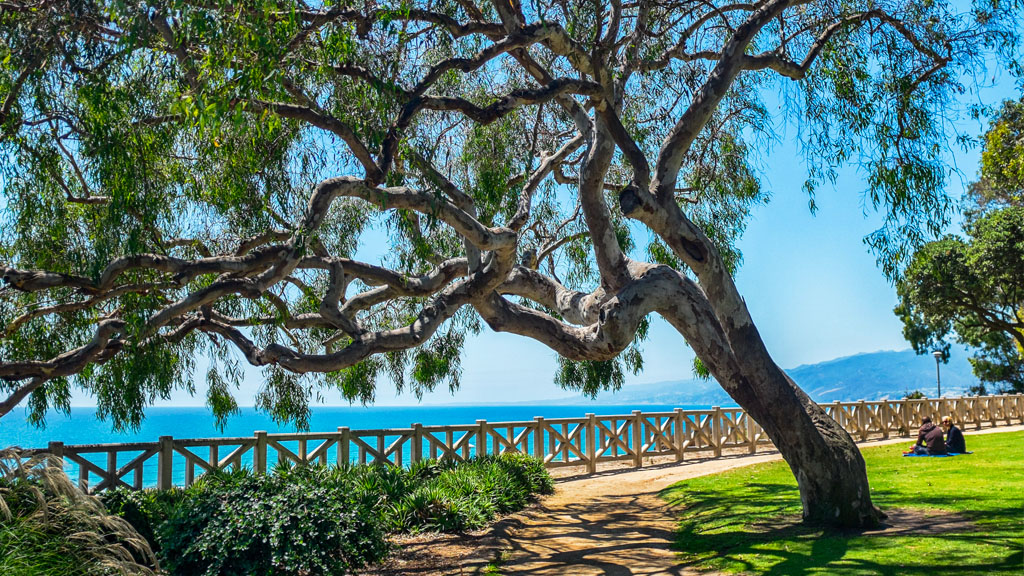 Shop Montana Avenue
Shhh… We're letting you in on a local secret. On a Sunday morning there's no better place for a leisurely stroll than Montana Avenue, a tree-lined boulevard that's home to more than 150 restaurants and retailers.
Chic Shops and Classic Eats
From unique home boutiques to high-end cosmetic stores, the area that stretches from 7th to 17th Street is a hotspot for the latest beauty trends, fashion and healthy eateries. Stop in at Primo Passo Coffee for a quick pick me up before you stroll past time-honored classics such as Andrew's Cheese Shop and Larissa Love Cosmetics. In need of pampering? From pedicures and massages to laser skin treatments and hair salons, Montana Avenue has all your beauty needs covered.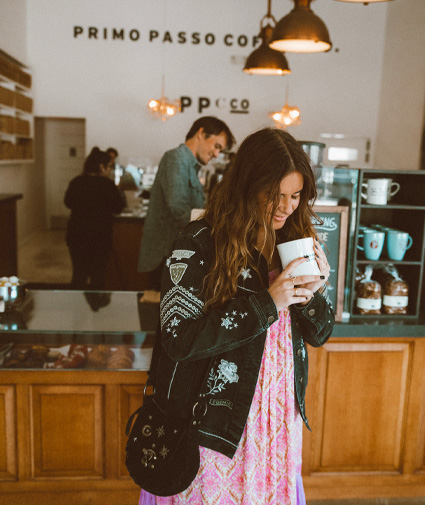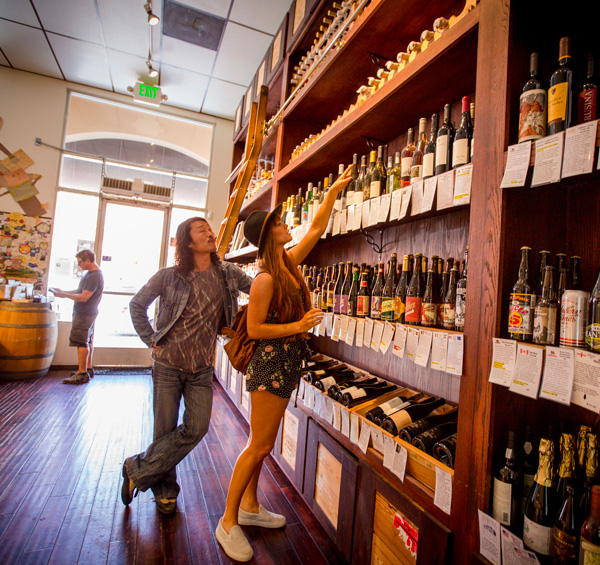 Day Two: Evening
Montana Avenue is the perfect place to grab dinner at a casual neighborhood joint. Rub elbows with locals as you dive into a burger at Father's Office, a popular American gastropub on Montana Avenue serving the much celebrated 'Office Burger' and 36 craft beers on tap.
Before you call it a night, stop in at Margo's. Whether you sit at the full bar, cozy lounge or warm patio, the cocktails here are truly phenomenal.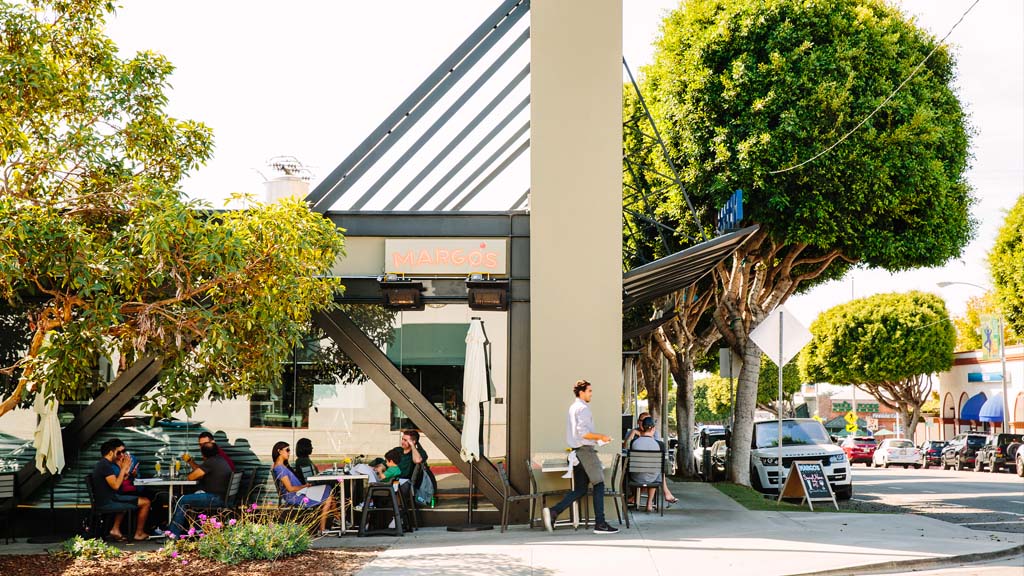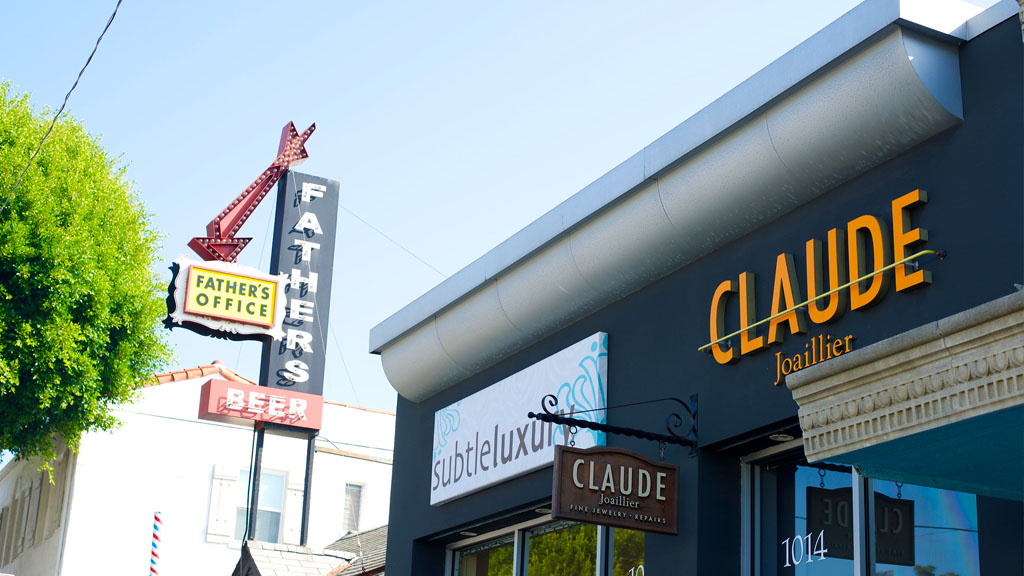 Day Three: Morning
What could be a more soothing start to the day than yoga on the beach? If you enjoy moving your body, being on the beach and breathing in the fresh air, then beach yoga is for you!
Escape from your day and experience a yoga retreat right in your backyard. Walk away feeling rejuvenated and fulfilled, after feeling the sand in your toes, listening to the sounds of the ocean and of course, doing yoga. Beach Yoga SoCal provides private lessons as well as group classes so you can get your flow on with locals.
Shop Santa Monica Place
In the afternoon, hit the shops at Santa Monica Place. With three levels of retail and dining, from Nordstrom to the city's best shops–Louis Vuitton, Tiffany & Co., Nike, Hugo Boss, Uniqlo, Tory Burch, and more–it's the epicenter of celebrity-inspired style.
See all shops and restaurants
A Truly Gourmet Experience
Cook up a scrumptious meal of your own with ingredients from Santa Monica's four weekly farmers markets with a private cooking class at The Gourmandise School. This beloved institution offers hands-on cooking classes for beginners to professionals. The Gourmandise experience is designed to teach you how to develop your culinary intuition and create amazing meals and pastries out of locally sourced and sustainable ingredients.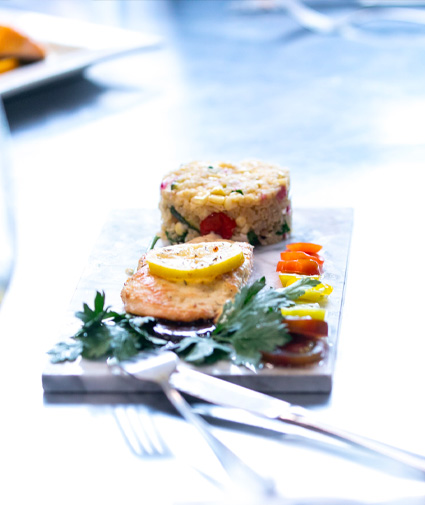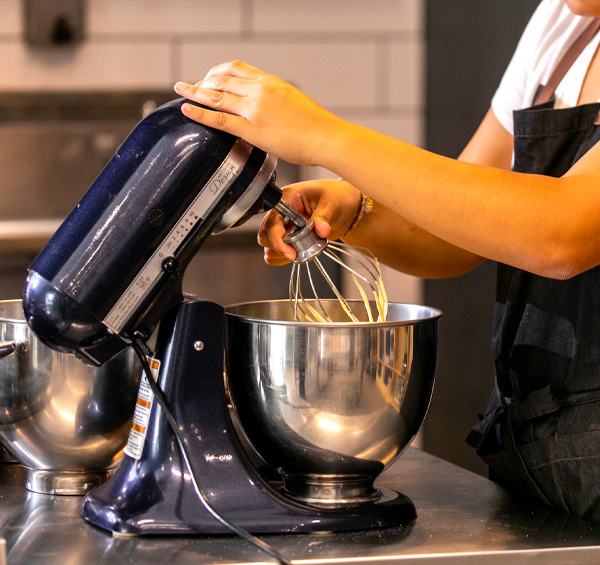 Day Three: Evening
For a different view of the sunset, take a stroll through Palisades Park. This 26.4-acre public space stretches along the bluffs of Santa Monica, offering uninterrupted vistas of the coastline. After dark, stop by JuneShine, a bright and airy atmosphere resembling a desert oasis, serving sustainable, transparent and delicious hard kombucha.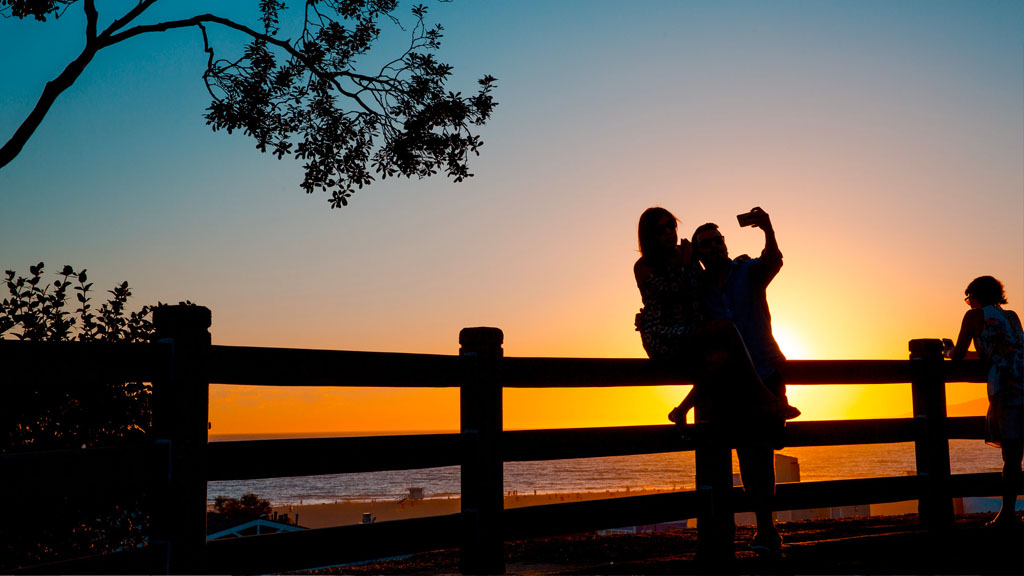 Blogs
Discover Santa Monica
Explore itineraries, local tips, hot spots and curated adventures to make sure you get the most out of your Santa Monica experience.
View All Blogs