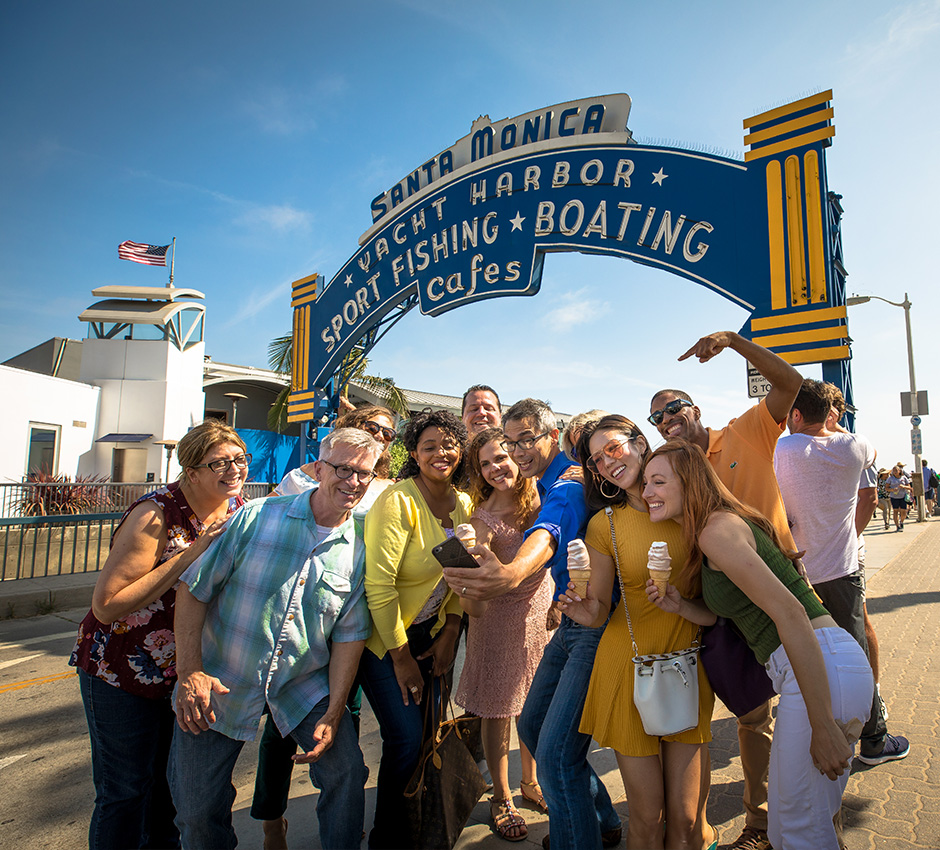 Small Groups
Let thoughts flow with the ocean on your next offsite in Santa Monica. Facilitate teams of five to 25 at one of Santa Monica's offsite venues and 41 hotels, and utilize over 120,000 sq. ft. of private meeting spaces, inspiring atmospheres and luxury services. 
Nourish mind, body and spirit with Michelin-star bites and local dives, and participate in Santa Monica's burgeoning wellness scene between meetings. Acclaimed spa treatments and exercise classes for all levels are just a step away when you book your next meeting in Santa Monica. 
Don't just follow the agenda, make your next offsite a memorable one. Submit an RFP and start planning something extraordinary in Santa Monica today!
Executive Meetings & Retreats
Experience true California laidback luxury during your next executive outing when you enjoy poolside cabanas, historic beachfront estates and award-winning dining. Book a signature stay at one of Santa Monica's lush hotels—many boasting outdoor venues—and enjoy a list of royal treatments and services.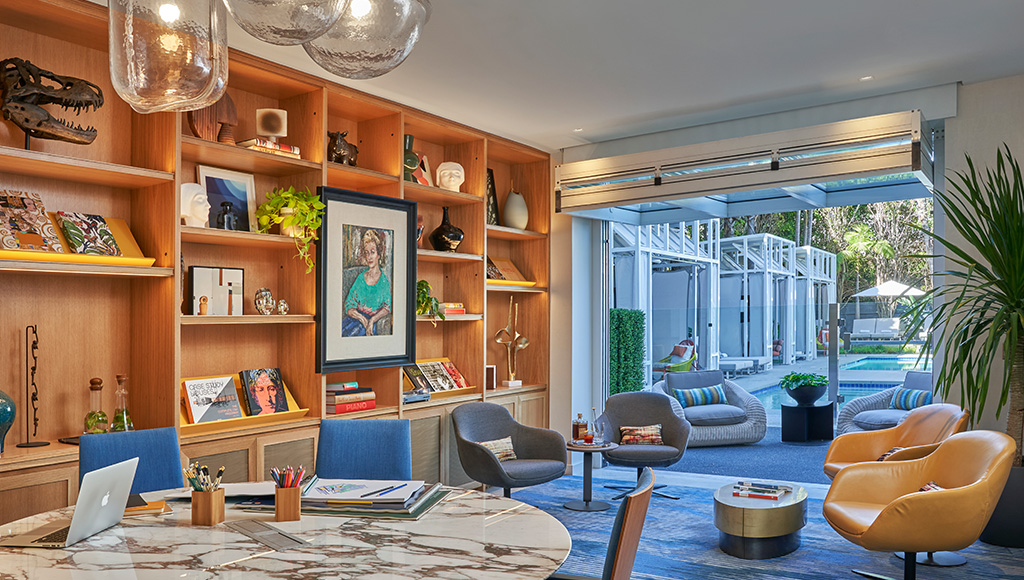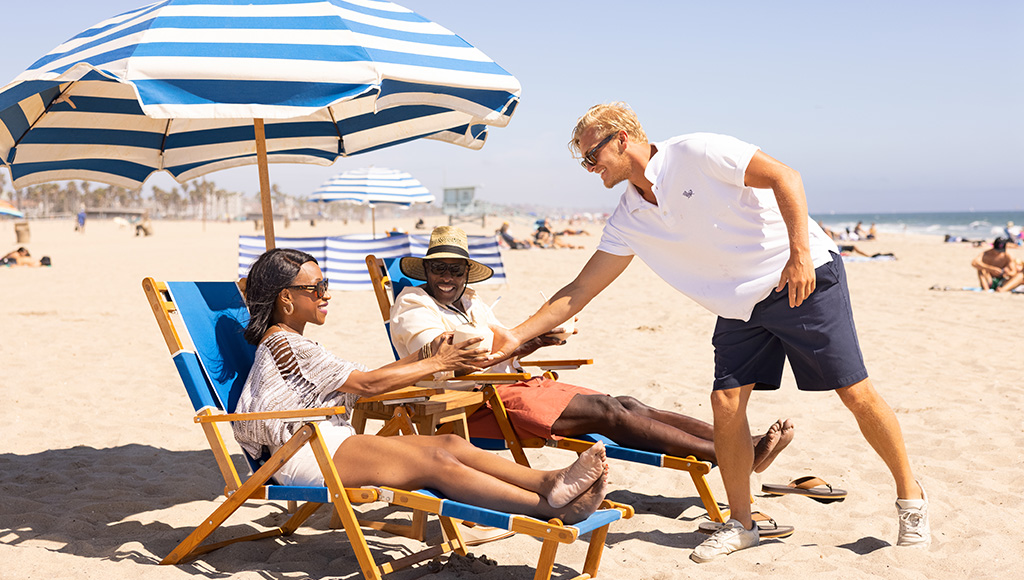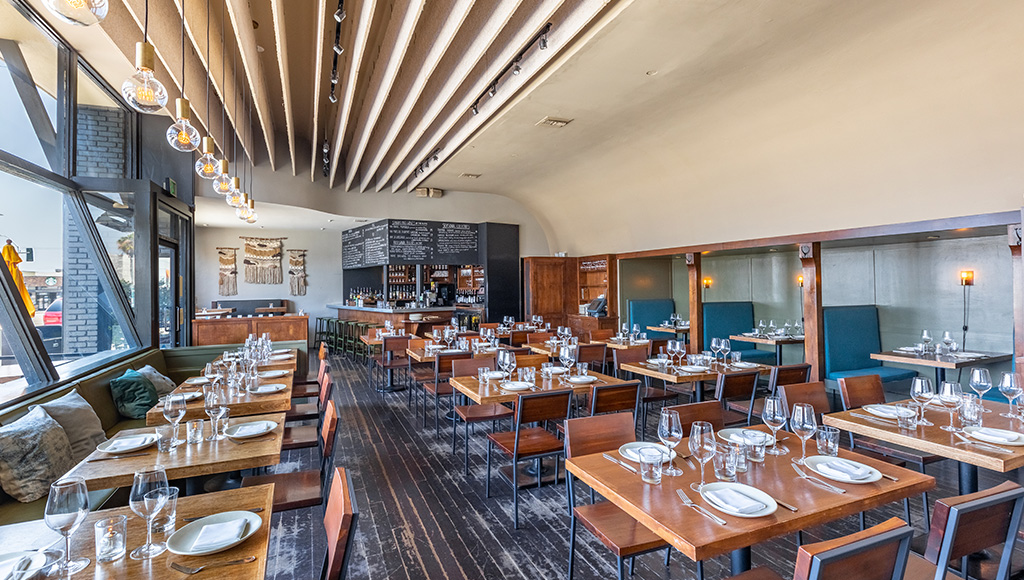 Royal Treatments
Destress with retail therapy at shops like Tiffany & Co. and Louis Vuitton located in Santa Monica Place and request unique services like same day delivery, carry out service and curbside pickup, or unwind with a traditional Abhyanga + Shirodara treatment or special one-on-one service at the nationally-recognized Surya Spa located in Santa Monica Proper Hotel. Looking to stay on the beach? Perry's Cafe and Beach Rentals provides full Beach Butler services year-round.
Award-Winning Fare
Recharge after a day of meetings and adventures at one of Santa Monica's 14 Michelin recognized restaurants. Experience fine dining at Pasjoli, Melisse and Rustic Canyon, each famous for sourcing ingredients from the local farmers markets, or dine with a view at The Lobster across from Santa Monica Pier. With a list of other Michelin recognized restaurants, there's no shortage of world-class dining experiences in Santa Monica.
Corporate
Combining work and wellness has never been easier when you step out of the office and into the Santa Monica sun. Take advantage of unforgettable team building experiences and pick one of many local day trips to see what Santa Monica has to offer.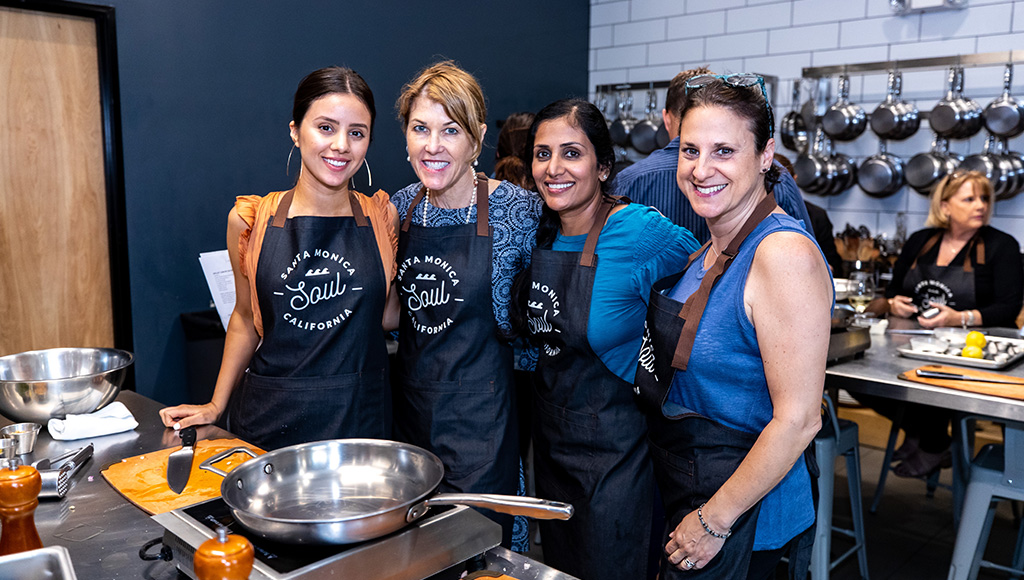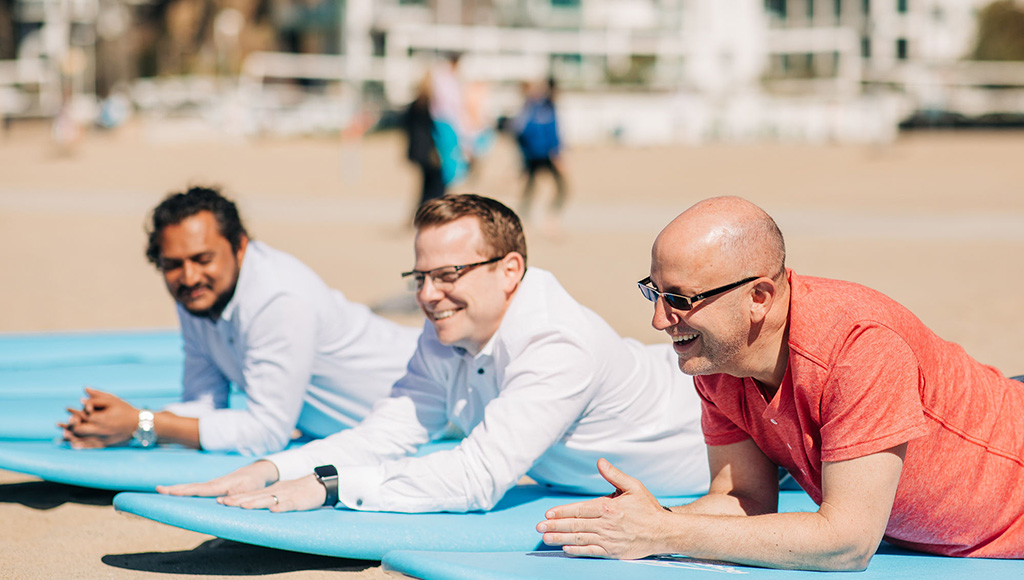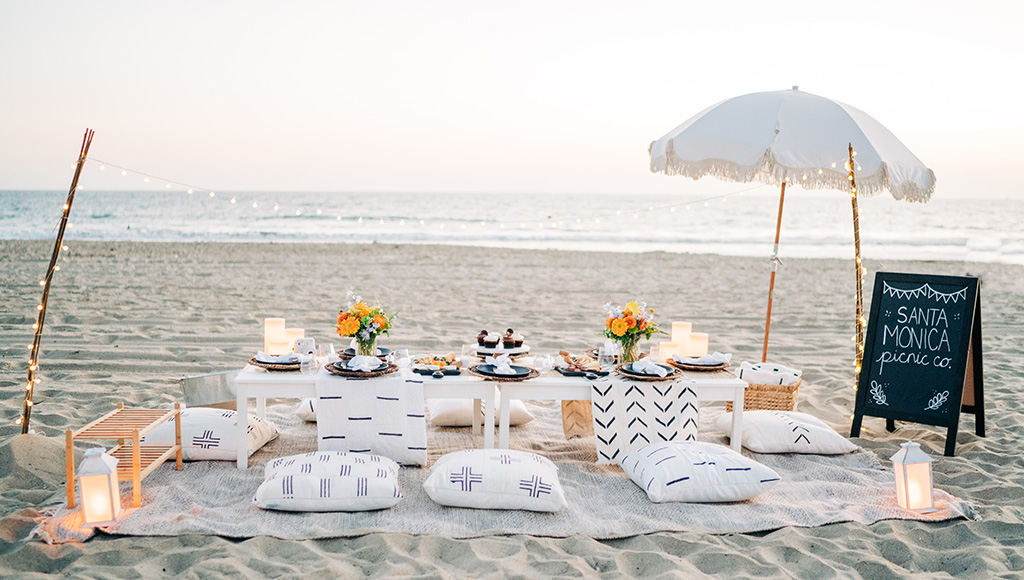 Sand, Sun and Fun
Santa Monica Beach plays host to a variety of sandy experiences. Start the morning with a class by Beach Yoga SoCal or wake up with beach cycling classes from The Sun Cycle. For an exciting escape from the meeting room, on-land surf lessons are a great way to breathe the crisp ocean air. Stroll to Pacific Park to ride Santa Monica Pier's famous Ferris wheel and roller coaster. If the group is really adventurous, sign up for a trapeze or silks class with Trapeze School New York.
Unforgettable Experiences
Trade in traditional icebreakers for unmatched team building experiences. Book a luxury beach picnic with Santa Monica Picnic Co. and enjoy additional unique activities and games or prepare your own food with a gourmet cooking lesson from The Gourmandise School. Private improv classes at W.I.'s Westside Comedy Theater are sure to bring even the quietest co-workers out of their shell. For more low-key experiences, sign up for a biking tour with Santa Monica Bike Center.
Best Day Trips
For small groups truly looking to get away from the office, Santa Monica provides the opportunity to easily travel around Southern California. Stop by Malibu just 20 miles away for unique Southern Californian group wine tasting experiences, and directly access downtown L.A. from one of four Metro stops located in Santa Monica. In downtown L.A., groups can enjoy a wide range of activities, including museums, shows and so much more.
Board Meetings
Inspire connection and bright ideas when you book your next meeting just steps from the beach. Explore an incredible selection of meeting spaces, including indoor and outdoor venues, naturally lit rooms and confidential spaces. See how to make the most of break times and maneuver around the city with Santa Monica's many transportation options.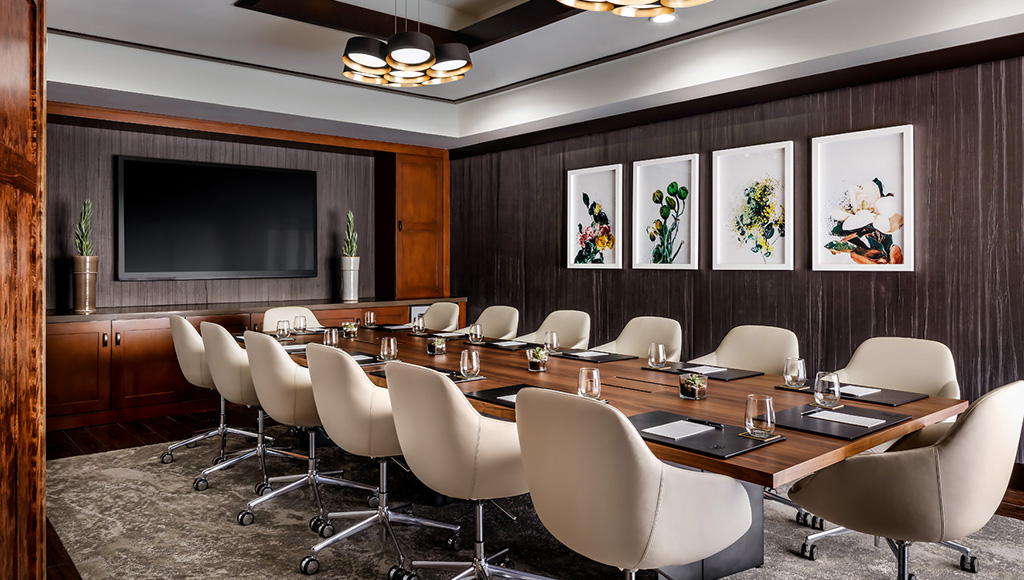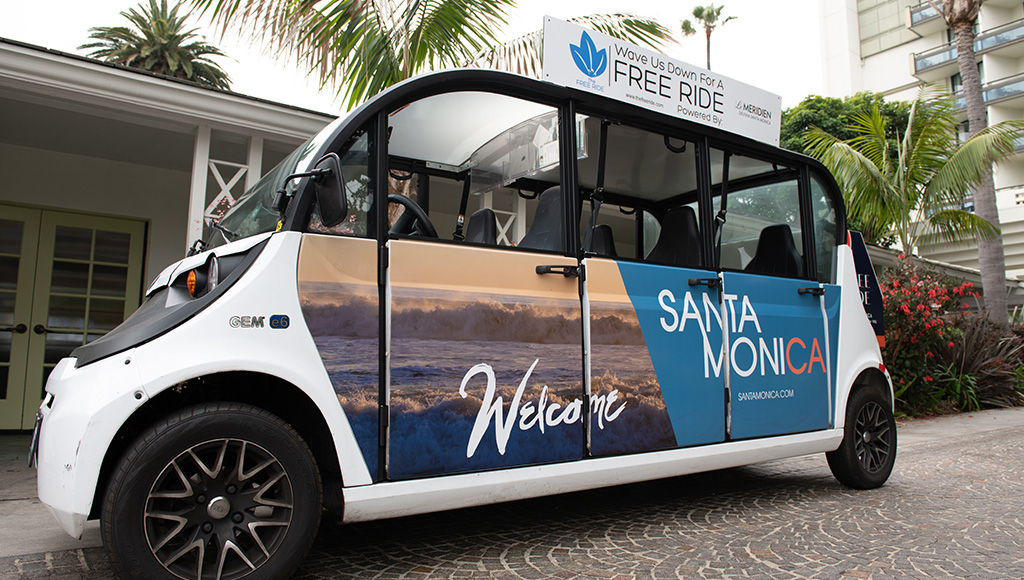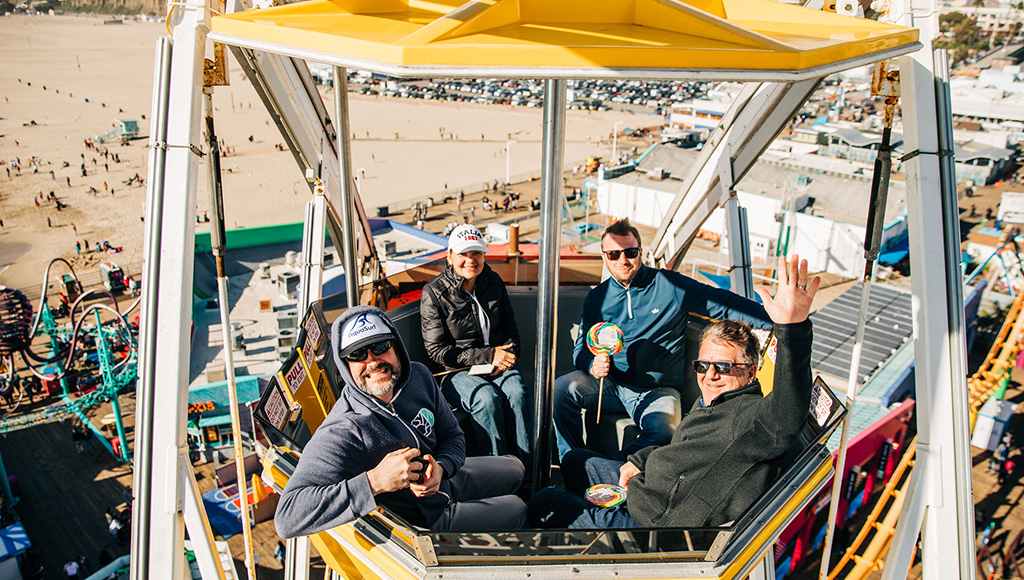 Sustainable Travel
As one of the first cities to achieve Platinum level under the LEEDS for Cities program, Santa Monica provides easy access and sustainable travel. Walk, bike or scooter around the city, or hail Circuit, Santa Monica's free, electric, on-demand shuttle to quickly transport clients and co-workers. Here's a tip: most hotels in Santa Monica provide complimentary bikes to guests to enjoy the city's extensive bike paths. Make sure to follow safety guidelines.
Break Points
Elevate any meeting by bringing unique activities to break times. Groups meeting in Santa Monica Pier/Ocean Avenue can walk 10 minutes or less to Santa Monica Beach and Pier. Have a yoga session on the beach or take some time to explore Santa Monica Pier and Pacific Park. A quick ride around the wheel is sure to bring new perspective to any discussion. For meetings further from the beach, experience the Circuit and book a short ride around the neighborhood to get some fresh air.

Have Questions?
Feel supported when you reach out to Santa Monica Travel & Tourism's team of experts today!
Blogs
Discover Santa Monica
Explore itineraries, local tips, hot spots and curated adventures to make sure you get the most out of your Santa Monica experience.
View All Blogs