Congressman Ted Lieu Champions Tourism and Celebrates Surfing at Roundtable Event in Santa Monica
Posted September 20, 2018
SANTA MONICA, Calif. (September 20, 2018) – Congressman Ted Lieu paid a visit to Santa Monica today to draw attention to the importance of travel to the state's economy and celebrate California's new official sport – surfing.
At a roundtable event held at Shutters on the Beach Hotel, the Congressman heard from travel advocates and businesses directly and indirectly impacted by travel. Travel is one of the largest industries in the United States, employing more than 14 million Americans. In California alone, close to one million people are directly employed by the travel industry.
"Tourism continues to be one of the most significant local contributors to Santa Monica's thriving and sustainable economy," said Misti Kerns, President and CEO of Santa Monica Travel & Tourism (SMTT). "Visitor spending in 2017 generated nearly $2 billion in revenue, 13,345 jobs that cannot be exported, and $54 million into the City of Santa Monica's general fund through the Transient Occupancy Tax."
Members of the SMTT Board of Directors and other regional travel stakeholders joined Congressman Lieu at the roundtable hosted by the U.S. Travel Association, the national organization that leverages the collective strength of those who benefit from travel to grow their business beyond what they can do individually. The meeting highlighted policies the state's Congressional delegation can support in Washington to encourage travel, welcome more visitors, and generate economic activity at the local level.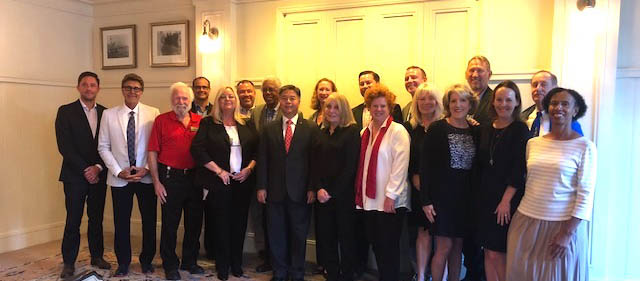 "It was great to meet with so many travel and tourism leaders today," said Congressman Lieu. "I am proud to represent such a beautiful and iconic district, where people from far and wide come to visit. California's 33rd district is home to some of the most widely recognized vistas and landmarks in California. I look forward to continuing to work with small business owners, tourism stakeholders, and local elected officials to ensure that this essential sector of the economy is supported by Congress."
Following the roundtable, the Congressman stepped onto Santa Monica State Beach to celebrate the first-ever 'California Surfing Day' with local surfers including Jessi Miley-Dyer, Women's Commissioner for World Surf League and Chef Raphael Lunetta of twin restaurants 'Lunetta All Day' and 'Lunetta At Night.' Eddie Mack, Global Messenger for Special Olympics Southern California also attended to join in the festivities to celebrate Santa Monica, the location of the organization's first international games in 1972.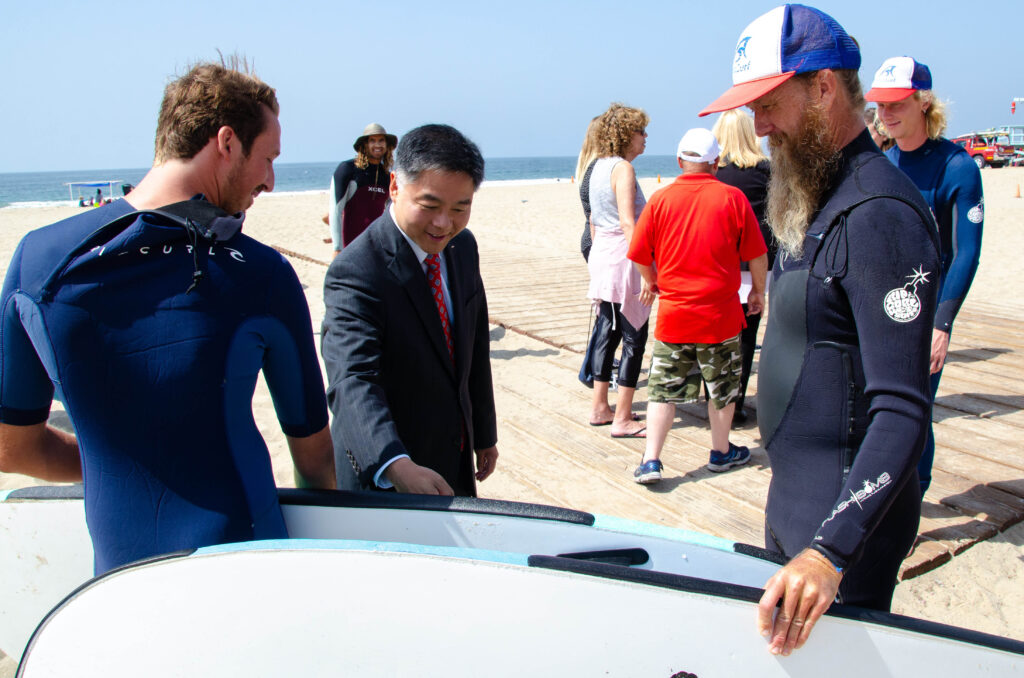 Last month, California declared surfing its official state sport and designated Sept. 20 as an official holiday to celebrate the Golden State's surfing lifestyle, and honor the history, culture, and future of the sport. With the ocean as a playground, it's no surprise that Santa Monica has a rich surf culture. Year-round warm weather, the 3.5 mile stretch of coastline, and a wide selection of surf schools make it an ideal location to learn how to ride a wave. Providing excellent conditions for beginners, Santa Monica's sand bottom beaches receive rolling waves from the Pacific all year long, making it one of the most consistent surfing destinations in Southern California.
"The World Surf League is a global company that runs over 180 professional surfing events around the world and we're proud to have our head office in Santa Monica," said WSL Women's Commissioner, Jessi Miley-Dyer. "Both Santa Monica and California have a rich history of surfing and we are excited to celebrate surfing as the official state sport."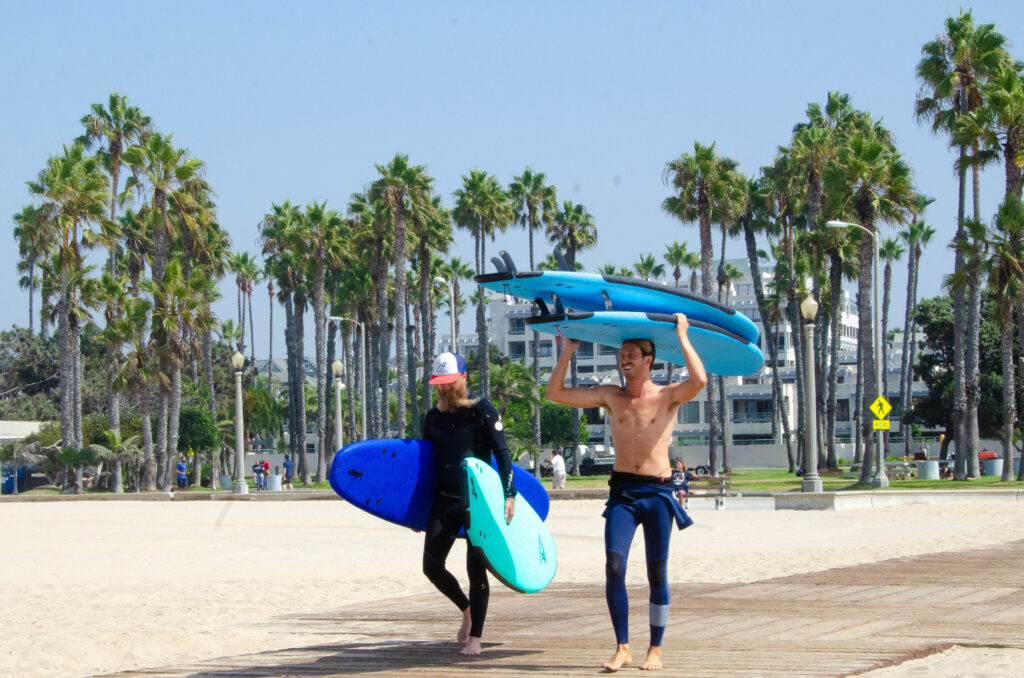 Following Congressman Lieu's departure, Eddie hit the waves with instructors from Aqua Surf, a Santa Monica-based surf school that works to educate, inspire, lead, and empower people to a greater sense of awareness, knowledge, health, and eco-responsibility through surfing.
"When you come to Santa Monica and go surfing you're able to get away from the busyness of city living, spend time in the ocean and ride some waves," said Dylan Sohnjen, General Manager of Aqua Surf. "You feel like you're in a different place. Actually, you're in the best place – Santa Monica."
###
About Santa Monica Travel & Tourism
Santa Monica Travel & Tourism (SMTT) is a non-profit organization designed to increase visitor expenditures, tourism revenues and local employment opportunities through the promotion of Santa Monica as a travel destination. For travel and accommodation information or a free copy of the official Visitors Guide, the public can write to the Santa Monica Visitor Center, 2427 Main Street, Santa Monica, CA 90405; call (800) 544-5319 or (310) 393-7593; visit
santamonica.com
; or email
info@santamonica.com
. Follow SMTT on Twitter
@GoSantaMonica
or become a Facebook fan at
facebook.com/visitsantamonica
.
Contact: Lauren Salisbury
Santa Monica Travel & Tourism
310-319-6263
lsalisbury@santamonica.com