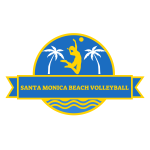 Santa Monica Beach Volleyball
We offer group beach volleyball classes for beginner, intermediate and experienced level players, ages 18+ only. Our classes are taught by pro instructors and have a social, casual vibe.
Our beginner class is perfect for those who have never played and want to see what this quintessential LA sport is all about. If you just want to get a good workout on the sand without getting into the technique of the sport, we also offer a beach volleyball workout class.
Class schedule, class descriptions, and more info on our website and our Instagram.
Vaccination is required for all participants.