Santa Monica at SkyLounge brings the Santa Monica experience to the heart of London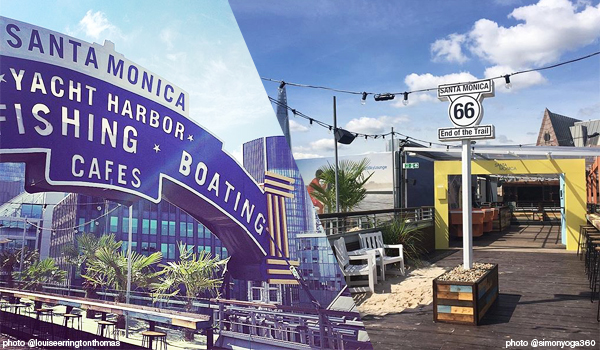 SANTA MONICA, Calif. (July 19, 2016) – The United Kingdom surprised the world in June 2016 by voting to depart from the Europe Union, with 51.9% of its population voting in favor to leave. The initial shock to the financial markets both within the U.K. and around the world has been now assuaged with a growing confidence that the economic implications will be less significant than originally anticipated.
The United Kingdom continues to be one of California's, and specifically Santa Monica's, most robust and mature international markets for inbound tourism. Annual SMTT visitor profile and economic impact reports consistently indicate that international visitors, such as those from the U.K., are most likely to stay longer, spend more money and use public transportation to get around while in the destination. Additionally, U.K. travelers' high spending power, generous holiday policies and appreciation for the California lifestyle continue to make them top candidates to bring in significant tourism dollars to our local economy and city's general fund. In fact, the nearly 400,000 U.K. visitors that Santa Monica welcomed in 2015 injected a combined spending of approximately $84 million directly into the local economy.
As SMTT continues to closely monitor the situation, initial outlooks for the travel industry advise a 'business as usual' approach to investment and strategy within the U.K. market, as the impact on outbound tourism is currently expected to be minimal. As such, SMTT looks to continue to its strategic efforts to target business and leisure travelers from the U.K. through a variety of different sales, marketing and trade-focused initiatives.
SMTT launched one such effort in the weeks prior to the Brexit announcement with the opening of Santa Monica at SkyLounge, a pop-up rooftop lounge in the heart of London. In an unprecedented move by a destination marketing organization, SMTT created an immersive Santa Monica branded experience in one of London's most stylish rooftop lounges atop the DoubleTree by Hilton Hotel London – Tower of London. The space has been transformed into the likeness of the Santa Monica Pier as a chic lounge with a beachside feel, inspired by Santa Monica's vibrant cultural scene and oceanfront lifestyle. Visitors to Santa Monica at SkyLounge can take in stunning views of the Gherkin and The Shard while eating and drinking Santa Monica-inspired cocktails and cuisine. There are also live video feeds of Santa Monica, Pacific Wheel-inspired tables and replicas of Santa Monica's iconic Pier and Route 66 signs to round out an engaging Santa Monica experience.
Santa Monica at SkyLounge will continue its summer residency as one of London's most hyped spaces to enjoy drinks and inspire wanderlust through the beginning of October.
For more information on Santa Monica at SkyLounge, visit the campaign webpage at SantaMonica.com/skylounge
About Santa Monica Travel & Tourism
Santa Monica Travel & Tourism (SMTT) is a non-profit organization designed to increase visitor expenditures, tourism revenues and local employment opportunities through the promotion of Santa Monica as a travel destination. For travel and accommodation information or a free copy of the official Visitors Guide, the public can write to the Santa Monica Visitor Center, 2427 Main Street, Santa Monica, CA 90405; call (800) 544-5319 or (310) 393-7593; visit www.santamonica.com; or email info@santamonica.com. Follow SMCVB on Twitter @GoSantaMonica or become a Facebook fan at www.facebook.com/visitsantamonica.
###
Contact: Jackie Alvarez
Santa Monica Travel & Tourism
310-319-6263
Jalvarez@santamonica.com