SANTA MONICA, Calif. (Dec. 13, 2012) – Santa Monica Convention & Visitors Bureau awarded its second Thelma Parks Tourism Spirit Award to Mickey Barnes, server at The Lobster restaurant.
Mickey Barnes has been an employee at The Lobster for 11 years. His two favorite things about working at The Lobster are the customers he meets everyday and the coworkers he considers family. "The secret to excellent customer service is to always take care of your guests like you would take care of your family…and don't forget to have fun at your job," said Mickey.
Mickey "ran home to Santa Monica" as a finisher in the Los Angeles Marathon for the past three years and will run it again in March 2013. Mickey is not the only award winner in his family. This proud father is the Defensive Coordinator for the Santa Monica Vikings Junior Pee Wee league (his 11 year old son is the quarterback) and the team just won the National Championships in Las Vegas last month.
Santa Monica Convention & Visitors Bureau (SMCVB) created the Thelma Parks Tourism Spirit Awards in memory of Thelma Parks, who was an integral part of the Santa Monica tourist experience serving as a SMCVB Travel Counselor for 23 loyal years. These awards honor exceptional employees in the hospitality and tourism industry. Award winners will be selected and honored quarterly, in partnership with Santa Monica Chamber of Commerce, with one outstanding employee receiving the Thelma Parks Tourism Scholarship each May during the annual SMCVB Travel & Tourism Summit.
"The tourism industry supports 11,000 jobs in Santa Monica. It is a pleasure to learn more about one of our own and acknowledge the hard work Mickey puts toward delivering unforgettable experiences to visitors and residents at The Lobster in Santa Monica", said Misti Kerns, President and CEO of SMCVB.
Nomination forms for the Thelma Parks Tourism Spirit Award are distributed through the Official Santa Monica Visitors Guide and throughout the city at attractions, hotels, and restaurants. Visitors can also nominate an employee who gave them an excellent experience online at www.santamonica.com/spiritaward. Businesses who would like to distribute nomination forms to their customers should contact SMCVB at (310) 319-6263.
About Santa Monica Convention & Visitors Bureau
Santa Monica Convention & Visitors Bureau (SMCVB) is a non-profit organization designed to increase visitor expenditures, tourism revenues and local employment opportunities through the promotion of Santa Monica as a travel destination. For travel and accommodation information or a free copy of the Official Visitors Guide, the public can write to the Santa Monica Visitor Center, 1920 Main Street Suite B, Santa Monica, CA 90405; call (800) 544-5319 or (310) 393-7593; visit www.santamonica.com; or email info@santamonica.com. Follow SMCVB on Twitter@GoSantaMonica or become a Facebook fan at www.facebook.com/visitsantamonica.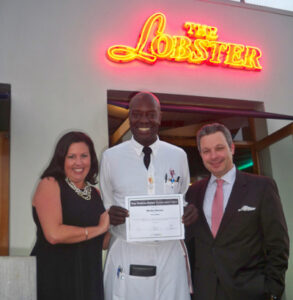 The Lobster Director of Sales Lynne Thomas (left) and Thelma Parks Tourism Spirit Awards Chair/ SMCVB board member Gregory Day (right) present The Lobster employee Mickey Barnes (center) with the second Thelma Parks Tourism Spirit Award. (Photo by SMCVB)