SANTA MONICA, Calif. (AUGUST 29, 2012) – Santa Monica Convention & Visitors Bureau awarded its first Thelma Parks Tourism Spirit Award to Elizabeth Wilsonhoyles, Director of Guest Services at Huntley Santa Monica Beach.
Originally from Liverpool, England, Elizabeth Wilsonhoyles has been an employee of Huntley Santa Monica Beach Hotel for 47 years. Her favorite part of her job at Huntley is interacting with people from all over the world and learning from them. One of her favorite activities in Santa Monica is walking through Palisades Park and enjoying the beautiful ocean view and a book from one of the benches in the park. "I always try to ensure that when guests leave my desk, they are leaving with a smile on their faces", said Elizabeth. "As a longtime friend and former coworker of Thelma Parks, this award is truly an honor. "
Santa Monica Convention & Visitors Bureau (SMCVB) created the Thelma Parks Tourism Spirit Awards in memory of Thelma Parks, who was an integral part of the Santa Monica tourist experience serving as a SMCVB Travel Counselor for 23 loyal years. These awards honor exceptional employees in the hospitality and tourism industry. Award winners will be selected and honored quarterly, in partnership with Santa Monica Chamber of Commerce, with one outstanding employee receiving the Thelma Parks Tourism Scholarship each May during the annual SMCVB Travel & Tourism Summit.
"Santa Monica is a proactive, successful, vibrant and desirable location in which to both live and work, and much of its success is credited to people like Elizabeth who deliver unforgettable experiences to visitors, their coworkers and residents each day", said Misti Kerns, President and CEO of SMCVB.
Nomination forms for the Thelma Parks Tourism Spirit Award are distributed through the Official Santa Monica Visitors Guide and throughout the city at attractions, hotels, and restaurants. Visitors can also nominate an employee who gave them an excellent experience online at www.santamonica.com/spiritaward. Businesses who would like to distribute nomination forms to their customers should contact SMCVB at (310) 319-6263.
About Santa Monica Convention & Visitors Bureau
Santa Monica Convention & Visitors Bureau (SMCVB) is a non-profit organization designed to increase visitor expenditures, tourism revenues and local employment opportunities through the promotion of Santa Monica as a travel destination. For travel and accommodation information or a free copy of the Official Visitors Guide, the public can write to the Santa Monica Visitor Center, 1920 Main Street Suite B, Santa Monica, CA 90405; call (800) 544-5319 or (310) 393-7593; visit www.santamonica.com; or email info@santamonica.com. Follow SMCVB on Twitter@GoSantaMonica or become a Facebook fan at www.facebook.com/visitsantamonica.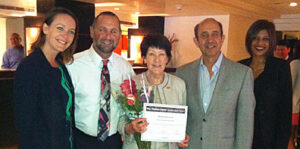 Photo Caption: (From left to right) SMCVB VP of Marketing Kim Baker, SMCVB Chair Jeff Jarow, Huntley Director of Guest Services Elizabeth Wilsonhoyles, Huntley General Manager Sohrab Sassounian, Huntley Assistant General Manager Manju Raman.
###