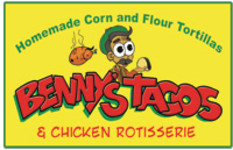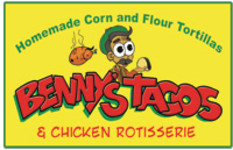 Benny's Tacos and Chicken Rotisserie
Neighborhood:
Wilshire Blvd
915 Wilshire Blvd, Santa Monica, CA 90401
Benny's Tacos & Chicken Rotisserie of Santa Monica proudly serves and offers catering services to the Santa Monica community and beyond. We look forward to seeing your smiling faces after you try our authentic Mexican dishes and our signature rotisserie chicken. All Santa Monica city employees receive a 10% off discount with proof of their employment!
Connect With Benny's Tacos and Chicken Rotisserie
Pet-Friendly
American Express
Discover
Visa
Free Admission
Cash
Family-Friendly
Hours Open - Monday: 8:30am - 10:00pm
Hours Open - Tuesday: 8:30am - 10:00pm
Hours Open - Wednesday: 8:30am - 10:00pm
Hours Open - Thursday: 8:30am - 10:00pm
Hours Open - Friday: 8:30am - 10:00pm
Hours Open - Saturday: 8:30am - 10:00pm
Hours Open - Sunday: 8:30am - 10:00pm
Parking Available:
WiFi Available:
File Upload - Health & Safety Policy: https://SantaMonica.simpleviewcrm.com/sched/getfilebykey.cfm?filekey=5df8c74a-aad9-472d-87a4-b15e52c8307d