7 Things to Do in Santa Monica, CA
Posted January 29, 2018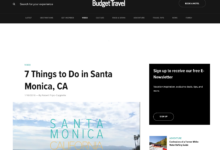 Los Angeles's ultimate beach town offers a shopper's dream, international cuisine, and one of America's most awesome boardwalks.
"There's the Ferris wheel!"
Yes, I'm a grown man, but as we wind down the Pacific Coast Highway toward Santa Monica, the sight of the iconic big wheel at Pacific Park, on the end of the Santa Monica Pier, still gives me a thrill. As my family arrives in Santa Monica, catching sight of the pier in the distance and the miles of sandy beach along the highway is the perfect way to get all four of us even more psyched for our Los Angeles vacation.
– www.budgettravel.com, January 18, 2018