This event has expired. Please visit the
Events Calendar
for current listings.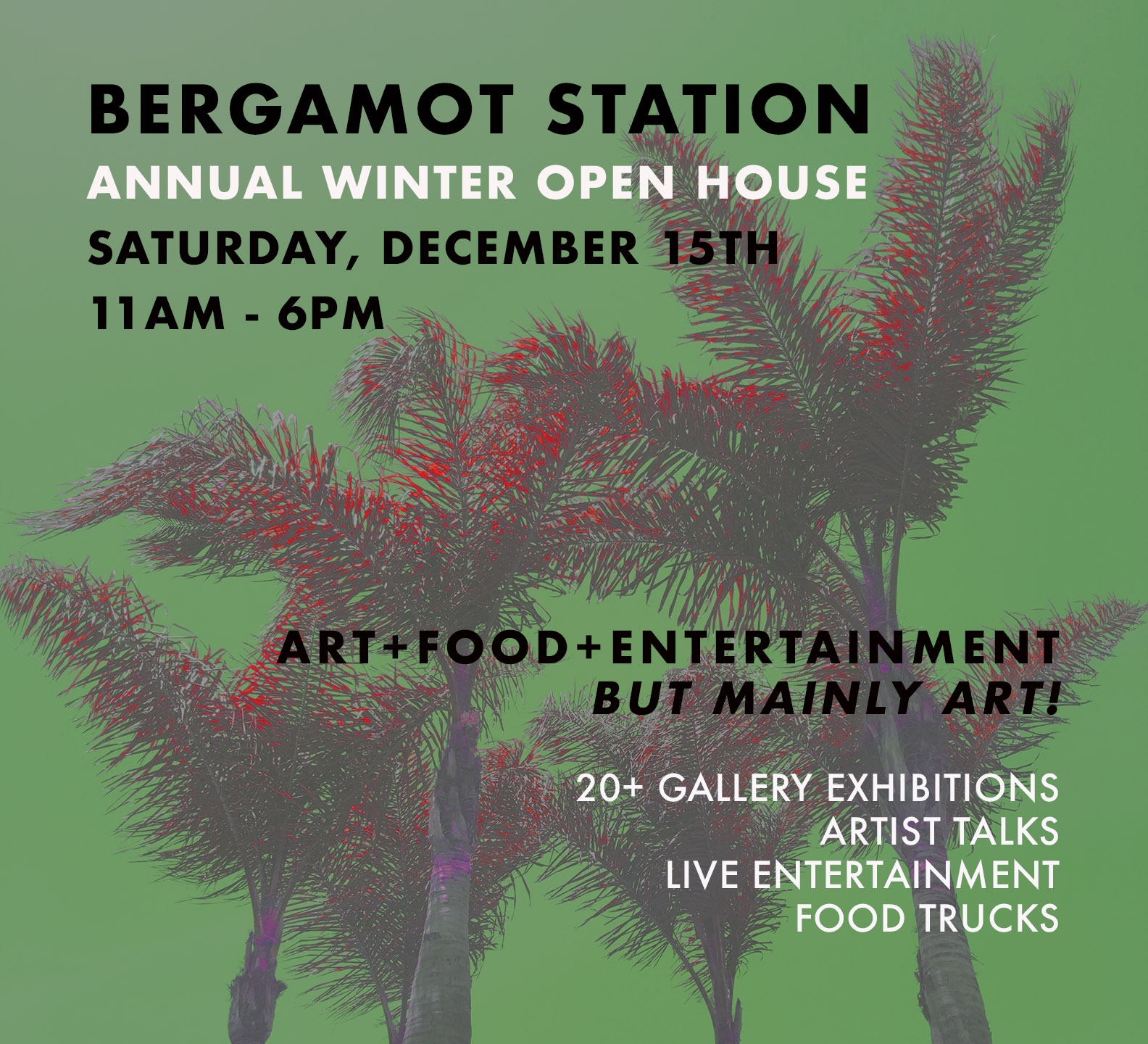 Bergamot Station's Winter Open House
Starts:

December 15, 2018, 11:00 am

Ends:

6:00 pm
Neighborhood:
Mid-City
2525 Michigan Avenue, Santa Monica, CA 90404
Come and join the festivities! Support your local galleries at the Bergamot Station Arts Center annual Winter Open House on Saturday, December 15th. Doors open at 11 AM with events continuing throughout the day! Enjoy this wonderful holiday celebration of arts and culture with a variety of fine art gallery exhibitions + festive food + live music and more! There are no tickets necessary for admission. Parking is limited at Bergamot Station, so visitors are highly encouraged to carpool, ride share or take the Metro! The Expo stop is onsite at the exit 26th St/Bergamot. For more information please email diana@lesliesacks.com or visit the Facebook event or go to visitbergamot.com
Bergamot Station is an internationally renowned creative arts complex, boasting some 20 fine art galleries and creative businesses. The galleries present regular and diverse rotating exhibitions featuring artists from all over the globe and across all mediums.
ENTERTAINMENT
12-4 PM: The Other Reindeer Carolers - A quartet of traveling carolers in authentic Dickensian costumes
12-4 PM: Live Holiday Jazz Trio in the People Park
1 PM: Piano Truck Guys (near Building Bridges Art Exchange (F2))
2 PM: Golden Bridge Community Choir at Lois Lambert Gallery (E3)
5 PM: Kybele Dance Company at Lois Lambert Gallery (E3)
FOOD + DRINK
12-4 PM: Breakers Roadshow Food Truck – unique spin on American Street Cuisine
All Day: Bergamot Café (A1)– festive fare and holiday specials
12-3 PM: Apollo's Espresso – Holiday inspired drinks
ARTIST + GALLERY TALKS
2 PM: Richard Heller Gallery (B5A)- The gallery will give a talk about artist, Farshad Farzankia's practice
3 PM: ROSEGALLERY (D4) - Artist Talks with Carla Jay Harris and Brittany Nemeth
3 PM: Copro Gallery (T5) – Michael Banks (Sugar Fueled) 'Microbats'
3:30 PM: Lois Lambert Gallery (E3) – Sarah Steinberg Artist Talk and Walk Through
OPENING RECEPTIONS
4-6 PM: Craig Krull Gallery (B3) - Relevant: A Holiday Group Show with a Political Edge.
4-6 PM: Latin American Masters (E2) – Winter Group Show
+ MORE
All Day: City Garage Theatre (T1) - "City Garage Garage Sale" - Props, costumes, and objets d'art.
All Day: Craig Krull Gallery (B3) and Latin American Masters (E2)– Book Sales
12-3 PM: Lora Schlesinger Gallery (B5B) –Jewelry Trunk Show by Keennon Shaw Design
1-6 PM: Copro Gallery (T5) – kids coloring art workshop
3-6 PM: Copro Gallery (T5) - Best Friends Painted Pets Show II Animal Society: Kitten Rescue LA Kitten adoption event – all adoption fees covered by Copro Gallery!
AFTER HOURS - OPENING RECEPTIONS
4-9 PM: Copro Gallery (T5) – Microbats and Best Friends Painted Pets
6-9 PM: Building Bridges Art Exchange (F2) -VOLO: ANCIENT AND CONTEMPORARY VISIONS OF FLIGHT