Join Santa Monica Travel & Tourism in Welcoming the American Film Market back for its 27th Market!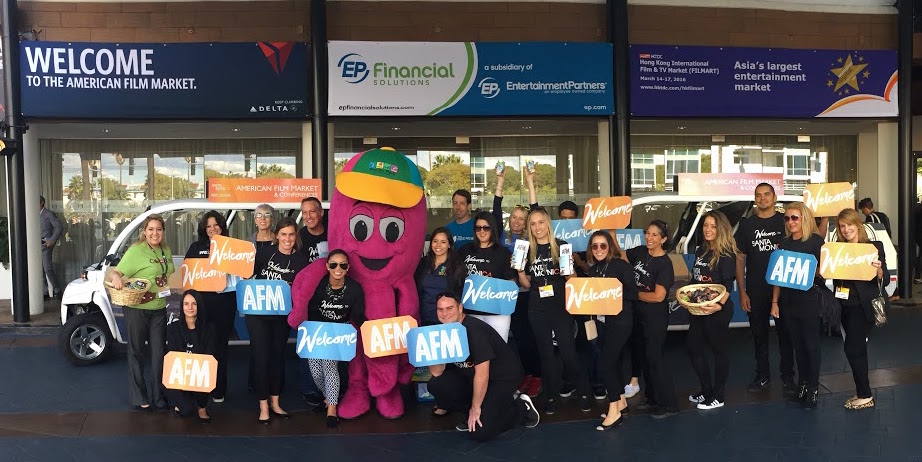 The American Film Market (AFM) is the premier global marketplace where over 8,000 film industry leaders from over 70 different countries meet in Santa Monica from November 2-9, 2016 for eight days of deal-making, screenings, seminars, networking and parties.  Volunteers are needed to welcome the 8,000 attendees as they arrive! Please see details below.
When: Wednesday, November 2nd 11:00am – 1:00pm (Volunteers to meet at 10:30am at the Santa Monica Travel & Tourism Visitor Center located at the Santa Monica Pier inside the Carousel building)
Where: AFM Headquarters, Loews Santa Monica Beach Hotel, 1700 Ocean Avenue
What: Volunteers will welcome, celebrate and thank our AFM attendees with special offers, cheers, fun signage and a healthy afternoon snack.
Attire: Black jeans/pants (not faded or ripped) with black shoes. T-shirts will be provided to wear at the Visitor Center. Please wear sunscreen and comfortable shoes.
Parking Location: Santa Monica Pier deck, accessible via the ramp at Ocean and Colorado. Parking will be validated only in this parking lot. Present your parking to the SMTT lead for validation.
Walking to Activation Area: We encourage all volunteers to walk! We will walk as a group from the Pier Visitor Center up the ramp and down Ocean Avenue to Loews. Please advise if you have any special needs relative to walking at sign-up so accommodations can me made.
Please email clientservices@santamonica.com by Thursday, October 6th to join us! Please provide your shirt size.
SMTT attends IFTM Top Resa show in France
Santa Monica Travel & Tourism exhibited at IFTM Top Resa in partnership with Visit California and other California destinations. IFTM Top Resa is a four-day international tourism industry show held in Paris that attracts all clients involved in outbound tourism. In 2015, IFTM Top Resa saw over 31,000 attendees and Visit California welcomed over 800 people to the Visit California booth. France has long been one of California's leading international markets and visitation from France to California is expected to grow by 14.3 percent now through 2018. With five weeks of vacation time as well as holidays, the French market remains strong. Challenges have arisen recently due to terrorism attacks, however the U.S. remains a safe place to travel to for the French market. In May 2017, France will have a presidential election which may present additional challenges to travel during this month.
New airlift in the past year includes:
XL Airways is starting a seasonal direct flight from Paris to LAX, three times weekly, July to September. In 2017, XL Airways plans to expand this service to four times per week.
Norwegian began their first weekly direct flight from Paris to LAX on July 29, 2016. This will be an annual flight twice per week with fares starting at €179.
WOW airlines launched flights from Paris to LAX with a stop in Iceland. This flight will be four times weekly with fares starting at €199.
Key takeaways from this year's ESTO Conference
Santa Monica Travel and Tourism Directors, Evan Edwards and Rachel Lozano attended U.S. Travel Association's Educational Seminar for Tourism Organizations (ESTO). ESTO is the only national forum where destination marketing professionals at the state, regional and local level get critical tools, tips and information to help them better market and grow their destinations. This year's seminar was held in Boca Raton, Florida.
"Being able to talk with other Information Center leaders and hear their insight on situations you deal with on a daily basis was invaluable" said Lozano, who runs the SMTT Visitor Center Locations. Edwards had a similar experience, "For me, the opportunity to meet and hear from leaders in our industry such as Nan Marchand Beauvois, ESTO's General Manager, in-person, was career changing for me."
Both Edwards and Lozano expanded their knowledge during discussions amongst other DMOs. ESTO packed in three days of informative presentations, which included a variety of tourism subjects such as International Market Prioritization, Professional Development, Insights and Research, The Changing Landscape in American Travel and Crisis Communications Planning.
Upon their return, Edwards and Lozano shared key details obtained from the many presentations and discussion forums they attended with SMTT staff. Key takeaways included:
Steps to improve your DMO's response in a crisis situation in a post 9/11 world.
Visitor Information Center Brochure Distribution Stats and Program Details.
Website Improvements and Ad Placement Sales.
Survey Results on Destination Travel based on Age – California was #1 in All Categories!
"Now with our first event under the belts, I look forward to attending next year's event in Minneapolis and expanding the relationships I built this year" said Edwards. Lozano agreed, "This was one of the most fulfilling industry events I've attended and being able to attend with Evan has been the highlight of my year."
Evan Edwards is the SMTT Director of Operations and Rachel Lozano is the SMTT Director of Visitor Experience, running five Information Centers throughout the City of Santa Monica.
---
How to Work with SMTT
Want to improve your tourism business? Santa Monica Travel & Tourism can assist to increase your tourism revenues through a number of marketing, advertising (Official Visitor Guide, Official Map) public relations and sales opportunities.
For more information, please find contacts for each department below or visit Santa Monica Travel & Tourism's Business Opportunities page.
Marketing & Interactive:
Kim Sidoriak, Chief Marketing Officer
ksidoriak@santamonica.com
310.319.6263
Public & Community Relations:
Jackie Alvarez, Public Relations Manager
jalvarez@santamonica.com
310.319.6263
Partnership Opportunities:
Visit santamonica.com/partnership-opportunities for more information